Big Ben's Real Message
It sounds like Ben Roethlisberger's radio comments were as much about team frustration as they were about retirement. A look at what's next for Big Ben, plus mailbag queries on Tom Brady, penalties and the Browns
News about a fun Super Bowl week event in Houston in a few paragraphs—podcast fun and good beer—but we open on a non-Super Bowl bit of news from Tuesday: Ben Roethlisberger hinting that, at 34, he may have played his last snap for the Steelers.
First: I do not believe he will quit. Not for a second. But I do have some interpretation of his comments.
In an appearance on 93.7 The Fan in Pittsburgh, Roethlisberger said in the wake of the Steelers' AFC Championship Game no-show in New England: "I'm going to take this offseason to evaluate, to consider all options, to consider health and family and things like that and just kind of take some time away to evaluate next season, if there's going to be a next season." He said he wasn't meaning to say he wasn't coming back, just that he wanted to take some time to decide his future.
• ERIN ANDREWS—THE PAIN YOU CAN'T SEE: The Fox sideline analyst opens up about her emotionally draining civil trial and her cancer diagnosis
I'll tell you what I think. And understand that this is a reading of the tea leaves. I have not spoken to Roethlisberger. I have not spoken to his agent, Ryan Tollner. But I have noticed this season that Roethlisberger has seemed frustrated with a few things. I am not absolving him of his share of the blame for the offensive performance, to be sure. The Steelers, in the divisional victory at Kansas City and the title game at New England, managed two touchdowns in two games. This makes it far worse: Over 110 minutes—the game in Kansas City and the first 50 minutes at New England—Roethlisberger managed zero touchdown passes in the most important games of the year. Even without the suspended Martavis Bryant, and even with Le'Veon Bell getting hurt in the first half of the AFC Championship Game, this is a feeble two-game performance by what is supposed to be one of the most explosive offenses in football.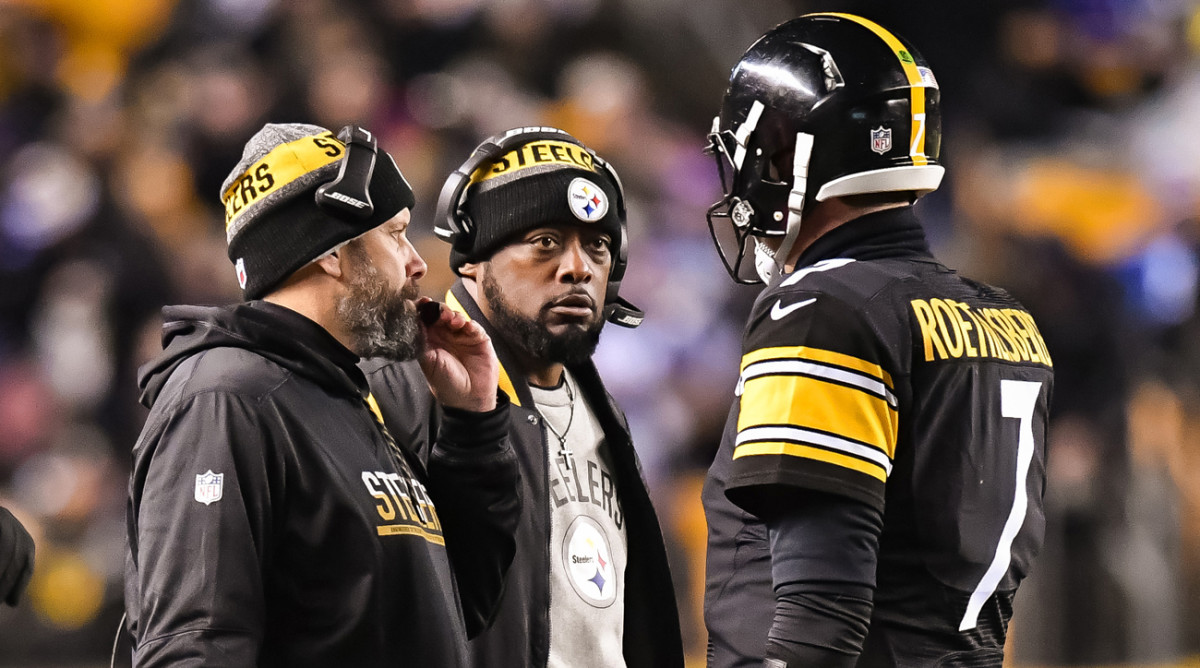 I think, particularly in his post-Kansas City criticism last week of the selfish Antonio Brown, and this week of the team's lack of maturity and readiness for the game, that Roethlisberger was focusing his frustration on three people: Brown (to be sure), coach Mike Tomlin and offensive coordinator Todd Haley.
The dissing of Brown is easy. He's too often this year been immature, and if Roethlisberger had to settle him down on the sidelines at Foxboro—which has been reported—it's an Odell Beckham-like bout of baby behavior that simply has to stop. Brown's too great a player to be sulking. He's the major reason why the Steelers won the division in the first place, after his reach over the goal line resulted in the AFC North-winning touchdown on Christmas against Baltimore.
I got the sense, regarding the Roethlisberger/Tomlin situation, that the quarterback is frustrated that Brown is acting up over and over again, and the coach hasn't stopped it. Good on Tomlin for forcefully going after Brown after the Facebook incident last week, but little things have flared up often this year. I cannot imagine Tom Brady issuing a read-between-the-lines call-out of an offensive teammate; he'd never question how Bill Belichick was handling a player. Maybe Roethlisberger isn't. But two weeks in a row, when he questions things like players' maturity and attentiveness, what really is he talking about? Players, yes. But also—right or wrong—the control of them by the head coach.
Roethlisberger deserves his share of the blame that the first 19 series of the Kansas City/New England game were played without a touchdown pass. Great quarterbacks can overcome personnel issues, and some play-calling issues too. Where was the great throw or two into postage-stamp targets? Where was the on-field brow-beating we might have seen from Brady? Not there.
As for Haley, he deserves criticism here too, and not just a little. How does a team with Ben Roethlisberger at quarterback and Antonio Brown at receiver and a very good offensive line generate zero touchdown passes in a 19-series span in the two biggest games of the year? It's unacceptable. Maybe there's a reason why Haley got zero sniffs this year at a head-coaching job with the six openings. And maybe it has to do with the fact that this offense, at the biggest moments of the year, vastly underachieved. The blame needs to be spread, and the play-designer and -caller needs to accept his share too.
So I think Roethlisberger will meet with Tomlin at some point soon, and probably with the brass, and probably with Haley. Those meetings need to be had. And I think Roethlisberger will come back at age 35, for his 14th year. But he'll be heard first.
• MATT RYAN IS OLD SCHOOL: At Ryan's 320-year-old high school in Philly, he's remembered as a low-key leader—just like now—and a 6'5" triple-option QB
* * *
Our Super Bowl Podcast Event
So … on Thursday, Feb. 2, at St. Arnold Brewery in downtown Houston, The MMQBwill have a fun event: "Live With Peter King," from 6 to 8:30 p.m. Central Time. With the cooperation of SeatGeek and DGital Media, we'll host the first live podcast in our site's history. The not-so-retiring type, Chris Berman, will be one of three guests that you'll hear from in conversations with me that will be heard on "The MMQB Podcast With Peter King" in the coming weeks. (Two other guests are being finalized.) All proceeds will benefit The Caroline School, a small school in Houston that caters to children with challenging educational and health-care needs. The venue is intimate; it's a room at St. Arnold's Brewery downtown. We'll be limited to selling 85 tickets at $100 apiece. Beer and some light food will be included as part of the admission—and if you haven't had St. Arnold's beer, you'll be very happy you came. I will be giving more information in my MMQB column next Monday. And if you have further questions, please send them to me at talkback@themmqb.com. I'm well aware $100 is a lot for an evening of conversation. And I will make sure you get your money's worth (for a very good cause) with our guests and the experience. Here's the ticket link again. Look forward to seeing you on Feb. 2.
Now for your email...
• WHAT WOULD BELICHICK DO? Andy Benoit on how the Patriots might try to slow down the Falcons offense in Super Bowl 51
* * *
HOW MUCH FOR JIMMY G?
Andrew Brandt wrote Tuesday that it's "delusional" to think anyone would give up a first-round pick for Jimmy Garoppolo. Do you agree? (I think Brandt's delusional). Jimmy G has already shown that he's NFL ready. He could start and be productive for a bunch of teams. That's more than you can say about a lot of first-round QBs, many of whom prove to be draft busts. Yes, I know Garoppolo will be a free agent at the end of next season and so that plays a role. But it seems to me that anyone who's running a struggling team in need of a semi-proven QB would be wise to give up at least a first-rounder for Garoppolo.  
—John, Atlanta
I would be stunned if the Patriots put Garoppolo on the market and he didn't fetch a first-round pick or more. But I continue to maintain I don't believe he will be traded—unless he and his agent tell the Patriots that absolutely, categorically he won't sign a contract to stay in New England if he's not the starting quarterback. Also, I believe it's smarter for New England to have the insurance of Garoppolo in 2017—in the last year of his rookie contract—rather than to trade him. That leaves New England with the option to sign him in the 2018 free-agency season if Brady suddenly declines in quality in 2017.
• MIND YOUR NFL BUSINESS: Andrew Brandt has 10 thoughts on the ongoing happenings of the NFL's business season
BRADY HAS IT EASY
I really don't understand the shock at how well Brady is performing at 39. Physically, not much is truly being asked from him. He's not being asked to consistently throw 30 yards downfield like Manning. He's not being asked to scramble, evade tackles and throw on the run like Rodgers. He's being asked to do defensive reads pre-snap, make audibles, drop back five steps and throw five to 10 yards in three seconds. If the play isn't there he'll throw it out of bounds or at his receiver's feet. No wonder he's getting better as his experience and knowledge grows. How is this unreasonable?
—Erik N., Ewa Beach, Hawaii
Two points:
Compare Brady's 33-to-4 touchdown-to-interception mark in his 14 games this year to Peyton Manning's 11-to-18 (including playoffs) in his age-39 year, when the Broncos won the Super Bowl, or to Brett Favre's 22-to-22 or John Unitas' 4-to-6 in their age-39 seasons. It's beyond special. Brady never has been a thrower on the run; he's a different quarterback from Rodgers. Let's see if Rodgers, at age 39 in 2022, is playing at all, or playing anywhere near this level. Hope he does … but no one in NFL has done so. Brady's yards-per-attempt, 8.2, is the third-highest in his career, so he must be throwing some balls downfield.
Joe Montana, Jim Kelly, Dan Marino and John Elway were retired at 39. The fact that Brady is playing the same style of football, and playing it at a higher level than he has previously, is something no other quarterback in any other offense (quarterback-easy or quarterback-demanding) has done in the history of the game. That's why it's an accomplishment.
• HARTFORD'S WHITE WHALE: Tim Rohan on how the Patriots almost became Connecticut's team
MOVE THE OFFENDING TEAM BACK
There was a Green Bay personal foul on one of the many Atlanta touchdowns, and the referee announced (as is standard) that the 15-yard penalty would be enforced on the kickoff. I was wondering whether there's any movement to change how that's enforced, given that kickoffs have been changed to produce more touchbacks. Wouldn't it make more sense to enforce the penalty on the next non-special teams snap? As it happened, Atlanta kicked off from midfield, and with the touchback Green Bay started their drive on their own 25. Had Atlanta kicked off from the 35, it's likely Green Bay would have started that drive ... on their own 25. I feel that if you're going to penalize them for a personal foul, Green Bay should have started on the 12.5-yard line (half the distance).
—Tim S., Mountain View, Calif.
Tim, that is brilliant. Either enforce it on the next play from scrimmage or change the rule to make it a remotely meaningful enforcement.
DON'T RIP RIPKOWSKI
Hey! Can you give [goat of the week] Aaron Ripkowski a break and refer to his turnover as a "takeaway" instead of a "fumble?" Arguing semantics here, but the poor guy had two arms wrapped around ball while going through a swarm of nasty folks. The guy on his right yanked one arm away from his body while another Falcon ripped the ball away from his other arm. I would call that more "takeaway" than "fumble" though result is the same. Highlight the positive play by the Falcons!
—Stephan G., Plano, Texas
I am reminded of something Bill Parcells used to say when a reporter might say how well his team played, or how hard it played, in defeat: "Don't tell me how tough the labor was. Just tell me if you delivered the baby." I don't think Packers coaches were saying to Ripkowski after the game, "Gee, we understand how hard it is to hold onto the ball when you run with it. Don't worry about that fumble. It's okay."
WHY DID YOU MISS NEW ENGLAND-PITTSBURGH?
I enjoy much of your content but had a question on one comment you made in today's MMQB. You stated, in discussing the AFC Championship game, "I didn't watch a lot of this game." Your job is to watch both games, not just the one you attended. There were only three games left in the season and you choose to blow one off to party or whatever rather than doing your job? That baffles me. If you did not see it for medical reasons, that's one thing. Please explain if you can.
—Scott
I covered the Atlanta game, which ended at 6:35. I worked the locker room. I recorded a podcast conversation with Kyle Shanahan in the Falcons' equipment room. I got out of the stadium around 8:15 and headed for the airport, where I was going to watch the last quarter-and-a-half before boarding a plane home. The airport was an overloaded mess due to intense weather in the Southeast. Tons of canceled flights. Mine was late anyway, but when I saw the mess, I decided to get a hotel at the airport and work from there. When I got there, the Patriots-Steelers game was over. I watched the long highlight package on NFL.com, then looked back on NFL Game Rewind at a few plays in the game that I thought I might write about, including the flea-flicker touchdown to Chris Hogan. When I got home Monday I watched the game in full.
For most of the season, I watched games at home, and went to a few, and watched a lot of NFL Red Zone. For the championship games I picked one to attend, and chose this one in part because I wanted to talk to the coach of the NFC team in the Super Bowl to go over a few things relating to pool reporting at the Super Bowl, where I'll be serving that function at Falcons' practices. After this game I did talk to Dan Quinn about it.
As for why I'd go to one of the games instead of watching both games in full, I feel the insight and color I can gain by being at one of the games is better for my column than being somewhere watching the games in full and not being on-site to ask questions to those involved in what interests me to write about. The bonus was getting Shanahan, likely the next coach of the 49ers, for my podcast, which is out this morning. It sounds like you disagree with how I covered championship Sunday, but I did want to explain what I did and why I did it.
• ROAD TO HOUSTON: Follow our Super Bowl 51 road trip, with feature stories on the Patriots and Falcons, plus tales of broken bobbleheads, crushed cameras and gastric bypass
DESHAUN WATSON'S SENIOR BOWL SIT-OUT
Did you consider that DeShaun Watson's decision and position on [not participating in the Senior Bowl] was precisely BECAUSE it's the Browns' staff that would be coaching and having the greatest amount of evaluation time on him? To me, it feels like a calculated move. By specifically denying the Browns' request to play in the game, he's likely given himself a black mark in their book and reduced his chances of being drafted by them. Outside of the monetary difference between being drafted No. 1 and wherever he ends up, I have to feel that he's willing to take that chance and be drafted by a team later in the first round with which he feels he has a chance to have greater long-term success. Seems like a calculated risk to me, not a big miss.
—Bill W., Troy, Mich.
Could be, Bill. I understand that thinking. There are 31 other coaches in Mobile this week, seeing these players for the first time up-close. I still think Watson's best move would have been to practice for Cleveland and show his best side to all 32 teams. By the way, I later amended my Monday column about the Browns talking to Watson and asking him to play in the game; they claim they didn't urge him to play in the game.
CARL CHEFFERS IS EVERYWHERE
Carl Cheffers was on the field for an even more significant game in the Brady timeline [than his 2008 injury]: the day Mo Lewis's hit changed NFL history and Brady replaced Bledsoe on Sept. 23, 2001. Cheffers was the side judge.
—Larry
Great note. Thanks Larry.
• Question or comment? Email us at talkback@themmqb.com.