Super Bowl 51: Patriots Take the Fifth in Epic Comeback
Trailing Atlanta by 25 points midway through the third quarter, New England never panicked because of one man: Tom Brady. Here are all the details—from MJ to max squats to mothballs—of the legacy-cementing win. Plus notes on HOF votes, Brett Favre's hobby and more from Houston
HOUSTON — For 35 seconds after the game that defies adjectives, Tom Brady crouched on the field, overcome, just trying to gather himself. Red, white and blue confetti flew everywhere after New England's 34-28 overtime win over Atlanta, and as Brady stayed down, photographers and a Fox crew were held off by security. "Back! BACK!" they yelled. He stayed down so long that someone leaned down to see if he was OK, and then New England running back LeGarrette Blount came over to shield and comfort Brady. Finally, they stood, and Bill Belichick appeared, and Brady and Belichick hugged so hard it must have hurt.
"I love you!" Brady said into his coach's ear. "We did it!"
"You're the greatest, bro!" Blount screamed at Brady. "THE GREATEST!"
Brady wanted to see his family, his supermodel wife and the dad who made him tear up in the days before the game and the ill mom who almost didn't make the trip to the game and his kids and his sisters … everybody. But first, there was a hard tap on Brady's left arm from the commissioner who wanted to end the Cold War that will never end. Now would be the most anticipated NFL handshake of the Super Bowl era. (Or any football era, probably.) "That was awesome," commissioner Roger Goodell said to Tom Brady, according to one bystander, grabbing Brady's right hand and shaking for several seconds. "Congratulations. Great football game."
Brady thanked Goodell earnestly. There would be no scene on the night of the greatest comeback in Super Bowl history, and the greatest performance of Tom Brady's life. Unquestionably.
Tom Brady saved his best for last. We're running out of ways to deify Brady, but on the occasion of his record fifth Super Bowl victory, we can try.
• FOR THE BRADY FAMILY, 'REDEMPTION': Albert Breer with Tom Brady Sr. on why this win means more than a fifth ring
* * *
I remember a couple of years ago this week, when Brady engineered 53-yard and 74-yard touchdown drives against Seattle in the last quarter, coming back from 10 points down to beat the Seahawks. Greatest quarter of his life, considering the circumstances.
Then what's this? You play the eighth-highest-scoring team in NFL history, and you start punt, punt, fumble, punt, pick-six, field goal, punt. And after those seven drives, midway through the third quarter, it's 28-3, and it's reminiscent of the Houston-Buffalo wild-card game 24 years ago, when the Bills trailed 28-3 at halftime and coach Marv Levy walked into the locker room and said testily: "You guys are going to have to live with yourselves, whatever the outcome."
Then Brady finishes touchdown-field goal-touchdown-touchdown-overtime touchdown.
Drives of 75, 72, 25, 91 and 62 in the last 28 minutes.
Atlanta 28-3.
Then New England 31-0.
"Funny thing," said offensive coordinator Josh McDaniels after the game. "When we came out after halftime, "Bill [Belichick] said to me, 'We'll be okay. Our guys believe. They will fight their ass off.' I think when you've got Tommy, you feel like there's never going to be any kind of panic in him, so there's never going to be any kind of panic in us."
"That's the thing—nothing different was really said at halftime," said defensive end Chris Long. "It was all normal."
Well, there was one thing. Safety Duron Harmon told his defensive mates the Patriots were about to go on the greatest comeback in NFL history. "When you have the Michael Jordan of football, that is what you think," Harmon said. "Think about it: Last two Super Bowls we're in, down multiple scores late, and he gets the job done."
Brady capped the first drive with a short flip to James White, but Stephen Gostkowski shtoinked the PAT off the right upright. Falcons, 28-9. Next drive: Grady Jarrett (4.5 career sacks entering the game, 3.0 in this game) sacked Brady twice after it was first-and-goal from the Atlanta seven. Pushed back to the 15-yard line, the Patriots settled for an eyebrow-raising 33-yard field goal with 9:44 left in the game. Falcons, 28-12.
"Did you think of going for the TD there?" McDaniels was asked later.
"If it was shorter on fourth down," McDaniels said. "But that made it a two-score game. We knew we'd get the ball at least a couple more times."
That's exactly what happened. And each drive, and each conversion had to be perfect. Dont'a Hightower hit Matt Ryan for a sack/fumble to give the Patriots a short-field touchdown (Brady: four-for-four, 28 yards). Now for the conversion.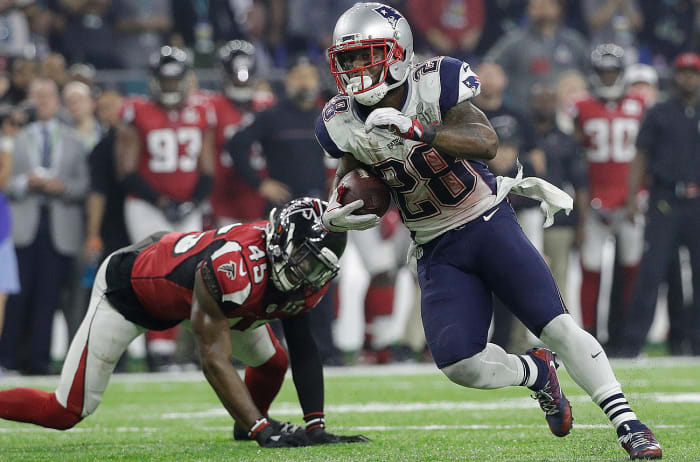 For that two-point try, we must go back 13 years, and we must go back right to this same stadium, and right to the Patriots' second Super Bowl. It's one of those scratchy memories, the kind you don't really recall until you go to the recesses to think of it. The Patriots scored against Carolina late in the fourth quarter to take a five-point lead, 27-22. They wanted to make it a seven-point margin. Running back Kevin Faulk lined up as a sidecar to Brady in the backfield, and the ball was direct-snapped to Faulk. Brady made like he was reaching for a high shotgun snap, and the attention was drawn away from Faulk, who burst through the line for two points.
On Sunday night, down 10 after the touchdown, New England lined up with James White as the sidecar to Brady, and the ball was direct-snapped to White. Brady made like he was reaching for a high shotgun snap, and the attention was drawn away from White. He burst through the line, diving over for two points.
"We kind of brought that one out of mothballs," McDaniels said with a laugh.
Now is where the Patriots needed a little luck. Twice. Maybe not luck, but a bad play call by the opposition and then some make-up karma. It's interesting, the best team of this century needing two plays to go their way in the last four minutes of a legacy-ensuring Super Bowl. But that's exactly what happened.
Play 1: Atlanta up 28-20, driving, first-and-10 at the Patriots' 22, 3:56 to play. All the Falcons need is a field goal to make it a two-score game with about three minutes left. From the 22, it's a 40-yard Matt Bryant try. But offensive coordinator Kyle Shanahan got greedy, and Ryan tried a little too hard to make a play. The Falcons ran once, for minus-one, and then Shanahan called for a pass, and Trey Flowers smothered Ryan for a 12-yard loss. Third down was a hold on Atlanta. So now the Falcons had to punt instead of putting the insurance on the board. It was a series that will live in infamy in Atlanta sports.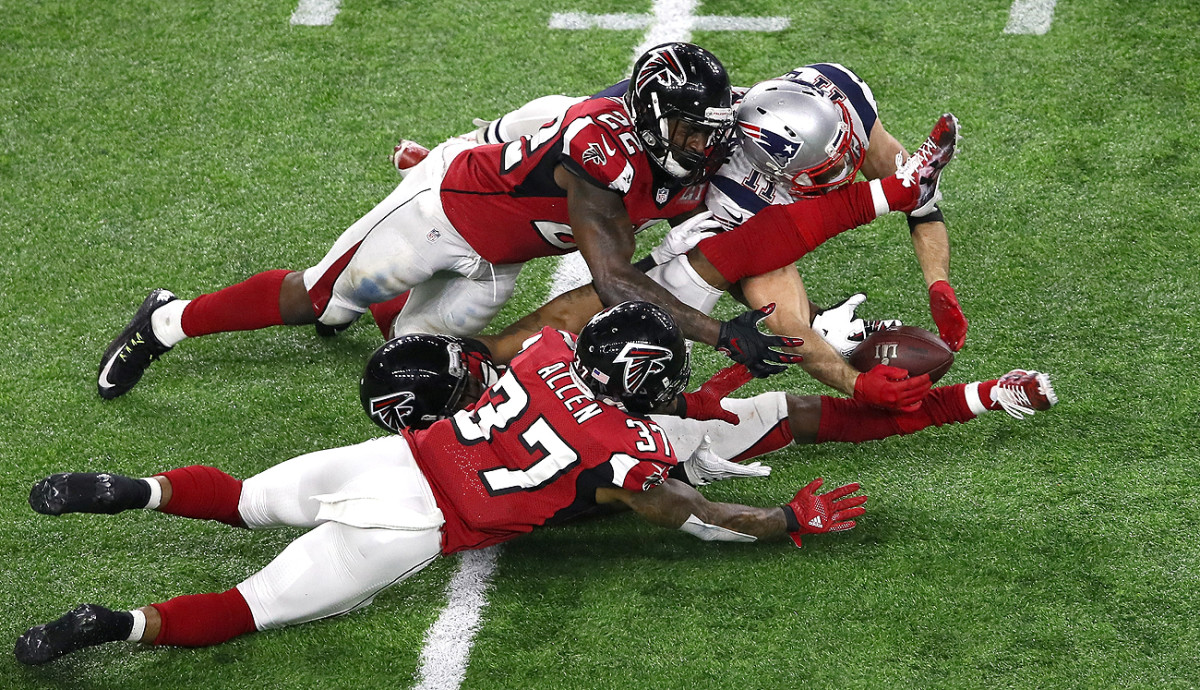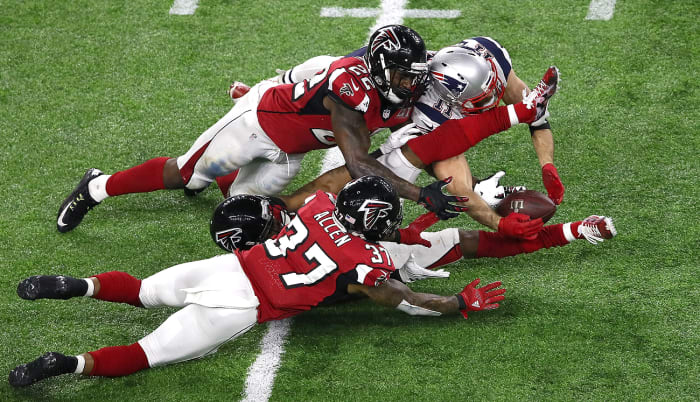 Play 2: Atlanta up 28-20, New England driving, first-and-10 at the Patriots' 36, 2:28 to play. Brady threw it up for Julian Edelman in what looked to be a bad decision. There were three Falcons near Edelman at the Atlanta 41, and cornerback Robert Alford leapt to bat the ball. Defensive backs Ricardo Allen and Keanu Neal went for it, and Edelman did too, and they all dove in a four-man pile, the ball ricocheting off Alford. Edelman double-cluctched the ball a half-inch from the turf—surely he couldn't have caught it. But the officials called it a catch, and one TV angle showed that the ball never touched the ground. Dan Quinn threw the challenge flag. We waited. In the press box, someone gasped looking at the replay. This was the David Tyree Velcro Catch payback! Ref Carl Cheffers confirmed the call, and this game was a freight train running down the tracks. The Falcons were powerless to stop Brady. Four plays later White scored from the one.
Atlanta, 28-26.
McDaniels had three receivers left on the two-point try. Brady threw to Danny Amendola, and in front of him, Chris Hogan tried to pick off two Atlanta defenders. Amendola barreled forward and got to the goal line, and the ball pierced the line by, what? Six inches? A foot? It was the Antonio Brown reach-over play in the Christmas Day game against Baltimore.
Tie, 28-28.
The captains gathered at midfield. Cheffers asked New England's special-teams captain, Matthew Slater, for his call.
"Heads," Slater said.
"I always call heads," said Slater, the son of Hall of Fame lineman Jackie Slater. "It's a Slater family tradition."
Heads it was. Game over.
• ANATOMY OF A COLLAPSE: Andy Benoit explains the biggest reason why the Falcons couldn't finish the job in Houston
It was 76 degrees inside NRG Stadium and felt warmer by game's end. Atlanta was gassed. The Patriots could have played two more quarters. "You didn't see anyone on our team tired," said Slater. "We practiced in pads in Super Bowl week. Who does that? We're squatting 80 percent of our max in Super Bowl weeks. We work. And tonight it paid off."
The Patriots had 24 first downs … after halftime. They turned the game around by sheer force of will—Brady's will. By the time Brady flipped the ball to White and White muscled in for a two-yard score to win it on the first drive of the first overtime in 51 Super Bowls, no one was surprised.
In the coming days we'll all have opinions on the superlatives that should be thought out when you're considering things like dynasties and best quarterback ever and best coach ever. But it can't be too hard to think that Tom Brady is the best quarterback of our lives. Five Super Bowl wins the most in the Super Bowl era, and his continued brilliance at 39—when Montana, Marino and Kelly were retired—was on display with his Super Bowl-record 466 yards passing Sunday night.
Slater said it slowly, for emphasis.
"We have the best … quarterback … in the … National … Football … League."
The New England locker room was a joyous place Sunday night. Chris Long, the transplanted Ram, had never been in a playoff game until signing a below-market deal for a year with the Patriots. He wanted to play for Bill Belichick. He wanted to play with Tom Brady. "As cool as the moment is," he said, still in full uniform 70 minutes after the game ended, "the memory will be cooler. Tom's the GOAT. He's the king of the petting zoo. And I get to play with him."
"That game we just saw," club president Jonathan Kraft said, "puts the exclamation point on the career of the greatest quarterback in NFL history."
• THE GREATEST COMEBACK EVER: Tim Rohan on the scene in Houston, where the Patriots won the first Super Bowl OT game in history
* * *
On 55th Class of Pro Football Hall of Fame
At first blush, Saturday was a historic day for the Hall of Fame for this reason: The elections of Terrell Davis and Kurt Warner, with four and six superior seasons, respectively, will open the door to Canton for similar meteors-across-the-NFL-sky like Tony Boselli, who in my opinion deserves to a spot.
A few points to make from the meeting inside the George R. Brown Convention Center on Saturday, but first, the rules of engagement, to refresh: There were two contributor committee candidates (Jerry Jones, Paul Tagliabue) and one senior candidate (Seattle safety Kenny Easley). Their cases are heard before the 48 voters first, and then, one by one, we vote yes or no by secret ballot. Each must get 80 percent of the vote or more (minimum of 38 yes votes) to make it. Then we start on the 15 modern-era candidates, listening to cases for all. After the debate, we vote, again secretly, for our top 10. When the 10 leading vote-getters are announced in the room, we vote again for our top five. And when it's winnowed to five, we vote yea or nay one by one on the final five, also by secret ballot. Then we leave. We are not told the results of the vote until one hour before the NFL Honors show. Final 15: Morten Andersen, Tony Boselli, Isaac Bruce, Don Coryell, Terrell Davis, Brian Dawkins, Alan Faneca, Joe Jacoby, Ty Law, John Lynch, Kevin Mawae, Terrell Owens, Jason Taylor, LaDainian Tomlinson, Kurt Warner.
• My vote to 10: On the cut to 10, I voted for Andersen, Boselli, Coryell, Davis, Dawkins, Law, Lynch, Owens, Tomlinson and Warner. The actual final 10: Andersen, Boselli, Davis, Dawkins, Law, Lynch, Mawae, Taylor, Tomlinson, Warner.
• My vote to 5:Boselli, Davis, Dawkins, Tomlinson, Warner. The actual final 5: Andersen, Davis, Taylor, Tomlinson, Warner.
• My yes/no votes: I voted yes on Easley, yes on Tagliabue and Jones, and yes on Andersen, Davis, Taylor, Tomlinson and Warner. All but Tagliabue got the requisite 38 votes or more for enshrinement. So the seven-man class: Seattle safety Kenny Easley, Dallas owner Jerry Jones, kicker Morten Andersen, Denver running back Terrell Davis, Miami pass-rusher Jason Taylor, running back LaDainian Tomlinson, quarterback Kurt Warner.
• PETER KING'S WEEKLY HOT READ: We're gauging your interest in a possible new MMQB newsletter, with more insider information from Peter King. Check it out
The elephants in, and outside, the room (keeping in mind we cannot divulge specific discussions in the meeting):
• Denying Tagliabue. My feeling is that Tagliabue could not overcome the impression that has dogged him since he left office: that he wasn't serious enough and proactive enough about getting to the bottom of the effects of head trauma on players. That should be a significant consideration, to be sure. I voted for him because I believe a career should be an amalgam, filled with pluses, minuses, great accomplishments and big gaffes. I believe a man who is commissioner for 17 years without a labor stoppage, in a period when there were three NHL strikes, two baseball strikes and one NBA strike, is significant. The NFL has not missed a regular-season or post-season game since Tagliabue took over. In the seven years before that the NFL had two strikes. Tagliabue's case is layered, but I think he grew the game, did much to fight steroid use and helped the cause of minority coaches significantly. I sense the vote was close, but we never know how close. This was an interesting and impassioned discussion; I've never seen a debate on a candidate last this long: 61 minutes. Tagliabue's future with the Hall? My guess is he'll be revived in three or five years (just a guess) by the Contributors Committee, but there's no assurance that minds or votes will change.
• T.O. might be very far away from Canton. Marginally, I support Owens and would have voted for him in the cutdown from 10 to five had he made it. He's second all-time in receiving yards, third in receiving touchdowns, eighth in receptions. But he's first in divisiveness and churlishness, and that seems to be what's keeping him out. My guess after leaving the meeting Saturday is that it could be a few years before Owens gets in—if he ever does. I sense the American outrage over this. I get it. It's a story of how much should apply to a players' case for the Hall of Fame. Should Andy Reid suspending Owens and basically firing him in his prime play into it? Should the hopscotching from team to team because of his behavior play into it? We are asked to consider only what happens on the field—with one proviso. If something factors into how or whether a player plays, and if something factors into a tangible effect on the team's performance (such as leadership), we can consider it. In other words, we can extend the on-field factors to the locker room and practice field if we think that had a bearing on his team and his own play. I come back to the amalgam concept. I just think Owens' performance was strong enough to overcome the negatives. Finally: Seven all-decade players did not make the Hall on Saturday. The public is myopically focused on one. I get why, but Dawkins and Lynch, for instance, were pretty great at their positions too.
• Why I voted for Terrell Davis. It came down to this number: 149.9. Every January, the Hall of Fame sends out an information book (it's as thick as an encyclopedia, for anyone who remembers those.) I find three or four hours to look at the cases for the 18 candidates, so I can ask a few questions about them to some people whose opinions I value, and so I can crystallize my feelings about the candidates. I want to be firm about my opinions. But I also want to be open about them. The thing that I kept coming back to about Davis: He's the best playoff running back ever. In his last seven postseason games, over the 1997 and 1998 seasons, he averaged 27 rushes and 149.9 yards per game—and Denver won all seven games, including seven-point and 15-point Super Bowl victories. Still, it's an extraordinary and nearly unprecedented move by the committee to enshrine a player who had three great years and one very good one. And doubtless it will set the kind of precedent that will be impossible for the voters to ignore in the coming years. These votes don't occur in a vacuum. The impact of the precedent weighed on me Saturday; it weighs on me today. It's a big reason why I had been dubious about his case. But I changed my mind because I think Davis will go down as a unique case and had a unique career, and if a player does what Davis did in four seasons, lifting his team the way Davis did, I'm comfortable standing behind my vote.
• The future. I talked to a couple of the players who didn't make it, one on Saturday night and another Sunday. They seemed particularly disappointed to not get in this year because they see the future, and it's packed with good players; if they didn't get in this year, the road's not getting any easier. Over the next four years, here's who becomes eligible:
2018—Ray Lewis, Randy Moss, Steve Hutchinson, Brian Urlacher, Ronde Barber.
2019—Tony Gonzalez, Ed Reed, Champ Bailey.
2020—Troy Polamalu, Reggie Wayne, Patrick Willis.
2021—Peyton Manning, Charles Woodson, Calvin Johnson, Marshawn Lynch, Jared Allen.
One interesting thing to watch: If Owens is road-blocked by his behavior, what becomes of Randy Moss? Will he be judged by his "I play when I want to play" comment to Sid Hartman in 2001? That'll be one to watch next year.
Postscript: It's a fascinating study every year. I'm sure most of the discussion will center on Owens, and rightfully so. But I do think each of those elected is worthy of the Hall.
• STILL ON THE OUTSIDE: Jenny Vrentas on Hall of Fame snubs Terrell Owens and Paul Tagliabue, and a future prediction for both
* * *
Brett Favre, Half-Marathoner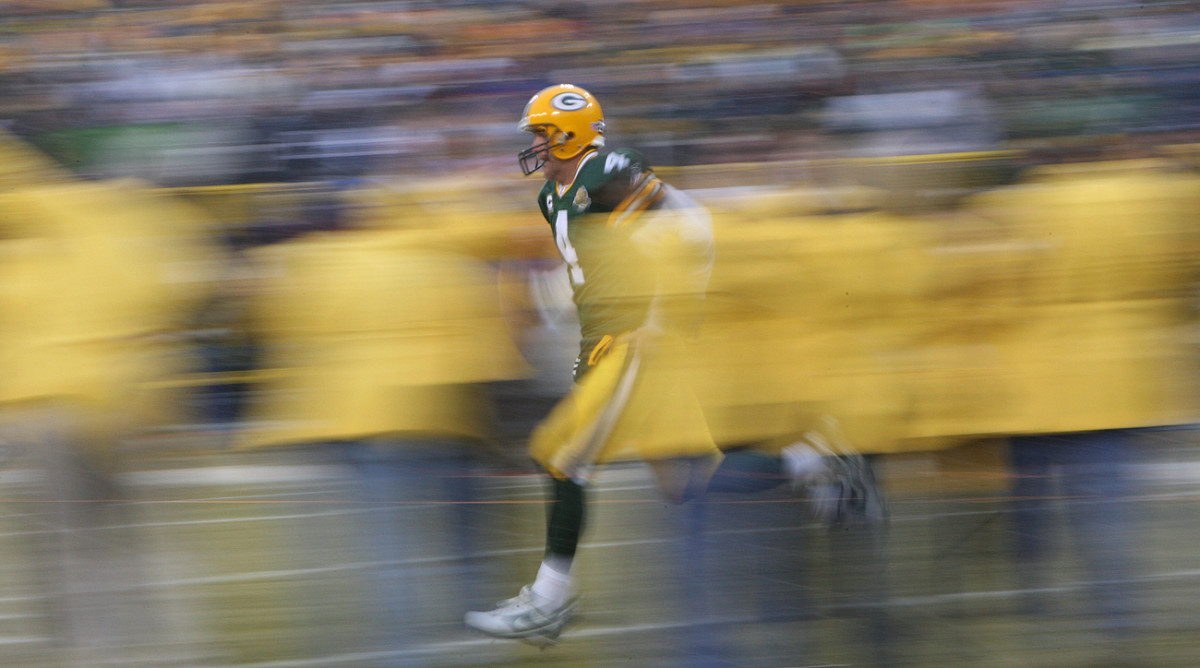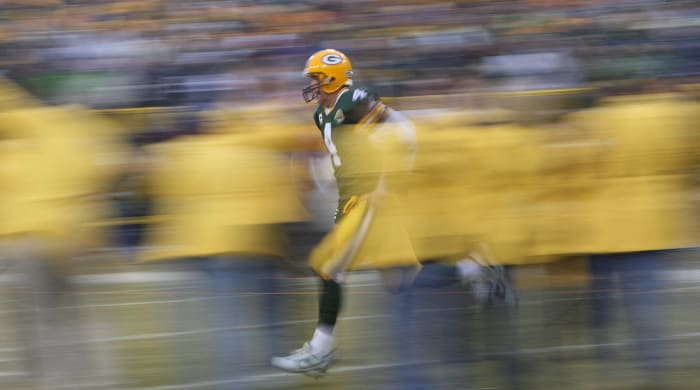 Brett Favre has resisted since his 2011 retirement the siren song of the broadcast booth and the glad-hander's role so many former players have at Super Bowls, hired by companies to push product. Favre would much rather stay home … and run half-marathons?
"I just ran my first one over the weekend, in Gulf Shores, Ala.," Favre said from Hattiesburg, Miss., the other day. "Ran it in 2:06. [That's a 9-minute, 32-second pace.] I was hoping for an 8:30 pace, but I was just happy to run one, to be honest with you. People ask me why in the hell would you ever do that? Because I wanted to challenge myself to see if I could, and I did."
Favre is 47. My last strong recollection of him, as a player is of him sitting on a stool in front of his locker at the Superdome seven years ago, after getting the living crap beat out of him by the Saints in the NFC title game. He moved like an arthritic 65-year-old after that game. So now Favre runs a half-marathon. My first thought: What an amazing resilient thing the human body is.
"What hurt?" I wondered.
Favre said, "My knees were fine, hips were fine. I felt great. The last two miles, my ankles and my feet bothered me, but that's about it."
You may have seen Favre in a Buffalo Wild Wings commercial in the Super Bowl broadcast. (Shot near his home in Hattiesburg, of course; he doesn't leave southern Mississippi willingly.) He's portrayed as himself, trying to discover the dark side of why he set the all-time NFL interceptions record. "Hopefully it's funny and it goes over well," he said. "I enjoyed doing it. The actors were great." He hopes this very brief acting job is received better than his first one: playing himself in "There's Something About Mary" in a scene with Cameron Diaz.
"What I tell people about that one," Favre said, "is they wanted me to act stiff and unfunny, and I did my job."
• THE GUNSLINGER, UNPLUGGED: Back in 2015, Brett Favre and friends looked back on the career and football life of No. 4
* * *
Kraft: 'Our Hardest Moment of the Year'
New England owner Robert Kraft told me the toughest thing this season wasn't when the Patriots took the field for the opener in Arizona without Tom Brady, or overcoming the Steelers in the AFC title game.
"It was after our last preseason game [Sept. 1 at the Giants]," Kraft said. "We knew we couldn't have any communication with Tom for four weeks, because of his suspension. Without question, that was our hardest moment of the year. Tom lives in the same neighborhood as me. So we're naturally going to see each other in the neighborhood. But we couldn't have any contact whatsoever, and we were going to do this absolutely by the book. We weren't going to do anything that would allow anyone to think we were violating the league's order. No meetings, no calls, no texts. Nothing. Our bond goes beyond football, and to go a month during the season without communication with Tom … That was really hard for me."
• THE ROAD TO SUPER BOWL 51: Relive the 10-day journey The MMQB took from NYC to Houston, reporting stories along the way
* * *
Quotes of the Week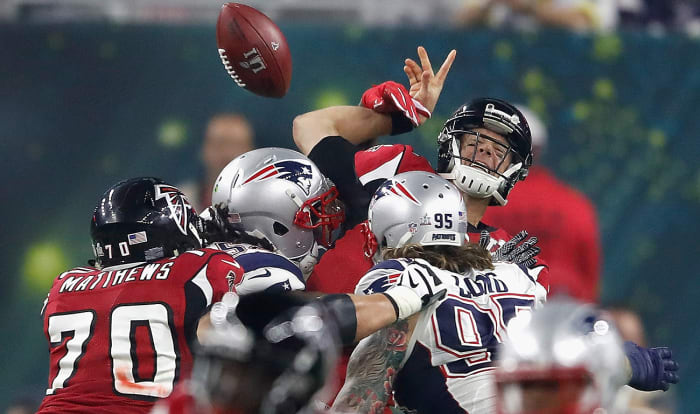 I
"This is unequivocally the sweetest."
—Patriots owner Robert Kraft, comparing the fifth Super Bowl victory to the previous four.
II
"I'm broken inside. It's terrible. It's one of the worst feelings ever. I probably will never forget this. It will always be haunting me."
—Atlanta safety Ricardo Allen, after the worst loss a team has ever suffered in the Super Bowl.
III
"I think he's the greatest coach of all time … in any sport."
—Los Angeles Clippers coach Doc Rivers, on Bill Belichick, to Andrea Kremer of NFL Network.
IV
"It's really about the future of the country. I've lived the American Dream, and had a great life. Immigration and religion and racial tolerance are the foundation of this country. You can't confuse safety with religion or national origin. That's the point."
—Jaguars owner Shad Khan, a Pakistani-born Muslim, to Ryan O'Halloran of the Florida Times Union, on President Donald Trump's attempt to limit travel to the United States from seven majority Muslim countries. Khan called Trump's move "one step backward."
V
"You know me. I speak in bumper stickers."
—Atlanta coach Dan Quinn.
He does. A few:
• "I don't want to build Seattle East. I want to build Atlanta Now." (On his ex-employers.)
• "Arrive violently." (Hey defense: Hit the crap out of the guy with the ball.)
• "He's a dog competitor." (Regarding Tom Brady, but it could be any player he reveres.)
* * *
The Award Section
OFFENSIVE PLAYERS OF THE WEEK
Tom Brady, quarterback, New England. Six months shy of 40, Brady led the biggest comeback in Super Bowl history. He threw for 466 yards, two touchdowns and one two-point conversion. After struggling against a quick Atlanta defense in the first half, Brady exhausted the Falcons in his last five drives, going 26-of-34 for 284 yards and two touchdowns. He even scrambled for 15 yards to earn a crucial first down in the third quarter, and New England's 37 first downs set a Super Bowl record. 
DEFENSIVE PLAYERS OF THE WEEK
Trey Flowers, defensive end, New England. The second-year standout was a disruptive force Sunday night, recording 2.5 sacks for a combined loss of 26.5 yards. He sacked Matt Ryan for a loss of 12 yards in the fourth quarter with less than four minutes on the clock, and destroyed Atlanta's best chance to score again and suffocate New England's comeback. Flowers also led New England with five quarterback hits.
Grady Jarrett, defensive tackle, Atlanta.The second-year DT never had a multisack performance before the biggest game of his life, in which he sacked Brady three times. Two of those takedowns were on back-to-back plays in the fourth quarter as New England began its rally. Jarrett's three sacks not only matched his season total but also tied a Super Bowl record shared by Reggie White, Darnell Dockett and Kony Ealy. Jarrett also led the Falcons with four quarterback hits.
SPECIAL TEAMS PLAYER OF THE WEEK
Matt Bosher, punter, Atlanta.Bosher pinned the Patriots into difficult field position early in the game with two 55-yard punts landing at New England's 5- and 9-yard lines. He punted six times for a 47-yard average and held the Patriots inside their own 20 four times in the game.
COACH OF THE WEEK
Bill Belichick, coach, New England. Um, yeah. Belichick's fifth Super Bowl title as a head coach cemented his status as the greatest coach of the Super Bowl era and gives him a strong case as the best in the NFL's 97-year history. In post-game interviews, New England players described Belichick as calm and unflinching at halftime when his team trailed 21-3. His team surrendered another touchdown but then put together the largest comeback in Super Bowl history and forced the first Super Bowl overtime. Together in Houston, Belichick and Brady permanently secured their legacies.
GOAT OF THE WEEK
Kyle Shanahan, offensive coordinator, Atlanta.With first-and-10 at the New England 22-yard line and 4:40 to go, all Shanahan needed to do was run the ball to kill the clock and then kick a field goal to give Atlanta an 11-point lead with around three minutes left. Instead, Shanahan called one run play and then emptied the backfield. Ryan was sacked by Flowers for a 12-yard loss, tackle Jake Matthews was called for holding on the next play and Atlanta was forced to punt, affording New England the opportunity to drive 91 yards for the game-tying touchdown. Shanahan got needlessly greedy with his play calling in the fourth quarter, and that decision kept New England in the game. 
* * *
Right Combination of the Week
James White and Tom Brady, New England Patriots. There always seems to be an unsung hero for the Patriots in Super Bowl wins, and Sunday it was James White's turn. He and Brady connected 14 times for 110 yards, both career bests for White. And the third-year running back also scored three times, twice on receptions and once on the ground. A 2-point conversion gave White 20 total points, a Super Bowl record. It was an unexpected combination for New England—White's previous high in 2017 was eight receptions in Week 6—but it proved to be the right one.
* * *
Stats of the Week
I
Patriots' margins in their seven Super Bowls played under Bill Belichick: 3, 3, 3, 3, 4, 4, 6.
That's correct. Sunday's game, an overtime affair, was the rout of the bunch.
II
Brady-Montana. Was Sunday's dramatic result a distancing between the two men vying for The Greatest Ever title? You decide.
| | | | | |
| --- | --- | --- | --- | --- |
|   | Playoff W-L | SBs | SB W-L | SB TD-INT |
| Brady | 25-9 | 7 | 5-2 | 15-5 |
| Montana | 16-7 | 4 | 4-0 | 11-0 |
* * *
Hall of Fame Stats of the Week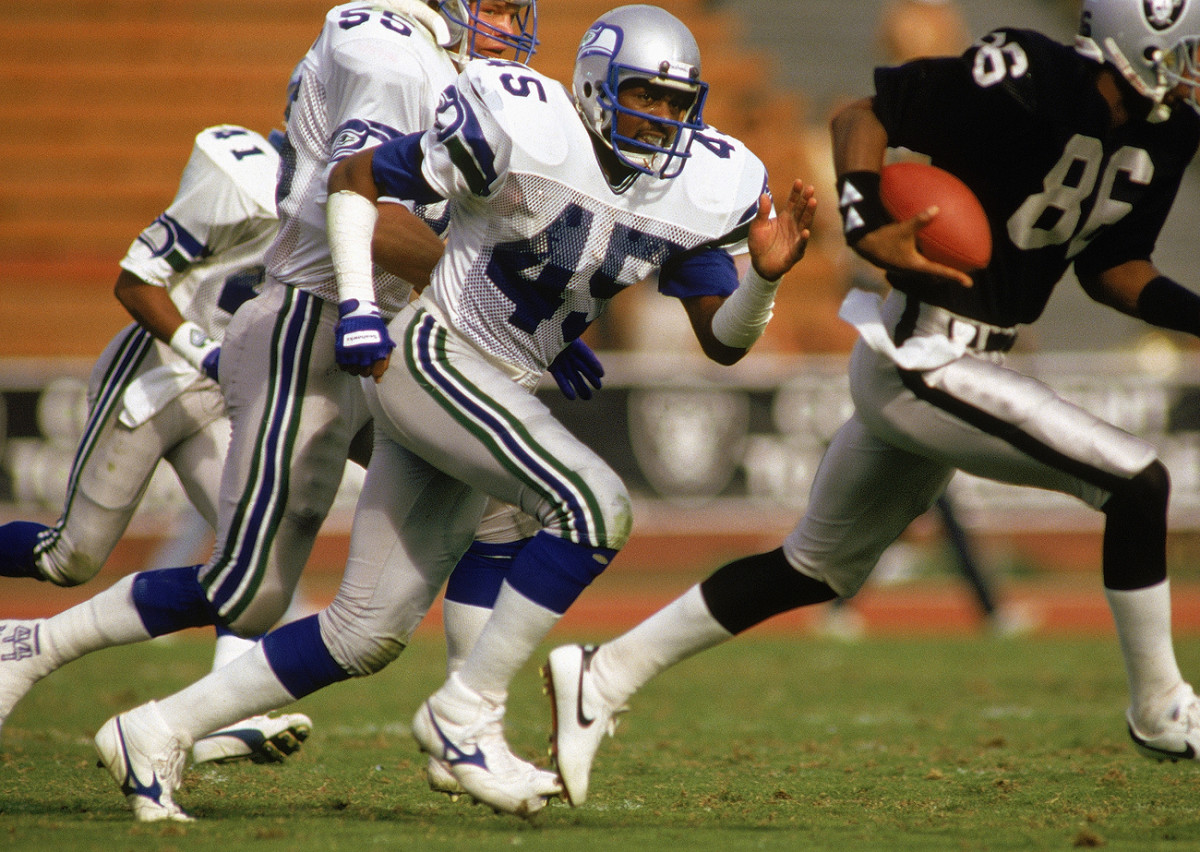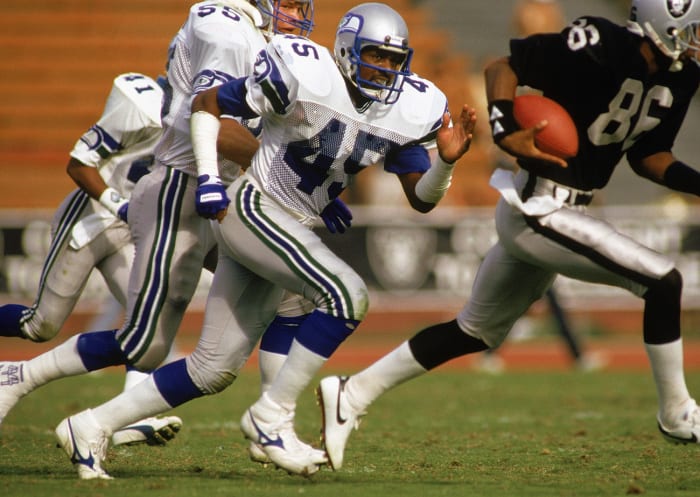 I
The Pro Football Hall of Fame has inducted 261 people who have been in the game since 1960. The tradition of an offensive-heavy Hall continued Saturday, when six players—three on offense, two defense, one special-teamer—got elected. Of those who have played, coached or been executives since 1960, breaking down the offensive/defensive mix:
Offensive players: 132 of 261 enshrinees, 50.6 percent.
Defensive players: 87 of 261 enshrinees, 33.3 percent.
The safety position, in particular, has been short-shrifted by the Hall selectors. In the 31 Hall classes since 1987, only two of the 177 men elected were pure safeties: Paul Krause in 1998 and Kenny Easley in 2017.
II
We really should appreciate the six-year span of productivity and greatness LaDainian Tomlinson had between 2002 and 2007. It's a six-year run of production unlike any back we've seen.
Tomlinson scored 119 touchdowns in those six seasons. Only 10 players in history have scored more in their careers.
One player in 2016 exceeded 2,000 yards from scrimmage—David Johnson with 2,118. Tomlinson averaged a 2,070-scrimmage-yard season from 2002 to 2007.
III
Not only was Kurt Warner's career hugely unlikely—from a stock boy at a grocery store to the end of the Rams' roster to the two-time MVP of the Greatest Show on Turf—but his career arc is also one of the strangest ever for a Hall of Famer. He had a huge donut hole in the middle of his career. Look:
| | | | |
| --- | --- | --- | --- |
|   | TD | INT | Avg. Pass Yds Per Season |
| First 3 seasons (1999-2001) | 98 | 53 | 4,204 |
| Next 5 seasons (2002-2006) | 27 | 30 | 1,588 |
| Last 3 seasons (2007-2009) | 83 | 45 | 3,918 |
* * *
Factoids That May Interest Only Me
I
Ridiculously coincidental meeting times of the past three Pro Football Hall of Fame voting sessions:

• 2015, Phoenix: 8 hours, 50 minutes.
• 2016, San Francisco: 8 hours, 46 minutes.
• 2017, Houston: 8 hours, 49 minutes.
II
There were 60 explosive-sniffing dogs from around the country here, two from as far away as the Los Angeles County Sheriff's Department. The two German Shepherds rode 25 hours with the LASD handlers—who work with body armor—to get here.
In other words, it's been pretty secure in Houston.
III
Worlds colliding: Lady Gaga and Ed Werder took a photo together at midfield three and a half hours before the game.
* * *
On Their Night Table
Steve Jobs, by Walter Isaacson
Recommended by Patriots wide receiver Malcolm Mitchell
After his Super Bowl win, Mitchell shared the following with The MMQB about one of his favorite books: "It's phenomenal. I like it because it uses history to teach a lesson that can help today. I enjoy the historical references that can be applied to my life today. I think there is a lot about Steve Jobs that a lot of people don't know, and if you read the book you will appreciate him as an intellectual and you will try to understand him as a human being. I wish as I was as creative as he was, but I guess I will keep trying."
You can purchase "Steve Jobs" here.
* * *
Tweets of the Week
I
II
III
And so it begins.
IV
V
* * *
Pod People
From "The MMQB Podcast With Peter King," available where you download podcasts.
This week's conversations: Atlanta GM Thomas Dimitroff and Seattle quarterback Russell Wilson.
• Dimitroff on lessons learned from embedding with a prominent Tour de France racing team, Team Sky, and its British leader, David Brailsford, at last year's race in France: "Besides the Super Bowl, it was the next most exhilarating moment in sports that I've been around. I was around them for a few days. I toured with them and I was part of it. I really believe cycling is so dialed in on the science side of it and its marginal gains, and David Brailsford and Team Sky believe in marginal gains. The smallest one, two and three percent can make an exponential difference in the success of a team. Seeing it first-hand and the little things they paid attention to, whether it was the food or performance or sleep—all the different nuances of their approach to being successful, I really believe that helps. [Falcons coach] Dan Quinn is very open-minded to that. We spend a lot of time talking about that—the importance of marginal gains. Brailsford invited me back and sent me a congratulatory text."
• Wilson on whether safety Earl Thomas, who has discussed retirement, will return to the Seahawks in 2017: "Oh yeah, for sure. He loves the game too much. I think he was just going through a moment, because he loves the game way, way too much. If he talks like he's not [returning to play], I am going to go over to his house and pick him up for practice. I love that guy too much for him not to be out there."
* * *
Ten Things I Think I Think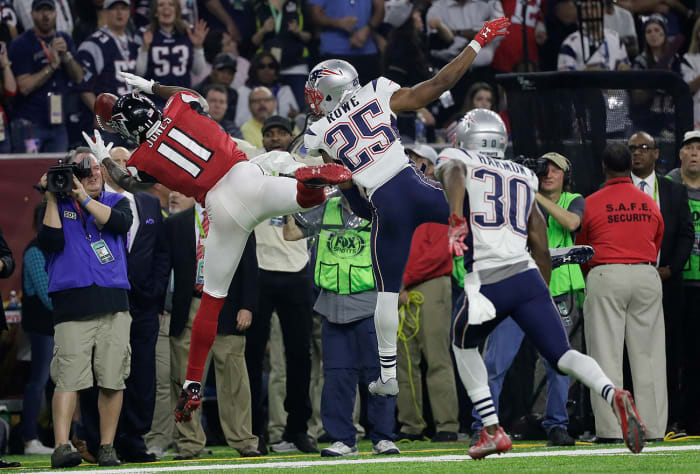 1. I think these are my quick notes of analysis from Super Bowl 51:
a. That's the greatest comeback I've ever seen.
b. Robert Alford certainly was forgotten quickly.
c. Bad call on the Falcons' extra point; Shea McClellin should have been allowed to leap over the center the way he did.
d. I will never forget the thought I had when the Patriots won the overtime coin flip: Game over.
e. The most amazing thing, other than the comeback from 25 points down, was New England getting 37 first downs in a Super Bowl.
f. A shame, really, that Julio Jones' positively amazing, late-fourth-quarter catch on the sideline is nothing but a line in a long story this morning.
g. Matt Ryan went from MVP midway through the third quarter to a man who will be sick over a few of his mistakes in the fourth quarter. He just didn't respond when Tom Brady was landing haymaker after haymaker.
h. Ryan's last four possessions: punt, fumble, punt, punt.
i. If I'm a Falcons coach, I quite literally will not show this tape to my players in the offseason.
j. I still think both teams should have a possession in overtime, and that opinion will never change.
2. I think it's going to take a while to process exactly what we just saw. "There's no place to put that one mentally," Dan Quinn, remarkably composed, said at the podium after the game. Seriously: There's a book in the way the Falcons will respond to this event, not just in how the Patriots won the most stunning game in NFL history.
3. I think no one cares about this stuff, but it does mean something to me: Matt Ryan handled himself like a champ post-game. He answered everything, no matter how painful, and he did the extra interviews that Super Bowl quarterbacks are expected to do. He snapped at no one.
4. I think I'm sure you join me in wishing Tom Brady's mother, Galynn, well in her treatment for cancer; Robert Kraft told Sal Paolantonio after the game that she was undergoing chemotherapy. The Brady family took some marvelous photos on the field Saturday, and love was in the air.
• THE BRADY FAMILY: Albert Breer with Tom Sr. on why this win means so much more
5. I think the best thing I saw in Super Bowl week was Chris Mortensen, on the job.
6. I think I feel for James White. I really do. I hope he's serious when he spouts the clichés after the game about being happy with his role, because he didn't win the MVP after catching 14 passes for 110 yards, and scoring three touchdowns and a two-point conversion. His teammates certainly valued him and his contribution.
7. I think the Raiders are in play in San Diego, though I do not believe the Las Vegas option is dead yet. The problem in Vegas, after billionaire Sheldon Adelson pulled his $650 million investment, is that big-money people there don't want to cross him. "It's bad news, but we're still in the third inning of a long game," one NFL source said. NFL policies forbid casino owners from investing in NFL franchises, so it was going to be a tricky prop bet anyway to clean up Adelson's money to pass muster.
8. I think it'll be interesting to follow the status of one rules proposal this off-season. A new intentional grounding rule is being considered. Don't look for any big new rules changes beyond that. The PAT will stay a longer kick; the league's happy with it being a 93-percent play instead of 99. But one thing that the NFL's Competition Committee will consider is allowing quarterbacks to legally throw the ball away from the pocket, as long as the ball goes past the line of scrimmage. The rule now is that a quarterback must be outside the tackles to throw it away, and the ball has to go past the line of scrimmage. The change would make quarterbacks be able to dump the ball without risking injury while they're sprinting out of the pocket.
9. I think this would be my good educational NFL story of the week, from Ben Volin of the Boston Globe on the anatomy of a play call, from the start of the 40-second play clock to the snap of the ball.
10. I think these are my non-NFL thoughts of the week:
a. Thanks to the fine people at St. Arnold Brewery in Houston, where The MMQB held its first live podcast Thursday night. Chris Berman was terrific, Mike Pereira educational and entertaining, and John McClain a combo platter of Houston booster and encyclopedia of Houston sports knowledge. And thanks to the folks who attended and helped us raise more than $8,000 for The Caroline School in Houston.
b. Houston did a tremendous job putting on the game. Really good. We live in a society that demands security at events like the Super Bowl, and the oppressive security, while a pain, was fine with me. The restaurants and bars and city welcomed outsiders warmly.
c. Minnesota next year. When I stood outside at practice for the Falcons on Wednesday, it was 80 degrees and sunny. I do not believe it will be 80 and sunny in Eden Prairie in the first week of February next year.
d. I hate the word "choke." And I understand the use of it in conjunction with the game Sunday night. But I think Atlanta was more worn out and beat than choking, honestly.
• ANATOMY OF A COLLAPSE: Andy Benoit on why the Falcons couldn't close out the Patriots in Super Bowl 51
e. That "SNL" skit on Sean Spicer was a gem.
f. Big fan of The Woodlands, north of Houston. Nice place to decompress and have a meal.
g. Coffeenerdness: Even with an extra shot of espresso, the Cascara latte at Starbucks is a little thin.
h. Beernerdness: St. Arnold White Noise (St. Arnold Brewery, Houston) was my beer of choice Thursday night. That is such a cool brewery to visit … and it is such a good beer, a Belgian witbier (okay, I am partial to those) growing in popularity.
i. The TV got turned on my room one time in seven days in downtown Houston. One time. I can't write with it on anymore—at least I'm extremely annoyed trying to write with the TV bugging me.
j. Wow. I saw James Harden on Friday night. That's the kind of show that could make me an NBA fan.
k. Thank you for everything, Kevin Cooper. You ran a great show for a week in Houston.
• NFL EVALUATORS ON JOE MIXON: Emily Kaplan on how teams are handling the troubled past of a talented running back
* * *
The Adieu Haiku
I respect Otto
Graham. A lot. But Tom Brady's
the GOAT. It's over.
• Question or comment? Email us at talkback@themmqb.com.