2017 NFL Draft: What Will Cleveland Do With Top Pick?
Myles Garrett ... Mitchell Trubisky ... It's all on the table for the Browns with the No. 1 selection only days away. Here are the latest first-round notes from Mike Mayock, a mock draft tease, a reality check reminder and more
OCEAN CITY, N.J. — I met North Carolina quarterback Mitchell Trubisky the other day in Chapel Hill. He rolled up in his 1997 Toyota Camry, a hand-me-down from his grandmother, with 170,000 miles on the odometer. Politely, he talked about his workout routine, throwing with his Tar Heels teammates, and said he needed to keep busy to prevent the pre-draft craziness from driving him crazy.
The Browns, his hometown team, had been in the news, with longtime beat writer Mary Kay Cabot reporting an internal split—which I've heard is true—between a faction favoring Texas A&M pass-rusher Myles Garrett with the first overall pick, and a faction favoring Trubisky. The pressure of being picked high was intense enough, I mentioned to him. But being picked number one, by a team that has lost forever, in your own hometown, with a history of a black cloud over the franchise, with the fans frothing for a quarterback savior, and with Trubisky starting all of 13 college games in his life … wouldn't that be just too much weight on his shoulders?
"No," he said. "I think that is the type of pressure you dream of, and no exterior pressure is greater than the pressure that I put on myself. If I would go back home it would be special, just like anywhere else. They say be careful what you wish for, but this is what I wished for, this is what I worked for and this is what I dreamed of. I just want to play football, so all the craziness that comes with it, that's just bonus. I'm going to black that out when I go to work. Football is what makes me happy, not the media, all the attention. That's where the craziness comes in."
Yes, but this kind of craziness wouldn't help you play quarterback. It would hurt, actually. A lot. Being the first overall pick? By Cleveland? Ahead of Myles Garrett? Man, that would be one pressurized start to a savior's career.
* * *
On Sunday, Mike Mayock was in the home stretch of his NFL Network draft prep in this Jersey Shore beach town. The Atlantic Ocean was outside his picture window on an overcast, raw afternoon, but I don't think he saw the surf or the sand. This is the place Mayock goes, 75 minutes from his Philadelphia home, to cram in the days before the draft, and to take calls from virtually every NFL decision-maker about what they're thinking on the eve of the draft.
The story, as Thursday's first round in Philadelphia approaches, obviously is this: WWCD? What Will Cleveland Do? Mayock crystallized my thoughts when he said what should be happening in the Browns' facility this week in Berea, Ohio, as the franchise's combo platter of traditional football guys (coach Hue Jackson leading that group) and progressive analytics side (with director of strategy Paul DePodesta and GM Sashi Brown) prepares to figure out what to do about the eternal need for a quarterback in a city so desperate for a franchise passer.
"In the building," Mayock said, "I think there's got to be a conversation about the quarterback situation. The only way you don't run Myles Garrett up there in minute number one [of the draft] is if the entire building is uniform and says there's a quarterback in this draft that, A, we think is a franchise QB; B, he will be the starting quarterback for the Cleveland Browns for the next eight to 10 years; and C, we will win a lot of football games with him.
"If you believe all of that, then take him at one. But my feeling is, that QB isn't in this draft. So it's got to be Myles Garrett."
I agree with Mayock—to a point. That quarterback might be in this draft. But "might" is the operative word there. We don't know. The Browns don't know. This is one of the foggiest drafts for quarterbacks in years.
The Browns have drafted three first-round quarterbacks in the past 10 years: Brady Quinn (2007), Brandon Weeden (2012) and Johnny Manziel (2014). None has worked out. None has come close to working out. That isn't to say the Browns shouldn't take a quarterback at number one. But they should take a quarterback number one only if the entire organization can get behind it enthusiastically—coaches and ownership and front office and the new analytics faction (which, by the way, I heartily respect). And it's clearly not the case right now that the entire organization, including all the key people, is behind the selection of Trubisky at number one. The draft isn't a democracy in any organization. But if your head coach, quarterback mentor Hue Jackson, is not behind the quarterback you're taking first overall (which Cabot reported), that's called trying to force a square quarterback peg into a round hole. It's not smart.
I say this as much for Trubisky's benefit as I do for people inside the team: He should not be the Browns' first overall pick. It's fine to say the pressure he puts on himself is greater than any external pressure. But it's just not so, and he'd find that out early in Cleveland. Anything less than playoff contention in year two and he'd hear it from the Dawg Pound. When you draft a quarterback first overall, and he flounders, it's much different than picking Cody Kessler 93rd and seeing him flounder. It's the weight of expectations. By any definition, there's no Andrew Luck or Troy Aikman in this draft. If Trubisky goes to the Browns, and is forced to play early by the ravenous public when the team's struggling, he could end up a battered mess, like Tim Couch, or one whose confidence gets shot early, like David Carr. That's not even considering the local-kid angle, which just adds to the mayhem.
In talking to those around the league over the past few days about the quarterbacks in this draft, two themes come up about Trubisky: They don't know enough about him (those 13 career starts), and he was shaky frequently enough to make evaluators need to see more. In his last four college games, Trubisky and North Carolina lost to then-3-6 Duke, 5-6 North Carolina State and 9-3 Stanford while beating FBS team The Citadel. Trubisky's footwork is good, his decision-making (mostly) good, his accuracy (68.0 percent in 2016) is quite good. He's a tempting prospect. But seeing enough in a quarterback with eight collegiate victories to make him your franchise guy with the first pick? It's a leap of faith, a very big one.
Mayock said: "I'm pretty old school, but 13 games isn't enough for me with the first pick in the draft. It's a major level of concern for me."
Some also think Trubisky's personality isn't take-charge enough to win over a team. I'm not dismissing that, but it's not nearly as big as the experience factor. Eli Manning and Drew Brees have a lot of Boy Scout in them too, and they win and command respect.
If I'm Cleveland, I'm taking the guy number one on the vast majority of NFL boards, Garrett. And this draft is a buyer's market, with each team from No. 2 through 7 in the first round interested in trading down. Barring a surprise like San Francisco taking Trubisky at number two, the Browns, with five picks in the top 65 and four in the top two rounds next year, will be able to use some of those picks to move up to take him if they really want him that badly.
• DRAFT NEEDS AND ANSWERS: Andy Benoit and Emily Kaplan find the biggest (non-QB) hole on all 32 teams and fill it with the best prospect
* * *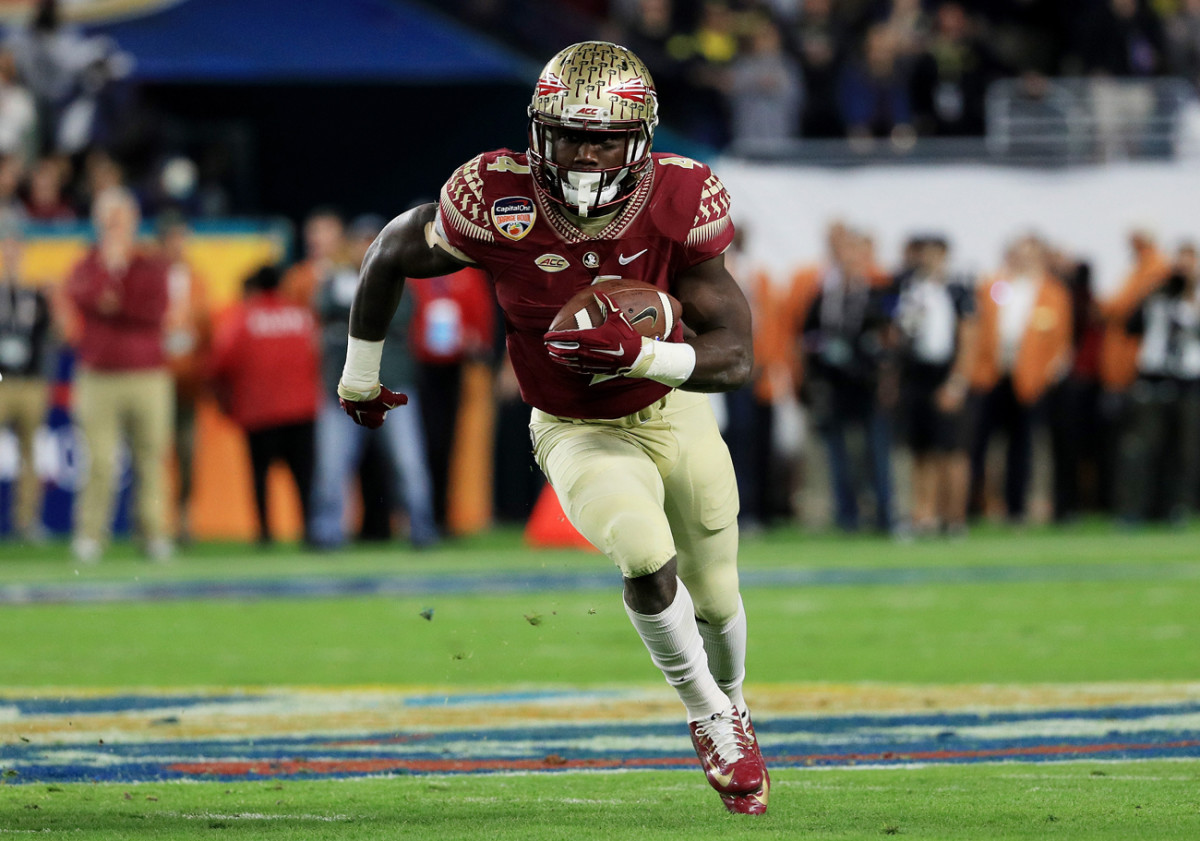 On other draft-related matters three days before Philadelphia hosts round one:
• Mayock on Myles Garrett's lackluster final year at Texas A&M: "People complain about him having half his sacks in one game against Texas-San Antonio. You can pick apart anyone. Put the UCLA tape on [his opening game, before he hurt his ankle]. He was dominant there. If you compare him to Von Miller, he has the same explosion off the ball, and he's 20 pounds heavier. In my opinion, there's only two ways he can fail: Either he gets hurt, or he doesn't want it bad enough." 
• I'm not saying it's likely, but there's a chance off-field concerns about Dalvin Cook could push the highly regarded Florida State runner into the second round.
• Interesting response from Mayock when I asked what this draft would be known for five years down the road: "There's more medical concern with high draft picks than I've ever seen in a draft before. So four or five years from now, there's a good chance that three or four really good prospects won't make it, because of injury over anything else."
• One GM told me he sat with his medical staff for five hours the other day to go over medical records of prominent players. "Never have I been part of a draft with so many medical red flags," the GM said.
• Whither Malcolm Butler? The Saints (picking 11, 32, 42, 76, 103 in the first three rounds) are still interested in Butler, but someone familiar with their thinking believes they are leaning toward keeping their first three picks. The Saints believe that their board between 25 and 75 has a slew of players capable of contributing immediately, with grades close to each other, and the thought of dealing one or more picks for Butler, then paying him a huge contract, is less attractive than it once seemed.
• Whither Joe Mixon? I'm hearing the Oklahoma running back, who had the 2014 incident of punching a female student in the face, has garnered the most interest from Cincinnati, Minnesota, Green Bay and Jacksonville. I won't be surprised to see the Bengals take Mixon with the 41st overall pick. Owner Mike Brown has taken chances in the past on players with off-field issues, leaving it to the coaching staff to keep those players in line.
• I won't be surprised if the Giants (seeking a tackle), scheduled to pick 23rd, or the Texans (seeking a quarterback), scheduled to pick 25th, move up into the teens. Baltimore (16) and Tennessee (18) would be happy to move down.
• Great stat from Mayock: Dallas, badly in need of an edge rusher, used 28 of its 30 on-campus visits with draft prospects on defensive players.
• For a rookie GM (John Lynch) and coach (Kyle Shanahan), the Niners have done a good job not telegraphing what they'll do at two. Most of the mocks have Stanford defensive lineman Solomon Thomas there, but I'm not so sure.
My thanks to Mike Mayock for making time Sunday in his busiest of seasons. You can hear him Tuesday on "The MMQB Podcast With Peter King." And you can catch him doing his real job, when Mayock unveils his mock first round (he does only one mock draft) Wednesday night on NFL Network at 8 p.m. ET. You also can see him and the NFL Network team Thursday evening through Saturday for all 253 picks of the draft, live from Philadelphia.​
• INSIDE THE FILM ROOM WITH SOLOMON THOMAS: Andy Benoit of The MMQB breaks down game tape with Stanford's projected top-10 D-lineman—and talk about what position he'll actually play
* * *
My First-Quarter Mock Draft
The suspense will kill you! Top eight picks here today, and I'll follow Tuesday with the entire round of 32. Why the split mock? A) I wasn't ready to put it to bed on Sunday night … B) Traffic (I hope) will be better Tuesday. Here goes, with brief explanations:
1. Cleveland
DE/OLB Myles Garrett, Texas A&M
Time to stop projecting and hoping, Browns. Take the surest thing.
2. San Francisco
DL Solomon Thomas, Stanford
Not a position of great need, but a building block who will be solid inside and outside.
3. Chicago
S Jamal Adams, LSU
Cleanest player in the draft. That's what smart people keep saying. Thomas also a factor.
4. Jacksonville
RB Leonard Fournette, LSU
Jags' needs do not match this draft. Need a tackle. Watch for Deshaun Watson here too.
5. Tennessee
CB Marshon Lattimore, Ohio State
But Titans want to deal down to recoup second-round pick lost in Conklin deal last year.
6. Cleveland (from N.Y. Jets)
QB Mitch Trubisky, North Carolina
Browns trade 12th, 33rd and 181st picks for No. 6 overall.
Still not sure it makes sense to trade up for Trubisky, but Browns have the picks to do it.
7. Los Angeles Chargers
S Malik Hooker, Ohio State
New defensive coordinator Gus Bradley gets his Earl Thomas, but Hooker must improve tackling.
8. Carolina
RB/Slot/Returner Christian McCaffrey, Stanford
Counter to GM Dave Gettleman's meat/potatoes style, but multiple weapon for Cam.
Toughest call here is McCaffrey. But the Panthers and Cam Newton are coming off an abysmal year and a stunning 52.9 percent passing season. Think what the Panthers want: easy completions. Imagine Newton dumping off five throws a game to McCaffrey, one of the best combinations of runner and receiver we've seen coming out in years. It would be like a detached running game, an extended handoff in space. So we'll see.
I'll have my complete list tomorrow here at The MMQB. In the meantime, keep yourself entertained with this Mock Draft Challenge game on SI.com. Create your own 1-32 predictions with easy-to-use, drag-and-drop functionality and featuring the top 64 prospects. Then compare your picks to other fans and to mine on Tuesday and wonder how in the world I can be so wrong.
• ANDY BENOIT'S FILM ROOM: Don't Bring Any Disrespect at Jamal Adams
* * *
Please Manage Draft Emotions Accordingly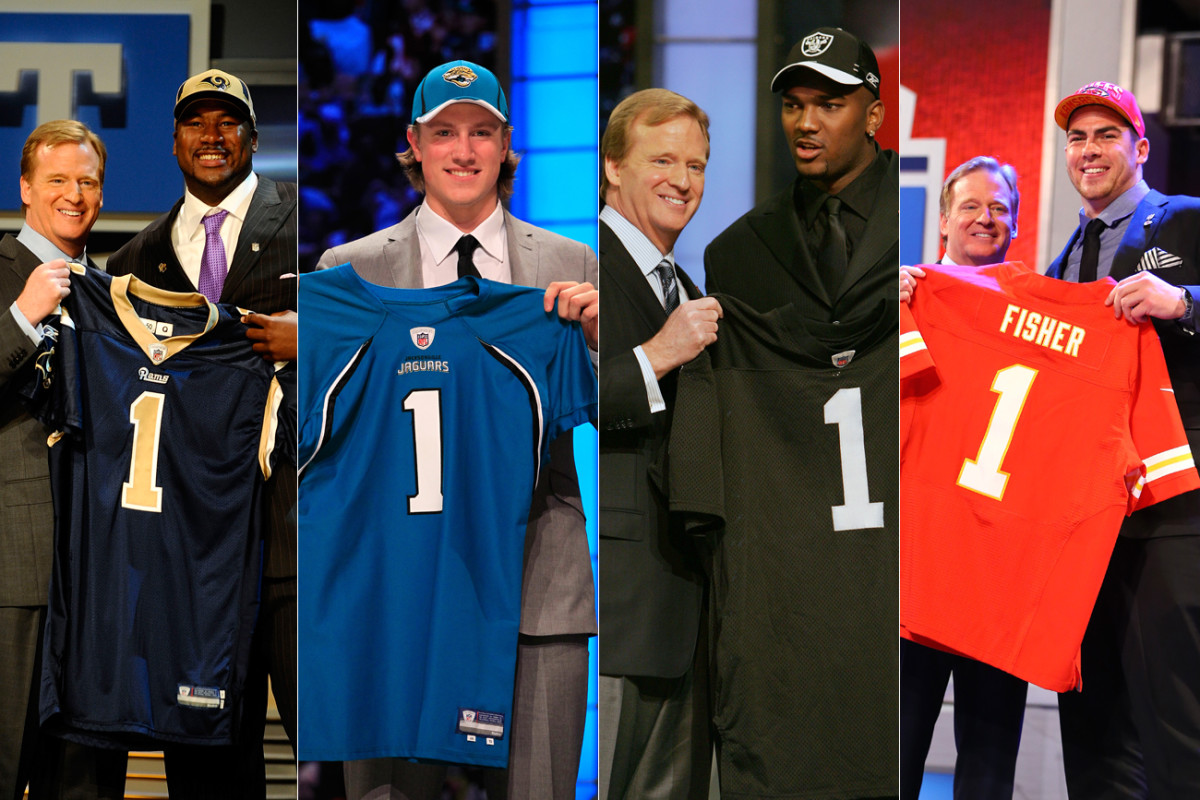 The 17 drafts of this century prove one thing: Drafting in the NFL is the most inexact of sciences. Teams spend untold millions to shape draft boards, and then JaMarcus Russell happens. Jason Smith happens. Dion Jordan happens. And, on the other side, Tom Brady happens.
So don't say we didn't warn you. Have a sane Thursday, Friday and Saturday, and remember: Jimmy Johnson, borderline savantish in the draft room, centered his draft philosophy around acquiring as many picks as he could. "Because I knew it gave me a chance for a better batting average," he said. "We all screw up in the draft."
Examples of that, year by year, in this century:
2000: The Niners, in need of a quarterback of the future, pick Gio Carmazzi of Hofstra 65th overall. The Patriot take Tom Brady 199th.
2001: Picks 8-9-10: David Terrell, Koren Robinson, Jamal Reynolds. Combined Pro Bowls: 1. Picks 30-31-32: Reggie Wayne, Todd Heap, Drew Brees. Combined Pro Bowls: 18.
2002: I'll never forget being in the Cowboys draft room an hour before the draft started. Phone rings. Jerry Jones answers. Detroit GM Matt Millen on the line. Wants an offer, any offer, for the third pick in the draft. Not enthusiastic about Joey Harrington, from the sound of the phone call. Jones doesn't want the pick, nor the quarterback. Harrington goes third, to Detroit. Bad idea. Oh, and my favorite player not selected in the 261-player draft: James Harrison.
2003: Titans draft cornerback Andre Woolfolk in the first round. Chargers draft cornerback Sammy Davis in the first round. Asante Samuel and Ike Taylor, cornerbacks, go late in the fourth.
2004: The Raiders, with the second overall choice, pick Iowa tackle Robert Gallery, bypassing Larry Fitzgerald, Philip Rivers, Ben Roethlisberger and Vince Wilfork.
2005: Drafted ahead of Aaron Rodgers—Troy Williamson, Travis Johnson, Erasmus James, Matt Jones, Fabian Washington.
2006: Drafted between picks 118 and 135: Stephen Gostkowski, Brandon Marshall (the receiver), Domata Peko, Elvis Dumervil, Kyle Williams (the defensive tackle), Rob Ninkovich.
2007: Fixated on JaMarcus Russell for months because of his big arm, Al Davis drafts him with the first overall pick. Russell plays three awful seasons with the Raiders and never is signed by another team despite once offering to play a season for free. That, my friends, is the biggest draft bust in NFL history.
2008: Undrafted: Danny Amendola, Wesley Woodyard, Jerell Freeman, Mike Tolbert, Danny Woodhead, Marcel Reese.
2009: The Rams make tackle Jason Smith the second pick in the draft. He lasts 26 starts. He is out of the league in five years.
2010: Wait! A competent drafting year! First seven picks: Sam Bradford, Ndamukong Suh, Gerald McCoy, Trent Williams, Eric Berry, Russell Okung, Joe Haden … Wait! An incompetence factoid! Antonio Brown is the 22nd wide receiver selected.
2011: Cautionary Tale Alert: Jake Locker 8, Blaine Gabbert 10, Christian Ponder 12.
2012: Be Careful What You Wish For Alert: Robert Griffin III 2, Kirk Cousins 102.
2013: Hard to imagine a less impactful top 12 in history than Eric Fisher, Luke Joeckel, Dion Jordan, Lane Johnson, Ziggy Ansah, Barkevious Mingo, Jonathan Cooper, Tavon Austin, Dee Milliner, Chance Warmack, D.J. Fluker, and D.J. Hayden. By "less impactful," I mean, "really stinks."
• THE TERRIBLE 2013 NFL DRAFT:  Jenny Vrentas on what went into making it the worse first round in memory—and what to learn from it
2014: The Rams make tackle Greg Robinson the second pick in the draft. By Week 11 of the 2016 season, he is a healthy inactive for the Rams. This is year four. Robinson will compete for a starting job in camp. He may be on the Jason Smith track.
2015: Great example of the fairly new draft credo of you-can-get-impactful-picks-ways-down-the-line: David Johnson 86th overall, Jay Ajayi 149th.
2016: Great example of keeping your draft-day emotions in check: Cowboys are desperate for Paxton Lynch in round one, late, and try to trade for him; fail. Cowboys are desperate for Connor Cook atop the fourth round; fail. Cowboys put on a happy face when picking Dak Prescott 135th.
• 2017 DRAFT BIG BOARD: Ranking the top 40 prospects
* * *
Quotes of the Week
I
"Need some help?"
—Patriots tight end Rob Gronkowski, peeking into White House press secretary Sean Spicer's daily press briefing last week, during the Patriots' trip to Washington to celebrate their Super Bowl victory with President Donald Trump. Spicer said he was okay.
II
"We would hang out and we would talk. When we first exchanged numbers, he called me over and said, 'Hey I just want you to know, you're my guy. If you need anything let me know, I will help you out if I can. But I just want you to know, if you f--- me over, I'll kill you.' I sort of laughed a little bit, and I said, 'Don't worry, I got you. I'll take care of you.'"
—Ian Rapoport of NFL Network, a former Patriots beat reporter, to The MMQB's Kalyn Kahler for her "Talking Football," on a meeting he had early on in his relationship with Aaron Hernandez.
III
"One weekend, the computer spit out 297 schedules we considered playable. We threw them all in the garbage."
—Howard Katz, the NFL's vice president of broadcasting and chief schedule-maker, to me, on the process of making the schedule and how it's gotten so much more advanced over the past few springs.
IV
"Blessed are the peacemakers, for they shall be called the children of God."
—Steelers heir Art Rooney II, with the last words at the funeral of longtime owner Dan Rooney on Tuesday in Pittsburgh.
V
"He was special. Like, rare. Not as a player, but as a man and as a leader and as a teammate. And I hope I never have to speak at one of these again."
—New Orleans coach Sean Payton, on Will Smith, giving a victim-impact statement to the court in New Orleans at the sentencing hearing of Cardell Hayes, who received 25 years in prison for the murder of Smith, the former Saints defensive end.
VI
"I don't have an issue with anything. My job's to play baseball and win. This isn't seventh grade, man. You know what I mean? I just play baseball. That's it. I'm not the baseball police."
—Red Sox second baseman Dustin Pedroia, asked about the legality/possible dirtiness of a slide by Baltimore's Manny Machado on Friday night that left him with a spike wound in his calf and took him out of the Red Sox lineup Saturday. That comes via Pete Abraham of the Boston Globe.
* * *
Stat of the Week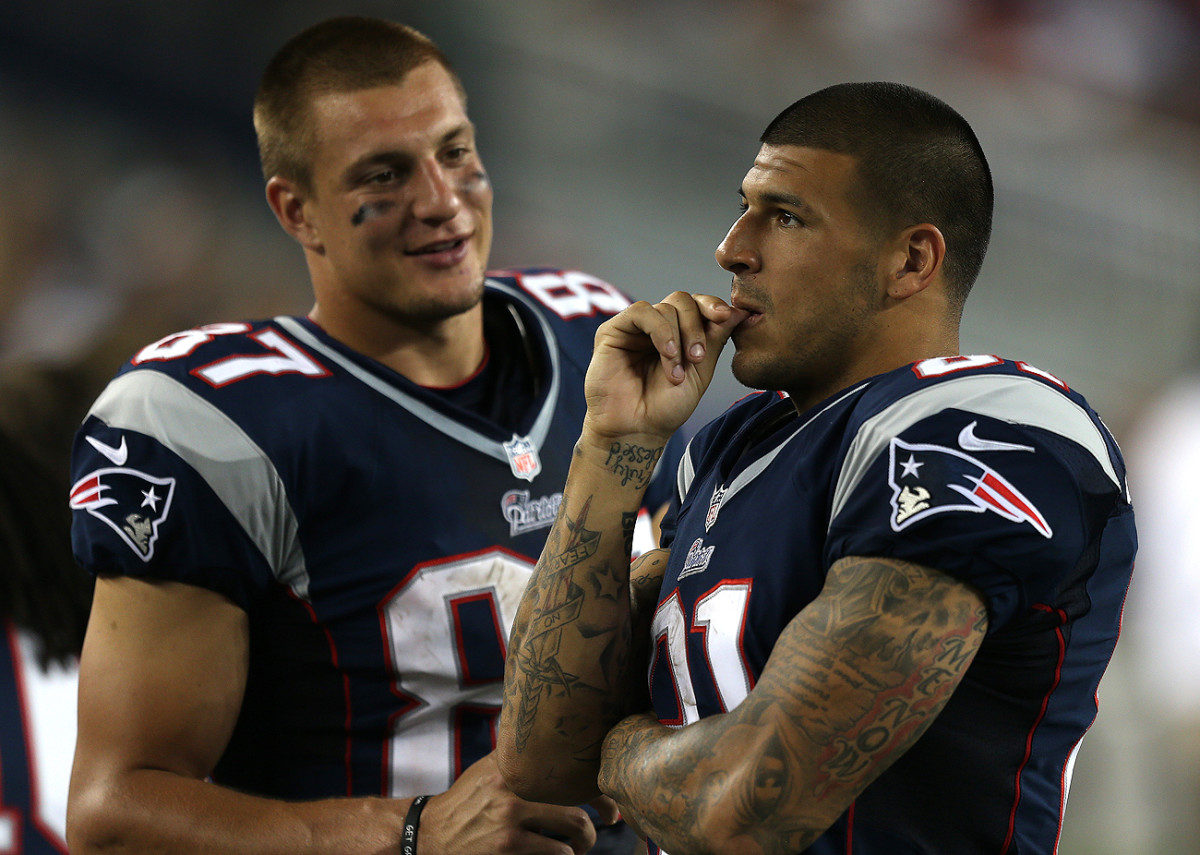 Bill Belichick runs his 18th draft with the Patriots beginning Thursday night, from his bunker in Foxboro. Let's reflect for a moment on Belichick's 11th draft, and the fruits of it, and the nightmare of it.
In 2010, the Patriots chose two tight ends: Rob Gronkowski (42nd overall), and Aaron Hernandez (113th). After two seasons, in terms of impact, it was hard to tell the difference between the two. The stat lines of the Gronkowski and Hernandez through two seasons, including postseason games:
| | | | | | | |
| --- | --- | --- | --- | --- | --- | --- |
| Player | Gms | Touches | Yards | YPG | TDs | Super Bowl TDs |
| Gronkowski | 36 | 153 | 2,196 | 61.0 | 30 | 0 |
| Hernandez | 32 | 160 | 1,827 | 57.1 | 16 | 1 |
In five years, lives changed quite a bit for the men who were 1A and 1B some Sundays as Tom Brady's go-to men in the passing game.
Today, Gronkowski is on his way to Hall of Fame contention. Hernandez, according to Massachusetts prison authorities, committed suicide Wednesday while serving a life sentence without parole for murder.
• AARON HERNANDEZ, ACCORDING TO JOURNALISTS: Three writers who covered the late ex-Patriot share their stories
* * *
Factoids That May Interest Only Me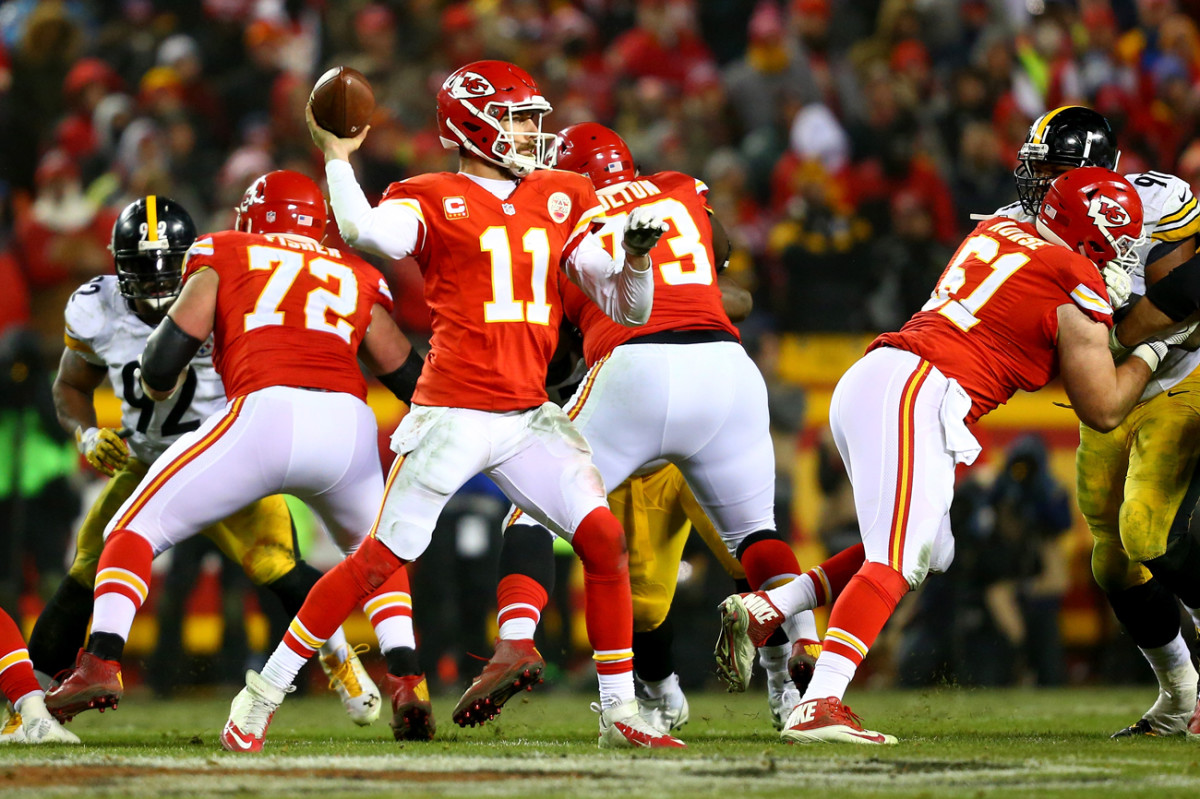 The All-Schedule-Release edition:
• Some clarification about the number of prime-time games a team can have. I was wrong the other day when I wrote that Oakland has the most prime-time games you can have, five, this year. Actually, the broadcast rules state that three teams can have six prime-time games. As of now, only one has six. That is Kansas City—and the Chiefs' sixth prime-time game really doesn't matter much. The sixth is on Saturday, Dec. 16 (Week 15) at 8:25 p.m. ET. The NFL has two national games that day, at 4:30 and 8:25, and with each being a standalone national game on a weekend day, it's not much of a difference.
• From Halloween until the Patriots wake up on Christmas Eve, they play once in Foxboro.
• I've never seen a team with three straight on the road, followed by three straight at home, with no bye to break it up. That's Cincinnati this year: at Jags, Titans, Broncos in Weeks 9, 10, 11; Browns, Steelers, Bears at home in Weeks 12, 13, 14.
• Yes, the Giants got a slightly raw deal, facing four teams coming off byes. But going this deep on a schedule—analyzing, for instance, that the Giants' opponents will be, on average, the most-rested in the league entering their games against the Giants—is a sign that too many people have too much time on their hands to analyze truly insignificant things.
• Yes, it's odd that the Giants will open at Dallas, after opening there in 2013, 2015 and 2016. That's four out of five years opening at Jerryworld, and three in a row. Odd, but nothing else.
• It's a quarterback league, which you learn when considering the passers in the first four Sunday night games of the season: Eli Manning, Dak Prescott, Aaron Rodgers, Matt Ryan, Derek Carr, Kirk Cousins, Andrew Luck, Russell Wilson.
• Smart move for the NFL to keep the Browns and Jags out of prime time. Each team will have its one national TV game in the 9:30 a.m. ET London window.
• HOW THE 2017 SCHEDULE WAS MADE: Peter King goes behind the scenes for the process of picking a schedule
* * *
Mr. Starwood Preferred Member Travel Note
Our good friends and former Montclair softball coaching partners, Jack Bowers and Karin Nelson, invited us to their Chapel Hill, N.C., home while I spoke to some classes and the Daily Tar Heelstaff last week. Now that was pleasant. The campus, as so many of you know, is perfectly collegiate, with huge trees and a lovely college green. It was 80 degrees Thursday. We sat in on a music history class, then I spoke to a Sports Communications class in the journalism school, then sat in on, and spoke to, a Baseball History class. Lots of local folks in the classes, retired people just interested in the topics. Kept thinking how much fun that would be to do one day.
We went with the prof in the baseball class, Matt Andrews, for a Blueridge Blueberry Wheat beer at TOPO (Top of the Hill) afterward. Now that is one crisp and not overwhelmingly fruity wheat beer, an absolute treat on a hot Chapel Hill day.
Jack and Karin took us to a bookstore near their home, a beautiful, independent Flyleaf Books. Terrific selection, with a load of handwritten picks on index cards by staffers. (I bought "Ballplayer," the new Chipper Jones book.) Capping a great day at Flyleaf, and with the North Carolina trout at the restaurant next door, Kitchen … I do not know what I did to deserve such a good day, but I sure am grateful for it.
* * *
Tweets of the Week
I
Quite a statement. This is the 58th draft Brandt has analyzed either running the Cowboys' draft room, in the media with NFL.com or as a coordinator of the combine and the draft for the NFL.
II
III
IV
V
* * *
Pod People
From "The MMQB Podcast With Peter King," available where you download podcasts.
This week's conversations: Washington quarterback Kirk Cousins, Columbia Fireflies outfielder Tim Tebow.
• Cousins on not getting a long-term contract with Washington: "I will continue to look at it the way I have looked at every year: It just feels so much to me like it is week to week and year to year. It doesn't feel like I can map anything out, I've never felt that way. I've never felt comfortable. I think that's a good thing to have. You don't have any entitlement. I'll just play it out and see where I'm at. I know that every week feels like a proving of myself. and that's okay." 
• Cousins on whether that is really okay: "The nature of this league is such that is it going to have to be okay. Many players are told, 'You are going to need to get comfortable with being uncomfortable.' That's the way this league operates. The margin for error is so small. The difference between the joys of winning and the agony of defeat is one play here, one inch there. That's the way this league is and that's what makes it great. But it doesn't mean it is going to be easy for the players involved. And believe me, there are far greater challenges in this league than the situation I'm in. There are guys getting cut not knowing where they are going to have to move their families, not knowing where their next job is going to be. That is a much tougher situation than where I am, so I feel very fortunate and look forward to the opportunity that I have in Washington. A guy like Brock Osweiler signs a four-year deal last year and everyone is saying that is what I should be looking for. Well, he's not even with that team one year later. So was his contract really more than a one-year deal? I guess technically because he is still on that contract in Cleveland, but it certainly didn't play out the way anyone hoped in that situation. For me, the franchise tag ends up being the same thing because it's a one-year deal and it is understood as one-year deals from the start, but most of these contracts in the NFL are one-year deals anyway.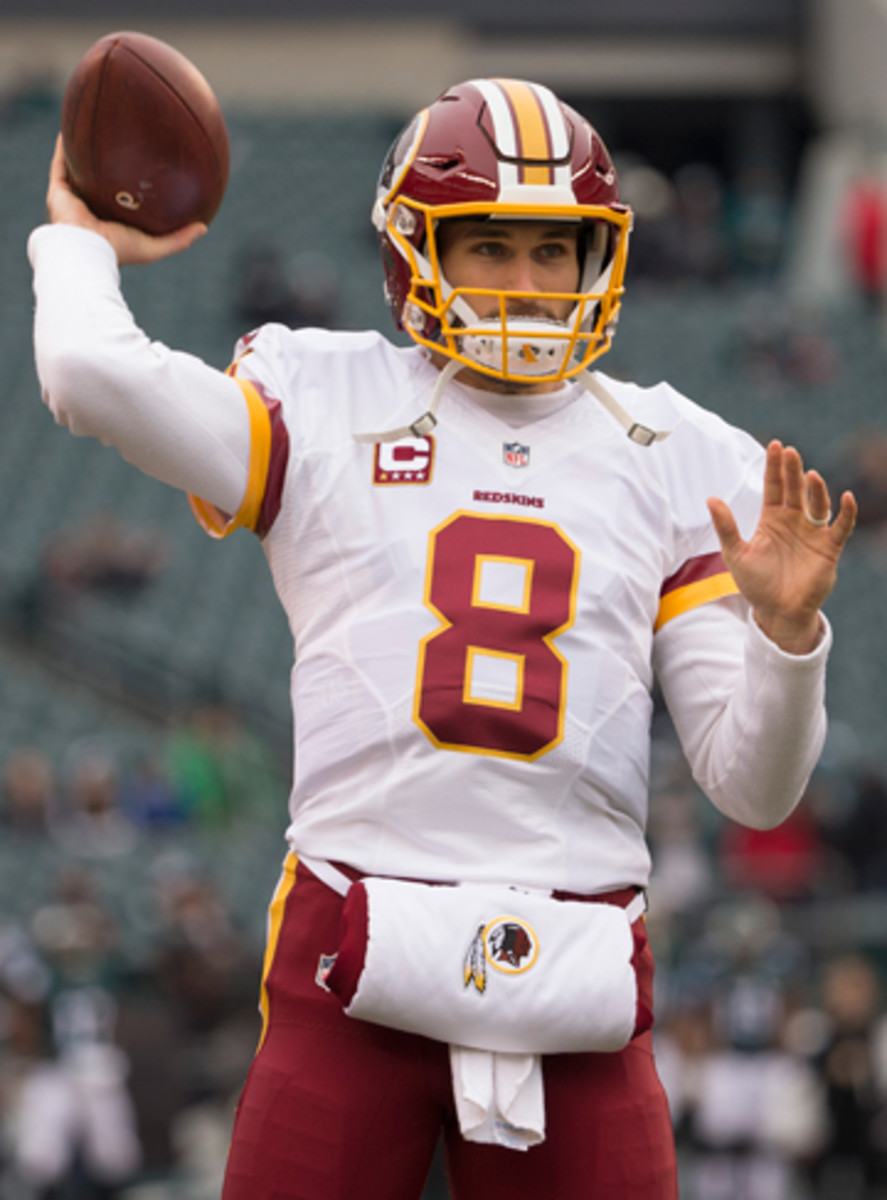 "This has sort of been the narrative for me. I was a junior in high school and I felt like I threw the football well but nobody was interested. I played my entire senior high school football season with zero scholarship offers. I'm going on recruiting visits without a scholarship offer. Schools are wining and dining other players, and I am trying to convince them to offer me. I'm recruiting them, they're not recruiting me on my recruiting visits in high school. This is the way it went. Then I go to college and [Michigan State] coach [Mark] Dantonio chose to bring in two other scholarship quarterbacks. At one time it was myself, Keith Nichol and Nick Foles all at Michigan State competing.
"No one ever said, 'Kirk, you are going to be the guy, we completely believe in you. We're just going to give you the job. And you better prove us right.'
"It was, 'Kirk, we're going to give other guys scholarships, and you need to beat them out and prove to us that you are the guy year after year before we finally commit to you.'
"… So to say, does it bother you? Does it? No, you know what? I have learned to accept it as part of my life and the way things have gone for me for a long time. This isn't chapter one for me. This is chapter 10 or 11 where I've said, 'Here we go again. Whatever happens, happens.' And for me, I play better when I feel like I am still ascending the mountain. I think I play better when people say, 'Keep showing us what you've got.' Whatever is going to get me to play at a high level is what I want to do, so I am okay with it and we are going to keep going year by year."
Coming Tuesday: A special podcast, moved up one day this week (because of the draft), with NFL Network draft guru Mike Mayock. We recorded the conversation in south Jersey on Sunday afternoon. Lots of insight on the draft.
* * *
Ten Things I Think I Think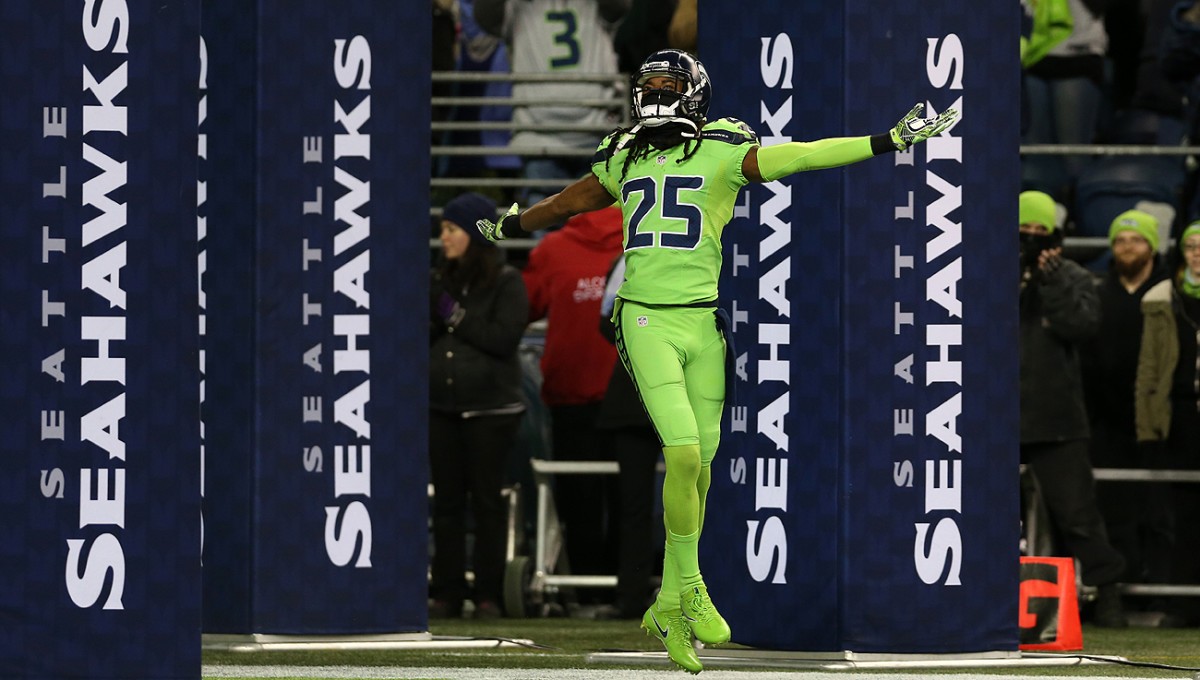 1. I think the Seahawks aren't going to blink on their price tag for 29-year-old cornerback Richard Sherman, and so it's unlikely he'll be traded. The market has cooled for Sherman, in part because teams don't want to pay the price—which is probably a first-round pick or two high picks not including a first-rounder. It's probably for the best for Seattle, which would be in huge trouble at corner without Sherman in 2017.
2. I think the Boston Globe's story on Tom Brady and the $2.75 million that the Best Buddies charity has paid to Brady's own charitable trust since 2011 is certainly not customary, nor is it laudable. The optics are bad. But there are a couple of things to consider here. Brady has chosen one charity to spend a weekend with every year since his star rose to prominence, and that is Best Buddies, which provides assistance and companionship to disabled and mentally challenged people. Brady draws a lot of attention to the cause each year by playing in a touch football game at Harvard and the next day riding in a Massachusetts bicycle race. The fact that Brady spends this time in two major events draws participants willing to help Best Buddies with contributions and generates money from non-participants donating to the causes of those, for example, riding in the bike event. Best Buddies says Brady's participation in the events has contributed to the group's raising $46.5 million since 2001. It's quite likely that if Brady chose to spend that spring weekend on events for his foundation, he would have raised far more than $2.75 million during his career.
So while this is a messy look for boht Best Buddies and Brady, I would ask this question: If Best Buddies were without Brady's participation over the past 16 years, would it have raised even half of that $43.75 million it has raised not, including what it's paid to Brady? I sincerely doubt it. What has happened here is that, essentially, Best Buddies has paid Brady a fee to help it raise more money than it could have otherwise raised, and Brady has donated his share to a slew of 501c3 charities, pocketing zero. Best Buddies should have shown more transparency about this, because, as I said, the optics are bad. But while an ugly look for both, Best Buddies has made more than it ever would have with Brady, and Brady has given money to some charities that personally appeal to him.
3. I think the storyline of it being a disadvantage for a Super Bowl loser to open the season at the Super Bowl winner is all wrong. I get that Ron Rivera didn't like the all-offseason emphasis on the rematch last year. But to me it's a big advantage for a team to open the season on Thursday of Week 1. You've got to play the game anyway; I don't buy the mental strain of focusing on it for four months between the announcement of the schedule and the playing of the game. I would much rather have a mini-bye after Week 1 added to my schedule (10 days between Week 1 and 2 on my schedule) than playing on Sunday in Week 1.
4. I think the Raiders want Marshawn Lynch to make his decision on a reasonable rate of pay before draft weekend, which is understandable. I repeat: This makes too much sense not to happen, and it should happen. Marshawn Lynch should have the first touch of the Raiders' home season Sept. 17 when the Jets come calling to the Oakland Coliseum.
5. I think I have zero problem with what DeShone Kizer said. ("Why can't I be the greatest? The only thing stopping me from it is me.") I would want my quarterback to think he can be the greatest quarterback in the game. It's not sacrilegious to mention Tom Brady and Cam Newton as a quarterback and say you can be them. To me, it's ambitious and admirable. 
6. I think there's always something valuable for football fans (even if you hate the Patriots—and I mean that) when New England wins the Super Bowl and allows some of the work NFL Films has done during the regular and postseason with the team to see the light of day. No different this year, with the looming release of Three Games To Glory 5DVD set, which debuts in Foxboro today and will be on sale to the public on May 2. Bill Belichick allows his assistant coaches and scouting staffers, who normally are nearly unknown, to talk openly about game plans and ideas and ways to win the coming game. It's a revelation that any coach would allow this, never mind the one with the reputation of running a CIA outfit in New England. But Belichick values history, and what he allows to come out after Super Bowl-winning postseasons is some really valuable footage and story-telling.
Remember after the Super Bowl win over Seattle, when NFL Films acquired the practice footage of the unknown Malcolm Butler on a play just like the one he would become famous for in the Super Bowl? In practice, Butler didn't play the ball well. There was a teaching moment then, and that teaching moment led to the decisive play in the Patriots' fourth Super Bowl victory. Again, this year, there's an example in some of the footage I screened Friday. NFL Films captured a meeting of the offensive coaches before the divisional game against Houston in January, with offensive coordinator Josh McDaniels trying to figure out personnel groupings and matchups against the fast and physical Houston defense. McDaniels figured the key would be playing his lightning-quick back, Dion Lewis, a little more than usual. He was watching Houston defensive tape the week before the game with the staff and said, "I mean, honestly, the guy who should have a shot to be really impactful would be Dion, right? If we put him in base?" So of course McDaniels, on the second Patriots' series of the game, employed a classic, traditional two-receiver, one-tight-end, one-fullback, one-back alignment on a first down, with Lewis the back, and Tom Brady found him in the flat with a quick pass, and Lewis sped around left end for an easy 13-yard touchdown. That is some great story-telling by NFL Films.
7. I think this is one of the great inventions in recent NFL history, and we should all thank Chase Stuart of Football Perspective for it. Print it out! Share it with friends!
8. I think I'm still getting used to two teams beginning with "Los Angeles" after 21 seasons without a single one.
9. I think this was a terrific gesture by Joe Montana at a ceremony in San Francisco on Sunday to rename some streets after Niners legends. Handed a street sign with JOE MONTANA DRIVE imprinted on it, Montana said: "I would like to share this. I would ask that you change this to Montana-Clark Drive." Montana's longtime receiving mate, Dwight Clark, 60, is suffering from ALS. The audible by Montana was greeted emotionally by the crowd. A lovely thing to do. 
10. I think these are my non-NFL thoughts of the week:
a. Two very good friends begin podcasting this week (and I don't mean Bill O'Reilly). And I will be listening.
b. Don Banks and Christopher Price unveil "Cover 2" Tuesday at Patriots.com, with a draft show. Special guest on the debut podcast: San Francisco GM John Lynch. Banks covered Lynch as when the latter was a young safety with the Bucs from 1993-95. Banks will be covering the NFL for Patriots.com, writing and podcasting and videoing.
c. Ed Werder and Matt Mosley are combining on The Doomsday Podcast in Dallas. First guests this week are Chris Mortensen and Rick Gosselin, who for my money is the best mock-drafter in the business. Both of those guys will be must listens.
d. Podcasting might be the way of the future. I love it. I love having extended conversations with smart people in and around football, and I believe this is the kind of content that people who love the game are going to grow to love more and more. So far, a very large number of you have downloaded the Tom Brady podcast I did in February. That's probably an outlier, because 76 minutes of thoughtful and real Tom Brady is going to attract a crowd. But podcasting is so cool because it's on demand, and if you're good at it, you can develop the kind of following that will listen to a good conversation with Kirk Cousins even if Washington's not your team.
• SUBSCRIBE TO THE MMQB PODCASTS:Peter King | Albert Breer | 10 Things with Andy Benoit and Gary Gramling 
e. Story of the Week: Liz Clarke and Gregory S. Schneider of the Washington Post, on the massive job Washington GM Bruce Allen has in front of him—getting a new stadium built for the franchise. Insightful and well-written.
f. I always know a Liz Clarke story, because she takes me along with her on the story. As in this setup to sitting down for an interview with Allen in Arizona at the Arizona Biltmore hotel: "One morning, Allen was seated at a cafe table on a walkway out back, overlooking the resort's meticulously landscaped lawn and lavender-hued Camelback Mountain beyond." Take lessons, kids. Paint pictures with your words. 
g. RIP, Erin Moran of "Happy Days."
h. Coffeenerdness: Still in mourning for the butterscotch latte, Starbucks. What do I have to do to get it back? (And don't make me beg. I'm a proud man.)
i. Beernerdness: See my travel note, for Blueridge Blueberry Wheat beer.
j. Lena Dunham is really good. I will follow her career and watch what she does.
k. Thank the Lord "Veep" is back. It's as good as ever. An even more flawed Selina Meyer is the best Selina Meyer.
l. Do not throw at people's heads, Matt Barnes. Unprofessional.
m. Daniel Murphy is batting somewhere around 1.167 against the Mets. It's a new record.
n. The Asian food stand behind section 148 at the Atlanta Braves' new ballpark is called Intentional Wok.
* * *
The Adieu Haiku
It's Mike Mayock's world,
and we get to live in it.
Until Saturday.
• Question or comment? Email us at talkback@themmqb.com.