On Gareon Conley and More Thoughts on NFL Draft Eve
Amid a sexual assault accusation, the Ohio State cornerback is at risk of plummeting out of the first round and beyond. Here's the latest, plus notes on Leonard Fournette's landing spot, Davis Webb and reader mail
T-minus one day to the NFL draft and counting. And we might have a La'el Collins situation on our hands. Police in Ohio are investigating whether first-round-lock cornerback Gareon Conley of Ohio State—who I had going 14th overall to Philadelphia before the news of the investigation broke Tuesday—was involved in a sexual assault earlier this month in Cleveland.
In 2015, Collins, a first-round guard prospect from LSU, was slated to be interviewed by the Louisiana state police after the draft in connection with the shooting death of a woman Collins once dated. Even though he was not considered a suspect in the case, NFL teams were scared off by the crime, and Collins went undrafted. Similarly, Conley will have a very hard time proving his absolute innocence in the next 36 hours. And if he cannot, I would expect his stock to plummet as well. How much, no one knows. But the climate in the NFL right now is such that someone accused of sexual assault would be undraftable by many teams in the league.
I texted Tuesday night with two NFL executives who are key players in their teams' draft plans. Both said Conley had a spotless record in their pre-draft research. One seemed on the verge of saying he couldn't see his team drafting Conley, but stopped short. The other, on a team with legitimate Conley interest, said it was too early to tell. Good for them for not jumping to conclusions.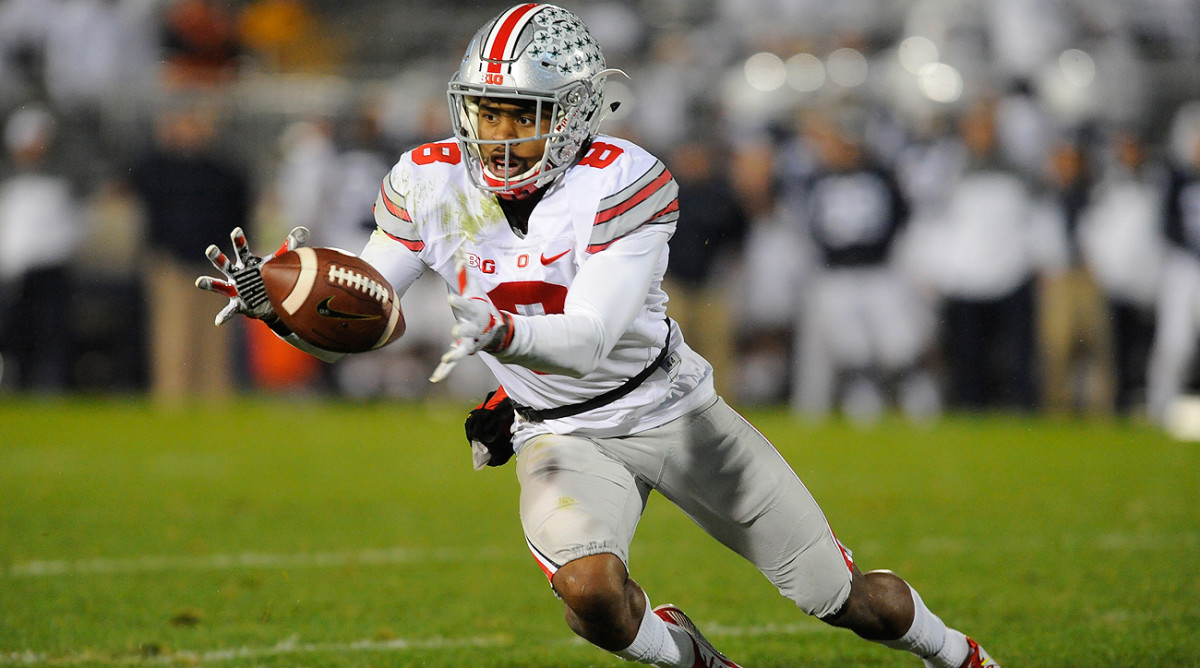 I've read the police report of the incident, in which a 23-year-old woman claimed that a male she identified as Conley had sex with her without her permission in a room of the Westin Hotel in Cleveland on April 9. She was transported to a hospital, where a rape kit exam was administered. The Cleveland Sex Crimes and Child Abuse Unit is investigating and had no further comment. It's unlikely the case will reach any sort of conclusion this week. That makes it pretty hard for a team wanting to know if Conley is going to be charged with a sex crime to draft him without that knowledge.
Collins ended up signing as a free agent with Dallas. He's slated to start at left guard on probably the best offensive line in football. If Conley's stock plummets the way Collins' did, it could cost him in the range of $10 million. I projected Conley to be the 14th player picked on Thursday, Last year's 14th pick, safety Karl Joseph, signed a four-year, $11.6-million contract with Oakland. Collins, as a prime undrafted free agent with a very different back story, signed for three years and $1.6 million.
We'll see what Thursday night brings. But this will be the story of the first round, and maybe the first several rounds. Will any team risk the public wrath and draft currency on a player who may be involved in a sexual assault investigation after the draft?
• PETER KING'S WEEKLY HOT READ:  Want more insider information from Peter King? Check out The MMQB Hot Read.
* * *
Other pre-draft nuggets you should know a day before round one:
• Great story on Dalvin Cook by Robert Klemko. The enigmatic Florida State running back could drop in the draft because of a sketchy off-field history, but every team thinking of taking Cook should read this article.
• Five thoughts for the Top 10:Niners like UNC quarterback Mitchell Trubisky, but not at two. … Don't be shocked to see the Bears at No. 3 steal Leonard Fournette, the LSU runner, from the Jags at four—though I'd stick with Jacksonville as the most likely landing spot for Fournette. … The Chargers certainly want either Jamal Adams or Malik Hooker, but I don't know if a better player on their board would trump, say, Hooker. … Looks like Reuben Foster or Haason Reddick for Cincinnati at No. 9; I gave them Reddick, but Foster is in play too—the Bengals love Southeastern Conference players. … O.J. Howard is the apple of many teams' eyes, but I really don't know where he'll go.
• Five thoughts for everyone else:Signing Adrian Peterson puts Joe Mixon out of play for the Saints; Denver and Cincinnati are in play for the Oklahoma RB. … Told very reliably: "Arizona wants a day-one defensive impact player who starts right away in the first round, unless the receiver of their dreams is there at 13." … Oakland GM Reggie McKenzie, I'm told, won't be intimidated into paying Marshawn Lynch more than he has budgeted, and $3.5 million (Peterson's average in New Orleans) seems smart. … Davis Webb is the guy I regret not having in my mock draft first round, because the Cal quarterback is the perfect prospect to take low in the round so a team would have the fifth-year option on the contract, which first-round picks have (second-rounders have a max of four contract years on the rookie deal) … Got a call Tuesday from a team official who told me he thought Pat Mahomes and Deshaun Watson were good bets for Kansas City and Houston—only he didn't know which team would get which player. "Andy like these quarterbacks, and he likes them where he's picking," the team official said of Kansas City coach Andy Reid, who picks 27th Thursday night.
Now for your email...
• 50 DRAFT PROSPECTS YOU NEED TO KNOW: Emily Kaplan on the couch potato, the refugee and the best running back you've never heard of
* * *
BROWNS' QUARTERBACK SITUATION
Everyone keeps talking about the Browns trading up in Round 1 to grab Mitch Trubisky or taking him number 1, but why? Do they really think he is the savior? Why would they not just wait until next year's presumably loaded QB draft class (Sam Darnold, Josh Rosen, Josh Allen, etc.)?  In all reality the Browns at best will win two to five games this year, and they could do that with either Cody Kessler or Brock Osweiler at the helm instead of taking Trubisky. Why mortgage the future on a QB, who has a ton of question marks around him?
—John, Maryland
Good question. I think the Browns will have a divided team if they take Trubisky number one, and I now am operating under the belief that they will not do that. I believe they will take Myles Garrett at one, and perhaps trade up to somewhere in the top 10 to get Trubisky.
• THE MMQB MOCK DRAFT CHALLENGE: Create your own mock draft and see how it stacks up against those of Peter King and other fans
THE LIONS WILL NOT TAKE A TIGHT END
In response to your mock draft slotting Miami's David Njoku to Detroit at No. 21, I think there's no way the Lions go tight end in first round with all that defensive talent available. They'll pick up Eric Ebron's fifth-year option, and have both an ascending TE and a first-round CB or pass-rusher.
—Joe L.
I disagree with you. And I am not so sure they pick up Ebron's option.
BRADY AND BEST BUDDIES
Your MMQB column really disappointed me today. You are a dyed in the wool Brady and Patriots fan and that often shines through in your writing. But today, in my opinion, you crossed the line. There is not a single defensible reason for Tom Brady, multimillionaire, to accept $2.75 million from a charity. It is a lot more than bad optics. Brady should have publicly refused the offer or diverted it to another charity—maybe one that supports veterans or violence against women. I don't know which is worse, Brady accepting the money or you defending it.
—Glen O., Victoria, B.C.
I'm not a Patriots fan or fan of any team in the NFL. But I know that won't convince you or the six million others who believe that, Glen, so I'll just leave it there. Tom Brady helped a charity raise $46 million over 15 years, and, so far, has taken $2.75 million from Best Buddies and contributed it to causes that he favors. I get that there is outrage that someone with so much money would take money from his work at a charity weekend. But I guess I don't get outraged by it because he's giving the money away to other causes—and because he has boosted the earnings power of Best Buddies far beyond the $2.75 million that his foundation has been paid for it.
BOY SCOUTS ARE LEADERS TOO
I take great offense on how you defined mild people as Boy Scouts. Scouting has existed over 100 years, creating leaders in all fields of life. To imply that a person with a mild personality has "a lot of Boy Scout in them too" is very demeaning. I suggest that this summer you sign up for a High Adventure camping trip at Philmont in New Mexico. Explore the backcountry with Boy Scouts for two weeks. I am sure you would learn that the kids are leaders in every way.
—R.C., Bucktown, Pa.
Point taken. You're right. Thanks for calling me on it.
HERNANDEZ A WASTE IN EVERY SENSE
Good and apropos article on the suicide of Aaron Hernandez. Too many people have been expressing sadness about Hernandez. Are you kidding me? Have they forgotten? I'm glad Peter expressed the truth.
—Aaron E.
Thanks. I can't get too upset about a person's death when he left so much heartache behind.
GUY LIKES PODCASTS, PARTICULARLY KIRK COUSINS
I have enjoyed your column for many years, and I have followed you through many different mediums—as a radio guest, through your website, on TV, your podcast, etc. I have to say, podcast is now my preferred medium. I subscribe to you, Dan Patrick, Rich Eisen, Mike Florio and the Leisuremen. I listen when I want, I can pick and choose segments prioritized by topics, guests, even my own listening mood. I think this is the equivalent of the DVR and on demand networks in television. I cannot tell you the last time I browsed channels on my TV. I have a list of things I want to watch, and when I am ready, I find them. I loved your conversation with Kirk Cousins. He has an incredible attitude. It would be so easy in his situation to be bitter, angry, mad at the world. Keep it up, Mr. King.  
—Guy, Montana
Thanks a lot. The podcasts are fun to do. I don't know what the future of media is, but I do know we all better be versatile, because the media could go in about 83 directions in the next five years.
• SUBSCRIBE TO THE MMQB PODCASTS:Peter King | Albert Breer | 10 Things with Andy Benoit and Gary Gramling 
• Question or comment? Email us at talkback@themmqb.com.