Despite his small size, Budda Baker expected to fit right in with the rest of Cardinals' defense
The Washington defensive back thought he was a first-round lock, but his height and weight dragged him down draft boards—until Arizona, a team stretching NFL positional norms, traded up in the second round to scoop Baker up.
Budda Baker thought he deserved to be picked in the first round of the 2017 NFL draft, but he spent that Thursday night watching the names of 32 other prospects scroll across his TV screen at home. The wait began anew the next evening, as Round 2 opened.
No. 33 Green Bay Packers—Kevin King, CB, Washington
No. 34 Jacksonville Jaguars—Cam Robinson, OT, Alabama
No. 35 Seattle Seahawks ...
And that's when the phone rang. On the other end was Arizona general manager Steve Keim, whose team was not set to go on the clock for another 10 picks. He gave Baker the news: We're moving up and we're taking you. Baker's eyes shot back to the draft broadcast, looking for visual confirmation on the trade and the pick.
Nothin'.
"We were talking on the phone, I see them at the 45th pick and I'm still not relieved yet because I don't see [the trade] on the TV," Baker says. "We talked for a good five minutes before they did the trade up. He's asking me questions about what weight I want to be at, how I feel about playing special teams, and I'm answering the questions ... but I'm also eager to see it."
Moments later, finally, the Cardinals made it official. And Baker likely did not know it as he was chatting with Keim, but the GM paid a pretty decent ransom for a shot at the Washington safety prospect—picks 45, 119 and 197 plus a 2018 fourth-rounder for Chicago's spot at No. 36 and a seventh-round throw-in. (The Cardinals used the latter pick, No. 221, as part of a trade package to move up for Auburn DB Rudy Ford.)
Predicting every NFL team's 2017 record
"We saw an opportunity at the start to be aggressive and move up and get a player that we coveted from the very beginning in Budda Baker, a guy that jumped off the tape at us," Keim explained, via ArizonaSports.com. "Tremendous football player, has everything we want in terms of passion, football character and, like we've talked about over and over, a hybrid player that has the ability to play multiple positions."
But the fact that the Cardinals even had the opportunity to jump at the Washington safety at pick No. 36 boiled down to one factor: Baker's size. Despite his proficient college career and a versatile game that seems well-suited to counter modern NFL offenses, Baker could do nothing about his height and little about his weight: 5' 10" and 195 pounds, respectively.
The three safeties selected ahead of Baker, all in Round 1, were Jamal Adams (6' 0", 214), Malik Hooker (6' 1", 206) and Jabrill Peppers (5' 11", 213). So, what if Baker was, say, two inches taller and 15 pounds heavier?
"I think I would've been a top-five, top-10 guy, honestly," Baker says. "That's what teams said. Any formal visit or anything at the combine, I just asked them, on film or whatever, my weakness or [what] the cons of getting me are and teams were just like, 'you have a top-five film but second-round body.'"
Some organizations, though, have proven more willing than others to wander outside the box of positional norms. Slowly, the league as a whole has shifted in that direction—prioritizing athleticism over prerequisite height/weight numbers—and Arizona is at the forefront of that approach. The Cardinals have used the 5' 9", 186-lb., Tyrann Mathieu just about every way possible out of the secondary; they also successfully converted 6' 1", 220-lb., Deone Bucannon from a safety to one of the game's more dynamic linebackers.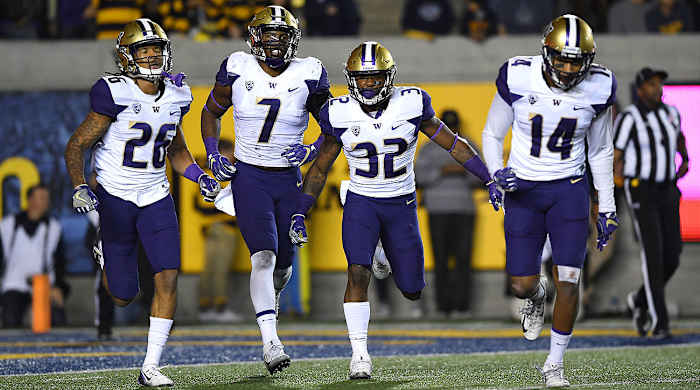 Added to that mix now are Baker and fellow 2017 draft pick Haason Reddick, a high school running back and college defensive end whose NFL future is at linebacker.
Granted, Mathieu's entrenched spot on the roster makes Baker's selection all the more interesting. Mathieu spent the 2016 season (before he was shut down with a shoulder injury) playing a free safety-heavy role. But as of earlier this off-season, the plan was to have Mathieu bulk up a bit and shift back closer to the line of scrimmage as a nickel corner/safety hybrid, a role he thrived in prior to '16.
That's also where Baker says Arizona envisions him.
"My sense is strong safety and nickel," he says. "Ultimately, I think that's a plus. ... At the end of the day, [Mathieu is] a safety and he has all the tools to be all the other things. They just wanted to get another one in me. I feel like it's going to be beneficial, you're getting a player who can play any position."
Mathieu's recent injury issues could have played into Arizona's desire for Baker. The "Honey Badger" suited up in just 10 games a year ago, and his 2013 and '15 campaigns each ended early due to an ACL tear.
Handicapping the Rookie of the Year races: Who could take the NFL by storm?
Even with a healthy Mathieu, the Cardinals' safety situation is a bit in flux. Out are D.J. Swearinger and the ultra-reliable Tony Jefferson; in is veteran Antoine Bethea, along with Baker and Ford. Odds are, the Cardinals will wind up mixing and matching throughout the season, to best take advantage of all their options.
"Just the type of creativeness that they run, you need some versatility in that defense, you need guys that will be able to play man, will be able to blitz off the edge and do all those types of things," says Baker, who has spent the past two weeks studying tape of the Cardinals' secondary, with a focus on the nickel spot and on the role vacated by Jefferson. "I feel like I'm a perfect fit for that defense, because I believe in my versatility."
Reddick could be a fun toy for Arizona, too. The No. 13 selection in the draft, Reddick exploded during the run-up to the draft, wowing scouts and coaches at the Senior Bowl and again at the combine. His impending position switch, from DE to LB, presents a steep learning curve.
Baker will get a first-hand look at Reddick's progress starting Friday, when the Cardinals report for rookie mini-camp.
"He's just a dog, you know," Baker says. "His mindset is like an underdog, he's always going to work hard, you see that on film.
"People always talked about my size, and since he came from being walk-on—didn't have any scholarships or that type of stuff—his way is proving people wrong, as well. [Our] stories are definitely similar."
Slipping into Round 2 ought to help Baker maintain his "underdog" mentality. The same goes for his ex-Washington teammates Kevin King and Sidney Jones. Like Baker, they were viewed as possible Round 1 choices—Jones a virtual lock prior to a Pro Day Achilles tear—but had to wait until Friday for their draft moments.
The waiting game: An injury forced Sidney Jones to sweat out the draft from his couch
"I feel like it will drive us all as a group," Baker says. "On the second day, we had a group chat. Kevin started off [saying], 'We're going to prove all these people wrong, they messed up and didn't draft us.' He should've been, could've been the No. 1 corner off the board, I feel like I could've went first round as well, due to my size I went second round. All our mindsets are probably the same, trying to prove people wrong."
For Baker to do that, he'll have to prove the Cardinals right. Keim may not have pulled the trigger on Baker in Round 1, but he did cough up coveted draft capital to land him in Round 2.
"I was definitely surprised," Baker says. "I didn't know that they were going to get me, at all."