Parting Thoughts
Emily Kaplan is leaving SI and joining ESPN to cover hockey. Before she turns in her playbook, she shares her favorite MMQB moments 
This week, we say farewell to a member of The MMQB team who has been with us almost since the beginning. Emily Kaplan is leaving to cover hockey, one of her first loves, for ESPN. She joined Sports Illustrated as an intern in the fall of 2013 and quickly worked her way up to a staff writer position. She spent the last year covering the college beat and chronicling the top NFL draft prospects in a weekly column for The MMQB. While working for Peter King, Kaplan survived two training camp road trips, a Super Bowl road trip and a week of winter in Green Bay. She also brought readers stories such as Finding Danny Watkins, Gotta Feel Pretty Before We Get Ugly, The Fall of Johnny Football, The Pain You Can't See, A Hero's Welcome for Malcolm Butler, and 24 Hours with Patrick Mahomes. Before we kicked her out the door, we sat Kaplan down to talk about what she's learned covering football, what it's like working for Peter, and her plans for covering hockey.
KAHLER: You're leaving The MMQB to take a hockey job. Hockey, really?
KAPLAN: Hockey is actually my first love. It's the sport I grew up on. I'm one of the three girls and I have a serious middle-child complex. When I was little, hockey is how I bonded with my father. I grew up watching Rangers games with him. I didn't know if I'd ever get a chance to cover hockey, especially as I became more entrenched in football. So when this opportunity came up, I took a second to step back and consider what I wanted to do with my career . . . and it just felt right.
KAHLER: What are you looking forward to most about covering hockey, and how will covering the NHL be different than the NFL?
KAPLAN: The NHL and NFL media landscapes are definitely different. The NFL has a larger media contingent, because there's simply more general interest. You can write about the fourth wide receiver on any given team and people will read it. I'm not crazy about calling hockey a "niche sport," but the fan base in America is certainly smaller. However those fans are insanely passionate. I believe there are just as many interesting stories in hockey as there are in football. So the challenge, to me, is this: How do you convince the casual fan, who might only tune in during the Stanley Cup playoffs, that he or she should care on a regular basis? At the same time, you can't dumb it down to the point where it alienates the Red Wings season-ticket holder in Detroit, because I'm also serving them and want to offer them something new, too.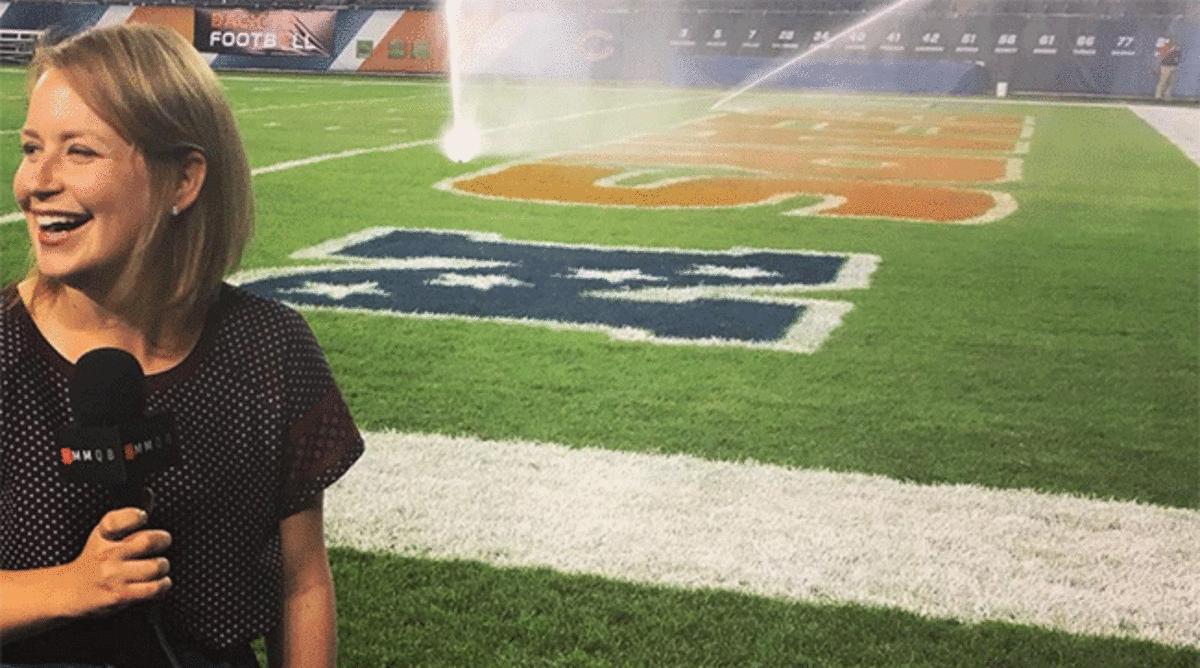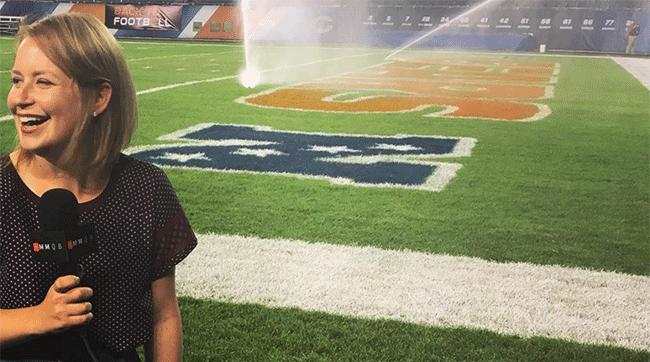 KAHLER: What is your favorite story you have reported here at The MMQB?
KAPLAN: I always go back to my piece on Danny Watkins. On the surface, it was the anatomy of an NFL draft bust. Danny was a first-round draft choice of the Eagles in 2011. He was cut after two years. It turns out that Danny never wanted to play football. He just wanted to be a firefighter. He grew up in British Columbia and came to the U.S. to get a degree to advance his firefighting career. But once he arrived in California, people on campus were like, 'Oh, you're a big, athletic dude, you should go play football!' He happened to be a natural at it. Danny kept getting better as the stage, and the stakes, grew. He transferred from JUCO to Baylor and then made the NFL. But here's the crazy part: Danny was possibly moonlighting as a firefighter while he was with the Eagles. To any football fan, that sounds absurd. He was living the sports dream that so many people covet, why risk it? Danny saw it differently. He didn't understand football culture. He couldn't comprehend why anyone would question his love for fighting fires. So he ended up walking away from football, in 2013, totally at peace. I worked closely with one of our editors, Gary Gramling, and he pushed me with storytelling and the structure of how the story unraveled for readers. I think the piece resonated with so many people because, thematically, it was a story about pursuing your passion, not acquiescing to what you feel like you should do.
KAHLER: What was the hardest story you've written?
Two come to mind. The first is the piece I did on Johnny Manziel. Peter King assigned it to me right as Johnny was cut by the Browns. He said, 'Go to Texas and find something different about this guy that hasn't been told.' That's not easy to do with someone who is in the crosshairs of TMZ. It was so easy to use Johnny as a punch line or paint him as a one-dimensional character. But the more people I talked to, especially those close to him, I encountered a common refrain: They'd say Johnny might self-sabotage, Johnny might have personally failed them, here are anecdotes of him not following the rules, but I still love that guy. So that was really a challenging story to report and then convey in a nuanced way.
And the other was a piece I did on Erin Andrews. Similarly, she is a well-known public figure. Erin revealed something to me that was very personal: that she had been diagnosed with cervical cancer. That news item alone would generate tons of interest, but I thought there was a bigger story to tell with Erin. She was as a woman who endured pain, even if you could not see it. I had to tread carefully because I didn't want people to dismiss this piece as an Erin Andrews sob story. At the same time, I wanted to dig into some of those deeper issues without overdramatizing.
KAHLER: You started out at SI as an intern and fact-checker. What did you learn from that?
KAPLAN: First off, the value of picking up the phone and asking people a question that you might have just assumed the answer to. That was ingrained in me. It sounds simple but it goes a long way. Being a fact-checker also meant you could interact with writers whom you admire. My first big break at SI came by helping Lee Jenkins with his Sportsman of the Year story about Peyton Manning. As a way to illustrate Peyton's cultural impact, Lee wanted to track down a couple kids in Tennessee who were named after Peyton Manning. As any good millennial would, I scoured social media and I found close to 30 Peytons who had now grown up. There were valedictorians, and college athletes, and aspiring filmmakers, and they were doing cool and interesting things. Lee used that reporting as a small part of his story. It was a fun reporting mission but it was also cool to see Lee's process. He walked me through what he was looking for, which helped me learn about his craft of feature writing. The same goes for senior writers like Greg Bishop, Michael Rosenberg, Tim Layden and Pete Thamel, who were generously accessible and supportive in my time at SI.
• 1967 WEEK AT THE MMQB: Our series of articles on what the game, the players and the culture of professional football were like a half-century ago
KAHLER: You've known Peter King for a long time. What is the most Peter story you have?
KAPLAN: Peter has been a mentor to me long before I got to SI. I always knew I wanted to be a sports journalist and as a teenager, I wrote stories for my hometown paper. Peter lived in the same town, Montclair, N.J., and one day I received a letter in the mail from him. "Hey kid, I never had this many bylines at that age. Keep it up." What's great about Peter is that he has covered the league for nearly three decades. Many in that position might just have tunnel vision and write what they know. Peter has an uncanny ability to survey every season with fresh eyes, and boundless curiosity.
Now, when you spend a lot of time with Peter, you learn about his quirks. Like, nothing will ever deter him from going to a baseball game. For example, we had one leg on the training camp tour where we had to get from Tampa to Nashville, which is about 700 miles, or a 10-hour drive. Peter polled the van: "Who wants to make a detour to a Braves game for dinner?" And literally every single person in the van said, No, we want to just get there. And Peter says, 'Okay, we're going to Atlanta.' I think it added three hours to the trip. We park that big van on a narrow street in Atlanta, get cheap tickets, scarf a hot dog, some ice cream, maybe a beer, watch an inning and a half of baseball, then got back on the road. Naturally, the excursion concluded with Peter calling a Starbucks on I-75 and convincing them to stay open a few extra minutes so he could get a coffee and 'something to nosh.' Those 13-plus hours were pretty much peak Peter King.
KAHLER: You survived two MMQB training camp road trips, a Super Bowl road trip and a week in Green Bay. What is your favorite memory of these trips?
KAPLAN: Besides a new appreciation of what it's like to be in Green Bay on a Tuesday night in December, I think something that our readers might get a sense of, but don't fully understand, is the camaraderie on our staff. We really do get along and help each other because The MMQB often feels like a startup. I was part of a really cool website trying to offer something different with football coverage, and it was exciting. We bonded so much. We were on the ice flats in Salt Lake City together; we were in cryo chambers in Tampa Bay together; Robert Klemko kicked my butt—and given my new job, this is probably something I shouldn't admit, but I will—at EA NHL 2016 on the road trip van together. I'll miss that.
KAHLER: What is the weirdest, or most random place, football has taken you?
KAPLAN: I once found myself at a Friday night boxing match at a Masonic Temple in Detroit. That's because Chargers tight end Antonio Gates was moonlighting as a boxing promoter. As I learned, this "second career" was personal as much as it was business for Gates. His family has deep ties to the sport and by mentoring young fighters; Gates was giving back to his community. But this wasn't just a charity thing. He literally was the fight's promoter. I remember watching him go into a back room and count a stack of cash, hoping they sold enough tickets to break even. It was an awesome scene.
KAHLER: Your closing statement . . .
KAPLAN: I'm so appreciative of the opportunity at Sports Illustrated and The MMQB. I had an amazing job and was given an incredible platform at a really young age. I can't thank Peter enough, or Chris Stone, the big boss at SI. The editors I worked with—Mark Mravic, Matt Gagne, Gary Gramling, and Dom Bonvissuto—were such great colleagues. Jenny Vrentas is someone I look up to not just because she is a female with a shared alma mater, but because of how she goes about her job. And Robert Klemko is a machine at generating story ideas. I love the way he asks questions. Over the past year, I spent a lot of time with Albert Breer at events like the Senior Bowl and the combine. He's always on the phone and has an insane work ethic. John DePetro, our video guy, and I have logged many miles together. You know he'd always get the job done. Andrew Brandt and Andy Benoit worked remotely but I always knew if I had questions about some of their contacts or expertise, they would happily share. Tim Rohan joined last year and showed it's possible to transition beats seamlessly. I'm going to do my best to do the same.
Question? Comment? Story idea? Let us know at talkback@themmqb.com