Hall of Fame 2017: The Terrell Davis Effect
This year's induction of Broncos back Terrell Davis, who had a stellar but brief NFL tenure, opens the door for other such players—and raises the inevitable question of how short is too short when it comes to a Canton-worthy career
Last Feb. 4, Terrell Davis was in a hotel room in Houston surrounded by his family, waiting for word on whether he would be voted into the Pro Football Hall of Fame, when there came a thunderous rapping at the door—the telltale knock of David Baker, the Hall's towering president and the man whose arrival signals that a player is headed for Canton. Davis answered, then broke down crying.
He had doubted the day would ever come. Davis had started his career like a Hall of Famer, rushing for 1,117 yards as a Broncos rookie, in 1995, followed by a three-year tear during which he was the best running back in the NFL: 5,296 yards rushing, 49 touchdowns, two Super Bowl titles and the '98 MVP trophy. But in '99 he tore two right-knee ligaments trying to make a tackle after an interception, and he was never the same. Davis retired during the preseason in 2002, at 29. "It was in the back of my mind, like, Man, maybe I didn't play long enough," Davis says. "And maybe that would be the one thing the voters would hold against me."
The 48-person selection committee has discussed Davis at length over the years. He was one of the 25 semifinalists every year since he became eligible in 2008, and he made the cutdown to the 15 finalists in 2015, '16 and '17. "The central issue was not, Was he a Hall of Fame performer in those three years?" says Ron Borges of the Boston Herald, who didn't vote for Davis this year. "No one would dispute that." The question was, Are three seasons of elite production enough to earn a bust in Canton? What about two seasons? Or one? Where is the line? "I don't think we ever sorted it out," Borges says.
One year that Davis was up for the Hall, a voter brought up Clinton Portis as an argument against Davis. Portis had rushed for more than 1,500 yards three times in four years. "Does anybody think Clinton Portis is a Hall of Famer?" the voter asked.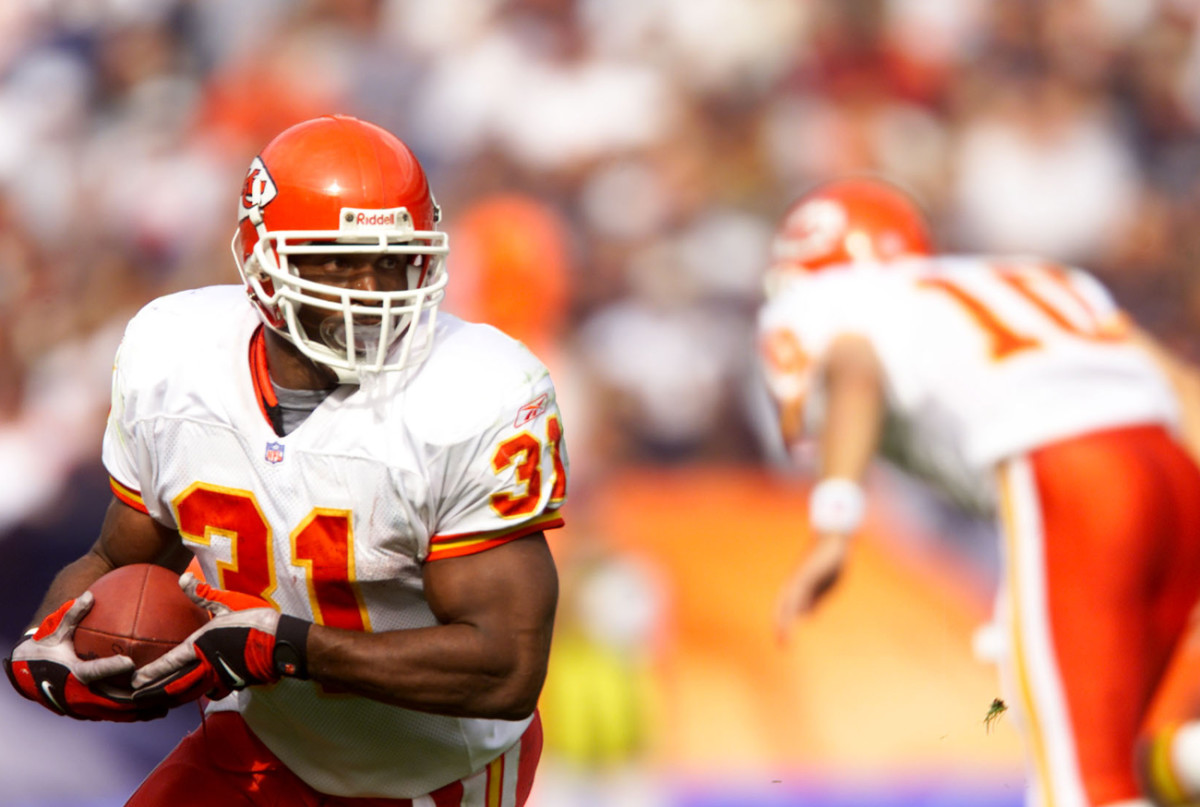 When Davis did get in, it was in part because it was a soft class—surefire first-balloters Ray Lewis and Randy Moss headline the first-time eligible candidates next year—and in part because voters weighed more heavily his status as one of the best running backs in postseason history. Davis averaged 142.5 rushing yards over eight postseason games and was the MVP of Super Bowl XXXII, when he ran 30 times for 157 yards and three touchdowns in Denver's 31–24 win over the Packers.
• JERRY KRAMER'S CASE: Andy Benoit examines the debate around the Packers great
But looking ahead, some on the committee fear that Davis's induction, which takes place on Saturday, will set an unwelcome precedent. There are dozens of star players who, like Davis, had their careers shortened due to injuries. As voter Rick Gosselin, a longtime writer for The Dallas Morning News, who voted for Davis, puts it, "Everybody's going to [say], 'Here are my three best seasons. Judge me on that.' "
"It's funny how perception changes," Boselli says. "I didn't become a better player from [one year to another]."
Look at running back Priest Holmes's three best years, for instance—with the Chiefs from 2001 to '03, he had 456 more yards from scrimmage and eight more touchdowns than Davis had in his three-year stretch. Sterling Sharpe of Green Bay played just eight seasons from 1988 to 1994 but led the NFL in receptions in three of those years.
And Tony Boselli, the first pick of the expansion Jaguars in 1995, made five consecutive Pro Bowls at left tackle and was first-team All-Pro three times until a left-shoulder injury cut short his career in 2001. Back then Boselli didn't have the Hall on his radar. "I had heard people tell me, 'You'll never make it,' " he says. "I thought to myself, Why go there if it's not going to happen?"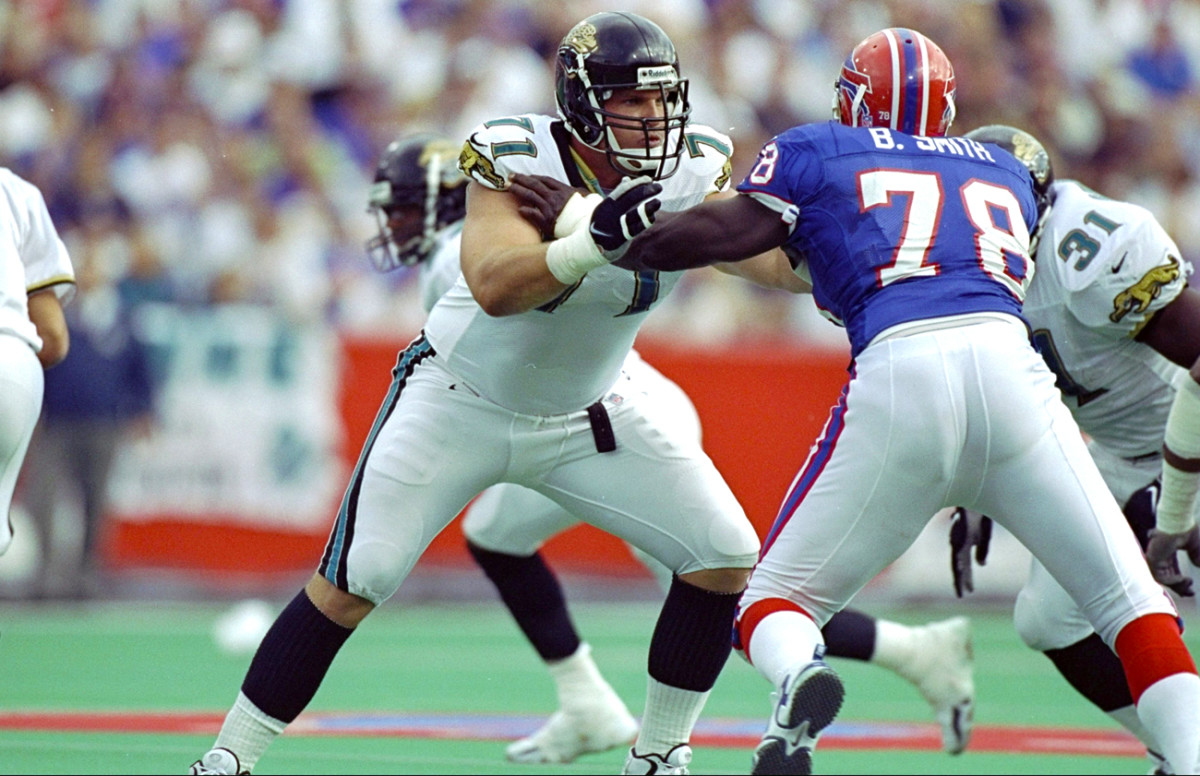 But each summer Boselli would see the new class and compare himself with the linemen being inducted. One such player was Orlando Pace, who made seven Pro Bowls and earned three All-Pro nods and went in last year. Fellow players started whispering in his ear: You belong in there. In his ninth year of eligibility, in 2016, Boselli made the semifinals of the selection process. "It's funny how perception changes," he says. "I didn't become a better player from [one year to another]."
• YOUR CALLS FOR THE HALL: A few years back we let MMQB readers make their cases for their favorite candidates. Since them, some have made it and some—Doug Flutie, anyone?—are still waiting
This year Boselli was in the final 15. Because the announcement is made in the city in which the Super Bowl is being played, he awaited the outcome in the same hotel as Davis. Boselli spent an hour and a half alone in his room—he was too nervous to have other people around—waiting for Baker to come knocking. For the first time, Boselli allowed himself to dream a little. What if he did make it? Who would be his Hall of Fame presenter? What would he say in his speech? It was getting close to the time Baker would be making his rounds when . . . knock, knock, knock.
The maid. Did Boselli need anything?
A few minutes later the phone rang. Boselli hadn't made it.
He was at least heartened to see Davis get in. "Obviously it can't just be one year," Boselli says of the longevity debate. "But if over multiple years if you're considered one of the greatest to ever play the position, then you've made an impact on the game. That's a Hall of Famer to me."
Question or comment? Email us at talkback@themmqb.com