Mike McCarthy's Keys To Coaching Longevity
NFL coaches used to have an unofficial shelf life of no more than 10 years, but Green Bay's current leader is at 12 with no plans for stopping anytime soon
GREEN BAY, Wisc. — From where Mike McCarthy is sitting, on a bench and under a tent by the Packers' practice fields, he could turn left, look over a fence and see Lombardi Avenue. Holmgren Way is right in front of him, beyond a set of stands. And now, McCarthy has one of his own—to his right, the former Potts Avenue, renamed Mike McCarthy Way in 2014.
Heady stuff? Sure it is. Vince Lombardi turned the Packers into one of the league's flagship franchises in the '60s, and Mike Holmgren restored that greatness in the '90s.
Now, here's what you might not realize: McCarthy actually has been in Green Bay for considerably longer than either of those two legends. (Lombardi coached the Packers for nine seasons; Holmgren seven.) What's more, if it's up to him, he won't be leaving anytime soon.
"I'm young for this league, I feel like I'm just going into the prime of my career as a football coach," McCarthy said, with conviction in his voice. "I think it's obvious that I'd like to be here for as long as I coach. What we've established here, it's a great place. It's a great place to live. It's a great place to coach. Best fans in the world. So I won't be rushing out."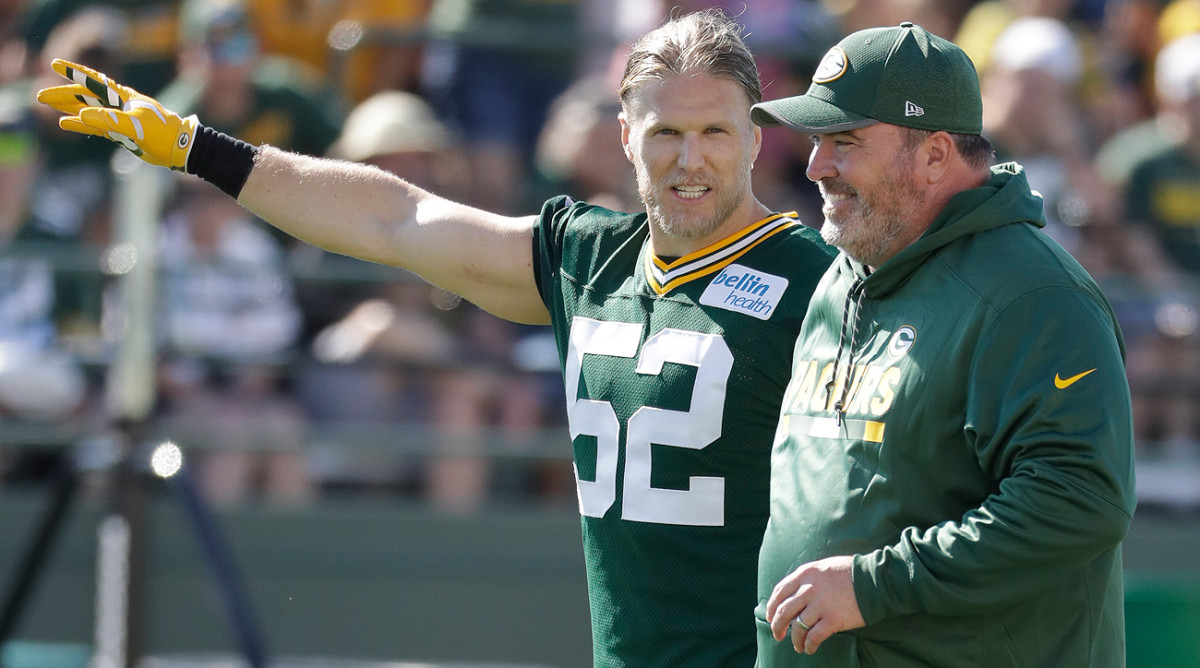 Late Raiders patriarch Al Davis used to say that coaches have a shelf life of 10 years in one place, before their message grows stale and their voice loses its effect. When Bill Walsh left the Niners in 1988, after three titles and 10 seasons, Walsh reiterated that sentiment.
McCarthy, now at 12 years, isn't buying it.
And it's not that he thinks Davis or Walsh were full of it. No, McCarthy sees it as something that came into focus for him when he sat down with ex-Steelers coach Bill Cowher earlier this year—times have simply changed.
There are five teams with second-decade coaches going into this season—Green Bay, Cincinnati, New England, Pittsburgh and New Orleans—and Baltimore's John Harbaugh will make that number six at the end of it. The guy with the longest run, Bill Belichick, is coming off his fifth Super Bowl title and going into Year 18.
"In 1998, when Marty Schottenheimer stepped away from Kansas City, he just felt like 10 years, it was time for him to go," McCarthy said. "But we had the same team. I was there for six of those years, and we had a high percentage of the same people. Since 2011, and really from Day 1 for me here, we have a 20-, 22-percent turnover on the roster every year. So my challenge isn't as big as theirs was.
"Bill Cowher and I just had this conversation a few months back, I was asking about his transition from the 1990s, being the head coach of the Steelers and how free agency played into it, with the CBA. And he said, 'My best years as a coach were my last two years. I was getting better as a coach, because the roster was changing so much.' Shelf life? That was '70s, '80s and '90s."
McCarthy has a world title, eight playoff appearances and six division titles to back that up, and he's coming off his fourth appearance in a conference title game. But that doesn't mean it's easy. So with a team that looks poised to avenge last season's playoff ouster in Atlanta, I figured we'd look into how McCarthy has worked to stay effective. Here are five keys:
1. Be consistent but not formulaic. McCarthy says that while he's more under control now than he was when he first was learning on the job, "going 100 miles an hour," his routine is largely the same. But how he presents the result of it to his team is always evolving.
"I'm not going in there and erasing the date on last year's speeches. I'd never do that," he said. "And I think if you talk to Aaron (Rodgers), since he's been here the whole time, he'd tell you there's always been a different level of creativity. My highlight videos, we use movie clips. Twelve years, we've never used the same movie clip in a highlight tape. That's hard to do, man! That's hard to do."
2. Lean on the players. One benefit of how the Packers have built under GM Ted Thompson—drafting, developing and keeping guys, and only sparingly adding outside veterans—is that McCarthy's leaders are players who only know his program. Naturally, because those guys chose to stay past rookie deals and the team chose to keep them, they buy into it. Which makes them great salesmen.
"We don't even have to think about it," said Jordy Nelson, now headed into his 12th year. "We know the way to work in practice, the way to work in the weight room, we know the detail we're supposed to bring to it. We have to express it, so the young guys understand it and fall in—and they don't know any different. That's on us to continue that and hold the others accountable to it."
Seattle Seahawks Get Chippy in Practice Befitting Their Competitive Culture
3. Listen to the players. The biggest shift in the program over the past few years has been how attentive the staff has been to feedback, both internal and external, on setting up the schedule with the players' well-being in mind. Not all of the tinkering has worked, but the guys trust McCarthy is always working at it. And knowing your coach is looking out for your performance, and by extension your career, counts.
"He's a lot smarter with players, getting us off our feet, keeping us fresh," said eighth-year tackle Bryan Bulaga. "You've seen him grow with understanding what the players need, and making sure we get our work done. Don't get me wrong, we do that. We were out there for 2:45 today, that's a long practice. But tomorrow's going to be a low-key day, making sure the players get their bodies back before we go into another long stretch. That stuff's important."
4. Listen to the staff. The overarching idea, as McCarthy sees it, is for the coaching and scouting staffs to be a big think tank. In fact, he's employed ideas in the past that he was iffy on because, "You gotta try things within your program to keep your people invested." The charge is to be creative. The foundation won't be overhauled, but needs constantly moved forward, and McCarthy believes in that coming from within.
"Outsourcing, bringing in this speaker or that speaker, that's all great stuff," he says. "But I know one thing—people I'm with, that I work with every single day, if we can keep collaborating and being creative, and not be scared to get out on the edge a little bit, and help one another, we can really improve from one day to the next. That's really been a big part of it, from a coaching staff standpoint."
5. Having Aaron Rodgers doesn't hurt. I'll let McCarthy take this one. "Hey, you have to recognize Aaron Rodgers too. The clubs you mentioned (with long-term coaches), it's the quarterback and the coach. The combination plays into it."
There are other elements, too. One came during OTAs when McCarthy invited the entire team to his house, split it into nine squads (he had shirts made up to ID them), and held a 10-event "Olympics," with a 3-point shootout, a foul-shooting contest, longest-drive and 100-yard shot competition on the golf simulator, darts and even a dunk worked in.
"We're just trying to keep it fresh," McCarthy says.
The New York Jets Are Playing on a Full Tank
And as for the results, they were never more clear than a year ago, when Rodgers' numbers were down, the Packers were 4-6, and noise coming from the outside was reaching a fever pitch. McCarthy changed very little—the team was running three-hour practices at the time. Green Bay didn't lose again until late January.
"This organization does a great job of not panicking and freaking out," Nelson said. "You look where we were last year, at 4-6, there are probably some organizations that would've cut some ties. We finished strong. And keeping the core upstairs and the core down here, it gives us a chance to be successful."
"The head coach respects his staff, respects all the players as men, and we pay him back that respect," added eighth-year safety Morgan Burnett. "That's why the message never gets old. When you have a coach that's going to have your back like that, you don't want to let him down on the field."
For his part, McCarthy raves about the players he has—and says that last year's team will go down as maybe his favorite, when all is said and done.
That, in fact, is probably as good a piece of evidence as any that the end for McCarthy isn't near. He got a response last year with the team's back against the wall, and had as much fun coaching as he ever had. And in the back of his mind he's thinking like Cowher once did—that he's getting better along the way.
Accordingly, at least on this steamy August day, he'll tell you there is no exit strategy here, as he approaches a dozen years in charge.
Chicago Bears: 10 Things You Need to Know
"I really don't think about those things," he says. "I have to answer the questions, but I'm like every other coach in this league. I love coaching, but I have a family, and my family's first. My youngest, my baby is in kindergarten, so in my mind, I've got 12 more years. Hell, I'd love to coach here for another 12 years. We'll see how it goes, but that's the way coaches think."
Or at least the way this one does.
• Question or comment? Email us at talkback@themmqb.com.