Ezekiel Elliott Appeal Pits Familiar Enemies Again: NFL vs. NFLPA
The ongoing feud between the league and the union spilled onto social media Wednesday as the two sides argued about leaks in the Ezekiel Elliott case
OXNARD, Calif. — When it comes to the unending Ezekiel Elliott saga, there's plenty of reason for both the NFL and NFLPA to operate as if they're walking on eggshells.
For the league, there's the ugly history of the past few years on domestic violence, and most notably the botching of the Ray Rice case in 2014, and the Josh Brown mess last fall. And the resulting reality that moving forward, if the guys at 345 Park Ave. are going to mess up on discipline, it's going to have to be for being too harsh.
Conversely, the union's function is to defend those accused of pretty heinous crimes. Just as they are tasked with defending the well-regarded Tom Bradys of the world, it's their responsibility to serve the Greg Hardys of the sport. They can't be selective.
So what did we figure out Wednesday? Put the NFL and NFLPA together in that awkward spot, and they'll just take their fight onto those eggshells.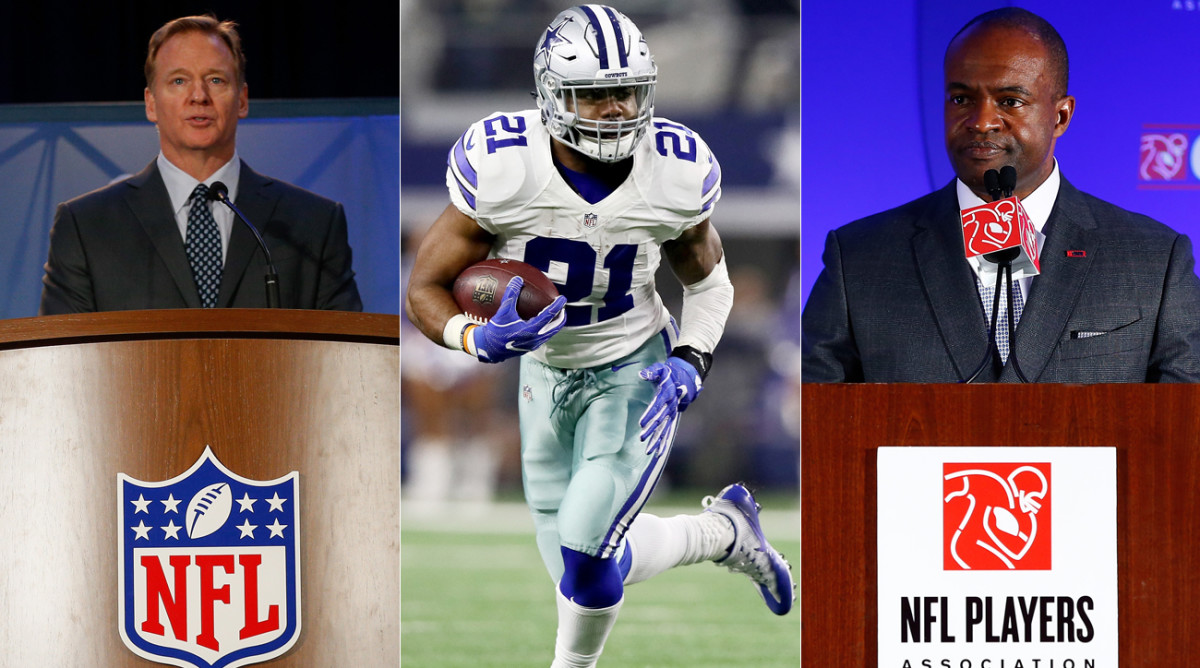 This one started with a series of news stories following Friday's decision to suspend Elliott for six games (most recently from Charles Robinson of Yahoo) excerpting parts of the NFL's 160-page report to display what the reigning rushing champion's strategy on appeal would be—showing a pattern of harassment from the accuser.
That prompted this statement from NFL executive vice president Joe Lockhart: "Over the past few days, we've received multiple reports of the NFLPA spreading derogatory information to the media about the victim in Ezekiel Elliott discipline case. It's a common tactic to attempt to prove the innocent of the accused by the discrediting the victim—in this case Ms. (Tiffany) Thompson—when coming forward to report such abuse. Common or not, these tactics are shameful. Efforts to shame and blame victims are often what prevent people from coming forward to report violence and/or seek help in the first place."
As you might imagine, the union didn't take it lying down. They quickly retorted with their own statement: "The public statement issued on behalf of every owner is a lie. The NFLPA categorically denies the accusations made in this statement. We know the league office has a history of being exposed for its lack of credibility. This is another example of the NFL's hypocrisy on display and an attempt to create a sideshow to distract from their own failings in dealing with such serious issues. They should be ashamed for stooping to new lows."
This wasn't just tweet beef. It's proof of another common theme. This is no longer about the player or his case, so much as it is about the league and the union.
In this week's Game Plan, we're going take a swing around camps and get a quick progress check on rookies like Leonard Fournette and Deshaun Watson, we'll go a little deeper on the Bears QB situation after Mitch Trubisky's big Friday night, and we'll kick the tires on Eli Manning wanting to celebrate his 40th in uniform, how a tougher camp is affecting the Jaguars, and so much more.
We start here in Oxnard, as the Cowboys gear up to wrap camp and head back to Texas. And you might think that this would be Ground Zero for all things Elliott on the heels of last week's bombshell. But you'd be wrong.
Center stage is on the opposite coast, the I-95 corridor that connects the league (NYC) and union offices (D.C). And it's not so much about the conflicting stories given to the authorities and NFL investigators by Elliott and Thompson anymore. It's now about process and public relations.
So how did this one start? That slew of news stories sprung loose, and the league knew that only a few parties were privy to the 160-page report that took over a year to complete—its own people, the union's, the Cowboys, and Elliott and his lawyers and reps.
In those pieces, based on the totality of what was in the reports, the NFL felt like facts had been cherry-picked to paint Thompson as the villain. One such example came with the omission, as I understand it, of Thompson testimony stating that she realized it would be "crazy" to blackmail Elliott with a sex tape.
Based on years of work and research in the wake of the 2014 disaster (i.e. Rice, Hardy, Adrian Peterson), the league felt compelled to take action, because it believed the smearing of a victim could serve as a motivator for women to stay quiet in the future. And it clearly suspected—one source said it was explicitly told—that the union was responsible for the leaks.
The NFLPA, as you might imagine, was not pleased with the damning accusation that appeared on NFL spokesman Brian McCarthy's Twitter account, and aggressively pushed back against the notion it was responsible for demonizing the alleged victim.
When I talked with union chief DeMaurice Smith on Friday, right after the decision came down, he made it clear that the he was still gathering information. But his initial reaction? Well, as you might imagine, he questioned (again) the process.
"I do know that the Ezekiel Elliot investigation now has to be over a year old," Smith says. "I know that it resulted in a 165-page report and probably hundreds of thousands of billable hours by league personnel. I just have a hard time understanding how come an investigation takes a year, results in a 165-page report and takes so long and so many person hours.
"As a homicide prosecutor and violent crimes prosecutor, I had to try a violent offender or a murderer 100 days after arrest or the person goes free. I know there's a couple of prosecutors that are working with the league on these personal conduct issues but I gotta tell you there's a whole group of prosecutors and law enforcement folks laughing at them going, 'Why does it take so long?'"
To that one, some in the NFL privately and forcefully responded that the union dragged its feet in getting key information over to the investigators.
And round and round we go.
You'll hear a lot more, as Elliott's Aug. 29 hearing approaches, about the process and Roger Goodell's power under Article 46, and the affect all of that will have on whether or not the Cowboys will have their sophomore stud dotting the I on Sept. 10, or at any point before late October.
In the background? The fact that in the six years since the league and union agreed to the current collective bargaining agreement, this has happened over and over and over again. This gives any reasonable person enough evidence to believe that not much will change over the next four years.
And you know that means another work stoppage could be coming in 2021.