Ezekiel Elliott Case: There Are No Winners
No matter what the outcome is in the Ezekiel Elliott appeal case, neither the Cowboys running nor the NFL come out looking good.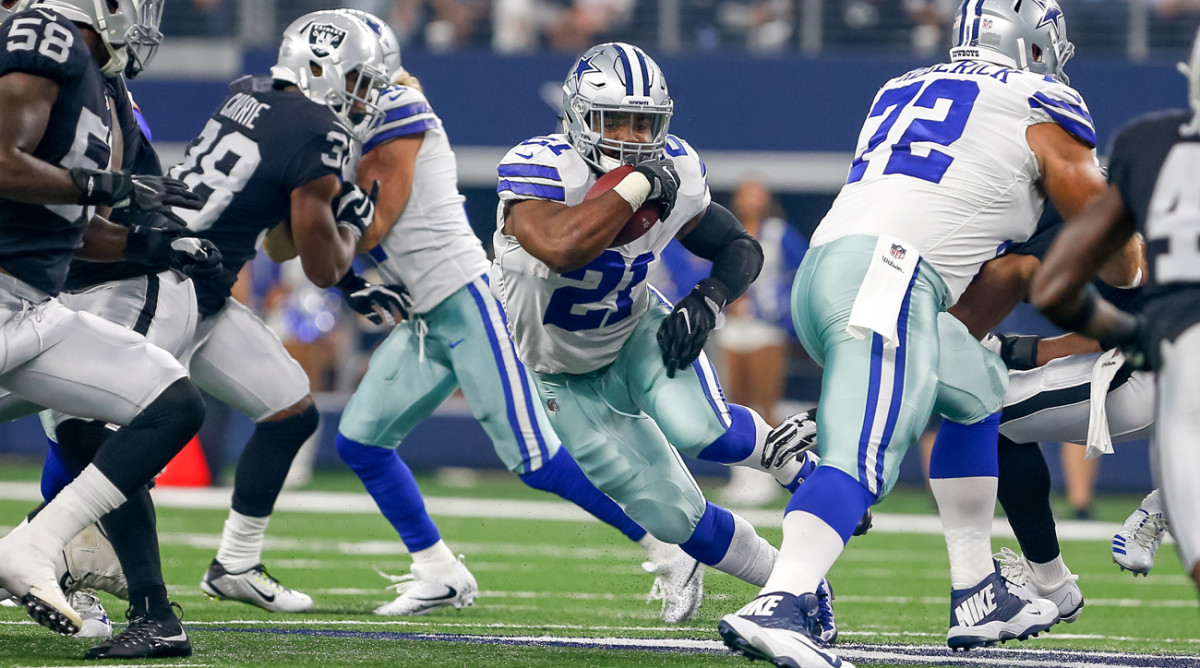 Whatever happens Wednesday—by which time the league should hear the results of the Ezekiel Elliott appeal of his six-game suspension for abusing girlfriend Tiffany Thompson in 2016, and by which time we should know if a Texas court will grant Elliott a restraining order so he can play Sunday against the Giants—both Elliott and the NFL will not look good after this case.
We know now that Elliott admitted having rough sex with girlfriend Tiffany Thompson, admitted using illicit drugs ("in college," he said), could not stay away from a relationship with a woman he says got pregnant by him on purpose (the woman who alleges that his drug use included "doing a bunch of coke"), and says he had sex with a woman (not Tiffany Thompson) whose breasts he exposed in public.
We know now the NFL, which should have learned from previous errors in sex-abuse investigations, did not allow the investigator—who interviewed Thompson six times and reportedly had questions about Thompson's credibility—to report her findings directly to commissioner Roger Goodell. In fact, Goodell should have demanded to speak with lead investigator Kia Roberts. Her findings were reported to Goodell, but not personally by Roberts. She should have been allowed to tell him exactly what her concerns were, since she was the investigator who would have the most informed opinion on Thompson's credibility. The NFL must at all costs in cases of abuse do everything right. Everything. Because the league knows the microscope of appeal will delve thoroughly into every aspect of its case. And the aspect of Roberts knowing the accused better than anyone in the league and not conversing with Goodell about that is a blatant error, even if the chain of command in this case does not require Roberts to report to Goodell.
Ezekiel Elliott Sues the NFL: What it Means for the League's Suspension of the Cowboys RB
I don't know if Elliott is guilty, or worthy of a six-game ban. But from reading the reports of this case, I sincerely hope the Cowboys do not simply fight for his freedom so he'll be able to play the maximum number of football games this year. This guy needs to grow up. He needs to go to the Dak Prescott school of maturity. I am reminded of my conversation with coach Jason Garrett in training camp, when Garrett told me of his offseason admonitions to Elliott.
"I've had a number of talks with him," Garrett said. "I've asked him, 'What do you want to be?' My point to him is, 'If you maximize your abilities, you night be able to make $200 million off the field, like LeBron. Or you could make a million.' I mean, say you're AT&T, or you're Pepsi. You're looking for a spokesman for your product. What would you do right now? You'd probably say if you're one of those companies, 'Oh, we'll go with Dak. Or we'll go with Jordan Spieth.' But that's in his control."
It's not just about the money. It's about Elliot's career, and about his life.
Dallas Cowboys: 10 Things You Need to Know
For now, it's also about his fate. Kia Roberts raises enough doubts about the case, and the veracity of Thompson's testimony, that unless the metadata is crystal clear that Elliott abused Thompson, a six-game suspension seems excessive. That's why the evidence, and the forensic examination of the data, is so vital in this case. And the appeals officer in the case, Harold Henderson, has to determine in very short order whether the metadata can be trusted. And if he thinks it can, then Elliott will have to convince a Texas judge the data is flawed—and quickly. 
It's hard for me to imagine Henderson erasing the suspension. But the sheer volume of conflicting stories between Elliott and Thompson makes it realistic to think Henderson could knock the suspension down a couple of games. And though you never know what could happen in a court of law, it's also hard to believe Elliott could win this case on its merits. But there's so much conflicting evidence in this case that any predictions you make on it are done at your own peril.