Monday Morning QB: NFL Season Begins With Eyes on Florida and Hurricane Irma
Week 1 was in full swing Sunday, but even with real football back, attention drifted to the storms in Florida and the immediate aftermath
"Just waiting," the text from Tampa Bay Buccaneers coach Dirk Koetter read Sunday at 10:38 p.m. ET.
As was all of Tampa. Koetter was in his office at One Buccaneer Place, a few long spirals from Raymond James Stadium, the 40 mile per hour winds gusting up to 62 and spraying sharp rain pellets at his windows. He was waiting for the brunt of the storm, due by about 1 to 2 a.m. local time, and I asked him what he was watching—the Giants-Cowboys game or the Weather Channel?
"Both!!" he texted.
This was a strange capper to a strange football weekend for the three Florida teams. A contingent of about 150 Miami Dolphins players, coaches, staff and family members jetted 2,775 miles west late Friday night; the team is tucked away in Oxnard, Calif., where it will practice on the Dallas Cowboys' training-camp practice fields this week before facing the Los Angeles Chargers. Around 130 Bucs players and staffers flew on four smaller jets to Charlotte to ride out the storm at a hotel. Koetter, some coaches and staffers stayed behind. "I'm looking out the window right now," Koetter said when I spoke to him at midday, "and my defensive line coach, Jay Hayes, is out on the practice field, walking his German shepherd. One thing I've learned in this: People will not leave their pets."
Meanwhile, the lone Florida NFL team that played this weekend, Jacksonville, stunned the Texans 29-7 in Houston on Sunday. The Jags are holed up for at least Monday in a Houston hotel, hoping to fly home in the evening, unsure of the damage northeast Florida will undergo. "We're excited," coach Doug Marrone told me Sunday night, not sounding at all excited. "But all of our minds and our hearts are with the people back in Florida, and the first responders, and the people doing the real work. That's the truly important thing. Football's a game."
Koetter, if he can sleep at all in the Bucs' football facility overnight, will wake up this morning and survey the damage to the team's fairway-like grass practice fields outside his window, and he'll get reports on the airport and local infrastructure. Tampa, it appeared overnight, might dodge the worst of the storm, though the Tampa-St. Petersburg/Clearwater coast faced storm surge that could flood the region. The Bucs would wait to see if it's feasible to practice in Tampa for their home game next Sunday, or whether they'd take off for New Orleans or White Sulphur Springs, W.Va., to practice.
NFL Week 1: Best Photos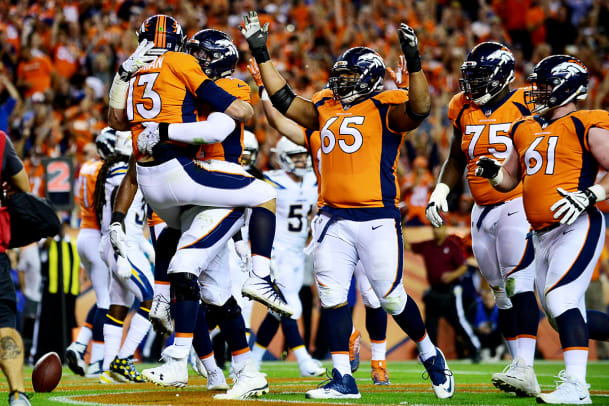 I asked Koetter at midday how he balanced football with one of the worst storms in Florida history. "Anything I'm going to say about football has zero importance compared to the danger of this hurricane to the coast and to potential loss of life, obviously," he said. "But I would imagine we'll try to have a game next week. I love football. Football has been everything to me from the time I was a kid. But come on, football is a game. I've got my TVs on here watching this storm. Look at Houston. Football's so insignificant.
"What's been eerie is watching the rest of world just go on. I've never been through a hurricane; I'm from the northwest. But you know it's coming, and you turn on the TV, and there's the stock market going on as usual, and the rest of the country is all watching college football, and we're just sitting here waiting. The eeriness, the waiting, the anxiety—that's the real challenge."
The Morning Huddle: Time to Worry?
The Bucs and Dolphins both dismissed their players last Wednesday for the abrupt bye week, and many left Florida. About half the Dolphins are in Oxnard, with the rest of the team due by late Monday night for a Tuesday morning team meeting. The Bucs' schedule is TBD. "We got a couple guys as far west as L.A.," Koetter said. "Jameis [Winston] is in Alabama with his family. I've been in text contact with 95 percent of the roster, telling 'em, Rest up and be ready. It's gonna be a crazy week."
Miami receiver Kenny Stills, from the hotel in Oxnard, said he was watching Packers-Seahawks and Rams-Colts on Sunday afternoon. "When we play," Stills said, "I really want to try to bring the city some hope, the way the Saints did for New Orleans after Katrina. In a storm like this, you realize how small we all are in this world. We've been waiting to play football, because that's our job and we've been prepared for it. But whatever happens, we'll be fine."
Good perspective from everyone on the three teams. That's going to be needed for the little football inconveniences in the next few days, as Florida gets back to some form of normal. Football was a pretty small thing Sunday, and three teams knew it.