The Morning Huddle: Andy Dalton Is In Trouble
The Bengals lost their two best pass-blockers from last season, which isn't great when your QB ranked seventh-worst against pressure in 2016. But Andy Dalton still deserved the chorus of boos that played him out of Paul Brown Stadium last Sunday. Will there be an encore on Thursday Night Football?
The worst plays of Andy Dalton's putrid Week 1 performance were inexcusable. His first interception of the game came on an underthrown ball over the middle. His second was an in-rhythm toss . . . into double coverage. His fourth and final pick was a back-shoulder throw that Lardarius Webb snagged without even turning. The worst part? All four came from clean pockets.
Entering the year, the concern in Cincy revolved around Dalton's ability to handle pressure. The Bengals lost their best two pass-blockers from last season—not great when your QB ranked seventh-worst against pressure in 2016. Sure enough, Dalton took five sacks on Sunday, and he was ineffective with defenders in his face. That's on Cincinnati for adding offensive weapons in the offseason rather than support in the trenches. But Dalton still deserved the chorus of boos that played him out of Paul Brown Stadium, given the atrocities he committed when he had time to throw.
Tonight, the Bengals will host the Texans (8:25 p.m. ET, NFL Network). It wasn't so long ago that these two seemed to perennially see each other in the postseason; now, they both enter with questions at quarterback. Most of the attention will be focused on Houston rookie Deshaun Watson, as he starts for the first time. Yet the QB with more at stake will be wearing orange and black. Watson's mistakes, if there are any, can be chalked up to inexperience. But if Dalton, playing in his age-30 season and starting his 95th game, falters anywhere near as often as he did a week ago, it could forewarn the end of an era in the Queen City jungle. Granted, we're only in Week 2, and there's still plenty of time for Dalton to right the ship. He might tonight. But if he doesn't, the time for excuses has long since passed.
Not getting this newsletter in your inbox yet?Join The MMQB's Morning Huddle.
* * *
HOT READS
NOW ON THE MMQB: Tim Rohanwore a Colin Kaepernick jersey to an NFL game ... Michael McKnight profilesMike Zimmer ... Baker Mayfield, NFL prospect? Albert Breer finds out ... and more in our archive.
LATER TODAY ON THE MMQB: Jonathan Jones covers the rise of workout videos ... Chris Burke previews tonight's game ... The staff gives its Week 2 picks ... and more. Stay tuned.
* * *
PRESS COVERAGE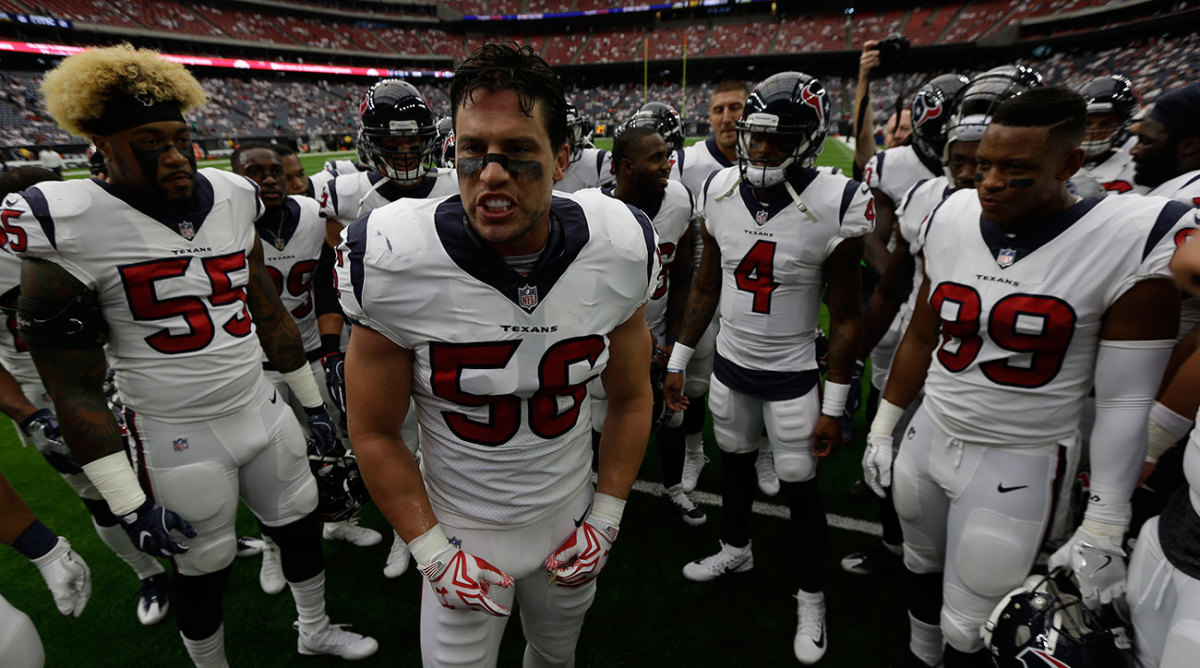 1. Texans linebacker Brian Cushing was suspended 10 games for violating the league's PED policy—his second violation. Cushing's agent released a statement saying, "He is aware of the negative impact he has had on his team and most importantly his fans. It is with the deepest remorse, he humbly apologizes to his fans, teammates and coaches." So nice of you to say it yourself, Brian.
2. Remember Josh Gordon? The former Browns wide receiver could be back this season.
3. It's reunion week in the NFL. Bills GM Brandon Beane is returning to Carolina. Kirk Cousins is visiting former OC Sean McVay (whom he told, "I owe you my career"). And Mike Glennon is "eager to see" the Buccaneers' defense again.
4.Younghoe Koo's trailblazing career started unfortunately, as his game-tying try on Monday night was blocked. But that may have only further endeared him to fans. "Koo's Story Is Familiar for Many Korean-Americans," Joon Lee writes for Bleacher Report. 
​
5.The Denver Post has an in-depth and eye-opening look at why there aren't more black NFL coaches. "My grandfather sat me down when I was kid and told me, 'If you want to go where you want to go in life, you're going to have to run faster,' " Chargers coach Anthony Lynn says. "I said, 'Grandpa, I'm the fastest kid on the team.' He goes, 'One day, you're going to understand what I'm talking about.' I get it now. I have had to be more patient than others. … It got frustrating watching a quality control guy holding a clipboard for a couple of years get promoted to quarterbacks coach and become an OC before you, even though that same guy is relying on you for the run game and protection."
6. Green Bay is playing in the biggest game of the weekend for a second straight Sunday, this time heading to Atlanta. Could the Packers' new 'nitro' defense prevent Matt Ryan from gashing them like he did last January? And who is going to coverJulio Jones?
7. If you're in the mood for stats, Pro Football Focus has compiled an All-Pro team based on Week 1, and checked in on the leading Rookie of the Year contenders, while ESPNcalculated the league's oldest and youngest starting lineups.
The MMQB Power Rankings Poll, Week 2: Packers, Chiefs and a Tight Vote for the Top Spot
8. "Todd Marinovich, Football's Cautionary Tale, Is Playing Again at 48."
9. TheSergio Dipp story lives for another day as Bob Ley defended his ESPN colleague.
10.Le'Veon Bell missed nearly 30% of the Steelers' offensive snaps on Sunday, and that may have been more than just Mike Tomlin getting him up to speed slowly.
Have a story you think we should include in tomorrow's Press Coverage?Let me know here.
* * *
THE KICKER
Steve Smith was nominated for Pro Football Hall of Fame enshrinement. Not that Steve Smith. Oops.
Question? Comment? Story idea? Email me directly or let the team know at talkback@themmqb.com