Monday Morning QB: Response to President Trump Made Roger Goodell 'Proud of Our League'
The NFL commissioner reacts to anthem protests and celebrations across the league on Sunday, and a look at the conflicting feelings of Patriots owner Robert Kraft
On Sunday evening, the 48 Hours That Roiled the NFL were almost over. NFL commissioner Roger Goodell sat monitoring the second half of the late-window games in the NFL's officiating command center. He took a short break to consider what happened on what one owner told me was the strangest weekend he'd seen in his tenure in the league.
"The way we reacted today, and this weekend, made me proud," Goodell said. "I'm proud of our league."
Think of what happened. President Donald Trump was bashing the league that spurned him again late Friday night. In a speech in Alabama, the president ripped the NFL both for being too punitive on big hits and for owners not firing the next player who didn't stand for the anthem. "Get that son of a bitch off the field right now!" Trump said, railing to an empathetic crowd. "Out. He's fired. He's FIRED!!"
But really, think of what happened. The previous weekend, in the 16 games in the NFL, fewer than 10 players, total, either sat or raised a fist during anthems across the league. The organized protests were being replaced by meetings between a cadre of increasingly socially conscious players and league and team officials. Then the Alabama speech happened, and players—white and black—and owners and union officials and the commissioner, got angry. On Saturday, one coach whose team hadn't done any protesting of note before this weekend said his players "felt like the president put them in a corner—and they had to do something or it'd look like the president made them back down."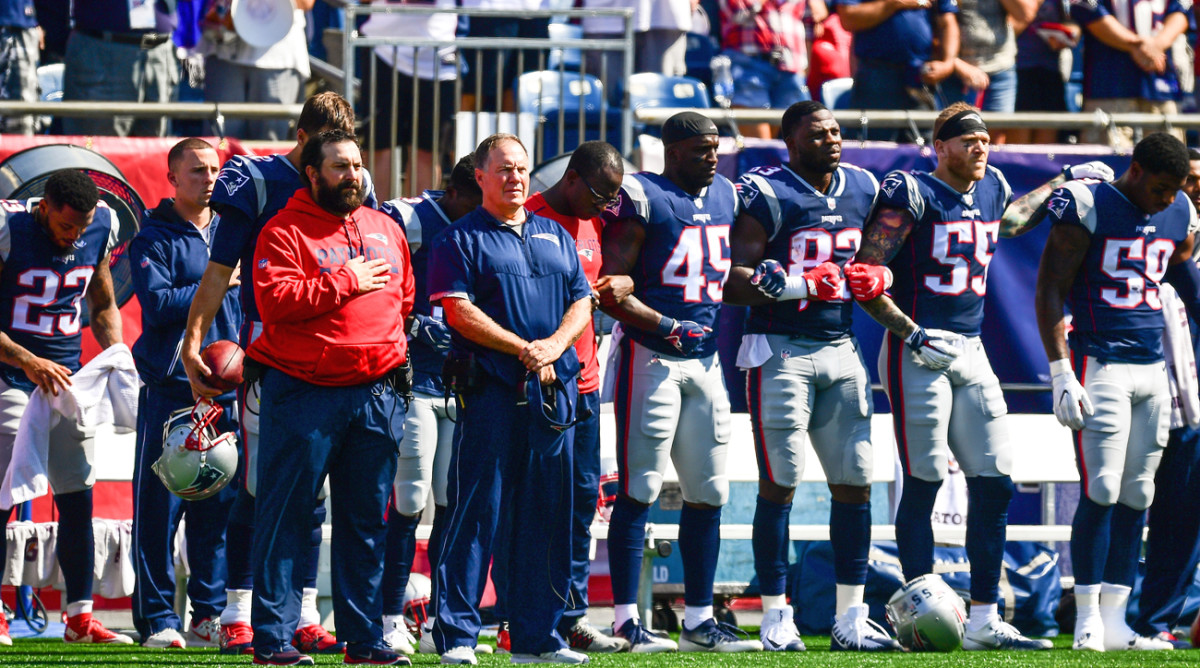 So Trump actually was the divider-in-chief this weekend. In two-plus minutes of a speech pumping up the candidacy of an Alabama Republican senate candidate, the president of the United States detoured to cursing at grown men who would choose to protest silently before football games. How would you guess strong and principled men would respond to anyone, never mind the president, calling them SOBs? In a week, five or eight protesters became in excess of 250. Three full teams—Pittsburgh (other than Army veteran Alejandro Villanueva), Seattle and Tennessee—boycotted the anthem Sunday, and other groups either knelt or sat. "He [Trump] attacked our brothers, my brothers, and me," said Carolina veteran Julius Peppers, who stayed in the locker room during the anthem before the Saints-Panthers game.
More than that, it seemed Trump got players so angry that these protests are likely to continue well into this season. Early Monday morning, after Washington's victory over Oakland in the Sunday night game, cornerback Josh Norman went on an emotional run. He described watching the Trump comments, being stunned by the cheering in the crowd and he said: "Am I American? Am I here ... for the land of the free and the home of the brave? Am I really free? … This right here is NOT acceptable. I'm kinda getting choked up right now."
Trump was at it again Sunday, while protests—players either demonstrating or locking arms in solidarity on the sidelines—happened at 14 NFL games from London to Los Angeles. He tweeted about "boring games" on a day when five of them in the early window came down to the last minute. Last second, in one case. Trump's buddy Tom Brady, battered by a consistent Texans rush, threw his fifth touchdown of the day with 23 seconds left to beat the Texans 36-33. The Bears won on a walkoff overtime 19-yard run by Jordan Howard. Newbie Colts quarterback Jacoby Brissett eked out a three-point win when Cleveland's DeShone Kizer threw an interception on the last play of the game. Detroit lost by four to Atlanta when a last-second attempted touchdown dive by the Lions' Golden Tate fell about 10 inches short. And a Philadelphia rookie kicker playing his second NFL game kicked a 61-yard field goal at the gun to beat the Giants by three.
NFL Week 3 Sunday FreakOut: There Were Poignant Demonstrations, and the Games That Followed Were Incredible
But it was a weird day for the game, and a weird weekend for teams. Seattle was in Nashville on Saturday preparing to play one of the league's rising teams, the Titans. And the Seahawks, instead of either resting or focusing on the game, spent about four-and-a-half hours Saturday discussing what to do Sunday—and then even more time on it before the game. The Steelers debated what to do at length Saturday before playing the Bears. How much did that have to do with the Seahawks and Steelers losing Sunday? Maybe nothing. We'll never know.
Goodell wouldn't say how he personally felt when he first heard the Trump remarks early Saturday. But someone who spoke to him this weekend said Goodell had "profound disappointment" over the comments. He'd gone to Philadelphia on Sept. 12 to meet with some leaders of a players' group working on social causes such as criminal-justice reform and police-community relations. Anthem protesting was down, and a source said the league was considering what further steps to take in response to the players' request for the league to be more involved with social causes.
Goodell told me Sunday night: "I spent a lot of time listening to our players and coaches and owners over the past two days. They really care about our league. I just think we need more understanding. I was trying to find out with the players and coaches, 'How are you feeling? What's going on in your locker rooms?' They were trying to figure out ways to respond." He would not disclose any of the players or coaches.
Sunday's demonstrations, Goodell said, did not surprise him. "They reflected the frustration, the disappointment, of the players over the divisive rhetoric we heard [from Trump]," he said.
For NFL Teams, Unity Has Been the Message This Sunday
Asked what the league could do now about the festering problems between the president and the country's most popular game, Goodell said: "I think we have to be focused on what the NFL is doing—staying true to our values, unifying people and continuing an effort to understand and help improve our communities. People love coming together around football. We saw nothing but exciting football today. I think the public loves our game and recognizes the efforts we're making with it."
"Aren't you bothered that the president might be on a crusade against your league?" I asked.
"No," Goodell said. "We live in an imperfect society. A public discourse makes us strong."
As of Sunday night, at least 23 of the league's 32 owners issued statements on Trump's comments, or spoke about them. Three of the seven men (Woody Johnson of the Jets, Dallas' Jerry Jones and Tampa Bay's Edward Glazer) who donated to Trump following the 2016 election did not comment over the weekend. Johnson, Jones and Glazer gave several million dollars toward the cost of Trump's inauguration. Johnson is not currently owner of the Jets, and acting CEO Christopher Johnson issued a statement Sunday. 
Many of the statements were formulaic and respectful, with only a few rapping Trump with more than a ruler on the knuckles. John Mara and Steve Tisch, co-chairs of the Giants, called the comments "inappropriate, offensive and divisive."
But imagine how Robert Kraft of the Patriots felt formulating his statement. I was told Kraft was watching Trump's speech Friday night while working out after returning to Massachusetts from a business trip, and he was immediately upset. Kraft issued his statement Sunday morning. It read, in part: "I am deeply disappointed by the tone of the comments made by the President on Friday … There is no greater unifier in this country than sports, and unfortunately, nothing more divisive than politics."
Over the years, Trump, who at one point of his life was a huge football fan (and may still be), became friendly with Kraft and with Patriots quarterback Tom Brady. Trump played golf with Brady. Trump watched games from Kraft's box. I remember meeting Trump before a Patriots game in Foxboro when he was walking the sidelines with Kraft. Kraft's relationship with Trump was such that when Kraft's wife, Myra, died on July 20, 2011, Trump and wife Melania were not only in attendance at the services, but also among the first to arrive. After the funeral, Trump and Melania sat shiva with the Krafts at the their house in suburban Brookline, Mass. (Shiva is a one-week mourning time during which families grieve with relatives and close friends at the family home.) For weeks thereafter, Trump was one of a small circle of friends who would call Kraft weekly to see how he was doing without Myra.
Trump ascending to the presidency hasn't dulled the relationship—at least until this weekend. Soon after his inauguration, Trump invited Kraft to dinner with the Japanese prime minister at Trump's winter home in Florida. Then, Kraft gave Trump a genuine Super Bowl ring, the same as his players got after the scintillating 34-28 comeback win over Atlanta last February.
Kraft has gotten to know his players throughout his years as the owner, taking groups of Patriots to Israel and on trips to Boston's inner city, including one session with the Boston police chief. Kraft has formed lasting bonds with many of those players, black and white. He has to be thinking, It's one thing to urge players to stand respectfully for the national anthem. But who's that guy calling them SOBs if they don't? That wasn't the guy who sat shiva with me when my wife died.
So now where does the league go from here? The players may continue to poke the bear, and union executive director DeMaurice Smith could too; his defiant tone in his statement made it clear the players wouldn't back down to Trump. But it's unlikely you'll see Goodell engage much with Trump's warring words. It's not the commissioner's style.
Paul Tagliabue: Trump Comments 'Insulting and Disgraceful'
And Trump? I wouldn't expect him to go quietly into the Washington night. In 2014, he was outbid by the Pegulas for the Bills and used Twitter to tell Buffalo what he really thought.
"Even though I refused to pay a ridiculous price for the Buffalo Bills, I would have produced a winner," Trump said in October 2014, in a flurry of tweets. "Now that won't happen."
Sound familiar?