Football in America: Building Tradition in Carolina
Old South and New meet on the football fields around Charlotte, where young programs from the youth level to the NFL are pushing the sport forward, and facing its challenges
This fall The MMQB, in partnership with State Farm, is running an eight-part series called "Football in America." We'll take the temperature of the game at the youth, high school, college and NFL levels in a changing world, in eight locales across the United States: from the San Francisco Bay Area to Philadelphia, from Minneapolis to Phoenix. This week: Episode II—Charlotte and the surrounding area.
Video: Steve Raum
Photos, Social: Kalyn Kahler

A Three-Time Champ, Just 12 Years Old
District Three South Stadium, Rock Hill, S.C.
Friday, 7:30 p.m. EST
No one wants to play the South Pointe Stallions. Not unless they have to. South Pointe's conference foes can't avoid the Stallions, and neither can the unfortunate suckers who will play them this fall in the state playoffs.
The Stallions have won three straight Class AAAA championships in South Carolina, in the town of Rock Hill just across the border and south of Charlotte. Last year they had to go all the way to Maryland to play a non-conference game because they couldn't schedule anyone locally. The week before, they had to go to Buford, Ga., where they reached a compromise: We'll play at your stadium if we get $17,000 of the gate.
The Shelby High Golden Lions aren't afraid to play South Pointe. Nestled in the foothills of North Carolina less than an hour west of Charlotte, Shelby has won 14 state titles, and four straight in their smaller 2A division. They took a 26-game winnng streak into Rock Hill in a game they didn't have to play—and certainly didn't have to play away from home. The coaches, South Pointe's Strait Herron and Shelby's Lance Ware, are friends, and the schools agreed to split the gate at South Pointe's larger venue. The Stallions have only four home games this season, because everyone is scared to come there.
"Obviously it makes building tradition easier when you're winning," Herron says. "God only knows why he put me here, and to be able to win three [state titles] in a row, I've coached for a long time, this is my 30th year, and I never thought … I was hoping for one. Even just to play in one.
"What we're doing here is tremendous. This school, if you go back and look at the background of this school, we're beating the odds."
South Pointe is located on the south side of Rock Hill, a football-rich town that previously only had Rock Hill High and Northwestern. Herron says there were many opposed to the school being built on that rural side of town in 2005 when the town's growth was happening north, closer to Charlotte. In less than five years, though, the school was churning out D-I football talent—Stephon Gilmore, Devonte Holloman. Then came Jadeveon Clowney, whose viral high school highlight reel was created and edited by Herron himself. Now, entering Friday night's game against Shelby, the Stallions are ranked seventh in the nation.
High school football in Charlotte and its surrounding communities is by no means new. In the 2000s, Independence High won seven straight North Carolina state titles and 109 consecutive games in the 2000s, the second-longest streak in the nation. But South Pointe (5-0) is relatively new. It needed less than 12 years to build this monster, one that rolls to a 25-0 win against Shelby on this Friday night.
"The guys that come through here, it's a talent city," says Eli Adams, the Stallions' stud defensive end who has committed to Virginia Tech. "The guys we put in the NFL, and there are more names that you'll never hear of that had the shot to play in the NFL. When people say college [football] is good, well, I love high school, especially coming into Rock Hill, because you don't get a better experience than this."
There is no weakness to this South Pointe team, which many are comparing to the 2008 squad that boasted Clowney as a sophomore and Gilmore as a senior. Gilmore's little brother, Steven, is a top receiver on the team and scores twice against Shelby. Quarterback Derion Kendrick is the top player in the state and will head to Clemson next year to play wide receiver. Joining him with the Tigers is BT Potter, who's ranked as one of the best kickers in the nation and who booted a 71-yard field goal in practice a few weeks ago.
Earlier in the week, Clemson kicker Greg Huegel tore his ACL on the final play of practice and was ruled out for the season. Potter's Twitter account got blown up by Clemson fans asking if he was eligible to graduate high school early and join the Tigers immediately. One fan told him they called his guidance counselor to check.
"Fans are everywhere," Potter says. "You go into the gas station, and somebody's going to talk to you about football and let you know how everything's going."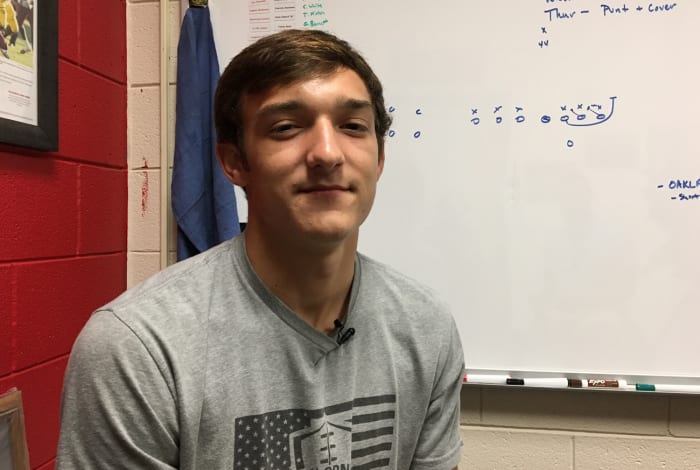 Wait. You, a 17-year-old high school kicker, get recognized when you're out in this town?
"Yeah," Potter says, "I was in the gas station a few days ago getting something to drink and four people came up to me."
• FOOTBALL IN AMERICA, EPISODE I: THE BAY AREA. Peter King on how football bridges communities from San Francisco to Oakland to Berkeley.
The Youth Game in a Changing City
Revolution Park, Charlotte
Saturday, 10:30 a.m. EST
Erik Hamilton started playing football in the Police Activities League when he was 7. Back then there was more plucking of the grass than playing on it, he says. These days Charlotte's PAL teams play on a $250,000 artificial turf field that just got refurbished in August at the cost of another $150,000—thanks to a grant from the Panthers. Bank of America Stadium is about two miles away.
Hamilton, a lifelong PAL man, is now a coach. On this Saturday morning in Charlotte's Revolution Park in the Brookhill neighborhood, his Raiders blank the Odell Eagles 31-0. There is no celebrating after touchdowns here. Players participate in a handshake line—one assistant coach shouts to the kids to "tighten the line up!" Afterward, parents and family members form a human victory tunnel on the field. A few players run through twice.
"Some of the kids, this is the only outlet that they have," says Alison Woods, whose son, Kobe Covington, plays middle linebacker. "The coaches and the officers, they all are mentors to them. Some of these kids, that's the only male role model that they have. I've been here three years with my son, and they teach them discipline and they know to do good in school and do good at home. And if they, don't they know they can't play.
"They come out here and they know respect. They teach them respect. They have respect for themselves, for their teammates and for the coaches as well. It means a lot to them."
The PAL league is conveniently located for some of the inner-city youths and is often a far cheaper option than the other Pop Warner leagues. Anthony Bogues has directed Charlotte's PAL for the past four years and has been an officer with the Charlotte-Mecklenburg Police Department for eight years. He sees the league as a chance for the children to bond with the officers who'll be patrolling their neighborhoods.
One year ago this week, Keith Lamont Scott was shot and killed by Charlotte-Mecklenburg police when, while they were executing a search warrant for an unrelated man, they found Scott in his car rolling a blunt. According to police, when he exited the car with a handgun, he did not comply with officers' orders—his family disputes this—and he was shot to death.
This set off a series of protests in Charlotte—mainly uptown—across several days. Many uptown employers sent their workers home early, unsure what the early evenings would bring. Police wore their militarized equipment. After one protestor's shooting death, the then-governor called in the National Guard and declared a state of emergency. Hamilton saw early what was unfolding and decided on his own to cancel their next practice.
"We have kids who, their transportation is on police activity vans with logos and emblems," Hamilton said. "So it was me as a coach saying I don't want to put my kids in that situation. That's really what it was. Hey, the temperature is hot right now. Let's wait for it to cool down before we get those kids back on the field."
Bogues, Hamilton and the other coaches all spoke with the kids later about why practice had been canceled and the events going around Charlotte, as best they could. At home the conversations were tougher.
Jerrold Kinney's son, Oliver, was in his first season with PAL. Kinney also has two younger twin boys. During it all he sat them down to have "the talk" that every parent of black boys must have.
"It was a conversation that I wasn't prepared to have, quite honestly, with a 10 year old. But more and more now, it's just like sex. You've got to have that conversation sooner and sooner," Kinney says. "You have that conversation that, you know what, you're going to be treated differently simply because of the color of your skin. You need to have respect for everyone, but more importantly people in powerful positions.
"My wife is sitting there, and she starts crying. She realizes the gravity of it. She's got three boys that are coming up in this environment and they're treated differently in many ways. It's tough."
The Scott shooting and the response from Charlotte's residents highlighted ills in the city that had long been ignored or covered up by its shiny New South skyscrapers and progressive reputation. Schools here are facing resegregation. The slow drip of gentrification has accelerated in recent years, as many of the historically black neighborhoods, including the one where today's game is played, are seeing properties bought and flipped to interlopers who only now find the area suitable to live.
Perhaps most telling was a study released last spring that has embarrassed the city and has the greatest affect on the children playing on this field today. In a study of the 50 largest cities in America, the Equality of Opportunity Project named Charlotte dead-last for economic upward mobility. If a child is born in Charlotte in the bottom-20% of income distribution, the study that child has a 4.4% chance of making it to the top 20% later in life.
Many systems and institutions have failed these kids and, in truth, will continue to fail them. But this league and these coaches can offer a glimmer of hope.
"I'm proud of you guys … give it up for two weeks with no scoring on us," Hamilton tells his team after their win. "Two shutouts consecutively! Now here it comes. Here comes humble pie. I'm not just telling you. I don't have a lot to coach when we win. So winning does not do much for me until we get that third win to put ourselves in position to progress. Am I clear?"
"Yes, sir!" the kids shout.
"So celebrate it," Hamilton says. "As soon as you celebrate it, it's over with. It's time to move on to Tuesday, because it's the next day available."
"Yes, sir!"
"Fellas, I'm proud of you."
An Infant College Program Dreams Big
Jerry Richardson Stadium, Charlotte
Saturday, 6:00 p.m. EST
Judy Rose wants her school's fans to practice the sort of patience she's had to exhibit for nearly two decades. The UNC-Charlotte athletic director since 1990, she wanted football—and football her way—for years. Now that the school has it, though, doesn't mean success comes right away.
The Charlotte 49ers football program is in its fifth year of existence and third in the FBS, college football's highest level. The school, founed in 1946, has nearly 30,000 students and is located in the northern part of the most populated metropolitan area between Washington D.C. and Atlanta, but it wasn't until 2007 that the athletic department and the school's board of trustees could get on the same page about a football team.
On this day, the 49ers are playing the 50th game in school history. It's a disappointing one: a 28-0 home loss to winless Georgia State. UNCC is 0-4 after getting dropped by Eastern Michigan, Kansas State before North Carolina A&T falling to Georgia State, a difficult loss to explain away.
The program is 16-34 all-time, but since joining the FBS in 2015 the 49ers have won just six games.
"We go against teams that have played 1,000 games in the history of their program, some much more than that," says Kevin Donnalley, the color analyst for team radio and a sort of do-everything figure for the program. "They've had years and years of building traditions. And we haven't even begun to get some of those things that other teams have gotten. It takes time."
Coach Brad Lambert was firm on this point with Rose early on: He didn't want to force tradition. Some wanted to program to have some type of totem that they touched before the game (perhaps a large hunk of faux gold; the first gold rush in the U.S. took place in North Carolina in 1799) or shoot off cannons when they score. Lambert and Rose decided to be organic. Even the field house's walls look bare early on, with leaders opting to have photos of football action on the walls rather than random logos throughout. The first tradition, which carries on today, was to reserve and rotate the No. 49 jersey for the player who earned it the most in practice that week.
Traditions are being started in the parking lots, too. A 1996 graduate, Rob Dibble was one of several alumni rallying the school to bring in football 10 years ago. He told his buddies that if the school got football, he'd buy some sort of vehicle for them to tailgate with. He decided on an ambulance.
Known as the Normbulance (the team's mascot is Norm the Niner), this $4,500 diesel van was bought off Craigslist, painted up with Krylon spray paint in Dibble's driveway and outfitted with a TV, a 10-foot bar and stereo system. If there's a 49ers game within five hours of Charlotte (and most of them are), Dibble drives the Normbulance to the away stadium to tailgate. He's so tied to the vehicle that he's known to fans mostly by "Norm" rather than his own name. On this day, he wears a green and black kilt and watches as friends take shots out of a pickaxe.
"Someone asked me, 'What do you want out of this?'" Dibble says. "I said I want more idiots like me."
Old Guard and New
Bank of America Stadium, Charlotte
Sunday, 1:00 p.m. EST
The Carolina Panthers are traditional even if they aren't steeped in tradition. Zack Luttrell and Joe Ryan are trying to change the latter. Nine years ago they co-founded the Roaring Riot, the unofficial fan group of the Panthers that travels to every away game and tailgates in the shadow of Bank of America Stadium for each home contest.
As Charlotte grows, so does the fan base for its NFL team, which was established in 1995 and has been carried to new heights with Cam Newton's superstar status. A few years ago, a game like Sunday's against the Bills would have been overrun by opposing fans. The Steelers bring an impressive contingent when they play here in the fourth preseason game (an annual tradition of its own that dates to 2003). And as recently as 2013 a Charlotte TV station carried Washington preseason games for all the fans who grew up in the area without a local NFL team and adopted the Redskins.
"Growing up as a middle-schooler when the Panthers got here, it was sort of an old-guard crowd," Ryan says. "You needed a generation of Panther fans to come up to where it's all they've ever known. I can remember back in the day there would be a big third down and I'd stand up to cheer, and I would have people ask me to sit down. It was more of a social event and less the fabric of what they care about with the Panthers.
"It was tough. Really just over time we kept at it, we kept standing, and our numbers started to change inside the stadium. Now we're there."
Roaring Riot now has 37 chapters and more than 5,000 members. When they go on the road, they mostly stay in the same hotel, drink together the night before and sit together after buying a block of tickets. At the 2015 season opener in Jacksonville, Riot members overtook the stadium's cabanas a few hours after a night on the town.
"We brought some friends who run an IV clinic, and out of our hotel we lined up Sunday morning," says Luttrell, who estimated 30 or more fans got IVs that morning before the game. "We had to make sure we were on top of our game. Plus, we had the pools in Jacksonville so we had to be perfectly hydrated."
Like the Charlotte 49ers, whose football stadium is named after Jerry Richardson, the Panthers don't want to force tradition. The team's "Keep Pounding" motto derives from late linebacker Sam Mills Jr.'s speech to the team before the 2004 wild-card win against the Cowboys. At the time he was battling intestinal cancer, and he died in 2005 at the age of 45. He's the only Panthers player whose jersey is retired and who has a statue outside Bank of America Stadium. In 2012 the team introduced the Keep Pounding drum to the pregame festivities, and a former player or person important to the community will bang it three times before kickoff.
For Richardson, tradition and reverence are of the utmost importance. He's known as Mr. Richardson across town and simply Mister to many in the building. There are five values Richardson espouses to his employees, which are posted throughout the building and that anyone working there can recite: hard work, teamwork, harmony, listen, respect.
But on this Sunday those traditional values will be tested. It has been made clear to the players, either implicitly or explicitly, that Richardson is not in favor of anthem protests. Veteran defensive end Julius Peppers, who played eight seasons here and returned this year as a free agent at age 37, stays in the locker room during the anthem. After the game linebacker Thomas Davis tweets a photo of himself praying, and running back Jonathan Stewart retweets a photo of his raised left fist game.
Two days later, team captains, Peppers and other key members of the team will meet with Richardson at his home. They want—nay, need—to be heard. They need to let Richardson know they appreciate what he's done for them and the community they have adopted, but they have to be able to express themselves and support and protect that community.
And maybe for a traditional man, it's not too late to change.
Question or comment? Email us at talkback@themmqb.com.