The Morning Huddle: How Should the NFL Punish Danny Trevathan?
Chicago Bears linebacker Danny Trevathan lowered his helmet and crushed Green Bay Packers wide receiver Davante Adams's head midway through the third quarter of Thursday Night Football. How should the NFL respond?
There are no excuses for the way Bears linebacker Danny Trevathan lowered his helmet and crushed Packers wideout Davante Adams's head midway through the third quarter on Thursday night. Even if Trevathan didn't intend to send Adams to the hospital, the league can't allow such brutal, needless plays to go unpunished.
Trevathan said all the right things afterwards. He expressed regret about the point of contact, admitting, "I could've been a little bit better." The sixth-year vet also said he would reach out to Adams, who was immobilized and taken off the field on a stretcher. When asked about the possibility of a suspension, Trevathan responded, "I don't think I should be suspended . . . but my main concern is that he's OK." 
The first update on Adams's condition came late last night from Packers coach Mike McCarthy, who said, "So far, everything looks positive. He's already giving them a hard time at the hospital to get out of there so that's a great sign." The league, worried about head trauma and player safety more than ever, will surely explore a possible suspension for Trevathan. Wide receivers deserve to play without the fear of paralysis—and fans want to watch without waiting to hear if a player "has feeling in his extremities," as CBS reported after Adams was taken off the field. A month ago, 76% of survey respondents told The Washington Post that head injuries were a "major problem" for the league, far outpacing domestic violence, political protests or any other issue. 
After the Packers' 35-14 win, in which Aaron Rodgers threw four touchdowns and the Bears had four turnovers, Green Bay wideout Jordy Nelson shared his reaction to the vicious hit. "It's one of the worst feelings you have when you see a guy motionless on the field," he said. "That one got to me—that's when you really start thinking about this game." In the locker room afterward, Milwaukee Journal Sentinel reporter Michael Cohen showed Packers cornerback Davon House a video of the hit. His response: "Oh gosh, that's disgusting . . . that's super dirty."
Nelson was one of the first to call for trainers to rush onto the field. While Adams received medical attention, Raiders quarterback Derek Carr (a college teammate of Adams's) and Lions tackle Akeem Spence tweeted prayers for Adams; many other Twitter users called for Trevathan's immediate ejection. This offseason, Pro Football Talk's Mike Florio reported that the NFL's Competition Committee preferred that players receive suspensions instead of ejections to make sure proper punishments are doled out and that appeals can be heard. Owners also gave the league the ability to suspend players for "egregious hits," even on a first offense. This hit almost certainly crosses that threshold. 
Not getting this newsletter in your inbox yet?Join The MMQB's Morning Huddle.
* * *
HOT READS
NOW ON THE MMQB: Jonathan Jones has our second Football in America report ... Albert Breer reports on Washington's roster makeup and a 'statement game' from the Cowboys ... and more. 
LATER TODAY ON THE MMQB: Andy Benoit tells you what to watch in Week 4 ... fans continue to react to football's biggest controversies ... and more. Stay tuned.
* * *
PRESS COVERAGE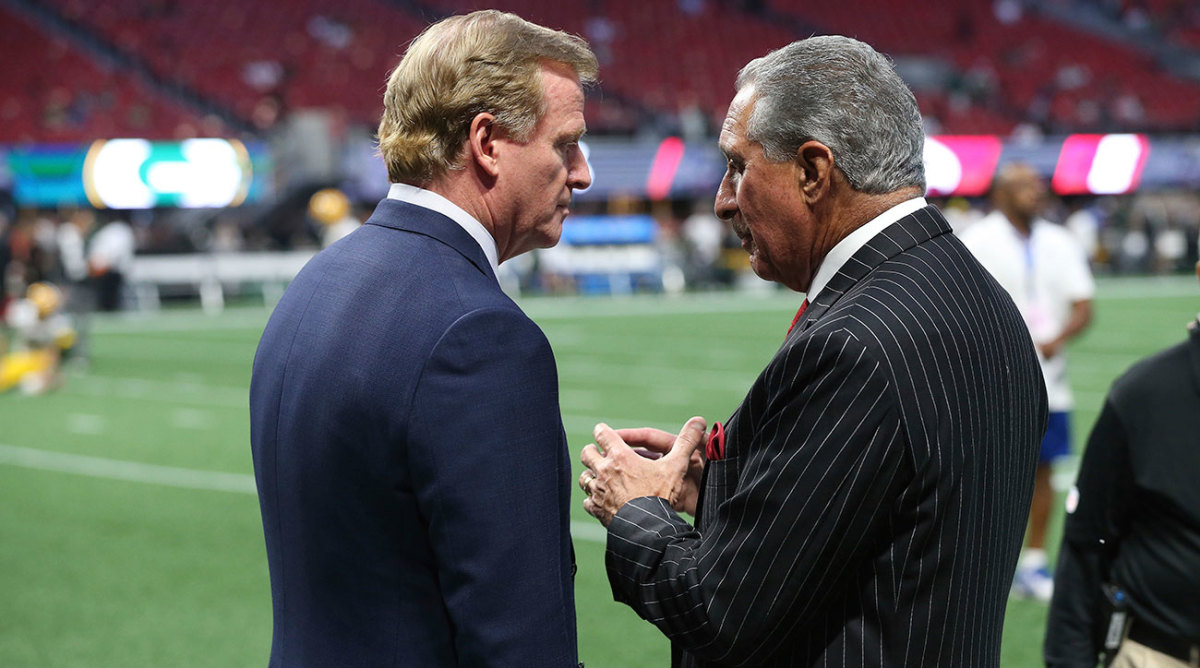 1. Earlier this week, Roger Goodell invited eight owners and numerous players to discuss anthem protests. The commissioner said little, letting ownership express their desire for players not to kneel, according to one of the players in attendance. In Detroit, defensive tackle Akeem Spence tweeted that his father, Floyd, was denied a job due to Spence's decision to take a knee.
2. Even beforea thunderstorm swamped Lambeau Field, Thursday's game was sloppy. Beforehand, The Guardian published a timely story on "the science behind the NFL's toughest turnaround."
3. The Steelers may be tied for the AFC North lead at 2-1, but you can still feel the team getting antsy about its performance following a loss in Chicago (that looks even worse today). Le'Veon Bell—13th in rushing yards per game—admitted, "I haven't been that special player yet," while defensive coordinator Keith Butler said "I'm pissed off" about his unit's play.
Super Bowl 52 Picks, Against the Spread
4. Robert Mays on what the Panthers could learn from how the Titans, Chiefs and Patriots move the ball without a traditional No. 1 wideout.
5. "A year after leading the NFL in fewest yards allowed per rush at 3.4, the Seahawks are currently last," writes Bob Condotta. But Seattle's defenders are not worrying. 
6. Sunday's Raiders-Broncos matchup features two of the league's top pass rushers—two guys who met this summer and learned from each other.​
7. The Bengals are still working to fix a "broken" pass attack.
8. "Kareem Hunt Is Breaking The NFL."
9. Sam Bradford is out again on Sunday. Can Case Keenum succeed again in the starter's absence?
10. Washington receiver Josh Doctsonearned trust with one play Sunday night. The team needs him to continue that breakout this week, as Jordan Reed recovers from a chest injury. While we're in D.C., a nice story of two players buying a 10-year-old the Xbox he had been saving up for.
Have a story you think we should include in tomorrow's Press Coverage?Let me know here.
* * *
THE KICKER
"I've had people get on Facebook and say, 'You can't be the No. 1 Titans fan.' Well, I don't see anybody else getting tattoos like I've got," says Mitcht Firkins, who has 33 Titans-themed tattoos—and my vote for No. 1  Titans fan.  
Question? Comment? Story idea? Email me directly or let the team know at talkback@themmqb.com