4 Downs: Michael Bennett Case is Complicated; Patriots Offseason Signing is Questioned
The video evidence presented by the Las Vegas police seems to show a different account of what Seahawks star Michael Bennett claimed happened.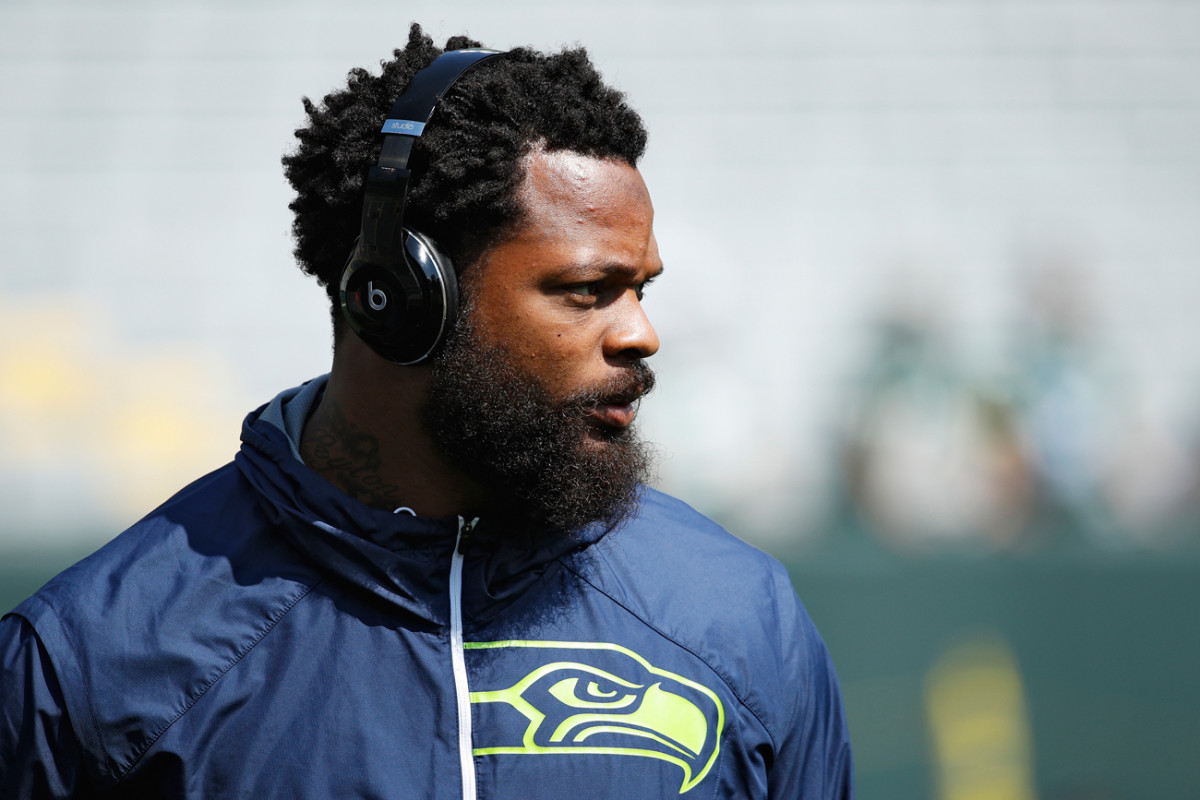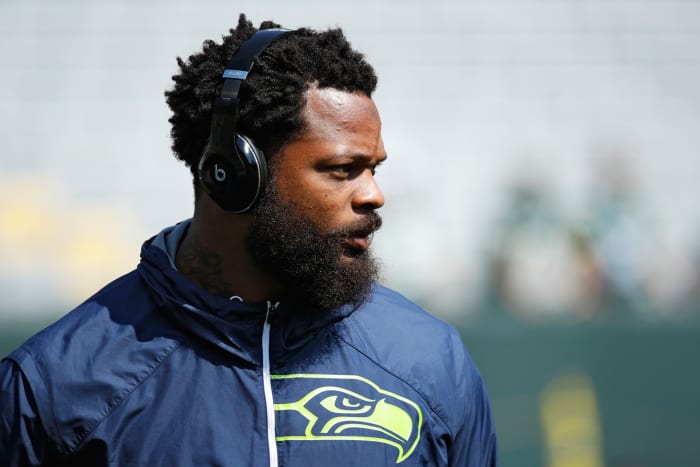 1. On the Michael Bennett case. I'm not here to tell you what happened on the night of the Mayweather/McGregor fight in Las Vegas. The video evidence presented by Las Vegas police shows Seahawks star Michael Bennett and the police being cordial with one another at the end of their encounter, and it shows why Bennett was seen as a person of interest (he hid, then fled as most others on the screen followed orders to hit the deck in what was believed to be an active shooter situation), and it shows a moment where the police were aggressive with him. There's also a hole in the video where Bennett was actually taken to the ground, creating enough gray area there for anyone to make all of that say whatever he or she wants it to say.
But do people really want more information before making a judgment? This case, like so many others, has become a talking point, one that has the flexibility to fit into a variety of narratives. If you want this to be another example of police brutality against an African-American, then it can be that. If you want this to be a professional athlete lying to make himself a martyr, then you can twist it that way as well. And what seems to be lost in this is that the accusations being heaved around are reallyheavy. The same way we should be careful before branding players as domestic abusers, we should show caution calling police racist or abusive, because those labels aren't easily shed, particularly now as part of a very serious, hot-button issue.
In the end, our job in the media is to get to the truth, not frame conversations for our own devices, which we've seen happen frequently on this story the past few days. If the police used excessive force on Bennett or racially profiled him, then they should be punished. But we should at the very least wait until we have conclusive evidence, one way or the other.
For his part, Bennett's lawyer John Burris told me Wednesday that he hasn't seen video of the actual takedown, and is doubtful it even exists. Also, Burris was clear on this: "Michael said it was racial profiling, but I do not have to prove that. … It's not part of my proof issues." And I did reach out to Bennett, unsuccessfully. It will be interesting to see what Bennett says to the Seattle media later this week.
Some Tough Questions About the Michael Bennett Situation
2. Buyers' remorse for New England? The price tag alone made the Patriots' signing of Stephon Gilmore seem massively out of character. Four weeks into the ex-Bill's career, it looks even worse. Now it looks like that out-of-character, top-of-the-market expenditure may have been on a player who really doesn't fit.
Gilmore, to put it lightly, had a rough day at the office last Sunday. Twice late in the second quarter on Sunday, Gilmore and teammate Eric Rowe covered the same man, leaving another Panthers uncovered—first Kelvin Benjamin, who ran free for 43 yards; then Devin Funchess, who scored from 10 yards out. There was also a miscommunication on Panther fullback Fozzy Whitaker's 28-yard touchdown, where Gilmore followed the motion man and vacated the area where Whitaker ran open. 
What's really troubling here is that this isn't necessarily new. Based on what I'd heard from three sources who were in Buffalo last season, Gilmore had grown a reputation in Buffalo for finger-pointing on plays like these. And as he dealt with a shoulder issue last year, Bills people noticed that he'd started to make what they believed to be business decisions on run plays. His quiet, reserved nature left those questions unanswered, and Buffalo knew coming out of last season that his price tag—based on his talent—would be too rich for its blood. And that's why the people I talked to were stunned in March when Gilmore, who they viewed as a corner that was probably somewhere between the 11th and 15th best in football, was signed by the Patriots. It wasn't so much the money as it was a weird match for a team that smartly signed Chris Hogan and Mike Gillislee away from the Bills.
Now, Gilmore is talented, and it's early, and maybe he grows through this. But the early signs seems to signal that some of the confusion out of Buffalo on how this signing came together was warranted.
Danny Trevathan's Suspension Exposes Players' Disconnect When It Comes To Violent Hits
3. Bills on the rebound. Over the four months between the draft and the start of the season, Bills GM Brandon Beane and coach Sean McDermott have drawn a line in the sand on discipline, as they try to straighten out what they believe had been a pretty loose operation. They traded Sammy Watkins and Ronald Darby, suspended Marcel Dareus for a preseason game, and have delivered the general message that they won't hesitate to confront any sort of deviation from the plan. And now we've got some proof, in the team's 3-1 start, that the new Bills brass has buy-in from the players.
So how has McDermott done it? The moves to instill discipline have gotten the attention, but the first-year head coach has quietly done even more to create togetherness within the group. He's grouped guys in the locker room by position to build camaraderie among the units, and I'm told that a couple times a week, he'll start the day by having a player address the team with what motivates him or with a story of what he's been through in his life. The idea is that it'll show up late in games, when guys need to trust each other. It sure looked like it did in the massive upset of the Falcons in Atlanta. And it reminds me of a talk I had with McDermott a couple weeks ago, where he explained what he took from his six years as Ron Rivera's defensive coordinator in Carolina that he'd apply in Buffalo.
"One of Ron's greatest strengths is his people skills," said McDermott, who then mentioned the change in Charlotte after Year 1. "Ron did a nice job of connecting with the locker room. And he admitted to this, in his second year, he tried to get out in front of things that way. He did a lot of listening, and so I've tried to do that as well early on, so I get a feel for things. I just think that's an important part of it, the relationships in the building, with the players in the locker room, the people part of it. It's a people-driven business."
We'll see if the Bills can sustain their early momentum in Cincinnati this week and throughout October. Long-term, though, these are good signs that the franchise is moving forward in lockstep, after years of being a bit disjointed.
4. Bearing down. It's hard to predict the future of a quarterback before he's started a game, so I'll just say this: Don't look at the failure of Mike Glennon in Chicago as any sort of sign that the Bears are rushing rookie Mitch Trubisky on to the field. Trubisky has passed every test the coaches have handed him, which is why, when Glennon stumbled, the decision to go to the second overall draft pick was academic. The timing just had to be right. It was this week, with an 11-day layoff between games, Glennon struggling, and a home date on tap.
What I've liked, from the start, is the Bears' conviction in a guy who started just 13 college games. It's something that GM Ryan Pace explained really has developed over the past 12 months: "During the (2016) season, myself, some of our directors on the college end, obviously, we were studying all the quarterbacks all over the country. I did multiple games live on every top quarterback candidate. So I knew. Mitch was No. 1 for me, which I kept quiet. But then as information came in—our college director feels this way, our director of player personnel feels this way, our area scout feels this way, our over-the-top scout feels this way. That's good. But we still had to go through the combine, the interview process, have our coaches look at the quarterbacks. So it didn't start coming into clearer focus until our draft board was getting set.
"And then, it was, 'God, we're picking in the Top 5, hopefully we're not picking up here very often.' And it became 'what are your options gonna be in this area that we're picking.' Then, we realized, 'man, we really like this guy.' And then, 'How do we pull it off?'" Truth is, Trubisky has continued to answer every one of those questions for the Bears. So now we get to see if all that faith was warranted.