Miami Dolphins Turn Around 'Crazy' Season With Quarterback Questions Potentially Looming
Jay Cutler was injured Sunday in the Dolphins' win over the Jets. Matt Moore relieved him and rallied the Miami offense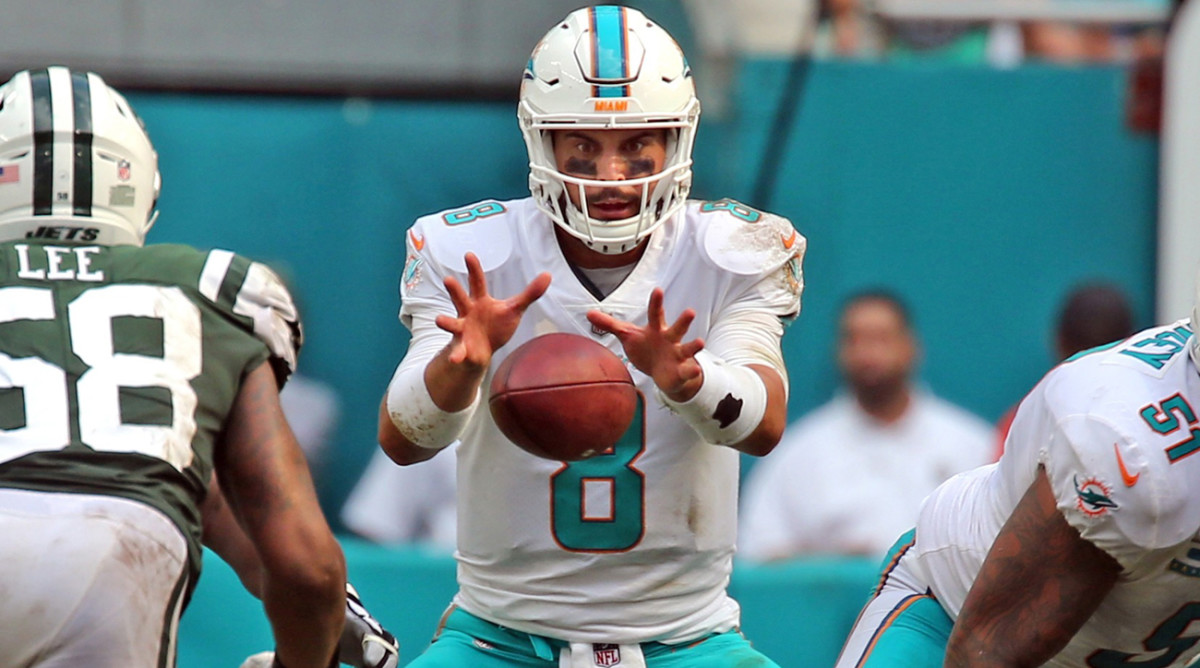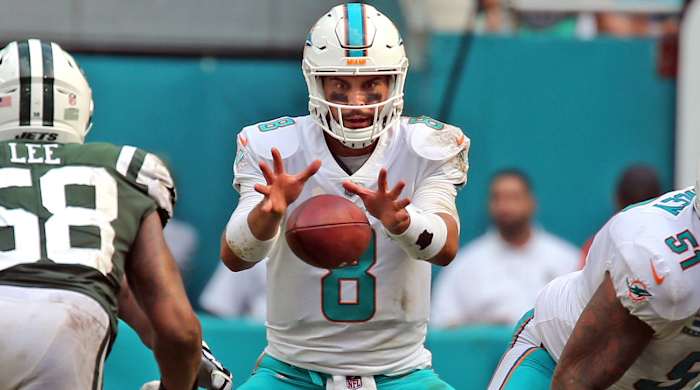 Miami's first three games this year:
• Beat the Chargers in Los Angeles when Younghoe Koo missed a 44-yard field goal with five seconds left that would have won the game, after the Dolphins decamped to California to avoid the hurricane that strafed Florida.
• Got embarrassed by the Jets, 20-6, in New Jersey.
• Got embarrassed by the Saints, 20-0, in London.
Football is a funny game. Then Miami won ugly over Tennessee 16-10. Then Miami fell behind Atlanta by 17 at the half and scored 20 unanswered to grab a 20-17 win. Then, on Sunday, Miami trailed the Jets by 14 after three quarters, lost starting quarterback Jay Cutler to a chest/rib injury, and backup Matt Moore led the Dolphins to 17 fourth-quarter points. Miami 31, New York 28.
Not just a Miami win, but one that could result in some quarterback questions. Cutler was getting an X-ray and possibly an MRI on his chest/ribs area Sunday night. With a Thursday night game looming at Baltimore, coach Adam Gase might have a decision to make. If Cutler, the hand-picked quarterback Gase brought out of retirement when Ryan Tannehill was lost for the season in training camp, had some damage that would need healing time, Moore would certainly play against the Ravens. But if Cutler is okay to play, whom would Gase choose: Cutler, who'd led Miami to a puny average of 10.5 points per game in the four games before Sunday, or Moore, who brought a spark to the offense and led Miami to 17 points in the last 13 minutes of a game they looked to have no business winning?.
Armando Salguero of the Miami Heraldreported Sunday night the team believes Cutler suffered cracked ribs and could miss at least one game. But we'll know the medical results Monday, and the quarterback situation will be clear then.
Packers Are In It Deep, Zeke Rolls, Steelers Are Dominant
Whatever the quarterback status, this is one wacky season, and it's not even half over. When Dolphins players were leaving Hard Rock Stadium at dusk Sunday evening—if any of them cared to look—this is what the AFC East standings looked like before the Sunday night game between the Falcons and Patriots:
Miami, 4-2
Buffalo, 4-2
New England, 4-2
New York Jets, 3-4
"It's crazy," Moore said from Florida on Sunday evening. "Crazy. There's no other word for it. Who can explain this? Who can explain this season?"
Wideout Kenny Stills, who caught the two fourth-quarter touchdowns that tied the game, tried to explain.
"Honestly," Stills said by phone, "we're a young team, but we're a very football-smart team. After that loss to the Saints, we just went back to basics. That sounds like a cliché, but it's real. Just honestly—we listen to the man [coach Adam Gase]. He's sort of got us brainwashed. It's one day at a time. But the guys listen."
How the Loss of His Mother Inspired Dak Prescott to Advocate Cancer Education
"The thing about this league is no one's going to feel sorry for you, as you know," Moore said. "But a game like today goes a long way toward reinforcing what [Gase] has told us. We got back from London, and it was pretty bad, and he just said, 'Finish. Finish. If we're going to change, if we're going to turn it around, you be the change.'"
On Sunday, even though Cutler played fairly well and led Miami to two touchdown drives in a half of play, there seemed to a palpable change when Moore came into the game. Moore is a confident guy, but not a particularly inspirational one. When Cutler got lit up on a hit as he released a pass two minutes into the third quarter, all Moore said in the huddle was, "Hey, we'll be fine. We're gonna be good. Let's go."
Moore threw a pick on his first full series on an aggressive throw downfield, leading to the Jets' final touchdown. But on his third series, Moore hit Stills perfectly down the right side for a 28-yard score. And midway through the fourth quarter, he capped a 54-yard drive, under some heavy pressure throughout, with a two-yard scoring throw that Stills nabbed, Beckham-style, one-handed in the end zone.
"That's my fault," Stills said. "I slowed up to avoid hitting someone, and if I'd just run through my route, it would have been an easy catch. But Matt threw me a perfect ball."
Moore said he'd take whatever came his way; that's the life of a backup quarterback. "You know it's out of my hands," he said. "When they got Jay, obviously it was tough for me, because I wanted to play. But I know how this game works. I wasn't going to be miserable. That's not who I am. I hit it off with Jay, and we've gotten along great, and whatever happens, I'll deal with it. It's good."
There might be better teams in the NFL this year than the 4-2 Dolphins. But there aren't many with higher highs and lower lows. It's going to be a fascinating final 10 weeks for this team.
• Subscribe to The MMQB newsletter. Get "The Morning Huddle" delivered to your inbox first thing each weekday, by going here and checking The MMQB newsletter box. Start your day with the best of the NFL, from The MMQB.
• Question or comment? Story idea? Email us at talkback@themmqb.com.