Joe Thomas, Injured NFL Ironman, on Watching Cleveland Browns Game From the Couch
With his team playing the Vikings in London, the Browns left tackle shares his feelings on missing his first regular season game in 11 seasons as a pro
CLEVELAND — It's strange what you think about when your season is over prematurely—really strange for me, considering in 10-and-a-half seasons with the Browns, since opening day 2007, I never missed a single play. That's 10,363 consecutive plays, the longest streak in NFL history. That changed last week. I tore my left triceps trying to push away linebacker Brian Orakpo on a running play against Tennessee.
Over and over in the day or two after my tendon snapped, the same words kept coming into my mind: "Move the drill."
I thought of those words Sunday night, processing the injury. I thought of them when the pain woke me up Monday morning, and before I went into surgery Tuesday to have the tendon repaired. Move the drill.
In high school in Wisconsin, I remember a teammate getting hurt in practice, and laying on the field in the middle of a team drill. The whole practice stopped. Everyone wanted to see how the injured guy was doing. When that happens in high school, when someone is hurt seriously, sometimes the practice just ends. But my first year at the University of Wisconsin, I remember a guy going down in practice, and he was in pain laying there on the field, and everybody stopped to look. After a couple of seconds, one of the coaches hollered:
"MOVE THE DRILL!"
We all just moved about 30 yards down the field and continued practice. I thought to myself: "This is the most savage thing I've ever seen in my life!" That was my welcome to big-time football. As a human being, that is really rough. That's the day I learned: The train keeps going. I'm not the train, I'm a passenger.
Russell Wilson and Deshaun Watson Are Kings as Seahawks-Texans Is Game of the Year, Falcons Finally Catch a Break
​
Last Monday, I was at our team facility, but I wasn't in the meetings; I was getting tests, and getting ready to have surgery Tuesday. But the team had to go on. They now have a new left tackle, Spencer Drango. I saw him. I said, "You'll do a great job Sunday against Minnesota. Let me know if there's anything I can do to help." But everyone in there … they were just moving on. Here I am, confronting my career mortality, and no matter how you prepare yourself, it comes down to this: You're not that important. When you're one of the biggest guys on the team, you can think, I'm more train than passenger. As much as your teammates, coaches and friends reach out to you to tell you they'll miss you, the show goes on. They're playing. I'm not. Over the years, I've seen it: It's the thing players have the toughest time accepting.
They moved the drill. I'm 32, and I'm the one who's left behind now.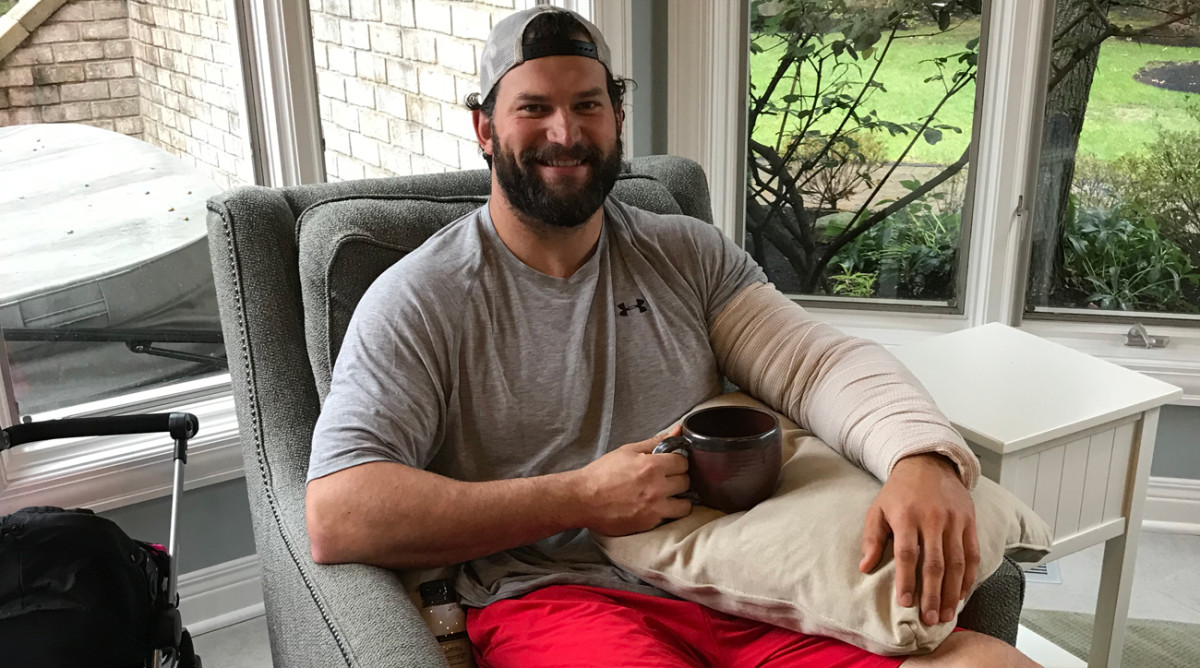 I knew I was going to watch Sunday's game. But when I woke up Sunday morning, more than a little part of me felt: I don't want to watch this game. It'll be too hard. But as 9:30 rolled around—it was early because the game was in London—I started to get a little emotional about it. The anthem was played, American and British, and that really made me sad. The anthem, for me, is really special, because I realize how lucky I am to be able to play football for a living. That sounds sappy, but it's true.
I was set up in our family room in our house in Cleveland, 3,700 miles away from the game. It's crazy—my wife, Annie, was in London on a long-planned trip. She was at the game and I wasn't! My mother-in-law was with me to help with our three kids, and I was able to just watch the game. I felt pretty decent physically. I'm not in much pain anymore after the surgery on Tuesday. I'm mostly lethargic and a little groggy, because I'm not able to do anything with my left arm in a cast. My body's just trying to heal itself. I've got to let it.
Joe Thomas' Snaps Streak: Five Things to Know
The game started, and I felt a little bit like a diehard fan, honestly, living and dying with every play. That is not who I am as a player. I don't ride that roller coaster as a player. If you get up and down and up and down as a player, you get worn out. That's no good. But I was focused on Spencer mostly. We spoke the day before the game. This was going to be a tough matchup for him, going against one of the best speed rushers in the game, Everson Griffen of the Vikings. I told him, "Stick to your game plan. If he beats you one time on his second- or third-best move, don't change your game plan because of it. He wants to go upfield, and his spin move is his best move. Don't change if he beats you one time."
But Spencer did great. There was a play, when we were driving in the third quarter, that Griffen got Spencer on a speed move, and I said, "Sack! No! Oh no!" But DeShone Kizer stepped up and was able to throw it away. Griffen just got one sack, on a desperation fourth-down play with two minutes left. But Spencer played well. I mean, really well. That's a really tough defense. We were up 16-15 late in the third quarter, and the fact that we made it really competitive was honestly a great feeling for me—even though we ended up losing 33-16.
You wonder how you're going to feel watching your team for the first time. That's the obvious question. If we played well, would I feel lousy because it showed they really don't need me? If we played terrible, would I feel good because it showed they desperately need me? I thought I might have felt emotions like that. But I have to say, watching the game late in the third quarter, with a lead over a good team, I've been through so many losses that it was exciting to see us so competitive.
My biggest fear about watching the game is that I would be needed, and I wouldn't be there for them. That didn't happen. Watching the game, I thought: This is as good as I've felt since I hurt myself.
I wish there was some dramatic story I could tell you about the injury. There really isn't. The whole game against Tennessee, I was having pain in my elbow. I thought it was tendinitis. I've had that a lot. In the first half, I told the guard who plays next to me, Joel Bitonio, "Man, my elbow is really hurting me. I don't feel like I can push people at all." But that's not all that much different than lots of games. Maybe 20 times in my career I've played through pain like that, and the only guy you complain to is the guy next to you. He understands.
In the third quarter, this play comes in: 13 Wilson. Every team has it—it's a weakside run play from the shotgun. In this case, the back comes through the left tackle and left guard, me and Joel. The meat of the play was normal: Duke Johnson hit the hole between me and Joel, and I go to take one shove on Orakpo, and I felt the tendon snap in my elbow.
It was a sharp, stabbing pain, like hitting your funny bone, and the pain just won't go away. I just remember yelling something like, "Ahhhhhooooowwwwwwwwwww!" All of a sudden, those pains early in the game made sense. I could feel the tendon roll up my arm. A really creepy feeling, quite honestly.
Then I just thought of the shock, knowing my season was over. You're not playing. And the streak was over. That really meant something to me. Shocking. I don't know any other word for it.
Lesson of the Week: Joe Thomas' Snaps Streak is Equal Parts Toughness, Luck, By Design
Our trainer, Joe Sheehan, was on the field fast. He said to me, "Take some deep breaths." Then I could begin to focus. When they took me to the sideline and put me in that injury tent, I took my elbow sleeve off and the doctors said, "Can you push back against my resistance?" I couldn't. Then I knew it was over. My season was probably done.
I went to get X-rays. Our security guy, John Frain, brought down my wife Annie, and I saw her in the tunnel. We hugged; there were tears in both our eyes. Then I saw our executive vice president, Sashi Brown. That was an interesting moment. Neither of us spoke. We embraced. Silence. We knew what the other was thinking.
I got the X-ray, then I went into the locker room. The game was on TV. But I was just thinking … so many emotions. Despair. Sadness that I wouldn't be out there with the guys. Sadness over the end of the streak. Worry for all the people who'd be worried about me—my family, my kids, Annie, my teammates. But also the feeling that I'd played 10-and-a-half years, and if I was going to get hurt, there were much worse injuries than tearing your triceps.
On Monday, all those thoughts continued, and so many more. What's it gonna be like watching? What's IR like—I've never been on it. Was that the last snap I'd ever take in the NFL? Am I gonna keep playing next year, at 33? Retirement … I haven't put a lot of thought into it, and this is not the right time to think about it. Too many emotions. Part of me says, I don't want to go out like this. I want try to do the Jerome Bettis. But the other part says, No way you can make a smart decision about that now.
Monday night was emotional too. My surgery was Tuesday morning at 7:30, so I was home Monday night watching Washington-Philadelphia … and I see Jason Peters, a truly great left tackle, get his leg rolled up on. It looks awful. Major injury. I was traumatized. When they bring out the air cast, it's always bad. That was horrific to watch. You saw how emotional his teammates were. I got emotional too. I felt terrible for him. It happened to both of us, back-to-back days.
On Tuesday morning, early, I was laying in my bed at University Hospitals, prepping for surgery. Our doctor, James Voos, came in around 7:30 and told me, "We're gonna fix this up. It'll be better than new." It's interesting how they re-attach the tendon: It's like a belt-and-suspenders approach. They sew a ribbon through the tendon and weave it through the tendon. They drill two holes in the elbow to re-attach it. The pain mostly is from those holes they drill in the elbow.
So before getting cut on, I was laying there, just thinking. I don't know what you're supposed to think before surgery, but I actually had pretty good thoughts. Like: I'm lucky this thing didn't snap at 9,998 plays—I really wanted to make it to 10,000. And: Think how amazing it is in the NFL today to play 10-and-a-half years without being really hurt. That's pretty lucky. Then they put me out. A few miles away, the Browns were preparing the play without me for the first time since 2006. They moved the drill. Now it was time for me to start the road back, wherever the road would lead.
• We have a newsletter, and you can subscribe, and it's free. Get "The Morning Huddle" delivered to your inbox first thing each weekday, by going here and checking The MMQB newsletter box. Start your day with the best of the NFL, from The MMQB.
• Question or comment? Story idea? Email us at talkback@themmqb.com.