Saints, Seahawks, Eagles: Undefeated in October
Three NFC teams won Sunday to ensure undefeated months
You might have had a good month—your Halloween costume might have even gone viral—but odds are, October wasn't as good to you as it was to these three NFC teams. The Saints, Seahawks and Eagles entered October a combined 4-5, but now find themselves near the top of the conference thanks to a combined 13-0 run. Which of the three, though, should be saddest on Wednesday, when the calendar turns to November?
New Orleans Saints (beat MIA, DET, GB, and CHI)
The defense in particular emerged for this surprise NFC contender, finishing October in the top five in offensive/special teams points allowed and takeaways per game. The Saints allowed 44% fewer total points than they did during the same stretch last year. The main differences have been standout rookie corner Marshon Lattimore and defensive end Cameron Jordan performing at All-Pro levels.
Seattle Seahawks (beat IND, LAR, NYG, and HOU)
The Seahawks nearly had their perfect month spoiled by Deshaun Watson & Co. at home Sunday, but Russell Wilson led yet another game-winning drive to move Seattle to 5-2. The biggest win of the month came in L.A. over the division rival Rams—the teams are tied atop the NFC West, with a Week 15 head-to-head in Seattle still to come.
Philadelphia Eagles (beat LAC, ARI, CAR, WAS, and SF)
The Eagles are the only team to leave October with a 5-0 record, owners of the league's longest winning streak (six games) and its best record (7-1). Now, as they enter the season's second half, the question is whether coach Doug Pederson can keep his team as finely tuned while the target on its back grows, and do it without stalwart left tackle Jason Peters (pass protection was an issue in Sunday's home win over the 49ers).
Not getting this newsletter in your inbox yet?Join The MMQB's Morning Huddle.
HOT READS
NOW ON THE MMQB: Conor Orr asksEric Reid and Malcolm Jenkins about reports of discord in the player protest movement ...  Joe Thomas (yes, that Joe Thomas) writes about watching the Browns from the couch ... Albert Breer explains the significance of Bob McNair's 'inmate' comment ... and more. 
LATER TODAY ON THE MMQB: Andy Benoit recaps the weekend's biggest storyline ... Orr previews Broncos-Chiefs ... and more. Stay tuned.
PRESS COVERAGE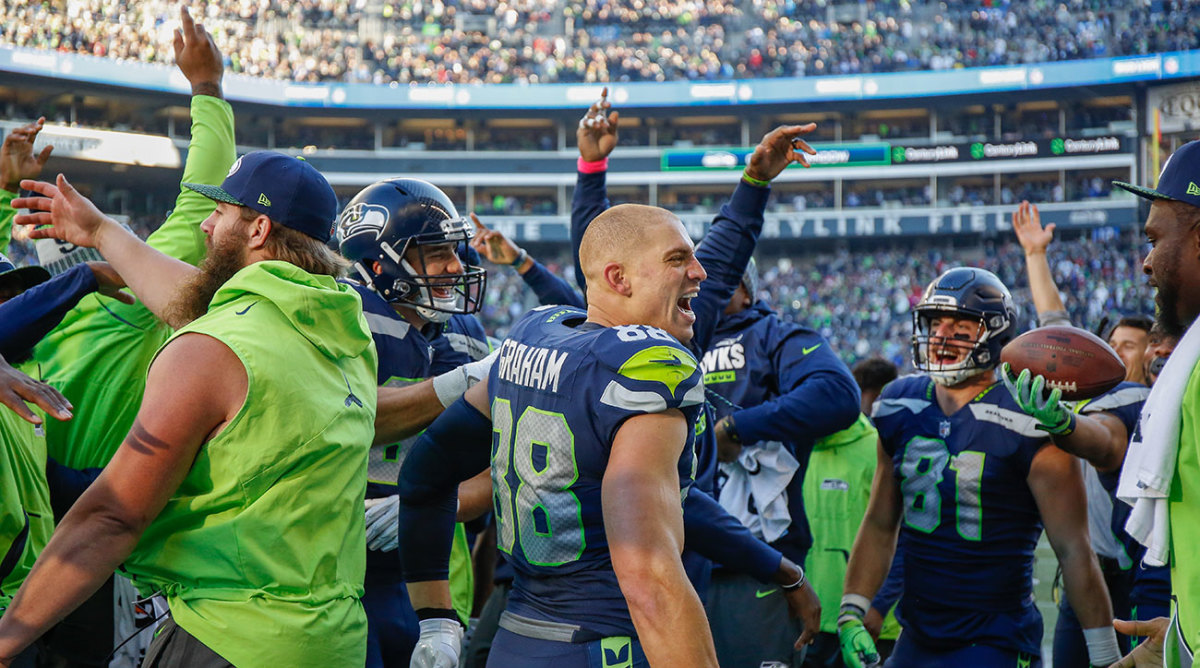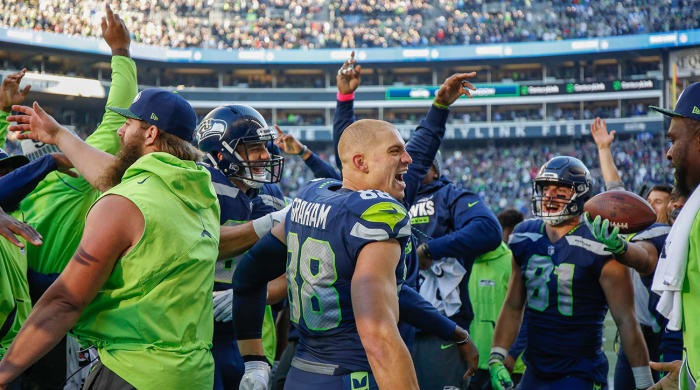 1. Seahawks 41, Texans 38. In another game-of-the-year contender, Russell Wilson (452 passing yards, four touchdowns) outdueled rookie Deshaun Watson (402 yards, four touchdowns) at home. Watson and Houston actually had a chance to clinch the game on a third-and-4 following Wilson's only interception of the day, but a run up the middle was stuffed. Wilson than produced a three-play, 80-yard drive, starting with a 48-yard connection to Paul Richardson and ending with an oddly uncovered Jimmy Graham scoring a touchdown from 18 yards out.
2. Steelers 20, Lions 15. Detroit had multiple chances to pull ahead late, but three second-half red zone drives netted a total of three points as Pittsburgh held firm. On the other side, the Steelers' highlight was a 97-yard touchdown by rookie sensation JuJu Smith-Schuster.
3.Cowboys 33, Washington 19. Another big day for Ezekiel Elliott (150 yards, two touchdowns) powered the Cowboys to a key divisional road win that gets them back above .500. Meanwhile, a 3-4 Washington team finds itself banged up, losers of three of its last four, and at risk of having this season go sideways.
Ezekiel Elliott, Cowboys Overcome Weather and Run Over Washington To Stay in NFC East Race
4. Bills 34, Raiders 14. Buffalo collected four turnovers on a rain-soaked field while LeSean McCoy ran for 151 yards in another win over a presumed contender. We'll see if this one is enough to earn the 5-2 Bills national attention heading into a Thursday nighter against the Jets.
5.Saints 20, Bears 12. The New Orleans defense controlled action for most of this game, though Chicago stayed in it until the end thanks to two Mark Ingram fumbles and a long kickoff return by Tarik Cohen. Ultimately, rookie corner Marshon Lattimore picked off rookie quarterback Mitchell Trubisky to secure the victory—the Saints' fifth straight after starting 0-2.
6. Panthers 17, Buccaneers 3. For a second straight game, Carolina went on the road and its defense did not surrender a touchdown. But this time, Cam Newton threw one interception rather than two and did enough (18-of-32, 154 yards) to move his team to 5-3, in the thick of a tight NFC South race.
7. Patriots 21, Chargers 13. It required a game-ending interception, but New England held on for a home win. Tom Brady finished with 333 yards—85 of which went to James White—and the Pats would have won by more had it not been for two Stephen Gostkowski misses.
8. Falcons 25, Jets 20. Atlanta trailed New York into the fourth quarter and we could be having a very different conversation about the defending NFC champs had it not been for an impressive touchdown grab by Mohamed Sanu in a downpour. We'll know more about the 4-3 Falcons after an upcoming stretch during which they face the Panthers, Cowboys, and Seahawks consecutively.
Russell Wilson and Deshaun Watson Are Kings as Seahawks-Texans Is Game of the Year, Falcons Finally Catch a Break
9.Eagles 33, 49ers 10. The Philadelphia offense marched on without injured left tackle Jason Peters, though there were some signs of trouble.
10.Bengals 24, Colts 23. After being shutout, Indianapolis went back to playing compelling (if meaningless) football Sunday in Cincinnati. This time, Jacoby Brissett threw a fourth-quarter pick-six that ended up being the decider.
11.Vikings 33, Browns 16.DeShone Kizer wasn't benched this time, but he wasn't much better either, completing 53% of his passes at just over five yards per attempt in London. Cleveland held a lead at halftime for the first time this season, but watched it all slip away in the fourth quarter.
Have a story you think we should include in tomorrow's Press Coverage?Let me know here.
THE KICKER
Mike Trout's Angels aren't playing in the World Series, but he still made a catch yesterday.
Question? Comment? Story idea? Email me directly or let the team know at talkback@themmqb.com