Ten Things I Think I Think: A.J. McCarron Fiasco Will Cost Jobs in Cleveland; More Deadline Fallout
Week 9 thoughts, including reaction to the A.J. McCarron mess, other NFL trade deadline deals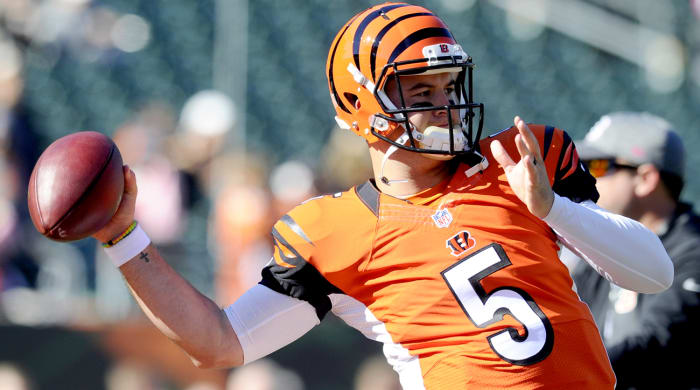 1. I think the smartest thing I heard about why there were six trades (and should have been a seventh with the A.J. McCarron fiasco) on the long weekend of the trade deadline came from one NFL GM in the wake of all the action: "Communication. Information." I was puzzled by that, and he explained. With so much information out on the street—with the massive info available from sites like Pro Football Focus, with more advanced NFL reporting digging up who needs what and what they might be willing to give, with the knowledge of which teams are down on which players—there are not a lot of secrets around the league. So the idea, for instance of the Jets dealing for Niners corner Rashard Robinson, who had slipped down the team's depth chart, got easier as the Jets trolled for needed corner depth Monday and Tuesday. In training camp this year, I remember meeting with a front-office guy in one camp, and four or five times in 90 minutes he sent quick texts to peers around the league. I wondered what the activity was about. "Cutdown day," he said. "Just getting our ducks in a row with a few teams about down-the-line guys." In other words, fact-finding about some team's fifth corner—and whether that guy might be worth dealing a conditional seventh-round pick for. Same thing last week.
2. I think this is how I'd analyze the trades that were made, and not made, at the trading deadline:
• Jay Ajayi, the NFL's fourth-leading rusher last year (1,272 yards, a gaudy 4.9 per rush), is 24 and totally healthy. But trading him was Adam Gase saying to the locker room: You don't work hard, you don't have a place here. Gase wanted many of his players, Ajayi being one, to be more dedicated. Philadelphia got a bargain. Amazing to me that a running back with this much upside was fetched for a fourth-round draft choice, which will be approximately the 125th pick next April.
• The Duane Brown deal is good for both teams. For the Texans, because they get two top-100 picks (a three in 2018, a two in 2019, as well as a five in 2018) for a 32-year-old tackle who was going to be unhappy over his contract and owner Bob McNair, and perhaps verbally so if he stayed in Houston. For the Seahawks, this was a must-do deal. Entering Sunday's game against Washington, left tackle Rees Odhiambo was the 73rd-rated tackle in the league, out of 73 qualifying tackles, per Pro Football Focus. He allowed an alarming 35 sacks/hits/pressures of Russell Wilson. That simply could not stand.
Remembering What NFL Trade Grades and Pundit Reactions Are Worth
• Jimmy Graham was the player Houston wanted in that Duane Brown trade. But as I reported last week, Russell Wilson was likely going to be very unhappy if it happened. So the Seahawks went a different way. It's probably best for them, if they're trying to win big this year.
• So why'd the Patriots finally cave and deal Jimmy Garoppoloto San Francisco for a second-round pick—or to anyone for anything? I cannot tell you exactly why. And I still think it's a mistake to leave your 40-year-old franchise quarterback without a net for the last three months of the season. The Patriots are a closed shop, but one good theory that I buy is this: If the Pats had dealt Garoppolo to Cleveland in the spring, they knew he and wise agent Don Yee likely wouldn't have been inclined to sign a long-term deal … and what would that have meant? Cleveland likely would have franchised Garoppolo this March, which could have opened the door for a quarterback-hungry, Garoppolo-admiring team—perhaps Patriots division rivals like the Jets, Bills or Dolphins—to make Garoppolo an offer sheet he couldn't refuse. The Patriots wouldn't have wanted to see Garoppolo back in the division. Just a theory, but one I buy.
• By the way, the Patriots should have know last April that Garoppolo was not going to sign a deal to wait behind Brady. Last April, it's a certainty the Patriots could have done better than the 34th pick in the 2018 draft (approximately) that they got last week. That's a failure on their pre-draft fact-finding.
• I like the Kelvin Benjamin trade for Buffalo. Check out the numbers in his first two full seasons—1,949 receiving yards, 14.3 yards per catch, 16 touchdowns in 2014 and 2016—and consider that at 26 years old and with the size (6'5", 240) every team yearns for at that position, he's a worthy gamble. And consider that, if the Bills pick around number 18 overall in each round, they've just dealt the 82nd and 236th picks, approximately, for a franchise-type wideout. The move gives the Panthers a chance to morph into the speed team they were moving toward with the draft picks they made this year, but I like Buffalo's side of this more.
• I believe the Colts were not dealing left tackle Anthony Castonzo unless they got a ransom. That never came. I believe the Colts wanted to deal cornerback Vontae Davis but couldn't, with his $9 million salary in 2018 an anchor to those chances.
• The Browns blew the A.J. McCarron deal. Say whatever you want about paying too much (second- and third-round picks) for a guy more likely to be a backup than a starter, but from all reports, EVP of Football Operations Sashi Brown did agree to the deal just before the 4 p.m. deadline—and then failed to execute the mechanics of it correctly. Tony Grossi of ESPN Clevelandwondered to me the other day how Brown could have done this, seeing that he'd made 17 previous trades since taking the franchise's football reins 22 months ago. It can't be because Brown really didn't want to make the trade and so conveniently messed up the mechanics of it; that would only make him look worse because the failed trade was going to leak. And when Adam Schefter reported the bungled deal, the Browns looked a lot worse. I am left with this thought: I do not see how, unless there's a reversal of play by the Browns down the stretch of this season, owners Jimmy and Dee Haslam are going to let all front-office members return in 2018. This non-trade is a major disgrace, even by the standards of the Browns.
3. I think the one byproduct of the Browns dropping the ball on the McCarron deal is that the reputation of the Cleveland front office is now surfacing. Teams do not like trading with the Browns. They feel Cleveland's asking price, or the selling price, is too much of a moving target. This is not on every trade, but it is on some trades. I've heard from more than one team that it thinks it has a deal with Cleveland, and when the callback comes to confirm the deal, the price changes. Now, lots of times that is overcome, because some deals make too much sense, and pragmatic GMs and coaches realize that even if the price changes, they still want to make the deal. I'm just telling you what's out there, and I'm telling you that other teams were not surprised the McCarron deal fell through.
Winners and Losers of the NFL Trade Deadline
4. I think these are my quick thoughts on Week 9:
a. Easiest touchdown catch of Julio Jones' life, alone behind Carolina's secondary. Perfect pass. Most stunning drop I've ever seen from Jones.
b. There will be a quiz on this sometime in your lives, Washington fans. But this is the offensvie line that somehow didn't get Kirk Cousins buried in Seattle on Sunday despite allowing 17 sacks/hurries/hits on 37 pass drops: T.J. Clemmings, Arie Kouandijo, Chase Roullier, Tyler Catalina, Morgan Moses. All but Moses are fill-ins.
c. Josh Doctson: You might play a long time in the NFL, but I doubt you'll have a more meaningful catch, with such a degree of difficulty, than the one you had to the half-yard line, the biggest play in the 17-14 win over Seattle.
d. So much for the death of the Jets' pass rush.
e. Drew Brees scrambled, looked all over the field, then threw across his body at the last minute for Coby Fleener—it was a perfect example of Brees at his best, two months shy of 39.
f. Alvin Kamara would have been a good value pick at number seven in the first round. And he was the 67th overall pick.
g. Dumb unnecessary roughness call on Baltimore defensive end Za'Darius Smith for a minor touch on quarterback Marcus Mariota in Tennessee.
h. Great touchdown run and stretch over the goal line for a touchdown by Cam Newton, but he's not going to last long making plays like that, diving into four defenders all trying to wreak havoc on him.
i. How many bad balls can Brock Osweiler throw? How many drops can Denver receivers have?
j. Catch of the Day: Jacksonville wideout Keelan Cole, with a twisting, one-handed, awkward catch plucked out of the sky on a pass by Blake Bortles. You know Cole. Free-agent from Kentucky Wesleyan. Sure.
k. Why wouldn't you touch T.Y. Hilton down, Andre Hal?
l. The Giants are 0-4 at home after Sunday's loss to the Rams. They've got one home game in the next month, and I certainly don't see them beating Kansas City in the Meadowlands on Nov. 19. So this team that was a Super Bowl contender on Labor Day now could enter Week 14 winless at home. Stunning.
m. Giants at 49ers on Sunday. Combined record: 1-16.
n. Giants-Niners. Combined players on IR: 31.
o. Iowa's Kirk Ferentz is one of the best football coaches at any level, and I don't just say that because of the 55-24 wipeout of Ohio State. Parents who have high school prospects should want to send their kids to play for Ferentz, and not just for the winning. He wins, he loses, he develops people.
q. The curse of Roberto Aguayo lives. Now Patrick Murray is all messed up in Tampa Bay.
r. How do the officials in Houston NOT stop the clock on the sideline completion to DeAndre Hopkins?
s. Gorgeous onside kick by Miami's Cody Parkey on Sunday night. He even recovered it. Good play design by Darren Rizzi, the Miami special-teams czar.
t. Good look at the current tough life of Tony Dorsett by Gary Myers of the New York Daily News.
5. I think I find it incredible that Arizona (which has lost by a combined 67-7 to the Eagles and Rams in the past month) and Seattle (which had won four straight by 54 points before an agonizing loss to Washington on Sunday) could be tied at midnight Thursday in the NFC West. Seahawks, 5-3, at Cards, 4-4, in the desert.
6. I think it's okay to say Thursday night football stinks, and on many Thursday nights it does, and it's certainly unfair to the well-being of players. But I would also tell players that to cancel Thursday night football in the next collective bargaining agreement would be to cut some revenue from the salary cap. Having nothing to do with the TV rights, Amazon this year paid a reported $50 million just to be able to stream the games on Amazon Prime. I'm fine with Thursday night games going away. But let's not have any bleating over the cap cuts (if there are any) if the package is killed in the next CBA.
Richie Incognito Has More to Say About Thursday Night Football
7. I think the first time this year I thought, The Giants might have to clean house, was Sunday, late in the third quarter against the Rams, when a once-proud defense had allowed touchdown-field goal-touchdown-touchdown-punt-field goal-touchdown-touchdown-touchdown. (And one of those touchdowns came on a third-and-33 pass play.) I can just envision the smoke coming out of John Mara's ears. He's got to be disappointed, even with all these injuries, with how feeble his team is playing. Giants are 1-7 for the first time since 1980.
8. I think this is impressive: Bill Belichick's next victory will tie him with Tom Landry as the third-winningest NFL coach of all time. Landry has 270 wins, including playoffs.
9. I think this could be the Underrated Book of the Year: "Present at the Creation: My life in the NFL and the rise of America's Game," by Upton Bell with Ron Borges (University of Nebraska Press). I say it's really good though I've read only four chapters. The title of the book is pretty accurate. Upton Bell worked and scouted for the Colts in the Johnny Unitas glory days of the '60s, then ran the Patriots in the '70s then was a radio host in Boston, then … well, let me tell you about what happened earlier in his life. Bell's father, Bert Bell, was the commissioner of the National Football League before Pete Rozelle. "He put the schedule together on the kitchen table," Upton Bell writes. This was 60 years ago. Bert Bell died of a heart attack watching his beloved Eagles in Franklin Field, and the story of Upton racing to get to his side when he lay dying is truly touching.
But the stories from Bell, a white man from the North, about scouting in the South in the '60s are eye-popping. In 1965 he stopped to get gas at a filling station in a time of great tension, and he said to attendant when he saw the WHITE and COLORED signs for the bathrooms, "That's terrible." Bell writes that the attendant looked at him and said: "Keep that up and you may get your brains blown out. If you don't think so, I've got my gun in the office, mister." Hours before Martin Luther King was murdered in Memphis in 1968, Bell was in the city to watch spring practice at Memphis State, and an assistant coach told him he'd better go home. Bell flew back to Baltimore, and heard the news of the King assassination when he landed.
Present at the Creation is on my night table, and should be on yours if you're a football history buff.
10. I think these are my other thoughts of the week:
a. Podcast of the Week: From Radiolab, the marvelous and consistently great weekly program, this story of a San Francisco man named Oliver Sipple, a man you almost certainly have never heard of. As reported by Latif Nasser and Tracie Hunte, this is the story of Sipple quite unwittingly stepping into history, and that step ruining his life. Or, as Radiolab says: "One morning, Oliver Sipple went out for a walk. A couple hours later, to his own surprise, he saved the life of the President of the United States."
b. You can't do a single-episode podcast much better than that. Just tremendous.
c. Story of the Week: From Lizzie O'Leary, of The Cut, on sexual harassment in journalism.
d. I do not know Lizzie O'Leary, but bravo, bravo, bravo. What a culture we have right now, and in the wake of Harvey Weinstein, it is so good to see people like Lizzie O'Leary come out and write things like this: "I've covered everything from local zoning meetings to the White House. And every step of the way, I've had to carve extra time and effort out of my work to sidestep this recurring gray area. None of the individual instances quite constituted harassment, but all of them were exhausting to navigate. And looking back, I can't believe what I put up with."
e. The more this comes out into the open, the better off we all are. I don't care how ugly it gets. It's got to come out. Shine the light.
f. On-field Football Story of the Week: by Ben Shpigel of the New York Times, on the Rams' great punting weapon, Johnny Hekker. "Pound for pound, the best value I've gotten for any player has been Johnny Hekker," said Rams GM Les Snead.
g. Off-field Football Story of the Week: by Tom Junod and Seth Wickersham of ESPN The Magazine, on how much longer Tom Brady can, and might, play football at this high level. Very interesting to note that one of the points made in this highly enlightening story is that Brady's physical guru, Alex Guerrero, could soon be butting heads with Bill Belichick, over some of the injuries that other Guerrero clients have gotten with the Patriots. "There's a collision coming," the story quotes a friend of Belichick as saying. 
h. I miss baseball.
i. For such a great World Series, that was a horsecrap Game 7. But good for the Astros. Such a fun team to watch. If MLB put out a video of Jose Altuve's top 100 at-bats of the season, I'd watch.
j. Baseball Names You Should Know of the Week: Ben Reiter, Emma Span, Chris Stone.
k. Writer, baseball editor, Sports Illustratedmanaging editor, in charge of writing, editing and placing Reiter's 2014 story about the rising-from-the-ashes Houston Astros on the cover of the magazine three years ago … and predicting right there on the cover that the Astros would win the 2017 World Series.
l. "It's been pretty crazy," Reiter said Saturday. "A publication in Zimbabwe wrote about it. I've talked to media in England, Ireland, Australia and Canada, and here, of course. It was mentioned on the floor of the U.S. House of Representatives." Did you know that this was, according to Reiter, the fourth or fifth choice for the cover the week SIplaced it there? And that golf writer Alan Shipnuck was furious when the Astros piece was chosen over his profile of Michelle Wie? "I think people were angry we placed this story in such an august position," Reiter said. "No one believed the Astros would be that good. People were skeptical at best, furious at worse."
m. Now you know the rest of the story.
n. From James Corden's CBS late-night monologue: "You knew what was going to happen in 2017, and this is what you give us a heads-up on? This is what you tell us? Thanks for nothing, Sports Illustrated!"
o. Dallas Keuchel to Reiter late this season: "I'm gonna tweet at Chris Stone and demand a raise for you."
p. During the champagne celebration in the Astros' clubhouse, Alex Bregman introduced Reiter to reliever Ken Giles as The Predictor. Giles exclaimed, "No way, dude!"
q. Coffeenerdness: Give me Italian Roast, or give me death.
r. Beernerdness: I didn't go that bat-crazy coming off Sober October. I broke the fast with American Pale Ale (Bronx Brewery, Bronx, N.Y.), and you'd think I'd have been frothing at the mouth for it, but I wasn't. It was early afternoon and I was out for a business beer, and I didn't even finish it. Strange—nothing wrong with the beer at all. I've had it before and it's crisp and tasty.  I think I was just more in the mood for a glass of cab. Thanks, by the way, for the sub beer recommendations in October. I still have a couple of good ones remaining, so look for them in the coming weeks.
s. I'm three episodes into the 10-episode, 17-hour "The Vietnam War," by Ken Burns and Lynn Novick. It is some of the best TV I've seen. Incredibly vivid and educational and moving, taking you from small-town America to inside the White House (some remarkable audio tapes of a tormented President Johnson) to the battlefields. What a great piece of work by Burns and Novick. And what a disgraceful war our leaders would not extricate us from, for years. What hit me—and someone said it late in the third episode—is how those who died fighting for the country in Vietnam are no different from the Greatest Generation who fought in World War II. The cause may have been nobler in World War II, the sacrifice was no less in Vietnam. Dying in any war is the ultimate sacrifice for your country.
t. This thought hit me many times watching so far: I am so glad that my older brother, the late Kenneth King, protested the war while a student at William & Mary … and, instead of wearing a cap and gown at graduation in 1971, donated the $35 (or whatever the fee was) to an anti-war group. That caused a major rift between my brother and father, as it did in many families, but I'm so proud of my brother for standing his ground against that war.
u. What amazing video and film. However Burns and Novick got all the footage they used, congrats to them.
v. Incredible how far politicians went to NOT admit that war was unwinnable—and to continued throwing American lives into such a war, year after year.
w. Really good music choices in "The Vietnam War," such as "Turn, Turn, Turn," by the Byrds to cap Episode 3.
x. Army 21, Air Force 0. Army: 56 runs, zero passes. That's weird.
Who I Like Tonight
Detroit 23, Green Bay 16. Okay, Leos. Last Chance Saloon now. This was the big year to make that jump. You had the offense, you had more defensive pieces, you had multiple rushers, you had a better secondary. This was it. And you're 3-4. You've won one game in the past 48 days. You're the only team in the NFC North with stability at quarterback. You're starting a three-game stretch (at Green Bay, Cleveland, at Chicago) that can get you back in the race in a middling division. If you win those three games, which you should, you can be 6-4 with the Vikings coming to town for Thanksgiving lunch. But to do that, you will have to win in the state of Wisconsin tonight. You are 1-25 since 1992 in America's Dairyland. I'm picking you, but I am ye of little faith in your ballclub.
The Adieu Haiku
Not to dump on Browns…
But won't L'affaire McCarron
​cost a job or three?
• We have a newsletter, and you can subscribe, and it's free. Get "The Morning Huddle" delivered to your inbox first thing each weekday, by going here and checking The MMQB newsletter box. Start your day with the best of the NFL, from The MMQB.
• Question or comment? Story idea? Email us at talkback@themmqb.com.