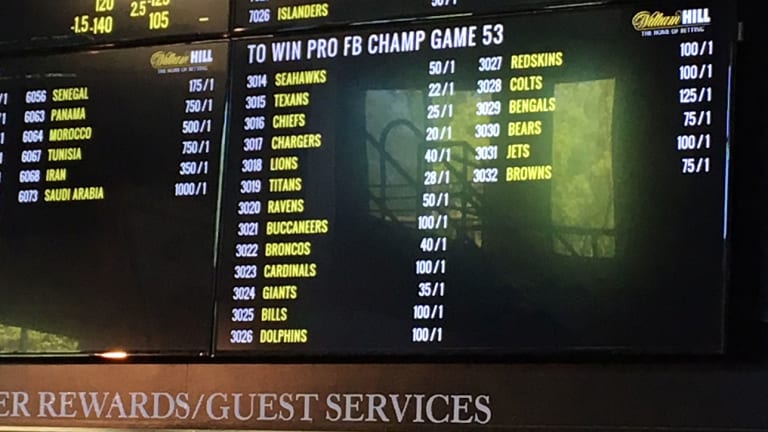 $100 on the Browns to Win the Super Bowl: Legal NFL Gambling Opens in New Jersey
On the first day of NFL wagering in the Garden State, our intrepid reporter hit Monmouth Park to see what the future holds. 75-1 on the Browns to win it all? Tempting ...
OCEANPORT, N.J. — Ryan Daly stood about 75 feet from the wall of digital betting boards here at Monmouth Park, admiring what may have been an historic moment in the state's minutes-old history of legalized sports betting.
"I think it's pretty cool to be the first guy here ever to put $100 on the Browns to win the Super Bowl," he said, noting that the surprisingly low 75-to-1 odds would net him a $7,500 payday in February. The Bengals (125-1) were the biggest long shot.
The betting lanes opened just after 10:30 at this racetrack 51 miles south of MetLife Stadium—one of two places in the state where gamblers can safely bet on just about anything, including the NFL, Canadian Football and PGA Tour golf. Governor Phil Murphy put $20 on Germany to win the World Cup and another $20 on the New Jersey Devils to win the 2019 Stanley Cup. Lines behind him stretched over 30 minutes, mostly stuffed with rubberneckers hoping to catch a glimpse of something truly unusual or extravagant, like the man who put $5,000 on the Chicago White Sox to beat the Cleveland Indians on Thursday (sorry, dude). It was like a racetrack on derby day—newbies in dollar-bill suits and Hunter S. Thompson regalia. The kinds of people who bought marijuana after Amendment 64 in Colorado just to say they did.
Bets like Daly's were red meat for the television cameras, which at one point seemed to outnumber the remaining spectators after the initial crush. It was not, however, the revolution that will one day fundamentally alter the NFL and other major sports leagues, as it already has infused the Premier League in England.
"I won't bet here because the future odds they're offering are way off," said Austen Spangler, an Eagles fan from New Jersey who made the trip primarily to heckle former New Jersey Governor and Cowboys fan Chris Christie, who pushed for the state legislation to legalize gambling, which was ultimately approved by the U.S. Supreme Court. (Christie ended up attending a different opening in Atlantic City.) "You can still get them way better online. Stuff here that's 60-1 I can still get at 100-1 online."
Thursday's opening was merely a foundation, one that William Hill sportsbook CEO Joseph Asher can see clearly through all the red tape that exists just in front of him. William Hill operates all betting at Monmouth and is a giant in European sports betting.
As Asher wandered around the grandstand area Thursday in a suit and tie, he talked about the different plateaus that seem all but inevitable a decade from now. Football and gambling can walk hand-in-hand; a content machine with a ratings crisis colliding with a loyal, built-in audience that cares not about politics or personalities. League data being used to verify and generate in-game propositional bets sent directly to users' smartphones will become as commonplace as the panicked scroll through your fantasy football lineup.
"There's lots of things we can do together with the leagues," Asher told me. "Stream the games through an app and bet in-play while you're watching on the app. And clearly there are sponsorship opportunities. Gambling companies in Europe are among the biggest sponsors of professional sports. Half the English Premier League teams have betting sponsors on their jerseys and signage around the stadium. That'll take time. It's new."
Deciding fair compensation—Asher said the PGA Tour, NBA and Major League Baseball are the only ones essentially demanding an integrity tax that provides nothing in return to the gaming community—will be the shadow game that populates the time between now and the day when gambling truly enters the forefront of the sports fan user experience.
Legal Sports Gambling is Coming, and the NFL Is Getting Ready to Capitalize (Of Course It Is)
For now, this serves as a friendly introduction to those who weren't already flying to Las Vegas or combing the web for a virtual sportsbook to satisfy their gambling itch. This was not Cabana-side betting at the Palazzo, but there was something surprisingly intriguing about a sports bar-type setting flanked by a pair of betting windows, waitresses in black tank tops weaving draft beers and chicken wings around small piles of rectangular paper that could be worth thousands of dollars.
After the lines cleared out, the cameras packed up, and the regulars dug in, it took about 45 seconds to wander up to a ticket writer, fumble with your wallet, fish out a driver's license and a $10 bill and bet on the winner of the 2019 Super Bowl. It wasn't life changing—not yet, anyway—but who can say it won't make this season just a little more interesting?
Question or comment? Email us at talkback@themmqb.com.