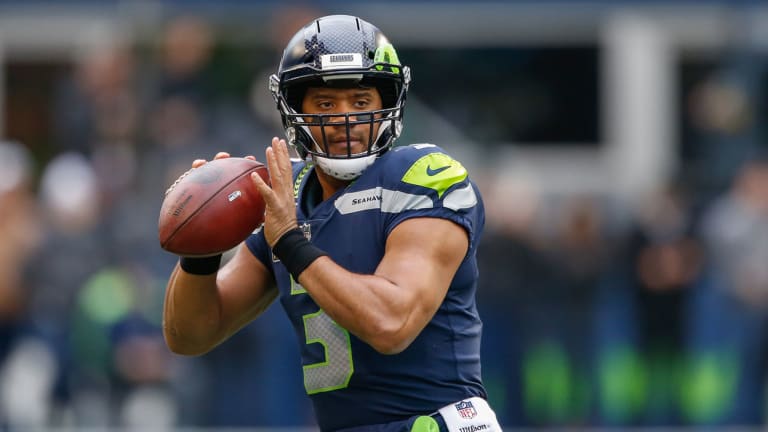 Fantasy Football 2018: Why Your League Should Embrace the Superflex Format
Adopting the superflex format will make quarterbacks matter more, making your league more competitive and fun
Last season, Deshaun Watson, Russell Wilson, Carson Wentz, Alex Smith, Cam Newton and Tom Brady accounted for 14 of the top-15 single-game quarterback performances in standard-scoring fantasy leagues. That should come as little surprise. Respectively, those quarterbacks ranked first, second, third, fourth, fifth and seventh at the position in points per game last year. Of course they accounted for nearly all of the best single-game performances. The owner of the 15th, however, may surprise you. See if you can figure out who it is.
Go ahead, take your time.
Any guesses?
…
The answer? Josh McCown.
The Jets traveled to Kansas City to take on the Chiefs in Week 13, and McCown put on a show. He threw for 331 yards, 9.19 yards per attempt and one touchdown, and added a pair of scores on the ground, finishing the day with 31.14 fantasy points, the 14th-highest single-game mark for a quarterback last year. McCown's Week 13 was better than any single game by Aaron Rodgers, Drew Brees, Kirk Cousins, Matt Ryan, Matthew Stafford, Philip Rivers, Ben Roethlisberger or Jared Goff last year, and if you play in a traditional fantasy league, it likely didn't mean a thing. After all, McCown wasn't exactly in the QB1 mix last year, ending the season as the No. 20 quarterback, which means he was off the radar in most one-quarterback leagues. Such is life when you're stuck in the past, playing in an antiquated fantasy football format.
Quarterback is the single most important position in all of team sports. Yet it is marginalized in the fantasy game, thanks primarily to two factors. First, the quarterback pool is deeper than ever, with the likes of Rivers, Goff, Roethlisberger, Smith, Patrick Mahomes, Marcus Mariota and Dak Prescott all outside the top 12 at the position by average draft position. Second, quarterback is a onesie position in traditional fantasy leagues, meaning that every owner starts just one player at that position every week. Even the deepest fantasy leagues have just 14 or 16 quarterbacks starting in any given week, and typical ones have 12. On the other hand, a standard fantasy league will have at least 24 running backs and 36 receivers, plus more in flex spots, starting every week. The depth of the pool and the low number of starters relative to other positions makes it easier to compete at quarterback without investing significant draft capital in it.
Fantasy owners can alleviate those factors by changing their league to a superflex format. Superflex is a fantasy industry term that actually refers to a position. It's similar to a regular flex spot, with the caveat that quarterbacks can be started there, as well. Essentially, superflex leagues are two-quarterback leagues, only owners aren't forced to start a quarterback in the spot, which can come in handy if someone is hit particularly hard by injuries or byes.
Fantasy Football 2018: QB Primer
I know change is uncomfortable. You like your fantasy league the way it is. It's hard enough agreeing to a draft date, let alone convincing your league mates to give your league a total overhaul. I'm not dismissing any of those challenges. What I am doing, however, is insisting that it's worth surmounting them to make your league and your fantasy football experience better—and moving to a superflex league will do that.
I'm going to borrow a page from my pal Scott Pianowski's book. Earlier this summer, over at Yahoo, he wrote about why fantasy owners should be building their teams through an auction rather than a draft. I'm going to start our superflex coverage this season in similar fashion. So, thanks Pianow. Superflex strategy is coming your way later this summer. For now, I want to focus on why superflex leagues are better than traditional one-quarterback formats.
Reason #1: Quarterbacks matter in superflex leagues
We should want quarterbacks to matter in the fantasy game. Case Keenum and Mitchell Trubisky should get drafted, not be waiver-wire fodder. Aaron Rodgers and Tom Brady should be elite players, not mid-round selections. That isn't the case in traditional one-quarterback leagues.
"But quarterbacks do matter in my league," some of you are likely saying. I hate to be the bearer of unwanted news, but if you play in a one-quarterback league, they don't. Yes, quarterbacks score more points in absolute terms than any other position. That, however, isn't what drives the scoring needle. If you don't have an elite quarterback, it's not as though you take a zero at the position. You'd replace him with someone from the waiver wire, and it's the value a starter provides over a replacement player that matters. That's where quarterbacks fall behind in the fantasy game.
J.J. Zachariason of numberFire has been the authority on quarterback value for the better part of a decade, and you can read his treatise on why you should always wait on a quarterback in your draft. I'm not going to go over the ground he already covered so well. In short, quarterback supply far outstrips demand, and quarterback performance from week to week is quite predictable. Was it that surprising last year when waiver-wire regular Tyrod Taylor put up 285 yards and two scores on the Jets, a defense ranked 31st in 4for4's schedule-adjusted fantasy points allowed metric? How about when Brett Hundley went for 265 yards and three touchdowns against the Browns, the defense ranked 28th in quarterback aFPA? In one-quarterback leagues, there's always value at the position on the waiver wire, and that necessarily deflates the position's worth.
That changes in a superflex league. When every owner starts two quarterbacks, suddenly you're looking at 20 or 24 weekly starters. Matt Ryan and Case Keenum just missed being in the season-long starting class in one-quarterback leagues last year, but it was Joe Flacco and Jay Cutler barely on the outside in superflex formats. There's a much wider gap between the average starter and an available replacement-level quarterback in superflex leagues. Additionally, every owner will have to deal with byes, and some will have to work around injuries. That means all 32 starting quarterbacks, and even some high-profile backups, have value in superflex leagues, thus zeroing out the position's value on the waiver wire, which is so abundant in traditional formats. You want your quarterbacks to matter? Start more of them.
Premium Draft Prep Tools from 4for4: Draft Analyzer | Customizable Cheat Sheets | LeagueSync | ADP Bargains | Learn More About 4for4
Reason #2: Everyone won't be drafting from the same book
There are still a few quarterback zealots out there, but most seasoned fantasy owners understand why they're better off waiting on the quarterback position in drafts. That, in turn, makes drafts even more of an autopilot exercise than they've always been. Draft order already dictates many of the players who will and won't be available, and the efficacy of the late-round quarterback strategy makes drafting in traditional formats a somewhat stale exercise.
Again, superflex changes that. Rodgers is a viable first-round pick. In early superflex drafts, five quarterbacks—Rodgers, Watson, Wilson, Wentz and Brady—are coming off the board in the first two rounds. The top-12 quarterbacks are hearing their names called by the middle of the fourth round, while 24 signal-callers have found homes by the end of the eighth.
"But wait," you might be saying. "Isn't everyone still drafting by the same book? It seems that the book has changed, not that a diverse set of strategies has been introduced." That's a solid rejoinder. It's wrong, but it's solid.
Fantasy Football 2018 Breakouts: Can Patrick Mahomes Make the Leap?
Consider the drafter who still waits on a quarterback. Let's say he or she has a mid-round draft slot. That person could still wait on the quarterback position and end up with a core of Antonio Brown, Keenan Allen, Jordan Howard and Adam Thielen after the first four rounds, and then turn to the quarterback position for a pairing of, say, Marcus Mariota and Mitchell Trubisky. In other words, you can still use the late-round quarterback strategy in superflex leagues, and it could give you an even greater leg up at running back and receiver than it does in traditional one-quarterback formats. You could also load up on quarterbacks, grabbing two early, or take a balanced approach by getting one of your top-10 options, and another inside the top 20.
There's more than one good book in the superflex world, and that makes draft day much more interesting.
Reason #3: The more starting positions your league uses, the more likely the cream will rise to the top
This one is just simple math. Outlier scores can crush an opposing fantasy owner. It's hard to beat a team that has a running back go for 200 yards and three touchdowns, or a wide receiver catch 12 passes for 175 yards and a pair of scores. It's even harder in a league with traditional starters—one quarterback, two running backs, two receivers, one tight end, one flex, one kicker and one defense. Adding starting spots, especially a quarterback, makes it easier to counterbalance those outlier scores. The more players in a starting lineup, the more opportunities the owner facing an outlier will get an outlier of his or her own. Short of that, two good scores can cancel out one great one, and with quarterbacks the highest individual scores on average, superflex leagues do a great job of reducing the effects of one-off monster performances.
Why does this matter? There's enough luck in fantasy football as it is. From injuries, to variance, to penalties to scheduling, the game is filled with luck, both good and bad. No one has won a fantasy football league without being one of the more fortunate owners in it. That's part of the allure of fantasy football leagues, but luck doesn't exactly need any help to show up in the final standings. By adding starting spots, most notably a superflex, we can reduce, but not eliminate, the influence of luck, thereby doing as much as possible to ensure the best teams are rewarded.
Superflex leagues do a better job of lining up fantasy value with real-life value. They're more fun, more diverse in their strategies and more engaging throughout the season, beginning with draft prep. Forget what you've always done. Superflex is the best way to play fantasy football.