Toughness and Physicality the Top Priority for Buccaneers During Training Camp
Tampa Bay's biggest weakness was on its offensive and defensive lines last season, so GM Jason Licht and coach Dirk Koetter took strides towards improving that this offseason.
WHO: Tampa Bay Buccaneers
WHERE: Nashville, Tenn.
HOW: Flew in from New Orleans, through Atlanta, for Titans-Buccaneers joint practices, held under overcast skies and stifling humidity across the river from downtown Nashville.
In Week 16 last season, Tampa Bay had a chance to steal one in Charlotte against the Panthers. The Bucs led Cam Newton and Co. 19-15 with 35 seconds left in the game, with Carolina at fourth-and-three from the Tampa Bay five-yard line. And just as the Panthers were going to snap it, defensive tackle Chris Baker jumped. That turned fourth-and-three into fourth-and-one. Jonathan Stewart picked that up on the next play. Newton scored the game winner on the play after that.
At that point, GM Jason Licht and coach Dirk Koetter knew then, above all else, that their team needed to be tougher. They needed the mental toughness not to mess up in a critical spot and make it easier on the opponent. They needed the physical toughness to get a stop in that spot.
And with the 2018 preseason wrapped up, they feel like they've gotten closer.
If there's anything that shows how toughness is being emphasized, it's this story that was relayed to me when I saw them in Nashville. During one-on-one pass blocking drills, Titans franchise left tackle Taylor Lewan simply couldn't stop new Buccaneer edge rusher Jason Pierre-Paul. He beat Lewan like a drum, to the point where JPP told Lewan, per guys there, "You're lucky I don't have 10 fingers, because if I did …" Referencing the fireworks incident of 2015, Pierre-Paul then told Lewan where he'd put the ones he doesn't have.
Ten People, Places and Things That Will Define the NFL in 2018
Last year, the Bucs couldn't hold up in trenches; this year, they expect to do much more than just stand their ground. And for a team that was hoping for a breakthrough in 2017 behind the young core Licht has assembled, the idea is that a sturdier foundation will unlock the potential of a roster that has promise at the skill positions and in the back seven on defense. And that focus came up almost right away when the Tampa Bay brass was recruiting free agents and talking with rookies.
"That was a big emphasis with them recruiting me to come here," center Ryan Jensen, poached from Baltimore, said. "They kept bringing that up, they wanted the guys up front to be nasty. They brought in me, Beau [Allen], Mitch Unrein, JPP and all those guys, they wanted to restart the front with more attitude. … I went out to lunch with Dirk and Jason, and that was the big thing—'We want to get nastier up front, get those gritty guys.'"
So they made Jensen the highest paid center in the league. They gave Philly's Beau Allen and Chicago's Mitch Unrein nice deals to get deeper on the defensive line. They dealt for Pierre-Paul. And they drafted mammoth defensive tackle Vita Vea with the 12th pick.
"You got guys who play the game hard, especially up front, it pushes everybody," Jensen said. "It really makes both sides of the line work that much harder and focus on minor details. Everybody thinks you just go put your body on a guy and move them. When you got guys skilled at the game, you gotta work your technique and that's definitely something that, when you're tired, you gotta focus on."
There have been good signs. The Bucs had scoring drives of 10 and 14 plays in their Week 2 and 3 preseason games, and saw signs of those defenses wearing down as the possession wore on. The hope is that, ultimately, Tampa can win, on both sides, in short yardage and on goal line—where, as Jensen says, "the toughest team is usually gonna win."
If they can, as the Bucs saw down the stretch last year, it'll make everyone's job a little easier. And that could be pretty big for a team whose starting quarterback is suspended for the first three games of the season.
"We want to be a tough, physical football team," Jensen said. "We want other teams to watch us on film and say, 'OK, we're going to be in for a battle here, physically, it's going to be a four-quarter battle.' That's what we want to put on film."
It'd seem the Titans got to see, at the very least, the beginnings of that.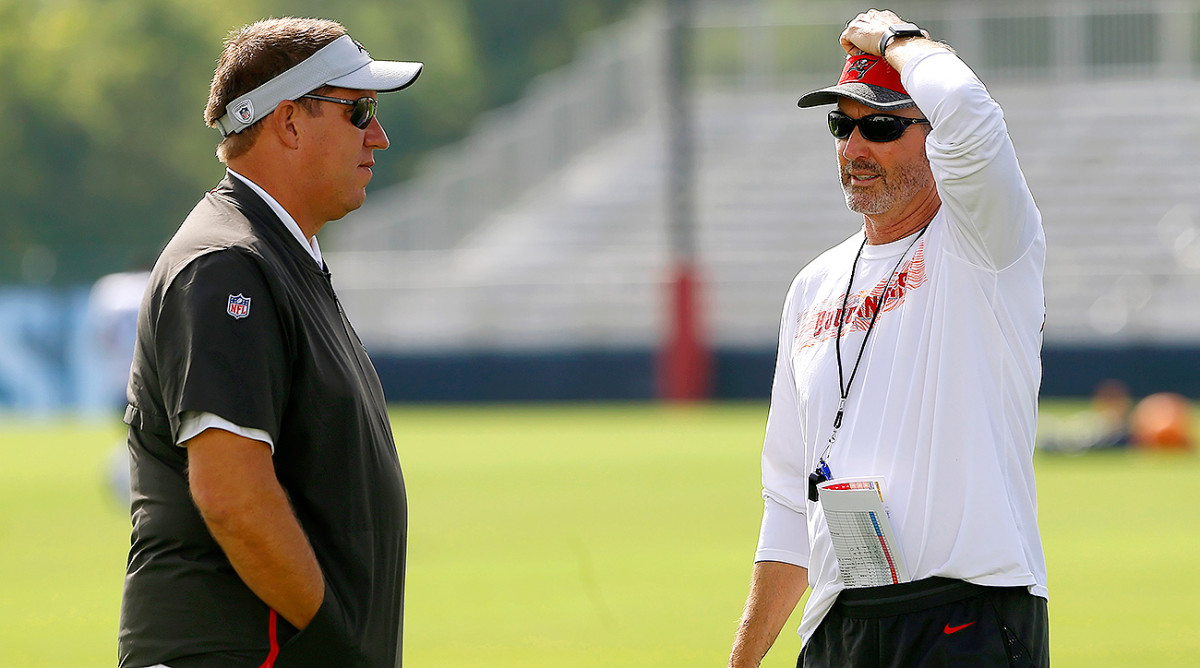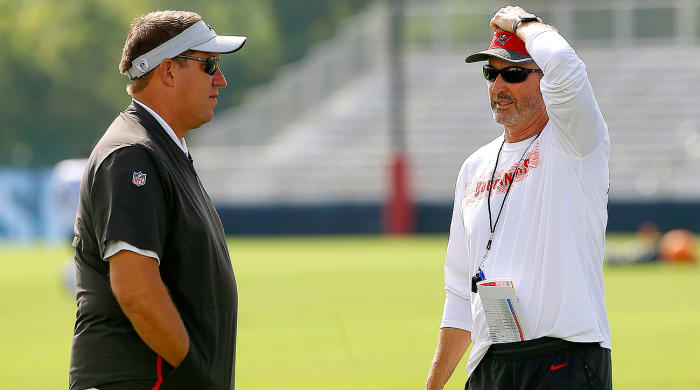 OH, I DIDN'T KNOW THAT: Peyton Barber is fixing to make second-round pick Ronald Jones play a much smaller role than most envisioned when the ex-USC bellcow landed in Tampa. An undrafted free agent in 2016 who's worked his way up from the fringes of the roster (he was on the practice squad as a rookie after the final cutdown), Barber dropped eight pounds this offseason and is running just as physical as he did over 163 carries the last two years, to the tune of 5.8 yards per carry in the preseason. Jones steadily regressed during the preseason, finishing with just 22 yards on 28 carries over the four games. Given the focus on getting nastier, the tackle-breaking Barber is well-positioned to be the guy going into the opener.
STORYLINE TO WATCH: This one's easy—the quarterbacks. The good news is that Ryan Fitzpatrick is as well accustomed to these sorts of crisis management situations (see: Enemkpali, IK) as anyone the Bucs could have in his role. The bad news is that his three stars will come against three teams (the Saints, Eagles and Steelers) that combined for 37 wins last year. There's a chance Winston arrives to take an 0–3 team into Chicago on Sept. 30. Or that he's replacing a quarterback who's playing really well.
TOP POSITION BATTLE: We'll give you two involving rookies in the second. First, there's the fight for playing time next to safety Justin Evans, between veteran Chris Conte and fourth-round pick Jordan Whitehead, the Pitt product that the Bucs coaches are very excited about. Second, there's second-round corner Carlton Davis and M.J. Stewart battling for snaps in a position group fronted by Brent Grimes and former first-rounder Vernon Hargreaves. The bottom line is that the investment Tampa made on the back end of the defense this offseason was second only to the makeover the roster got in the trenches, so it's fair to expect the first-year guys to make the defensive back group more competitive.
OFFBEAT OBSERVATION: I don't know if this is offbeat, but man is that receiver group physically impressive. Mike Evans is a horse, of course, and staffers there have a hard time remembering the last ball he dropped in practice. It's more than just that, though. The coaches have been impressed with how DeSean Jackson has maintained his game-breaking ability going into Year 10, and sophomore Chris Godwin has had another impressive offseason. Then there's O.J. Howard, who has all the ability, and just needs to put it together. Add it all up, and if these guys stay healthy, Winston won't have many excuses.
PARTING THOUGHT: That thing about getting tougher? Part of it is going to be guys holding each other to a certain standard, and the hope is that the offensive line shuffle will help the Bucs get more out of left tackle Donovan Smith in that regard. With Jensen's signing, Ali Marpet moved over to left guard. The idea there is that Marpet, lined up next to Smith, can give Smith the kick in the behind when he needs it, and be a resource when he needs it. As one Bucs source said, "We've needed more guys that can strain when it's tough, and hold each other accountable." In this case, getting one of those types, allowed them to better position another one, and maybe squeeze more out of a third player. If it plays out that way, Jensen's four-year, $42 million deal will look pretty reasonable (and make keeping Marpet and Smith, heading into contract years, an even higher priority than it is now).