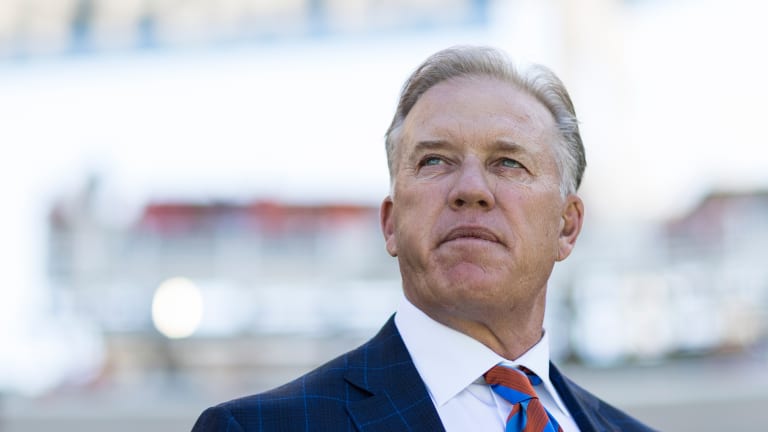 John Elway Is Looking for Himself
He's one of the best ever to play the game—but as general manager of the Broncos, he has yet to identify a young passer with the arm, the brain and the fortitude to take over the franchise the way he did when he arrived in Denver as a rookie in 1983. Are John Elway's standards too high? Is he blinded by his own past mastery? Will he ever find his quarterback?
ENGLEWOOD, COLO. — He's 58. He tore an ACL in high school and never got it repaired, so his left leg bows slightly. He had a knee replaced in 2007. He stands in the shadow of the Broncos practice facilityand looks out at the first-rounder, Paxton Lynch, whose biggest contribution to Broncos lore at the moment is the dark brown leather scuff on a white-painted wall in the indoor practice facility, from the time he winged a football at the wall rather than throw into coverage in a goal line scenario  ... on fourth down. Soon the first-rounder will be demoted, then released. Next to Lynch is the undrafted veteran of six teams, here on a two-year prove-it deal. Case Keenum will do for now.
The hardest part—the torture of it all—is that he knows exactly what he's looking for. He just doesn't know how or where to find it. He sees it when he looks in the mirror and reaches back in time, to the stubborn young man who wouldn't take no for an answer. He won Super Bowls in the NFL as a player and then again as a general manager. But pro football has little patience, and no one can understand why one of the greatest quarterbacks above ground, given ample resources to identify and draft a franchise quarterback, hasn't been able to do so.
"With the QB position there's as much that you have to have on the inside as the outside," John Elway says. "You can see the physical traits, but you don't know how [players are] going to handle it mentally when they get to this level. The world's going to cave in on you, no matter who you are. How are you going to battle back when that time comes? And that's the hardest thing to read."
He told his close friend, John Lynch, to jump at the opportunity to move from a post-football career in broadcasting to a general manager position with the 49ers. Lynch wasn't sure he could hack it, but his friend told him not to think twice. Without a doubt, Johnny. You know people, you know how to lead, and you've been successful at everything you've ever done. Just like him.
Lynch took the job, but he soon realized there was one thing he couldn't do: By his own admission, John Lynch can't scout safeties. He went to nine Pro Bowls at the position, picked off 26 passes and made 736 tackles, and now his standards are too high. "I look at a safety and I say, 'I'm jaded on this one. Help me out,'" Lynch says. "People think you should know that position so well, but you hold it to a higher standard that can be unrealistic." He may have a hard time scouting his own position, but as luck would have it Lynch found his quarterback of the future in the middle of his first season; last fall the Patriots accepted a second-round pick from the Niners for Jimmy Garoppolo, who came on strong in the final five games, completing 67.4% of his passes with 1,560 yards passing, seven touchdowns and five interceptions in five victories.
Maybe Lynch can't scout safeties, but that doesn't mean Elway can't scout quarterbacks. At least, he hopes not. His friends aren't so sure. Some of the guys who huddled around him on NFL Sundays when he and Denver were winning Super Bowls have theories as to why the man who led the team on the field for 16 seasons hasn't been able to find a young QB. "It's simple," says Terrell Davis, the Broncos' Hall of Fame running back. "There aren't a lot of John Elways out there.
"We look at Michael Jordan and say he should be able to find and identify the best basketball players in the world, but it doesn't work that way. The problem is, it's hard for John to see a QB and the kid can't do what he can do. Because he thinks everybody should be able to do it."
Maybe that's true, but let's stick to facts. Seven years after he convinced Peyton Manning to come to Denver, and three years after Manning and a historically outstanding defense brought the city its third Super Bowl title, the Broncos are looking again. In the meantime, two seasons have essentially been lost.
John Elway is looking for an arm, and more importantly, the brain to go with it. He's looking for that thing none of us can adequately define, so we use that nebulous cliché: it. He's looking for himself, the hardest thing to find. He's taken two big swings in the draft. The 2012 second-rounder, Brock Osweiler, is on his fifth team now. Paxton Lynch, the 2016 first-rounder, earned four starts before the team released him over Labor Day weekend.
"I'd imagine that eats at him a bit," John Lynch says. "You're talking about one of the most gifted players of all time, at any position. You ever seen the movie The Natural? That was him. A sure-fire thing. That's what people were saying about John.
"I'm sure he remains resolute and determined that he'll find that guy. "
He's 41. He's three years retired and resolved to embark on a career in football management after selling his six car dealerships. ("They offered to pay me too much money for them, so I took the deal," Elway says.) Broncos coach Mike Shanahan invites his former quarterback to sit in on the scouting meetings in advance of the 2001 NFL draft. Elway's father, Jack, a longtime college coach and former Broncos scout, also joins the meetings. For John and his father, it's their first opportunity to talk football in a global sense. They'd always had conversations about specific Broncos personnel and other players around the league, but they never discussed what they were looking for in the ideal college prospect.
John would have been a guest in the Broncos war room during that draft, but his father passed away six days earlier. Jack had few hobbies in the two years he spent out of the game, and he died at the age of 69 having spent the last month talking football with his son.
In that 2001 draft, Denver chose cornerback Will Middlebrooks with the 24th pick. Armed with a quarterback, Brian Griese, who once backed up Elway and was coming off his first Pro Bowl, Shanahan was set on shoring up a pass defense that had just given up more yards than any other team in the league. But Jack Elway was in love with another prospect. A former colleague, Joe Tiller, had coached a six-foot passer out of Purdue and gave Jack the rundown. The kid's lack of size was to be overlooked, Tiller said. He could play, and he led. Jack was sold, and put his stamp on the player eventually chosen with the first pick in the second round by the San Diego Chargers.
Days before his death, Jack Elway demonstrated an eye for quarterback talent that his son would aspire to almost two decades later. Jack had wanted Drew Brees. It wasn't the arm that sold him, and it certainly wasn't the size. There was nothing that really wowed you on film, but there was something intangible there. John didn't necessarily see it, but his dad did.
The word on Elway the GM, among those who wonder about his history with young quarterbacks, goes like this: He's willing to make concessions on intangibles if the kid has an arm. If a prospect can throw a football 50 yards from his knees on a dime, they say, Elway believes he and his accomplished staff of quarterbacking minds can teach him how to be a pro. They can break bad habits, because they're just that good.
"One of the things about ego is you'll look at a guy who isn't developed, maybe doesn't have the best work ethic, but he's super gifted," says former Broncos offensive lineman and current Fox Sports analyst Mark Schlereth, "and you think, Under my expert tutelage I'll get this guy right, and we'll have a diamond in the rough. My experience has been, that rarely happens. If a guy doesn't have great football character off the bat, it's very hard to develop that in him. If he's got the type of character to take a day off and play video games instead of studying, and he'll do that, there's nothing you can do."
The public record seems to back that up. Both Osweiler and Lynch are 6'7", the tallest quarterbacks in their respective drafts. Even the quarterback who led Elway's Arena League team to a championship, John Dutton, was 6'4", 225. All three were bigger than Elway, and Osweiler and Lynch had arm strength and mobility reminiscent of Elway when he was the No. 1 overall pick of the 1983 draft. (Meanwhile, among the prospects the Broncos could have taken since 2011, given their draft position each year: Russell Wilson, Kirk Cousins, Derek Carr, Jimmy Garoppolo and Dak Prescott.)
But critics might be surprised to find out that before Elway knew what he had in Osweiler, and before he drafted Lynch, he had a future starter in mind, and it came in the shape and skill set of a Drew Brees. In 2015, when Case Keenum was backing up Nick Foles with the Rams, Elway offered either a fifth- or sixth-round pick (he can't recall which) for the backup. The Rams declined, then benched Foles and elevated Keenum to starter that November. Three seasons later Keenum hit the open market after leading the Vikings to a conference title game, and Elway made him a Bronco.
But just because Elway has long pined for Keenum doesn't make skeptics wrong. It might be that he sees Keenum as merely a stopgap or stepping stone to the next rookie who can touch a basketball rim standing and throw a football to the moon. If that's the case, Elway's not saying. In the end, the only thing that will persuade the critics—and it's always been this way—is winning.
He's 45. His only son, Jack—nicknamed after John's dad—is a quarterback at Cherry Creek High in suburban Denver. Elway is at the helm of the AFL's Colorado Crush. That gives him the opportunity to attend his son's high school games, and that's what he would do for a while—watch. He wanted to let his son have a football experience independent of his direct influence. But he would agonize over the play-calling, and lament the option-heavy offense Jack's coaches were running. At times he was visibly distraught.
Schlereth recalls watching a Cherry Creek game with his former quarterback. "John is sitting there calling out plays and protections and route combinations," Schlereth says. "I'm out there spectating a high school game, and he's out there with great angst watching it, and actually coaching it from the stands. I'm like, settle down dude. That's just the way he's wired. Everything he did, he did it that way."
It was the same way Elway would watch Broncos games years later in a luxury box as GM, ignoring his friends and sweating over the details below. "It's hard for competitive people when they can't control the outcome," Davis says. "When you watch a Broncos game around him, you can see the worry and the concern. I think it eats him up that he can't control what's happening on that field."
No one who knew John was surprised he wound up on the sideline at Jack's high school, because if you know Elway you know a very basic thing about him: He knows what to do with the ball in his hands, and he feels better the closer he stands in proximity to the ball.
At Cherry Creek, he would eventually step in and coach the quarterbacks, in 2007 Jack's senior year. Jack describes it as the best year of his life. His parents had divorced, which meant he saw his dad half as much—until John joined the staff and Jack got to see him every day. "I think it got to a breaking point for him where he was like, okay, I'm coming in here, we're gonna tear it up," Jack says. "And he really cared. He was a great leader for our team. I ended up seeing him daily. It was so fun. We have similar personalities and we butt heads a lot, but football was our main way to connect."
Jack throws for 25 touchdowns as a senior, a jump from his 13 the year before, and earns a scholarship to Arizona State. The hype machine grows louder. He receives a three-star rating from Rivals.com, named the 14th-best player in the state by the recruiting site. He wonders what life would be like if he had others around to help shoulder the expectations. "I was raised in this environment of going to my dad's football games, hearing my dad's name everywhere, seeing my dad's jerseys everywhere, being the only son. I'm sure if I had brothers it would have taken some pressure off. I would have really appreciated a brother. And then I'm playing football, I'm wearing No. 7. I'm in Colorado. I'm at Creek, there's cameras everywhere my first game. And this is all stuff I didn't want. At that point I just wanted to be a guy."
In the spring of 2009, after a redshirt season at Arizona State, Jack decides to quit football. On the way to the coaches' offices, he calls his dad to tell him. "Quitting is not something I take lightly, and I would never have done it if didn't think it was absolutely necessary just for my mental health," Jack says. "Looking back on it, I don't think I would change anything. Would I love to still be playing football? Hell yeah."
But in that moment, Jack is ashamed. He feels as if he's let his father down. John had talked about road-tripping to his college games, tailgaiting in the parking lot with friends. When he hears the news, John is taken aback. His first question for his son speaks to a lifetime of leading men, and bringing them together. "What about the camaraderie?"
"I didn't understand it at first," Jack says. "As I got older I understood. It's so enriching to your life to have a brotherhood of guys that you know have your back." Jack acknowledges how right his dad was then, but that's not the point. John was skipping steps. He was envisioning the brotherhood Jack would build with his teammates, and envisioning his own brotherhood—his Broncos teammates and friends—joining him on the road to watch Jack play football. Meanwhile Jack was cringing in anticipation of the moment in class when the professor would read his birth name for attendance, and students would search the room for John Elway.
The elder John loved to lead, and he couldn't imagine anyone giving up the opportunity to do so. His son was too ashamed to discuss that mounting internal pressure with someone who never seemed to acknowledge that sort of thing. So Jack didn't reach out until the last minute, and John couldn't see it coming. Maybe it was the proximity that blinded him. The quarterback in question was his flesh and blood. Or maybe he didn't understand a very basic human response to pressure: to wilt.
He's 54.The Broncos are in the Super Bowl. He's trying to do something no one has ever done: win NFL championships as a quarterback and a general manager. Just two years after Pat Bowlen hired him in 2011 to take the helm after the brief and disastrous Josh McDaniels era, Elway has recruited Peyton Manning to Denver, and they've made it to the final stage, Super Bowl 48. Then it all falls apart. Elway watches a young, hyperathletic Seahawks defense run wild against his team. In Richard Sherman, Kam Chancellor and Earl Thomas, he sees what the Broncos need to become. He wants athletes.
In scouting, Elway put less emphasis on experience and football character and more on ability. While his draft picks have largely struck out (Julius Thomas and Von Miller are the only Elway draft picks to make a Pro Bowl), he strikes gold with a handful of defensive free agents. In a 2014 spending spree, in the wake of that Super Bowl loss, John signs veteran edge rusher DeMarcus Ware, hard-hitting safety TJ Ward and cornerback Aqib Talib, the moody, mercurial, modern football mercenary.
In 2015 the Broncos return to the Super Bowl, and win it this time. Manning retires, but the defensive pieces are all there, waiting for Elway to bring in the next stud QB and go get another ring. Instead they get Trevor Siemian, a seventh-rounder out of Northwestern, and Paxton Lynch. (Elway says he also discussed a trade with the 49ers for Colin Kaepernick in 2016, but a deal never materialized.) There's a 9-7 season, and then Gary Kubiak steps down as coach, and Vance Joseph steps in, and the two quarterbacks continue to struggle. Talib is at the forefront of a rift between a world-class defense and a stagnant offense. Something important had been lost, something Elway had taken for granted.
"Everybody's got to have hope, and the quarterback gives your team hope," Elway says. "You have to know that if we're all having a bad day, that guy can keep you in the game and give you an opportunity to win. I think we lost hope. And when you lose hope, you get down and you keep making mistakes."
Could John Elway have forgotten just how important his old job was, how it lifted people? Perhaps he could scarcely think about just how much he was lifting when he was doing the lifting, or just how far his team would fall if he dropped them.
Resolved to move forward with Joseph in 2018, Elway empowers his second-year head coach, both in staff decisions and in the draft. A handful of longtime assistants are let go and replaced for the most part with coaches from Joseph's extended network. Joseph and Elway go about choosing the kind of players who wouldn't lose hope. All but one of Denver's 10 draft selections in 2018 were team captains at their respective schools. First-rounder Bradley Chubb was a two-time captain at N.C. State, and second-rounder Courtland Sutton was a three-time captain at SMU.
For three years, Manning had been a transformational presence, keeping the focus and keeping the faith by virtue of his performance and experience, in much the same way Elway had as a player. Now the Broncos have finally transitioned in earnest to life after Peyton.
"We're still trying to be athletic and have good speed," John says, "but when you're in a losing skid you need more leadership in the locker room, to pull you out of a dive. I didn't feel we had that, so one of the main goals was to find more of that, so we can prevent a skid like that from happening. We wanted to get that maturity level where we felt like [the young players] could help us early. Last year proved to me that our locker room needed to be a little bit stronger."
The re-evaluation mirrored an evolution in Elway's personal life, friends and family say. He's always competing, always taking his work home with him, but on summer trips to the Elway house on Lake Coeur d'Alene in Idaho over the last few years, John started opening up. "The change I see in him is how he communicates with us," Jack says. "It feels like a different guy. He's become extremely patient, and I think it's because he's had to deal with so much stress. He's more open."
Jack doesn't know what changed his dad, but something did. It could have been becoming a grandfather. Jack's older sisters had their first children in 2014, and John's smartphone case is a collage of pictures of grandkids. It's that, Jack says, and it's the losing. It's watching a quarterback in orange and blue botch throws and miss reads, and watching a season go down the drain. "It has to be humbling for him to watch the losing, because he's not out there contributing," Jack says. "He knows if he was 30 years younger he could go down there and get it done. It's probably incredibly frustrating for him to watch guys miss reads and not make the right throws. I think he's been forced to be patient and understanding, and that extends to the rest of his life. It's a different type of competitiveness when you have to watch."
In 2010, when Elway's friends and family threw him a 50th birthday party at the Soiled Dove Underground in Denver, it had been 14 months since Jack quit the team at Arizona State. Father and son hadn't talked about it since. Loath to discuss emotions, they each tied a few on and found themselves admitting things to one another. Jack told his father he felt he'd let him down. He hadn't, John said. His dad loved him no matter what he chose to be. It just would have been nice if they'd discussed it sooner than the day he planned to quit. "He kind of consulted me on the way there, and I don't think he wanted to know what I thought," John says now. "That's the only thing I was disappointed in. I can understand how big those expectations must have felt for him."
He's 58.He's looking back on his past, and out at the practice field, to his football's team's future. He pauses. Understand that this game and its vast contents mean something more to him than to 99.99% of us who follow and watch. When John Elway talks about football, he's talking about friends who become family, about leadership, about walking on air (or helicoptering through it). He's talking about mastery. And he's coming to terms with the fact that only a handful of people see the game through that lens.
His son had the arm, though not the steel. The same could be said for the first-round pick Elway is about to cut. That's the stuff that's tough to scout, especially if you've never left home without it.
"Football's not for everybody," he says.
Question or comment?Email us at talkback@themmqb.com.