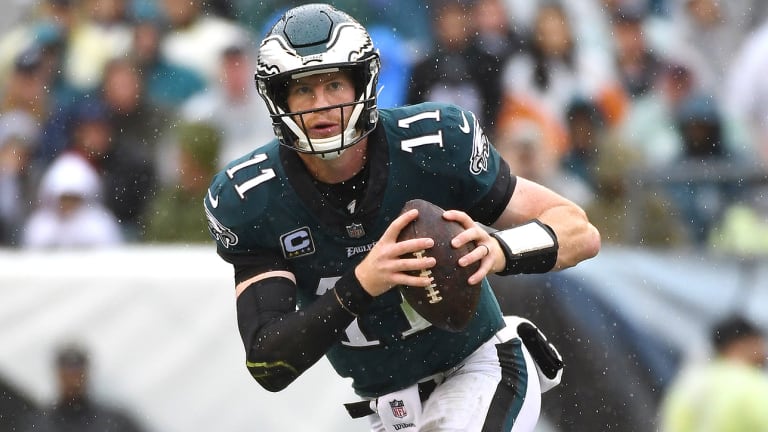 Carson Wentz Shows Flashes of His Former Self in First Game Since Injury
Wentz wasn't perfect, but the quarterback showed just enough to calm the nerves of those concerned that he might not fully return to form. Also, thoughts on the Colts' offense under head coach (former Eagles' offense coordinator) Frank Reich and the Philadelphia defense.
Three thoughts on the Eagles' 20-16 win over the Colts in QB Carson Wentz's first start since tearing his ACL...
1. Wentz showed enough in his return to action to allow Eagles fans to exhale. He didn't set the world on fire, going 25-for-37 with a touchdown, an interception and a fumble, but he led the Eagles on two long touchdown drives and made plays that looked like his 2017 self, proving to everyone he can return to form.
One of Wentz's strengths is his ability to escape pressure in the pocket and keep plays alive with an eye toward making a throw. He showed off his ability in that department on Sunday, particularly as the Colts got more pressure on him throughout the second half. Trailing 16-13 early in the fourth quarter, Wentz led the way on a 17-play, 75-yard drive that chewed up 11 minutes and 18 seconds en route to the game-winning touchdown. The drive was kept alive by a defensive holding penalty on a fourth-and-five in Colts territory that would have given Indianapolis the ball back with a three-point lead and six minutes to go. The Eagles took advantage by finishing the drive with a score.
Wentz clearly had some throws he'd like to have back. Early in the game in particular, he overthrew a few receivers, though they were mostly on the sideline where they weren't in danger of being intercepted. While some of his miscues can be attributed to rust, others can be pinned on the fact that he is dealing with new personnel. Some of the Eagles' starters in Wentz's most recent game include Alshon Jeffery (injured), Torrey Smith (traded), Brent Celek (retired) and LeGarrette Blount (signed with Detroit). The leading rusher was Jay Ajayi (injured) and Wentz threw two touchdowns to Trey Burton (signed with Chicago). So even if Wentz had been healthy from Week 1, it might have required some work to get the timing down.
Josh Allen Lights Up Vikings, Patrick Mahomes Is Getting Boring, Garoppolo Goes Down, Rams Still a Juggernaut But…
2. On the visiting sideline, Colts head coach Frank Reich returned to Philadelphia where he was offensive coordinator on last year's Super Bowl team.
Indianapolis had chances, but the team struggled to move the ball on offense. The Colts' defense forced two turnovers in the third quarter, both with the Eagles in their own territory, but both times Indianapolis came away with short field goals from inside the red zone. One of those drives included a drop in the end zone by Chester Rogers that should have been a touchdown.
Andrew Luck was 25-for-40 for 164 yards, a touchdown and no interceptions—just 4.1 yards per attempt. The Eagles outgained the Colts 379 to 209 in total yards (35 of which on the final drive as Philadelphia played soft coverage to defend against a possible big play) and doubled them up on time of possession. Had the Colts not won the turnover battle 2–0, the final score would have been much more lopsided.
Another Week, Another Otherworldly Performance From Patrick Mahomes
3. The Eagles defense is good enough to take them back to the Super Bowl. This should be obvious, but they proved it again on Sunday. 
The Colts had five trips to the red zone and came away with just one touchdown, three field goals and a turnover on downs. The ending felt reminiscent of the Week 1 win over Atlanta, which of course was reminiscent of last season's wild-card win over Atlanta. This time Indianapolis took over down by four points with more than three minutes left. The Colts got all the way to the Eagles' four-yard line before Luck took a sack that effectively ended Indy's last good chance. (Unless you consider Jacoby Brissett's Hail Mary as time expired a "good chance.") That crucial stop—in addition to those two times the Colts took over short fields and settled for three points—show just how hard it is to get into the end zone against this team. Yes, the Eagles gave up two long touchdowns to the Bucs last week, but they are still allowing just 18.3 points per game through three weeks.
The narrative surrounding the Eagles all offseason was whether or not backup QB Nick Foles could keep the team in good position by the time Wentz came back. Sunday was a reminder that Philadelphia's Super Bowl-winning defense can also buy Wentz some time as he fully returns to form.