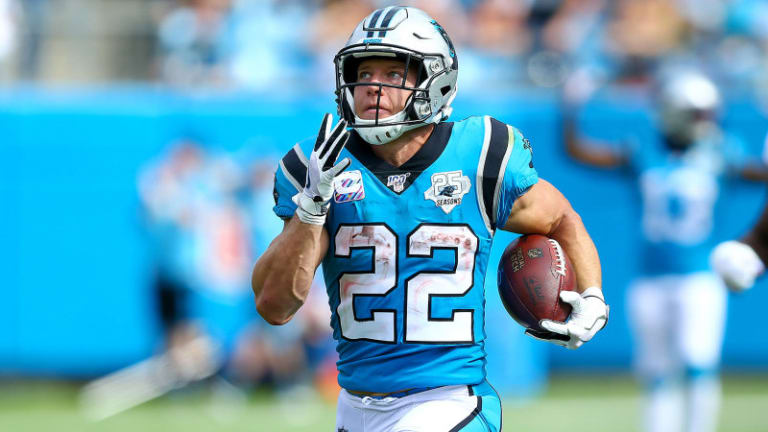 Have a Day, Christian McCaffrey
One hundred and seventy-six rushing yards and 61 receiving yards. Two rushing touchdowns and one receiving touchdown. The Panthers' running back stuffed the stat sheet against the Jaguars, firmly placing himself in the NFL MVP race.
There was a moment early in the 2019 season when Christian McCaffrey thought he had failed the Panthers.
It was Week 2 against the Buccaneers, fourth-and-one from the Tampa Bay two-yard line with 1:28 left in the game. Offensive coordinator Norv Turner cued up the play. It was up to McCaffrey to pick up the yard and, with it, the win. He didn't, and Carolina fell to 0–2 as a result.
"Coach put the ball in my hands at the end of the game and I blew it," McCaffrey said after that game. "So, it's my fault. I'll take that one."
McCaffrey hasn't failed the Panthers since. He was the NFC's Offensive Player of the Month in September, amassing a league-best 629 scrimmage yards alongside four total touchdowns. He joined Jim Brown as the only players in NFL history with at least 175 scrimmage yards and a score in three of the season's first four games. He became the franchise leader in receiving yards by a running back, holding the team's game, season and career records in that same category.
And after Week 5's 237-yard, three-touchdown showcase—one of the best individual outings in Carolina Panthers history—McCaffrey is no longer just his team's best performer.
He's a legitimate NFL MVP candidate.
From the very start of Carolina's eventual 34–27 win against the Jaguars, McCaffrey made sure to make his mark. The 23-year-old back capped the Panthers' eight-play, 78-yard opening drive with a five-yard touchdown. He added another one later in the first quarter, this time an 18-yard reception from Kyle Allen to put his team up 14–7.
But it was in the third quarter that McCaffrey truly dazzled. On Carolina's first offensive play of the second half, the team faked a reverse to Curtis Samuel and instead handed off to McCaffrey; the fake to Samuel drew defenders away from McCaffrey, who hit a wide open hole and ran 84 yards to the end zone. It was the longest run in team history, just two weeks after McCaffrey's 76-yard run against the Cardinals.
In 2018 McCaffrey rushed for 1,098 yards on 219 carries (5.0 yards per carry), added 867 receiving yards on 107 receptions and caught 13 total touchdowns—a bright spot in an otherwise abysmal season last season for the Panthers. And he has continued to be exactly that so far this year. He's a reliable and durable weapon having himself a transcendent season through five weeks, and he's the reason the Panthers are sitting at 3–2 after losing their first two games. McCaffrey is on pace to rack up 2,771 yards from scrimmage, which would topple Chris Johnson's 2009 record. He'll likely continue to rise as the season progresses, with no signs of Carolina decreasing his workload as long as Cam Newton is sidelined.
And while winning quarterbacks like Patrick Mahomes will always be at the forefront of the MVP conversation, McCaffrey's explosive start is already generating worthy buzz.
With more performances like Sunday's, that noise will only grow louder.
Question or comment? Email us at talkback@themmqb.com.