Stephon Gilmore Continues to Thrive, What to Expect in Myles Garrett's Appeal
Also, a Raiders rookie flying under the radar, Kyle Juszczyk's importance in Kyle Shanahan's offense, Tua Tagovailoa successfully undergoes surgery, the Bills' stout defensive tackle group and more.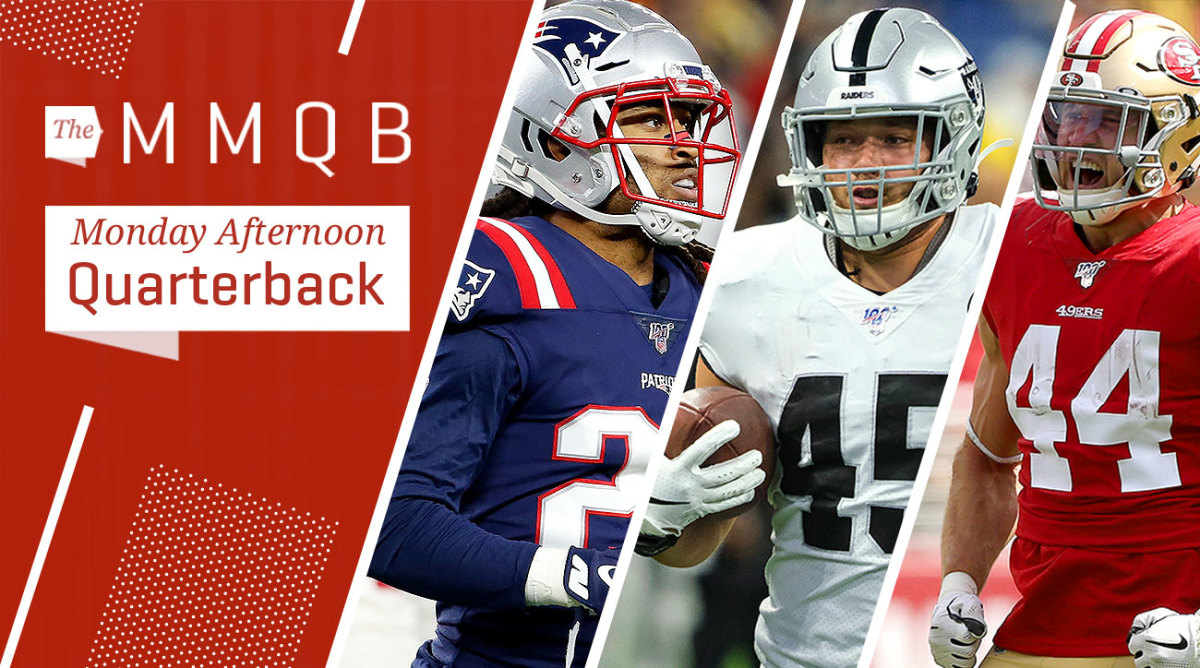 Eleven Sundays in the books, six more 'til the playoffs. Let's go …
• Stephon Gilmore's numbers don't exactly leap off the page (three interceptions, 11 passes defensed, 29 tackles through 10 games), but he continues to show why he's the NFL's best cornerback. Teams largely don't throw his way, so he doesn't have the opportunity to boost his numbers, and he's shown an ability this year to cover receivers of all different shapes and sizes. Case in point, he was assigned Eagles TE Zach Ertz several times on Sunday. And he's improved playing zone in spots, and in run support. He sets the table for a lot of what Bill Belichick does with his defense schematically, and he's putting together a strong case for Defensive Player of the Year.
• I would look for Myles Garrett's appeal to focus on the NFL's right to come down on a player with an indefinite suspension, moreso than any of the minute details of what happened at the end of the Steelers-Browns game on Thursday night. The union will argue that the league has to put a number of games on his suspension, and have them look at the precedent set in the Antonio Smith case (suspended for two preseason games and the regular season opener in 2013 for swinging a helmet at Richie Incognito) and the Vontaze Burfict case (12 games for a helmet-to-helmet shot on Jack Doyle, with a boatload of prior violations).
The argument will say that an indefinite suspension is de facto banishment, which they don't see as appropriate in this case. We'll see where it goes. Garrett's hearing is set for Wednesday morning in New York. Browns DL Larry Ogunjobi had his appeal hearing via phone at 2:30 p.m. ET on Monday, and Steelers C Maurkice Pouncey has his hearing via phone in the 4 p.m. ET hour on Tuesday.
• We've mentioned the Raiders rookie class several times the last few weeks, and how big their role is in the team's 6-4 start. Here's a name I've neglected to raise here: Alec Ingold. The undrafted rookie fullback out of Wisconsin has been a vital piece of the Oakland run game that's been fueled by the presumptive favorite for Offensive Rookie of the Year, Josh Jacobs. And Ingold has even gotten the ball some as well—he's registered a first down on all six of his carries thus far this season. Ingold was actually the only fullback invited to the combine in February, and is part of what certainly seems to be a rebirth of the position in the pros.
• Want more fullback talk? I know you do. I've actually thought a bunch about a discussion I had with 49ers coach Kyle Shanahan about this a while back, and I think he did as good a job as I've heard anyone do of explaining why he invested in the position with Kyle Juszczyk.
"There are always cycles," Shanahan said. "That's why to me, there's no absolutes. That's why I use 21 probably more than anyone in the NFL. We have a fullback in there not just because that's our offense, but because I believe that's an advantage. People don't play base defense very much, because the majority of the league doesn't have a fullback. And so you get people on the field they're not as used to practicing with. ... But also, it can be an advantage for the defense. If there's only two receivers out, that's a lot easier to defend than having to deal with a slot receiver. That's why it's important to me to have a fullback like [Juszczyk] where you can do two-back, but you also can be in one-back and do one-back type stuff."
This, to me, is part of Shanahan's brilliance as a coach. It's taking everything one more step, in this case to where he's gaming what another coach is capable of doing to him.
• A statistical anomaly for you—the Bills dressed four defensive tackles on Sunday, and all four of them (Ed Oliver, Star Lotulelei, Jordan Phillips and Corey Liuget) registered sacks in Buffalo's 37-20 win in Miami. Remember, this is how Brandon Beane helped build a 15-1 team with Dave Gettleman in Carolina, with both Lotulelei and Kawaan Short coming in Gettleman's first draft class in Charlotte.
• So sometimes the NFL comes down to players like Jeff Wilson and Damontre Moore bailing you out when it matters most. That's what happened on Sunday with Niners, with Wilson scoring the go-ahead points on a 25-yard catch-and-run touchdown from Jimmy Garoppolo with 31 seconds left, and Moore forcing a fumble on the next play from scrimmage to put Arizona away. Wilson, a 2018 undrafted free agent, has been splitting time between the Niners practice squad and 53-man roster the last two years as a backup running back. And Moore puts the "journey" in journeyman—the Niners are his sixth NFL team (he did two tours with the Raiders), and he came to them in April from the AAF's San Diego Fleet.
• Good to hear that Alabama QB Tua Tagovailoa underwent successful surgery and his "prognosis is excellent" (that wording is via the university's release). Is he out of the woods? Not exactly—he could still develop avascular necrosis (which heightens the chance of severe arthritis). Obviously, it will be monitored. Best case scenario, he avoids that. If he has it, that's a serious issue for his football future.
• It certainly was notable seeing the playtime breakdown among Cardinal tailbacks on Sunday: Kenyan Drake played 61 snaps and David Johnson, making $13 million per year, got just nine. Best explanation? One reason Arizona felt comfortable dealing off capital for Drake (a sixth-round pick that can become a fifth-rounder) was because of the ex-Dolphins versatility. That's allowed Kliff Kingsbury to play Drake in all situations, and the leeway to ease Johnson back into the lineup. We'll see if the arrangement is any more permanent than that.
• I think it's possible that both these things can be true: Bears QB Mitch Trubisky has a hip pointer, and Trubisky was lifted from the lineup on Sunday night to preserve his confidence. Bears coach Matt Nagy is tuned into his players, so I don't think it's impossible that he's tried to manage this a little bit to make sure Trubisky's in the right place mentally.
• Frank Clark is making more than $20 million per year. The Chiefs will likely line him up over Charger backup left tackle Trey Pipkins plenty tonight. Which means it should be time for Clark to show everyone why he was worth that much.
Question or comment? Email us at talkback@themmqb.com.