MMQB: How the NFL Pulled Off a Pandemic Super Bowl, and How the Buccaneers Dominated It
In one year, Tom Brady helped turn around an entire organization, and a large group behind the scenes made sure there'd be a Super Bowl for him to play in. We'll detail the efforts of both, plus the Hall of Fame, quarterback trades and more.
TAMPA—Perhaps the signature moment of Super Bowl LV came as the clock wound into the game's final five minutes, and Patrick Mahomes ran for his life for the billionth time. At the snap, Ndamukong Suh was lined up at left end over right tackle Andrew Wylie, with undrafted rookie Cam Gill to his left, then his right. Suh burst off the ball and past a helpless Wylie, while Gill looped clear across the front and wound up on Mahomes's left.
The nanosecond Mahomes got the ball out of the shotgun, it was clear he knew he was in trouble. Again. He saw Suh coming. He drifted back a step, another, then another, then: Boom. Just as Suh caught up to him, Gill arrived at his hip. And the collective thud you heard marked the end, as the NFL's unstoppable offensive machine ground to a final halt.
The play was a microcosm of defensive coordinator Todd Bowles's plan for the evening.
It was a symbol of head coach Bruce Arians's attacking football ethos.
It was an example of GM Jason Licht's team-building philosophy come to life.
But maybe most of all, it was a vivid illustration of Tom Brady's plan for his twilight.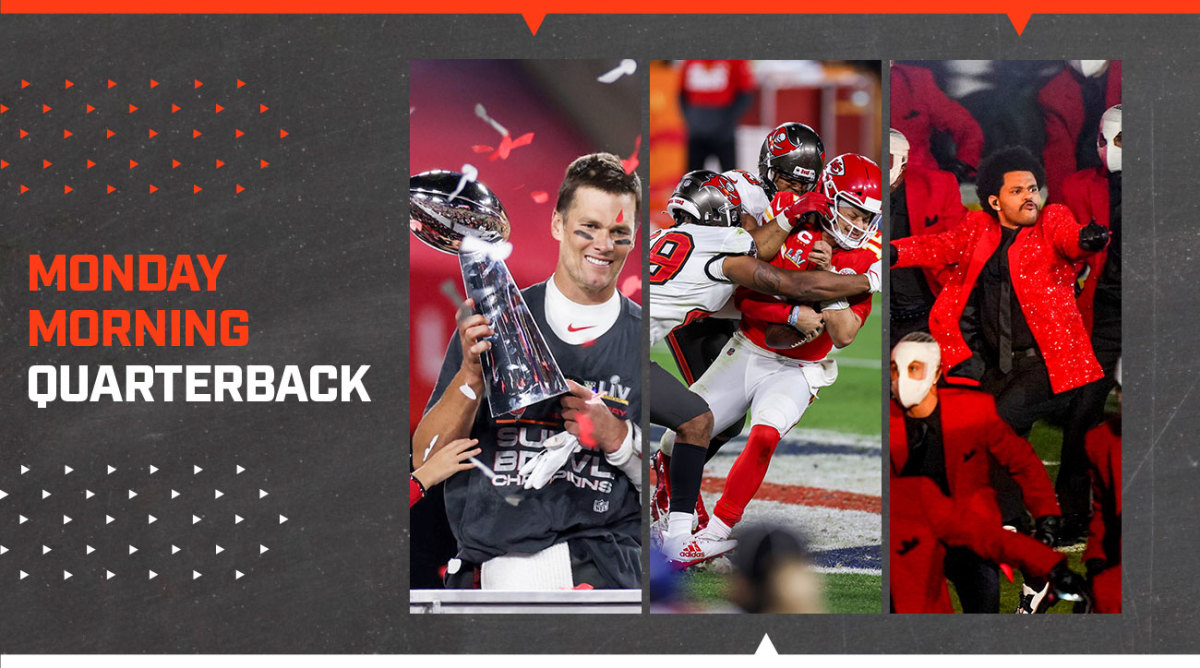 * Get SI's Tampa Bay Super Bowl Champions Commemorative Issue here *
In the aftermath of last year's unceremonious conclusion to two historic decades in New England—his last throw as a Patriot was a pick-six in the team's earliest playoff exit in 10 years—Brady's search for a new home was always going to point to a place like this. He wanted a team ready to compete for a title. And a team that wasn't in that spot already probably wasn't going to want anything to do with a 43-year-old quarterback anyway.
The roster in Tampa, to be sure, had pieces. But to Brady, that was just half the equation. The other half would be on him. He wanted the chance to show guys how to work, how to push themselves and how, ultimately, to become capable of playing the kind of football that wins on a stage like this.
And with that bone-crunching hit on Mahomes, all those ideas came alive. That loaded Bucs roster was also efficient and running on all cylinders when it mattered most. The defense was really good—the first to hold a Mahomes-led offense out of the end zone in any of the phenom's 54 starts as a pro—and the run game (33 carries for 145 yards) was way more than a sidecar to Brady and his galaxy of pass-catching stars.
In that way, Brady got to a place where he could do a little less, in that the team didn't need him to load it on his back the way he had to try to elevate an undermanned Patriots group at the very end in 2019. But in another way, his impact was as deep as it's ever been, because the Bucs' program really, over the last 10 months, became his program.
Inexplicably, that program just won a championship in Year 1. By 22 points. Over a Chiefs team that had won 25 of its last 26 meaningful games.
"You really don't know what to feel yet," Brady's body coach and business partner Alex Guerrero said, leaving Raymond James Stadium, with the sirens from a police escort blaring in the background. "It's been so hard since we got here. It's been such a grind. We just really don't know what to feel yet."
That's understandable—in the moment, it's hard to fully contextualize what Bucs 31, Chiefs 9 will mean in adding a new chapter to perhaps the great individual legacy in the history of North American team sports. What we can say for sure now, though, is what we just witnessed was damn impressive, and for more reasons than meet the eye.
---
We've reached the finish line, and we've got a lot to touch on in this week's MMQB, beyond the story of Brady's impact in Tampa. In the column, you'll find …