What's wrong with Alex Ovechkin?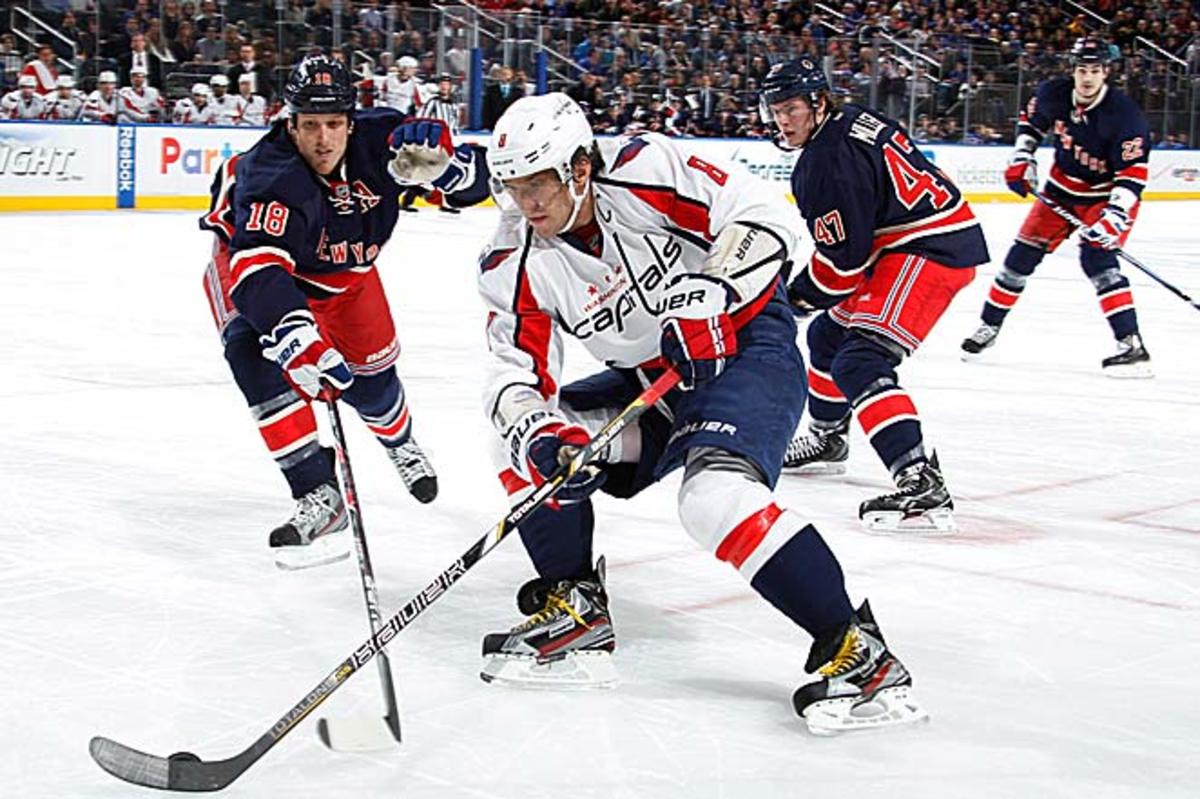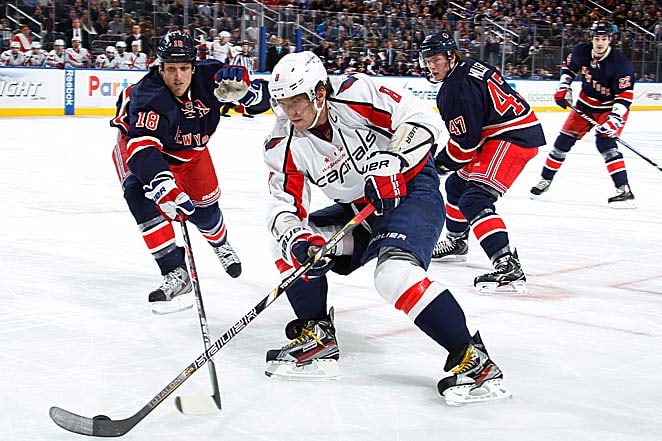 Today, I'll sing the blues for Alex Ovechkin.
Let's say this right off the top: Alex Ovechkin has been one of my favorite players ever. Ever. That's going back some, back to the Original Six days of Bobby Hull, who similarly lit up arenas with unstoppable rushes down the ice. But the Alex Ovechkin I watched on Sunday night at Madison Square Garden -- in the Capitals' 2-1 loss to the Rangers -- suffered from something of a power shortage and didn't bear much resemblance to the explosive, creative, entertaining -- and, yes -- joyous winger who terrorized the NHL for the first five seasons of his career. I wish he did.
Now I'll add this qualification: That's an observation from only one game and anyone can have an off night. Still, Ovechkin has had a hell of a lot more off nights this season and in the past two than he did his first five, which even his most ferocious supporters can't deny. After averaging almost 56 goals per season, he's had consecutive campaigns of 32 and 38. This year, he ranks fourth on the Caps in scoring, with five goals and 10 points, and while that's good, it's not Ovie-like. He's only 27, supposedly entering the peak of a professional athlete's career but -- jeez, I hate writing this --- it seems as if he's already peaked.
Yes, yes, I know. He's playing a new position in a new system for a new coach and he's making adjustments. I get that. Adam Oates is a bright guy with a bright future behind NHL benches and he very well could be on to something by moving Ovechkin to right wing.
"The game has changed a lot in the last three, four years," Capitals GM George McPhee told Jeff Z.Klein of The New York Times for a story about Ovechkin's shift to the right side. "Coaches have found ways to make it much more difficult to come through the neutral zone with steam with one guy carrying the puck, and Ovie likes to do that. In some ways he became a little too predictable."
KWAK: Sniper Steven Stamkos keeps evolving
But I watched him skate down the right side, get contemptuously pushed over by Rangers defenseman Marc Staal, and tumble to the ice; and skate down the left side unable to shake coverage and end up harmlessly behind the net. He skated through the middle and right into the teeth of New York's defense. He regularly flew out of his own zone as soon as the Caps touched the puck and didn't find open space for a breakout pass.
Late in the game, with Washington trailing by a goal, Ovechkin tried to sneak over the offensive blue line undetected behind the Rangers' defensemen while the puck was still inside the Caps' zone. He was hoping to get a breakaway pass, but never got back into the neutral zone and ended up offsides. He lined up on the left during defensive zone face-offs and jumped toward the blue line at the puck drop, ready to get an outlet pass or block a shot, but not doing much of either. He wasn't short on energy and he roamed all over the ice -- not always where you'd think he should be -- as he often has during his 568 NHL games.
Through it all, he never managed to break free. Speed and quickness were once Ovechkin's greatest weapons, but not on this night. Didn't he once turn defensemen inside out, twisting them into pretzels as they tried to stop him? Didn't his pure acceleration once tear up the opposition like lettuce in a shredder? Did I dream these things? Am I remembering incorrectly?
No, he did that all the time. But on Sunday, he was most effective while standing still.
During the Caps' power plays, Ovechkin was positioned in the left face-off circle with his former center Nik Backstrom in the right circle and Karl Alzner subbing for injured Mike Green at the blue line in the old umbrella formation. The stationary Ovie moved the puck crisply to his teammates most of the time and often got it back, firing one-timers. He attempted 14 shots in the game, most from that spot. Only half of them were on goal and, truth be told, those shots didn't seem terribly dangerous. Easy for me to say, of course, from hundreds of feet away, tucked safely in the press box. But Rangers goalie Henrik Lundqvist handled those seven with little difficulty and sniffed at the rockets that flew wide off the boards or cracked high off the glass. His best chance glanced off the top of the crossbar. The Rangers, especially their captain Ryan Callahan, did a typically selfless job of blocking the rest.
In the absence of Green, Ovechkin also tried to quarterback the power play rush a few times. He wasn't great at it, fumbling the puck in the second period and getting forechecked by Callahan into a turnover during the third.
Between the second and third periods, I asked one of the dozen pro scouts at the game what he thought of Ovie so far. The guy just grimaced, quickly adding, "But this is the first time I've seen him this year." He clearly wasn't impressed.
What might have been
Oates broke up the Ovechkin-Backstrom partnership in training camp. Wojtek Wolski now skates on Backstrom's left, becoming the beneficiary of Backstrom's slick passes which often put him in prime scoring position. Wolski has scored two goals so far during this shortened season. Like a lot of things that Oates is trying, that experiment has been unfortunately handicapped by the absence of a full camp and a lack of practice time. After losing to the Rangers, the Caps had three days until their next game and, in addition to rest, the break presented Oates with a chance to polish his system.
Ovechkin likes the new setup. Before the game, someone asked if he was looking forward to playing the Rangers using Oates' system as opposed to the defense-first, last and always approach that Dale Hunter mandated last year, a scheme Ovie openly disliked, in part because he played far fewer minutes. "Yeah, of course," he said. "Probably I'm going to have more ice time than different system so...." Everyone laughed and Ovie flashed his famous gap-toothed smile.
That smile might have been the face of hockey. A few years ago, when he was going so well and everything seemed possible, Ovechkin appeared destined to become hockey's breakout personality, the guy who would be his generation's Bobby Hull or Wayne Gretzky, the man whose name would be recognizable to everyone, even those who don't follow the NHL. With that funny smile, his easy, fun-loving personality, his effervescent goal celebrations, his robust on-ice carriage (which has resulted in five instances of supplemental discipline), he's more charismatic than Sidney Crosby, more electrifying than Pavel Datsyuk, more powerful than a locomotive, able to create tall tales in a single video clip. He could have captured a continent.
Instead, Ovechkin began to inexplicably struggle on the ice and the fun quotient shrank. The Caps' ongoing postseason futility didn't help. And his popularity started to pick up dents when some criticized him for what they perceived as an excessive -- even for Ovie -- 50th goal celebration in 2009.
The guy who had been the clown prince in Montreal at the 2009 NHL All-Star Game ...
... seemed to sulk as he excused himself from last year's game in Ottawa, miffed that he had been suspended three games for a leaping check into the head of Pittsburgh's Zbynek Michalek. Then, during the lockout, he suggested from Russia that if the new CBA reduced the value of players' existing contracts, he'd consider not returning from the KHL, which didn't help his stature on this side of the pond. That was more frustration and anger speaking than common sense. Like all existing contracts, Ovechkin's will be reduced in the new CBA. He remains very well compensated, but as any fan who was angry during the lockout realizes, business realities can take the fun out of things in a hurry.
But the fun has been leaking out of Oveckin's game for a while. We've waited through two seasons and a quarter of a third to see the old Ovie. After watching him on Sunday, I'm not sure he's ever coming back.