Streaking Penguins winning with defense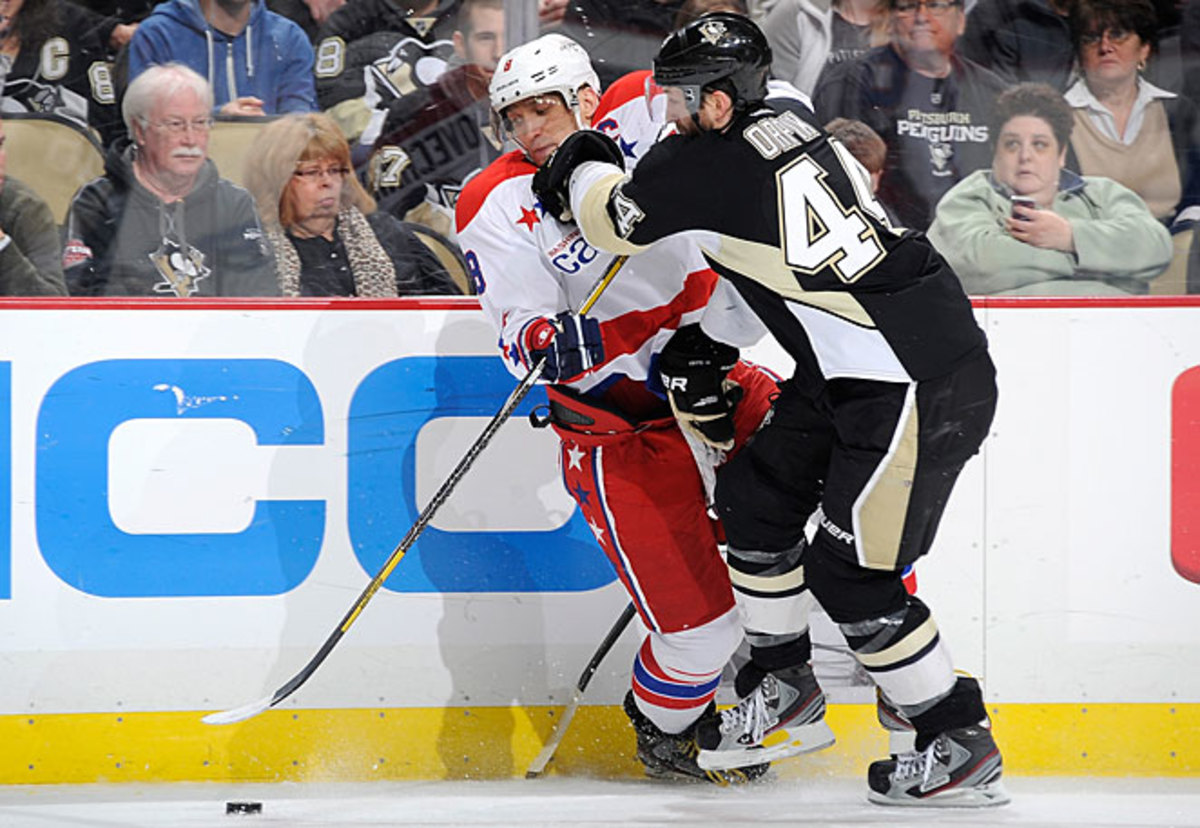 PITTSBURGH (AP) -- Brooks Orpik couldn't quite put a finger on it, but something felt off.
The Pittsburgh Penguins had just finished off a string of thrill ride victories over Montreal, Tampa Bay, Philadelphia and Toronto earlier this season when the veteran defenseman -- and apparently the rest of his teammates -- decided they'd had enough.
Sure, the Penguins were winning, just not the way they wanted to. Grabbing games 7-6 or 6-5 makes for good highlight fodder, sure, but it's hardly the way to get a firm grip on the Stanley Cup.
"There was a handful of games we won early this year when you leave the rink after the game and you're not really satisfied," Orpik said. "When that happens, you've got to change things up."
And just like that -- at least on the surface -- the NHL's highest scoring team grew a conscience. The risky passes through the crowded neutral zone stopped. The lackadaisical backchecking disappeared. The defensive breakdowns that often put goaltenders Marc-Andre Fleury and Tomas Vokoun in difficult situations all but vanished.
"I think everyone has bought into what we're doing here," Orpik said. "Even our high-profile production guys like Sid (Crosby). They're putting team goals way ahead of individual goals. We all realized what our ultimate goal here is."
Hint: it's not turning every night into a more intense version of the NHL All-Star Game.
DATER: Penguins atop NHL Power Rankings for second week in row
The Penguins beat Toronto 5-4 on March 9 to push their winning streak at the time to a modest four games. Nine more victories have followed, including a grinding 1-0 triumph over Montreal on Tuesday night.
In those games, Pittsburgh has allowed just nine goals, the lowest total in the league over that span. The second-longest streak in team history heading into Thursday's visit from Winnipeg includes seven wins when the Penguins have scored three goals or less.
"There are times we haven't played our best, but our focus has been strong defensively," said Crosby, who still leads the NHL with 54 points.
In the process, the Penguins have become comfortable playing the kind of tight-checking, playoff-style hockey that portends a very promising spring. The Canadiens outshot Pittsburgh 37-25 on Tuesday night and spent long stretches in the offensive zone.
Yet Fleury was spectacular while stopping 22 shots and Vokoun proved every bit Fleury's equal when forced into spot duty in the third period after Fleury left with an undisclosed injury. He collided with teammate Tyler Kennedy and Montreal's Brian Gionta. Fleury was being evaluated on Wednesday and his status for Thursday is uncertain, though coach Dan Bylsma said Vokoun will start against the Jets.
Given a full intermission to get ready against the Canadiens, the 14-year veteran turned aside all 15 shots he faced as the Penguins posted their fourth combined shutout in franchise history.
Most of Montreal's chances came from outside prime scoring areas, as the Penguins did a solid job policing the front of the net and keeping the surprising Canadiens at arm's length. It's a game the Penguins might have lost six weeks ago. Not so much anymore.
"We're more comfortable playing defense, more comfortable defending when we do give up zone time," Bylsma said. "We were confident and good in how we defended and we have been."
Pittsburgh has vaulted to the top of the Eastern Conference in the process despite playing most of the month without reigning NHL MVP Evgeni Malkin -- out indefinitely with an upper body injury -- and having star defenseman Kris Letang limited by lower-body issues.
Letang returned on Tuesday after missing three games with a lower-body problem and played 24 minutes against the Canadiens only to sustain a different lower-body injury. He was sent back to injured reserve Wednesday morning. Bylsma expects Letang to be out 7-10 days.
Though he'll be missed, the timing of the injury shouldn't damage Pittsburgh's depth. At the same time the Penguins made the move on Letang, newly acquired defenseman Doug Murray participated in an optional skate after being obtained in a trade with San Jose Monday.
The hulking 6-foot-3, 245-pound Murray could play as early as Thursday, and the Penguins will certainly welcome his physical presence in front of the net. The 33-year-old nicknamed "Crankshaft" is a steamroller on skates, taking opponents who like to create havoc near the crease and simply mauling them out of the way.
Murray understands the comparisons between himself and fellow Swede Ulf Samuelsson, who Pittsburgh brought in late during the 1991 season and promptly helped Mario Lemieux lead the Penguins to their first Cup.
They're both big. They're both aggressive. They're both in charge of restoring order amid chaos.
MUIR: Penguins GM sets tone for trade market
Murray isn't the only new guy in the dressing room. Pittsburgh acquired forward Brenden Morrow from Dallas on Sunday, and Morrow played just the way the Penguins expected in his Pittsburgh debut against Montreal.
"There was probably five times on the ice in terms of what he was supposed to do, where he was supposed to go, he was bang on to do that," Bylsma said.
Morrow even took on Montreal defenseman P.K. Subban on two separate occasions, the open-ice collisions drawing a roar from the Consol Energy Crowd. They also sent a message to Morrow's new teammates he is all in.
So are the rest of the Penguins. They were embarrassed by last year's first-round flameout against Philadelphia in which they surrendered 30 goals in six games. After some early tweaking, things seem to be falling into place.
Though Pittsburgh insists it's not focused on making a run at the 17-game winning streak put together by the 1992-93 Penguins, with some very winnable games on the horizon, it looks like they have a chance. Not that they're paying attention or anything.
Of course, the 1992-93 version of the club indeed raced through the regular season, preparing for a third straight Stanley Cup. But then, as a No. 1 seed with 119 points, the Penguins were bit by the New York Islanders and eliminated in the second round.
"We're all aware of where we're at," Orpik said. "We aren't trying to put anything to it, to be honest. We're just trying to play the right way."
---