NHL playoffs: Fleury adds to Penguins' worries vs. Islanders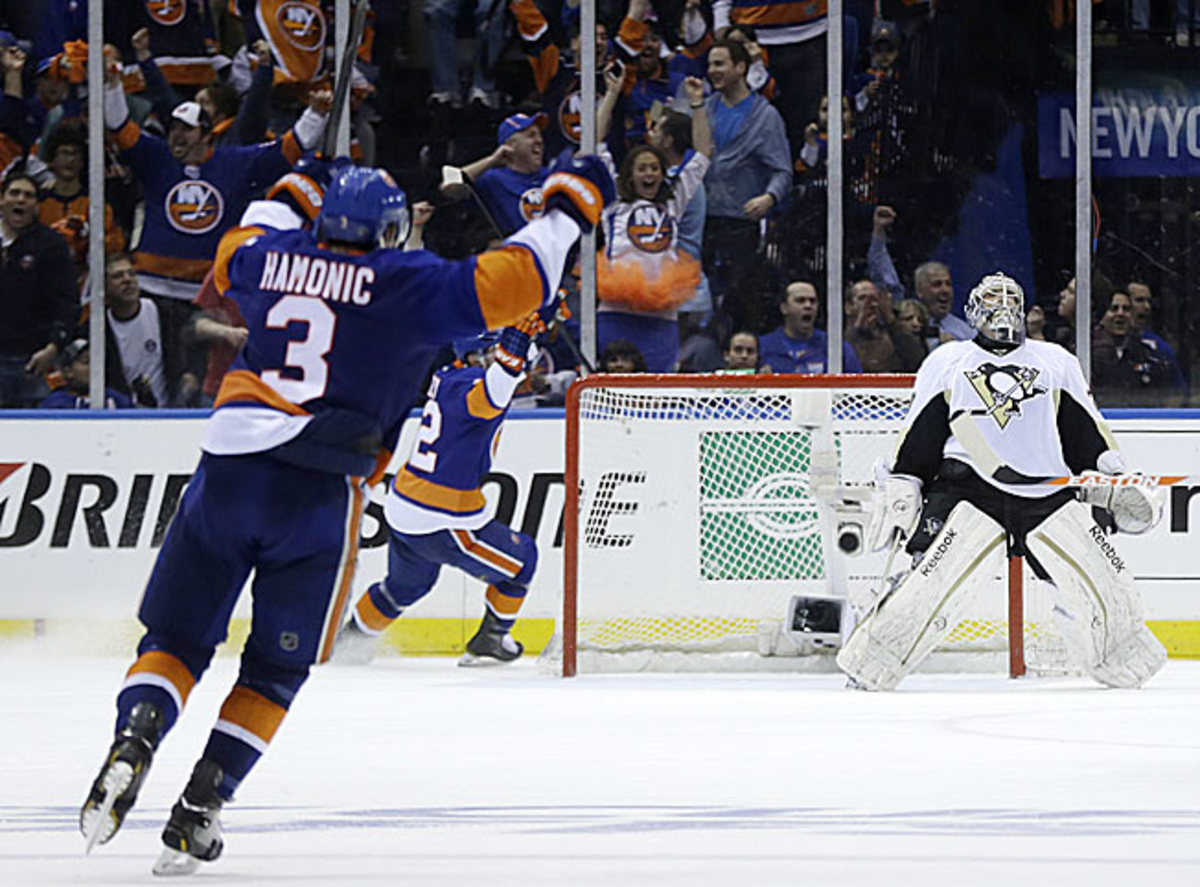 The eyes of Pittsburgh -- and the rest of the NHL -- will be trained on the Penguins' goal on Thursday, as Marc-André Fleury will not be standing in the crease when Game 5 of their series against the Islanders begins.
Instead of the athletic 28-year-old Fleury -- who has 79 games of playoff experience, two trips to the finals and a Stanley Cup on his résumé -- 36-year-old veteran Tomas Vokoun will guard the net. A veteran who distinguished himself on many non-playoff clubs over the years, Vokoun has just 11 postseason appearances -- none since 2007 for Nashville -- and has never won a playoff series.
The switch is a gamble that Penguins coach Dan Bylsma has to make because Fleury has gone from being a springtime hero to a springtime liability over the last few years. He's been unable to cover the low corners, and he's comically fumbled the puck and let it leak through him into the net. We've seen it before, and we're seeing it again. Doubt has crept into his mind and affected his teammates; a squad can't win in the playoffs with doubt surrounding its goalie.
GAME 4:Recap | Boxscore | Highlights |Complete postseason schedule
Fleury's performance against the Islanders mirrors his poor effort last year against the Flyers, which was one of the major factors why the Penguins -- one of the Cup favorites -- were ousted in the first round. That shocking experience caused GM Ray Shero to sign Vokoun last summer as insurance, and now we'll get to see if the move pays off.
However, it'd be an oversimplification to say Fleury's play is only the reason this matchup between the East's No. 1 and No. 8 seed is tied 2-2. The Penguins have gotten into penalty trouble, they've turned pucks over, their defending has been erratic and they've suddenly developed trouble holding leads.
They may also have to contend with an injury to Evgeni Malkin.
But let's not put this all on what Pittsburgh has done wrong. Perhaps of equal importance, this series is about what the Islanders have done right. They've executed their gameplan well and played with as much heart -- if not more -- than the Penguins. Had a marginal interference call not gone against them in Game 3 and led to an overtime power play goal by Chris Kunitz, this series could easily be 3-1 for the Isles.
Coach Jack Capuano has laid out a simple scheme for his club, which it has followed since being outclassed in Game 1. The Isles aren't trying to get into a skills competition against Sidney Crosby, Evgeni Malkin, Jarome Iginla, Kunitz and Kris Letang; that's a recipe for defeat. Rather, they're hitting the Penguins at every opportunity. That includes a number of tactics: calling on the Isles' own skill guys; making the safe play by chipping the puck out of the defensive zone; slowing the Pens down in the neutral zone; working harder to win battles for loose pucks; counterattacking with speed when active defensemen have the chance; and trying to keep Pittsburgh off the power play.
It's paying off, and the Isles believe in themselves. It's uncertain right now whether the Penguins possess the same level of confidence.
There was certainly some frustration on display at the end of Game 4, a 6-4 Islanders win that concluded with fists swinging, and perhaps an injury to Malkin's left shoulder -- one that was either sustained or worsened in his bout with Travis Hamonic, who has emerged as one of the young leaders on the Isles' blueline.
"We're hoping they're a little rattled, a little worried about us," defenseman Matt Carkner told John Jeansonne of Newsday, "because we think we have every opportunity to win this series. The more frustrated they get, the better it is for us. I'm sure they'd love to be up 3-1 right now, but that's hockey."
Still, teammate Keith Acouin, another of the young Isles, wasn't selling his foe short. "They've got a lot of veterans over there," the forward told Jeansonne. "I'm sure they have no fear. They've got a lot of guys with playoff experience. I'm sure they've been in this position before. So we're not worried about them. We're worried about ourselves, and that's been our motto the last couple of months."
New York's biggest worry could be that veteran defenseman Andy McDonald is out for the duration of the playoffs, having apparently broken his left hand after it was hit with a shot midway through the second period on Tuesday. McDonald has been Hamonic's partner, and they've logged more minutes than any other Islander. Either Thomas Hickey or Radek Martinek will draw into the lineup, but how Capuano divvies up the minutes could become a big factor in the Isles' defensive posture. The coach has made some good adjustments during this series, most notably moving Matt Moulson off the top line with his longtime cohort John Tavares and Brad Boyes and replacing him with Josh Bailey. Moulson moved to the Frans Neilsen line with Kyle Okposo, who has proven to be a problem for the Pens with three goals and an assist.
Byslma helped trigger that move by playing his top line of Crosby, Kunitz and Pascal Dupuis against the Tavares line, figuring that if Crosby's trio had the puck, Tavares' line wouldn't. Now, he's got a pair of lines to concern him, and that second line is producing.
But Bylsma's biggest concern has to be in goal. If Vokoun bails out the Penguins, it may create something of a goalie controversy in Pittsburgh. Considering how this series has gone so far, that's a problem the Penguins would be happy to have.