For the Blackhawks, the Stanley Cup is in the details
The Chicago Blackhawks know that depth, details and getting a necessary trade right are crucial to their shot at a third Stanley Cup in five years.
SOUTH BEND, Ind.—As part of his $7.6 million contract this season, it's unlikely that Duncan Keith has a personal assistant clause to fulfill. Still, there was the reigning Norris Trophy winner on Thursday afternoon, preparing to discuss the start of the Chicago Blackhawks' training camp and finding a pair of reading glasses on the table before him. The specs belonged to head coach Joel Quenneville, who had left them behind when he departed the auditorium moments earlier. Keith picked up the glasses, shook his head, handed them to a team official and smiled. Everyone, even a core superstar on a Stanley Cup contender, has to do the little things.
The team buses were about 90 minutes late to the camp curtain-raising at Notre Dame's Compton Family Ice Arena. The announcement of intentions for this winter was prompt: The Blackhawks want a third Stanley Cup in five years and feel they have the team to do it, returning most of the components that were arguably one deflected puck in a Western Conference Finals Game 7 away from winning it all last spring. And as on the opening day of camp, when Keith retrieved his coach's eyewear, some central characters will be responsible for that vision. But Chicago's season may be defined by the assorted complementary parts that will orbit those stars, because depth tends to deliver titles, as the Blackhawks well know.
• ​New era as Devils begin camp without Brodeur
SI.com's 2014-15 Preseason All-NHL Teams: first, second, third
​Jonathan Toews and Patrick Kane each signed eight-year, $84 million, Blackhawks-for-life extensions this summer. The similarly well-compensated quartet of Keith, dangerous forwards Patrick Sharp and Marian Hossa, and defenseman Brent Seabrook return as well. The core, as it's called here, isn't the question. It's locating viable answers in the rest of the mix that looms large: finding the consistent No. 2 center, making the right move to get under the salary cap by early October without disrupting chemistry, identifying the young players who are ready to contribute important shifts down the lineup. That's the stuff that can make the sliver of difference between a title and a long summer.
"Let's be excited about where we're at, knowing it's a great opportunity and we've got a special group of guys," Quenneville said. "We've got a majority of the guys coming back and they fit well together. We're going to be very familiar with one another, kind of a comparable team to what we saw last year. But certainly our goal hasn't changed."
The Blackhawks indeed should know what they will get from their marquee names. The urgency of Toews, for one, didn't appear to wane after he agreed to his mammoth contract at the ripe old age of 26. It can be safely reported that Chicago's captain still wants to win championships.
"That's the most exciting part about it: getting past that discussion and getting on with things that are more important," Toews said.
• Injured Crosby makes surprise appearance at Penguins' workout
The near-term checklist of important things features familiar themes. The first is figuring out just who will be around a month from now.
​Chicago is about $1.4 million over the cap. Barring an injury solving the problem, trading a key asset—like defenseman Johnny Oduya and his $3.375 million cap hit—is inevitable. But dealing Oduya would mean disrupting chemistry on the back end, as he and NiklasHjalmarsson have built a solid rapport as the No. 2 blue-line pairing. It also means counting on an unproven or lesser talent to fill in when someone else moves up a notch. And even if the move doesn't involve Oduya, the same dynamic holds true: Someone will go, which means that someone who is less experienced or familiar will take on a larger role in some fashion. In the suffocatingly competitive Western Conference, the Blackhawks can't afford to be wrong.
"This is a process," general manager Stan Bowman said. "We have to be ready to go in October. But the whole reason we have training camp is to see where we're at. We've got a lot of players we want to take a look at. That's going to play itself out."
Then it's a matter of hoping that the move doesn't upset the overall team vibe.
•​ Bruins GM says Krug, Smith are 'not going nowhere'
"Yeah, sure, I think about it," Keith said. "It's not something that's a topic of conversation every day amongst us players. We all gotta know the business. Obviously management has to make some decisions. We have a lot of trust and faith in them that they're going to do what they have to do."
Beyond that, there is the time-honored hand-wringing and hypothesizing over the No. 2 center slot, seemingly as much a Blackhawks tradition as cheering during the national anthem and not stepping on the Indian head logo on the carpet in the dressing room.
SI.com's 2014-15 Preseason All-NHL Teams: first, second, third
​Even there, with purported answers on hand, Chicago has questions. When the team hit the ice on Friday morning, Quenneville planned to have veteran free agent signee Brad Richards centering the second line with Kane and ascendant forward Brandon Saad. Quenneville hopes to start the season with that combination. "It could be a great fit," he said, and the 34-year-old Richards is an ideal bridge between the present and whenever touted prospect TeuvoTeravainen is ready to hold down those duties. But Teravainen is in camp as well. So just as Richards is settling in, everyone will ask about the guy Chicago expects will replace him.
Teravainen's three-game cameo last season—no goals, no assists—was point-less, if not pointless. He got a taste of the big leagues. And Quenneville said Teravainen, listed at 5-foot-11 and 176 pounds, added some muscle during the offseason. But no one is expecting dominance from him right away. So, one injury to Richards and the lineup is jumbled, maybe with Andrew Shaw again leaving the third line for the second. Or the future creeps much closer to now, and Chicago is perhaps counting on the 20-year-old Finn in a key role. "It's one of those things where it doesn't make a lot of sense to make predictions," Bowman said of plans for Teravainen. "We're not walking into it with any expectations. He's a tremendous talent, he's going to be a great player, whether it's in two weeks, two months or two years. We know he's got a lot of ability but we'll see how it goes."
The Blackhawks, in short, are searching for complements. When the franchise won the Cup in 2010, its depth was preposterous; Andrew Ladd, now the Winnipeg captain scored 23 goals last season, was a third-liner. Likewise the 2013 championship team featured postseason leaps by Bryan Bickell, Michael Frolik and even Michal Handzus. Stars led the way each time, but help was wanted, and needed.
​
Bowman hails the health of veteran winger Kris Versteeg, who rehabbed an ACL tear during the off-season last year but actually got to do hockey training this summer. The team even issued a training camp invite to Cam Barker, the No. 3 overall pick in 2004 who spent parts of five seasons with Chicago but never found footing there or anywhere, ultimately playing in the KHL in 2013-14. It doesn't matter where the depth comes from as long as the Blackhawks get it from somewhere.
•​ Barker invite puts pressure on Hawks' young defensemen
"We've been through both (situations) here in Chicago, with a lot of turnover, and we've also come back to a team very similar to previous year," Sharp said. "The advantage is that we have coaching staff as well that for most part is the same. We know what Joel is going to bring to the team, we know for the most part roles and that kind of stuff. At the same time it's a new season, it's a clean slate, everyone wants to prove themselves again. That's what you have to do in pro sports or else you're not going to improve that much."
It is again important to note that the Blackhawks might have won back-to-back titles if not for that puck deflecting off defenseman Nick Leddy's sweater and past goalie Corey Crawford in overtime of Game 7 against the Los Angeles Kings in the conference finals. But that also underscores the point.
The smallest things generally make the difference at the highest level. Chicago can't get the small things wrong, and as camp begins, there are a good number of small things to get right.
"We know it can be a special year if we put everything together," Toews said, with that if set to trail his team for at least a little while longer.
Top 20 players to enter the NHL since the 2004 lockout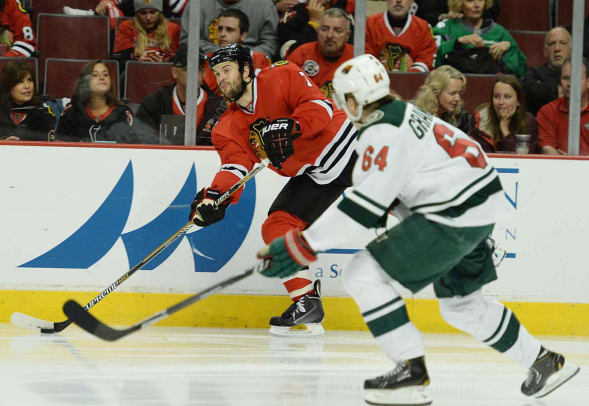 ​