Oilers' Ben Scrivens to wear series of masks for mental health awareness
Ben Scrivens and the Edmonton Oilers Community Foundation are partnering with the Schizophrenia Society of Alberta to help raise awareness for mental illness as part of Scrivens' new program, Ben's Netminders. The goalie will wear four masks designed by artists with schizophrenia over the course of the season, starting with Monday's game against the Lightning.
Bruins' Tuukka Rask drums with Buffalo band before game vs. Sabres
​Scrivens' first mask was submitted by Richard Boulet, who graduated from the University of Alberta with a masters in fine art and lives with the illness.
"It started out just as an awareness campaign, and then the mask came out as a good way to draw people's attention in and get people talking about it," Scrivens said. "It's a really cool way for them to represent how they're interpreting the same world we're interpreting."
Top 25 NHL Goalie Masks of 2013-14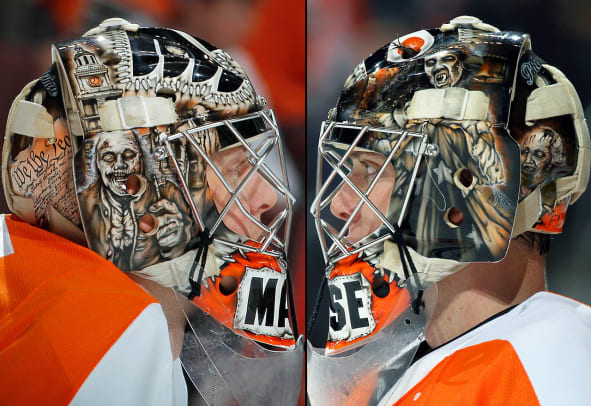 ​-- Judy Cohen