Gordie Howe, man of the people: my treasured moments
The news that Gordie Howe suffered a serious stroke got this SI writer thinking about how lucky he's been to share a few moments with him through the years.
This story appeared on SI.com in October 2014.
In October, when Gordie Howe suffered his first serious stroke, I got to thinking about how lucky I've been to share a few moments with him through the years. I'm guessing that a lot of you thought the same thing, and are doing so now.
Gordie wasn't just the game's greatest player. He was the game's first great ambassador, allowing him to touch the lives of so many people who are thinking of him just like we all are now.
We cared because Gordie cared. He always got it. He understood what he meant to the fans. You'd see it when people approached him on the street or when they queued up for his signature at a card show or a league event. There's no telling how many times he made himself available to meet his fans, surely hundreds if not thousands, but there was never anything perfunctory about Howe's appearances.
There was the autograph, of course. A throwback, like Howe himself. Every letter, crisp and clear, Gordon Howe, practiced to perfection at the behest of his mother, followed in later years by his nickname, Mr. Hockey.
But that was just the tangible evidence of meeting Gordie. The best part was the interaction. I can't tell you how many times I watched him engage his fans in these sessions over the years, at least half a dozen, maybe more, and he invariably provided the same magical experience. There was a hearty clasp from a hand the size of a canned ham, accompanied by a smile, a friendly greeting and a world of patience for a nervous fan who was struggling to find the words to express their admiration. He'd light up around kids who had no real grasp of who he was and huddle conspiratorially with seniors who wanted to share their memories of the Original Six days.
It never for a moment seemed like it was too much, but I asked him one day if the constant adulation ever became a burden.
"No, no, not at all," he said. "You know, I had heroes too when I was growing up and I probably would have been the same way around them as some of these folks are [around me].
"It's an honor that they remember me so if they ask for an autograph or a picture then I'm happy to give it to them."
That generosity of spirit is why those autographs should be treasured as a memento of meeting Howe rather than a valued collectible. Because, to be honest, they're not exactly scarce. Howe's probably signed enough photos, sticks, jerseys and hockey cards over the years that every man, woman and child that's ever heard his name could own one.
And then there are all those fan pictures. Among all his records, this might be the one that's truly unbreakable: most photographed man in hockey.
GALLERY: Rare SI Photos of Gordie Howe
Rare SI Photos of Gordie Howe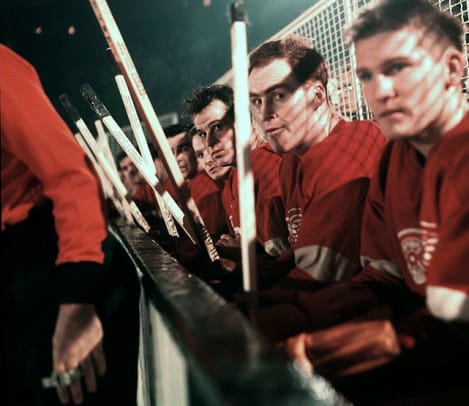 Howe always seemed to love taking pictures—many with his famous elbow playfully aimed at the head of the fan next to him—and he usually had a family friend alongside him with a camera at the ready. I have my share of them taken at various events. There are four on display in my office right now.
One is the classic elbow shot that, judging from the anarchic state of my hair, dates back to my school days. Another is of Howe making a face at my youngest son at the 2007 NHL All-Star Game in Dallas.
There's another one taken at an event where he was announcing a new endorsement deal. After a brief interview, I offered my admiration for the original Red Wings game sweater from the early '60s that he was wearing.
"Here, you want to try it on?" he asked as he pulled it over his head.
I demurred. Sacrilege, I said, for a grocery stick like me to wear his jersey.
"Go on," he laughed. "It'll look better on you than that jacket."
That's Gordie for you. Always quick with the jab.
But my favorite is a blurry imaged snapped after an interview at another promotional event, just after Gordie noticed that I was wearing a polo emblazoned with the logo of my hometown Windsor Spitfires. When he saw that, it was like he'd run into an old friend. He talked about playing exhibition games early in his career at the old Windsor Arena. He asked about some folks who were part of the fabric of the building (including a Zamboni driver by name). He even recalled a few local restaurants he would haunt back in the day. If he hadn't been directed back on point by his handler, he might have spent the whole time reminiscing about the old barn instead of pushing his book. And I would have been happy to let him.
That sharp memory became a thing of the past in his final months. Even before his latest setbacks Gordie was dealing with the devastating effects of dementia. In hindsight, his failing health was becoming evident the last time I saw him at the All-Star Game in Ottawa in 2012 where he was signing autographs—still stunningly legible, but shakier—and doing much more listening than talking with the fans who lined up to pay tribute.
But even then, at 84, you knew better than to count him out. Gordie staged more than a few comebacks along the way, first with the Houston Aeros of the WHA in 1973 and again in 1997 to skate one game with the Detroit Vipers of the IHL at age 69.