Emergency goalies: tales of dealing with the NHL's dire roster scenario
Buffalo's Artus Irbe is the latest to join the ranks of NHL emergency backup goalies in hockey's worst-case roster-shortage scenario—a situation so dire that the protocol for dealing with it is written into the NHL rule book.
Don't we know you? Didn't you used to be ... ?
Yes, that was Arturs Irbe on the Sabres' bench during their game against the Sharks on Tuesday night. Buffalo's goaltending coach, who played in 568 games for four NHL teams from 1991 to 2004, hadn't been seen in a pro contest since 2007. But there he was at age 47 wearing the Sabres' gold and blue after starter Michal Neuvirth was injured in the first period and backup Jhonas Enroth was sent in to man the net.
Injuries to goalies force Ducks to use goalie coach Roloson as backup
Earlier this month, the Ducks asked Dwayne Roloson to blow the dust off his game pads. So, what happened to that retirement thing? An emergency, that's what. Being caught without enough goalies is hockey's worst-case roster-shortage scenario—a situation so dire that the protocol for dealing with it is written into the NHL rule book. If Stopper A stubs his toe and Blocker B slips in the shower just before game time ... well, you don't want to play six-on-five and hope for an opposing team of Patrick Stefans, do you? If a team's minor-league affiliate is too far away and other alternatives aren't available, finding somebody to play between the pipes can be a scramble.
According to the CBA, teams may sign emergency goalies with pro experience to professional tryout contracts (PTOs). Goalies who sign a PTO get $500 and a jersey. Yes, a jersey. That's still better than those without pro experience get. Teams can sign them to amateur tryout contracts for which the players receive no compensation. The rule book says the following about emergency goalies:
5.3 Goalkeeper—Each team shall be allowed one goalkeeper on the ice at one time. The goalkeeper may be removed and another player substituted. Such substitute shall not be permitted the privileges of the goalkeeper. Each team shall have on its bench, or on a chair immediately beside the bench, a substitute goalkeeper who shall, at all times, be fully dressed and equipped ready to play. Except when both goalkeepers are incapacitated, no player in the playing roster in that game shall be permitted to wear the equipment of the goalkeeper.
If both of a team's listed goalkeepers are incapacitated for regular-season or playoff games, the team can dress and play any available eligible goalie. In the event that the two regular goalkeepers are injured in quick succession during a game, the third goalie gets a reasonable amount of time to dress, as well as a two-minute warm-up (except when he enters the game to defend against a penalty shot).
So how about some love here for Archie Irbe, Rollie the Goalie and the life of the emergency backup? Anaheim was nearly down to Option Z on its depth chart on Nov. 2 in Colorado after injuries to Frederik Anderson and John Gibson, so in stepped the 45-year-old Roloson, the team's goaltending consultant, who hadn't played since 2012. He dressed as the back-up to Jason LaBarbera, who had just flown in from Norfolk, Va., and was about start on only two hours of sleep. Roloson, who won 227 games in his 16-year career, didn't see any action—LaBarbera sleepwalked his way to a 16-save 3–2 victory—and said later he wasn't sure "if this was just a dream."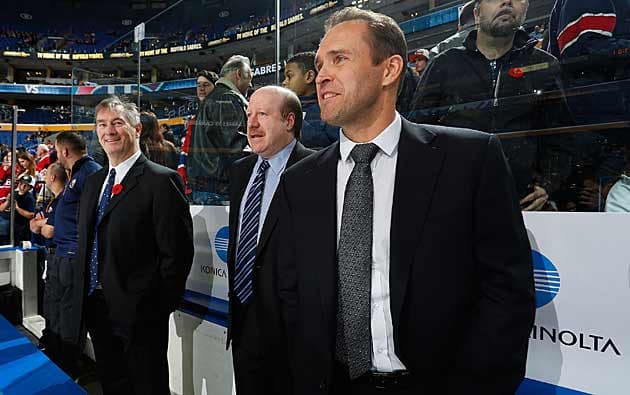 ​
As for Irbe, when coach Ted Nolan came calling on short notice, he quickly inked his PTO and had to scrounge up some equipment that included a pair of pads borrowed from Enroth, Ryan Miller's old glove and blocker, and a helmet that just happened to be lying around. By the second period, he was ready to go if needed. "If I would go in, I would have fun, I know that," Irbe told NHL.com. "Once a goalie, always a goalie."
Like Irbe in Buffalo, Roloson is a coach, but emergency netminders can come from anywhere. Last year the Canucks brought in Rob Laurie, a 43-year-old roller-hockey player, to back up Eddie Lack after Roberto Luongo got hurt.
Emergency goalie fraternity grows as Maple Leafs sign Canadian collegians
Last month, when the Avalanche lost both Semyon Varlamov and Reto Berra to injuries, the team called up Calvin Pickard and later Sami Aittokallio, who were both playing for the Lake Erie Monsters of the AHL. Pickard gave up seven goals on 63 shots during his two games with Colorado. After Pickard and Aittokallio, the Avalanche's emergency replacement is defenseman Erik Johnson.
In the NHL, an emergency replacement goalie is much like the player on baseball's 25-man roster who is designated as the emergency catcher—it's usually someone who once played the position in high school for a game or two. It shouldn't surprise anyone that Anton Volchenkov, a superior shot blocking defenseman, once played in goal for one of his youth teams.
In 2010, when LaBarbera was a member of the Coyotes, Phoenix lost goalie Ilya Bryzgalov and was unable to activate Sean Burke, its regular emergency backup, or to call up one of its minor-league netminders in time for its next game. (Because Burke had played in the NHL, the Coyotes had to wait 24 hours before they could activate him.) Phoenix instead called upon Tom Fenton, a one-time college goalie who hadn't played in two years. Fenton was getting his hair cut at the time he got the phone call and assumed a friend was playing a joke on him.
Sometimes, an emergency backup's connections to hockey can be rather thin. If they can spell hockey, they could be in. When the Sabres traded Miller to the Blues last season, Buffalo had no time to grab someone from the minors. So the team called upon Ryan Yinz, a former video scout who was listed as the Director of Hockey Operations at Buffalo's Harbor Center, which is owned by the team. Yinz's most recent goaltending experience consisted of a walk-on attempt with the college team at Clarkson in 2007. He didn't make it, but he did talk his way into becoming the Golden Knights' video coordinator.
Then there was the night in 2003 when Vancouver called upon a sous-chef to suit up. Chris Levesque was a backup goalie for the University of British Columbia Thunderbirds who would finish his career with five wins in 47 games. Amateur regulations prevented the Canucks from calling up the Thunderbirds' top two goalies, both of whom were on full scholarships. Levesque—an aspiring chef who was busy studying for a geography exam when Vancouver tracked him down—was not. The Canucks' starting goalie, Dan Cloutier, had injured his groin that morning, too close to game-time for the team to call up their preferred replacement, Alex Auld, from the Manitoba Moose of the AHL. Primary backup Johan Hedberg got the start, but Vancouver needed a No. 2 and inked Levesque for a day. He nearly got into the game against the Penguins that night when Hedberg collided with a Pittsburgh player and suffered what turned out to be a broken wrist.
It's hammer time: More tales from the NHL's second-string goalies
Sal Messina was the Rangers' radio color commentator. He was also New York's emergency goalie for several years. Marv Albert, the team's play-by-play man, gave Messina the nickname "Red Light," which stuck through Messina's final broadcast in 2002.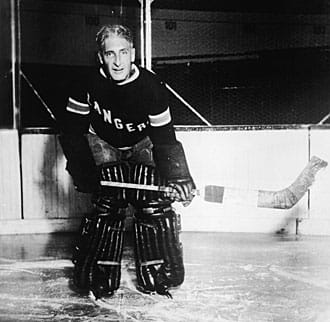 One famous emergency-goaltender caper involved Lester Patrick, the Coach and GM of the Rangers. At 44 in 1928, he had long been retired as an NHL defenseman. Teams didn't carry spare goalies back then, so after Lorne Chabot, New York's starter, took a puck in the eye, Patrick came in as an emergency replacement. He stopped 18 of 19 shots and helped the Rangers win a Stanley Cup.
The Blackhawks won the Stanley Cup in 1938, and for one game in the finals, they trusted the net to Alfie Moore, a journeyman minor-leaguer, who subbed in when starter Mike Karakas suffered a broken toe and couldn't get his foot into his skate. Chicago coach Bill Stewart dispatched a search party to locate Moore, who was finally found in a local saloon. With a few drinks in him, Moore spotted the Hawks' crew and asked if there was any chance they might have an extra ticket to the game that night. Instead of a ticket, however, he got a cold shower and had hot coffee forced down his throat. He won the first game, 3–1. Though he didn't play again in the series, he did get his name on the Cup and on an inscribed watch that Stewart ordered for him as a token of thanks. But the bigger prize for Moore, by far, was his moment of fleeting glory.