Power Rankings: Blackhawks hold top spot as Sharks, Leafs rise from deep
Chicago Blackhawks hold on to the top spot in SI.com's NHL Power Rankings as Sharks and Maple Leafs rise from the deep.
Welcome to the latest installment of our 2014–15 NHL Power Rankings. After four weeks of various teams jockeying at the top, we have a repeat No. 1 as the Blackhawks edged the Ducks in our polling. Our three scribes—Allan Muir, Sarah Kwak and Sam Page—submitted their choices for the league's Top 10. The rankings for the all 30 teams have been weighted according to ancient Babylonian accounting principles as well as how high each club came in on our writers' ballots. In some cases a purely intuitive, wholly unscientific and no doubt deplorable method was used to break ties, rank teams that were chosen by only one or two writers, and antagonize the general public. We've presented the 30 teams in groups, with the Top 10 receiving the most trenchant commentary. Overview paragraphs precede the Middle 10 and Bottom 10. Weekly movement up or down has been noted. So without further ado, commence to stew!
1. Chicago Blackhawks
PREVIOUS: 1
RECORD: 21-9-1
Last week: 3-1-0
2. Anaheim Ducks
PREVIOUS: 3
RECORD: 21-6-5
Last week: 3-0-0
3. St. Louis Blues
PREVIOUS: 8
RECORD: 20-8-2
Last week: 2-0-0
4. Pittsburgh Penguins
PREVIOUS: 7
RECORD: 20-6-4
Last week: 2-0-1
5. Nashville Predators
PREVIOUS: 5
RECORD: 19-8-2
Last week: 2-1-0
6. Tampa Bay Lightning
PREVIOUS: 4
RECORD: 19-10-3
Last week: 1-3-0
7. San Jose Sharks
PREVIOUS: 16
RECORD: 17-11-4
Last week: 3-0-0
8. New York Islanders
PREVIOUS: 2
RECORD: 21-10-0
Last week: 2-2-0
9. Detroit Red Wings
PREVIOUS: 6
RECORD: 17-7-7
Last week: 0-1-2
10. Toronto Maple Leafs
PREVIOUS: 15
RECORD: 18-9-3
Last week: 4-0-0
[pagebreak]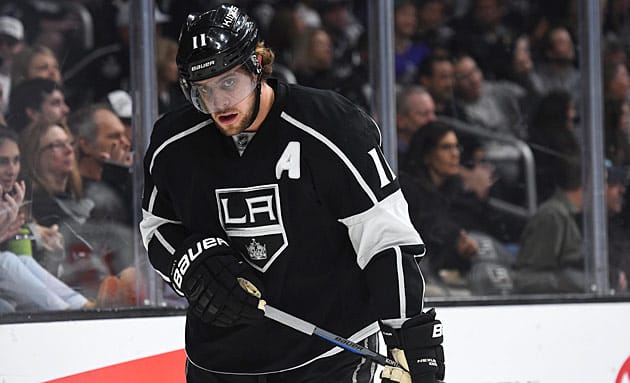 We're still waiting patiently for the Kings to break out. They're a fine team; their two Stanley Cups in three years prove as much. But they continue to struggle offensively. They rank 17thin goals per game and their power play is connecting just 15.5% of the time. Anze Kopitar, their leading scorer in each of the last seven seasons, has just 13 points, good—so to speak—for seventh on the team. 
Meanwhile in the Eastern Conference, it now seems inevitable that a truly pedestrian team will sneak into the playoffs and get torched in the first round. Here's hoping for an intrastate Florida beat down. And are the Bruins really this bad? The numbers don't lie. Their offense is down .7 goals per game from last season, the largest drop of any team in the league. On defense, they're allowing .49 goals per game more than they did last season. Add it up and that swing of 1.19 goals has them on the outside looking in.  
11. Montreal Canadiens
PREVIOUS: 12
RECORD: 19-10-2
Last week: 2-0-0
12. Los Angeles Kings
PREVIOUS: 11
RECORD: 15-10-6
Last week: 1-2-1
13. Vancouver Canucks
PREVIOUS: 9
RECORD: 18-10-2
Last week: 0-2-0
14. Minnesota Wild
PREVIOUS: 13
RECORD: 16-11-1
Last week: 2-1-0
15. Calgary Flames
PREVIOUS: 10
RECORD: 17-13-2
Last week: 0-4-0
16. Winnipeg Jets
PREVIOUS: 17
RECORD: 15-10-6
Last week: 1-1-1
17. New York Rangers
PREVIOUS: 19
RECORD: 14-10-4
Last week: 2-0-0
18. Boston Bruins
PREVIOUS: 14
RECORD: 15-13-2
Last week: 0-1-1
19. Washington Capitals
PREVIOUS: 18
RECORD: 14-10-5
Last week: 2-0-1
20. Columbus Blue Jackets
PREVIOUS: 25
RECORD: 12-15-2
Last week: 3-0-0
Six wins in a row for Columbus. Seven of nine for the Sabres. All of a sudden both teams are closer to a playoff spot in the wide open Eastern Conference than they are the cellar. Can they keep it up? Buffalo remains a long shot, if only because goalie Jhonas Enroth can't possibly maintain his smoldering pace (his .935 save percentage at even strength ranks sixth). But the Jackets are finally emerging from a hellish bout of injuries and only now starting to play like the playoff participant they were last season. Don't bet against 'em this time around.
Clock ticking on GM Craig MacTavish after Oilers fire Dallas Eakins
Say hello to rock bottom, ye Oilers who have won all of one game since Nov. 11 and kicked coach Dallas Eakins to the curb. It's already been a long road in Edmonton and it doesn't seem like an end to their rebuild is anywhere in sight. What's that about a top pick in next year's draft? Yeah, well, the Oilers have had plenty of those and still, here they are. It's sick. Commissioner Gary Bettman needs to relegate Edmonton to the AHL andaward Connor McDavid to the Las Vegas expansion franchise.
21. Florida Panthers
PREVIOUS: 20
RECORD: 12-8-8
Last week: 1-0-1
22. Ottawa Senators
PREVIOUS: 23
RECORD: 12-12-6
Last week: 1-1-1
23. Dallas Stars
PREVIOUS: 21
RECORD: 11-13-5
Last week: 1-1-0
24. Buffalo Sabres
PREVIOUS: 28
RECORD: 13-16-2
Last week: 4-0-0
25. Philadelphia Flyers
PREVIOUS: 26
RECORD: 11-13-5
Last week: 2-0-1
26. New Jersey Devils
PREVIOUS: 24
RECORD: 11-15-6
Last week: 0-2-2
27. Colorado Avalanche
PREVIOUS: 22
RECORD: 10-13-7
Last week: 1-1-1
28. Phoenix Coyotes
PREVIOUS: 29
RECORD: 10-16-4
Last week: 0-1-1
29. Carolina Hurricanes
PREVIOUS: 27
RECORD: 8-18-3
Last week: 0-2-0
30. Edmonton Oilers
PREVIOUS: 30
RECORD: 7-19-5
Last week: 0-4-0