Looking Out For No. 1: Jack Eichel is an NHL team changing talent
Boston University's Jack Eichel has the speed, skills and temperament to change an NHL franchise for years to come.
This story appeared in the December 29, 2014, issue of Sports Illustrated magazine.
Before the third period of Boston University's game against Colgate last month, Bob Eichel and his wife, Anne, huddled in a corner of Agganis Arena, with their son's Terriers trailing Colgate 2–1. "Now the magic happens," Bob told Anne.
The evening's Houdini—their son, Jack—was a precociously inventive freshman center just four weeks past his 18th birthday. On his first shift of the final period the 6' 2", 194-pound Eichel took a puck at his skates and, in one motion, pushed it ahead to his outstretched forehand where no defender could reach it. He then darted past Colgate forward John Lidgett, with Lidgett hooking at his back in vain. Eichel, using a defenseman as a screen, then fired a wrist shot past the Raiders' goalie. The period was 16 seconds old.
The Terriers scored three more times, to win 5–2. Jack's season points total was now 27, tied for tops in the nation.
Jack Eichel stars as BU holds on to defeat North Dakota in Frozen Four
​Eichel had all of 16 college games under his belt, but in his signature skills—safecracker hands and explosive initial strides—the hockey world could already see the sport's future. The native of North Chelmsford, Mass., may be the most hyped U.S. prospect since Bobby Carpenter, who was dubbed the can't-miss kid by SI in a 1981 cover story. Indeed, in any other year Eichel would be certain to be the No. 1 pick in next summer's NHL draft, a lock to become just the seventh American taken in the top spot since the draft began in '63 and a worthy successor to Blackhawks star and two-time Stanley Cup champion Patrick Kane (2007) and '14 Hockey Hall of Fame inductee Mike Modano (1988). But 2015 is shaping up to be not just any year for NHL talent evaluators. "One and one-A," says Craig Button, a hockey analyst for TSN and a noted draft guru. "Connor McDavid and Jack Eichel. When do you see two players like this?" For years the presumptive No. 1 pick in 2015 was to be McDavid, the 17-year-old Canadian-born forward now playing with the Erie Otters of the OHL.
McDavid has been the next big thing since he was 13, when he started gaining national acclaim for his play in Toronto-area youth leagues. In 2012, Sidney Crosby, no stranger to the hockey hype machine, said, after watching McDavid, "He reminded me of myself."
Eichel may not have Crosby gushing about him, but his emergence over the last year has put a dent in the McDavid coronation plans. (Eichel has not committed to leaving BU this summer, though few doubt that he will.) That's partly because McDavid has missed a month this season after breaking his right hand in an on-ice fight. Eichel, meanwhile, has played himself into top-pick consideration, leading BU, the No. 2 team in the country, to an 11-3-2 start. They may be the best one-two picks since 2004, when Alex Ovechkin and Evgeni Malkin went first and second. "These two are in that class," says Button. "If I had the first pick, I would give them equal consideration." Under the NHL's lottery system the team that finishes 30th is guaranteed a top two selection. So for the team at the bottom of the league in '14-15, losing will have its rewards, tanks very much.
The cold was never the problem. The man and his son could always hop up and down and blow warm air into their gloves. But the mist and poor lighting at the pond outside their North Chelmsford home would become trouble around 5:30 p.m. during those long New England winters.
"Um, Jack, can you still see?" his dad would ask.
"Not really," came the answer. "Can you put the next one on my backhand?"
Playing in the dark was good practice. Bob Eichel told his son, "Don't look down at the puck or you won't see the play in front of you."
Top NHL Draft prospect Jack Eichel headlines Hobey Baker Award finalists
​Bob, a manager at F.W. Webb plumbing company in Lowell, and Anne, a nurse at the Boston Medical Center, moved to North Chelmsford, a town of 8,500, in 1990. "It's a nice area," the local priest told Bob, "but I'm afraid you're stuck in the working-class part of town."
"So what's wrong with that?" Bob said. There were textile mills and factories, and there were also ponds.
"I never wanted to leave the ice," says Jack. "Nobody pushed me. I just never wanted to do anything [else]."
In the summer he played roller hockey with his neighbors. The Eichel house was near the end of a cul-de-sac, which made for some geometric imperatives for those on in-line skates. Hug the sharp turn. Watch the curb. Mind the plants. Hop over the bumps, but don't let the ball slide off your stick. When he joined the Boston Junior Bruins at 13, Jack would avoid contact with older, bigger players with the agility he had developed navigating the cul-de-sac. In just his second season on the team, he amassed 86 points in 36 games. He received scholarship offers from BU and Boston College just before his 15th birthday. Jack Parker was BU's coach for 40 years before retiring in 2013; he remembers the Eichel family's first visit to the school in '11. "We didn't know if he would even go to college," Parker says. "His family asked about courses, academic advisers, study halls before they asked about hockey. After that I really thought we had a good chance."
A year earlier Jack had started weight training at Mike Boyle's gym in Andover. By the time he was 16, he was hoisting a 300-pound bar. He is now the 18-year-old forward too swift and too strong for any college defense. "By the time you've figured out what he's doing, he's done it," says Colgate coach Don Vaughan. "You try to take his space, but he already has it." During a weight drill at BU last month, Eichel cleaned 330 pounds, while none of his teammates reached 300.
In April 2013, the muscular rink rat led the U.S. team into the U-18 world championships in Sochi. But in the first game he took three penalties, and by the end of the tournament, he was barely on the ice. Canada topped the U.S. 3–2 in the final and McDavid was named tournament MVP. Once Eichel returned home, he trained himself into the ground. He was the leading U.S. scorer the next year when the team won gold at the same tournament in Finland.
On a Thursday afternoon at BU, Eichel sits in the back of a classroom as a guest speaker in Rhetoric 101 asks about social media. "What are you doing when you post a picture or video on Facebook?" he asks. Eichel isn't the only one slouching, but when none of the 40 students raises a hand, he pipes up, "Advertising."
"What else?" the speaker asks.
"Letting people know what you're about," Eichel says.
"Exactly. You are showcasing your skill set."
A few surprises in Central Scouting's final 2015 NHL draft rankings
​Eichel's season is mirroring that afternoon in the classroom: seeming inaction followed by a sudden strike. In their first 14 games the Terriers scored four goals in the first period, but 29 in the third. Eichel recorded 16 of his first 21 points in either the third period or overtime. "Parts of the game come real easy to him," says Terriers coach David Quinn. That is both a blessing and a curse. Eichel simply out-skills almost everyone on the college level. "The best thing for him as a developing player is to go someplace where he learns that some of what got him here won't work any more," says Quinn.
At times Eichel has seemed to play games of chicken with overmatched defensemen, keeping one hand on his stick, dangling the puck and driving would-be checkers into purgatory with his opposite shoulder. But he won't find more physical NHL blueliners so easy to push around. Eichel has struggled with face-offs at BU (winning 43.9%), and Quinn has been trying to coax him to use his strength with free pucks. When Eichel loses a face-off, he has two sound choices: attack the puck carrier if he can reach him or, if the play is on his weak side, fall back into the passing lane to become the high man on the forecheck. Instead, he sometimes chooses a third option: self-loathing, with a shrug and a spin to the sideboard. "C'mon, Jack, be strong on it," Quinn barks from the bench.
Despite his speed, Eichel was getting thumped in the neutral zone during BU's first few games when he tried to stick handle the length of the ice. Quinn implored him to hand off the puck in his own zone and work to receive a pass near the opposition's blue line. As coach and star pored over video in Quinn's office last month, the lesson seemed to be sinking in. "See how fast they're on you in the Providence game [on Nov. 1]," Quinn said. "Watch what happens [a week later against UConn] when you make that first pass." In the second video Eichel flips a pass to his defenseman in his own zone, then turns into the passing lane just as he reaches the Huskies' line. "See, second man through, get it back, scoring chance," Quinn tells him. "You've had the puck so often, now you have to play without it."
Quinn has built a tight bond with Eichel. Quinn was a senior at Kent (Conn.) School when he read an article in USA Today that projected him to be the 16th pick in the 1984 draft. "Scared the heck out of me," he recalls. "I didn't have a scholarship yet. It was the first time somebody told me where I fit." The Minnesota North Stars chose Quinn at No. 13, but he opted for college. After three years at BU he was diagnosed with a form of hemophilia that ended his career. "I felt a lot of pressure," he says. "Jack has handled that so well. There is no resentment from his teammates. You could make a blueprint out of the way Jack has handled himself."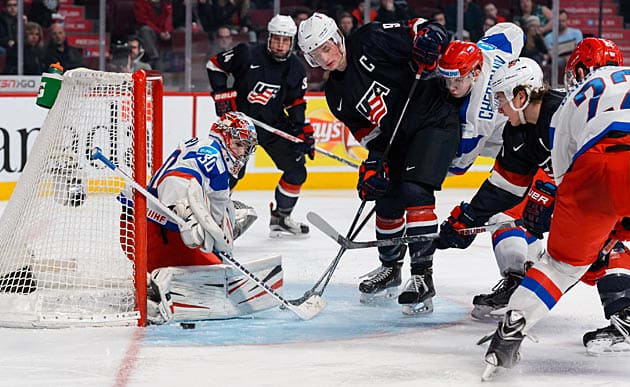 Eichel had always talked about staying close to home after spending two years of high school in Ann Arbor, Mich., with the National Team Development Program. He grew up a BC fan but preferred BU's urban landscape to sedate, suburban Chestnut Hill. Eichel let his family know his decision by handing his dad a BU hat and his mom a BU sweatshirt. "It's the best choice I could have made," Jack says. In his first appearance for BU, on Oct. 4, he had five primary assists in a 12–1 exhibition victory over St. Thomas. He had a four-point game in his regular-season debut against UMass six days later.
Though they are almost never on the same ice, comparisons between Eichel and McDavid are unavoidable. The 6' 1", 187-pound McDavid has greater end-to-end speed and a more varied arsenal of scoring weapons. But in traffic Eichel moves with measured subtlety, his deft passes in tight spaces finding seams in the defense. He can use his reach to corral the puck or break up opponents' passes and can carry the puck through traffic near his skates. On the rush, opposing defensemen misjudge the length of his stride. By the time they realize their mistake, he has shot past them. Says Button, "I haven't seen a player move that well laterally since, I don't want to say Mario Lemieux, but he is like Mario. With his long reach and control, he has a unique ability to put the puck where you can't get it."
"I'm not competing with Connor," says Eichel, whose teams are 1–2 against McDavid's in international competition. "I'm glad to be in the conversation with him. Each of us wants to make a pretty big mark." The pair will meet again at the world junior championships, in Montreal on Dec. 31. (Both players had an assist in Canada's 5–3 group-stage win. McDavid and Canada went on to win the tournament, defeating Russia—which had beaten the U.S. 3–2 in the quarterfinals—five days later in the finals, 5–4.)
After that Eichel, one of 10 freshmen on a young BU team, will set his sights on an NCAA title. Following a down recruiting year and Parker's retirement, the Terriers dropped to 10-21-4 last season, their worst record since 1962–63. "Jack changed that," says Mike Eruzione, the captain of the 1980 U.S. Olympic team and now Director of Special Outreach at BU, his alma mater. "He's not just the face of our hockey team; he's the face of USA Hockey."
So Eichel can change a whole program. Can he change an NHL team? We'll soon see.