The indomitable Henrik Lundqvist shines again in Rangers' Game 7 win
Henrik Lundqvist proved again why he's the best goaltender in high-pressure games with a dominant performance in the Rangers' 2-1 OT win over the Capitals in Game 7.
NEW YORK — If the eye test doesn't prove how well New York Rangers goaltender Henrik Lundqvist has played this postseason, then his historic playoff numbers will.
Throw out any stat of Lundqvist's—his 19 goals surrendered in 11 games during the playoffs, his six consecutive Game 7 victories (in which he's saved an astounding 179 of 184 shots), or his role in helping lead the Rangers to 10 consecutive victories in elimination games at home—and there's proof that he has been nothing short of spectacular.
"He's amazing," Rangers defenseman Keith Yandle said of Lundqvist after the Rangers beat the Washington Capitals, 2–1 in overtime in Game 7. "He comes to work every day and it trickles down throughout our whole group. To see the best goalie in the world doing that every day, it really helps us, and helps us get through it. To have his poise and what he brings to the table, it really helps."
Rangers end Capitals' season with Game 7 OT win, advance to East Final
One of the few streaks that was broken on Wednesday was the run with Lundqvist during which the Rangers hadn't trailed in their previous five Game 7s. The last time New York didn't have a lead in such a contest was back in the Capitals' 2–1 victory in 2009. That streak ended when Caps forward Alex Ovechkin scored around 13 minutes into the game. Washington's captain received a nice backhanded pass from Marcus Johansson, and shot the puck past Lundqvist. Most of the Capitals' opportunities came in the first period, and they went into the intermission up 1–0 with 15 shots on goal.
The Rangers dominated in that category after that and Lundqvist didn't face more than eight shots in a period the rest of the way. New York's defense played well in front of its goalie, including after the Rangers were down to five blueliners when Dan Boyle left the game after sustaining a hit to the head.
Lundqvist was tested heavily in overtime. There were several shifts early in the period where the Capitals were able to keep the puck in the Rangers' end. "You know everything is on the line," Lundqvist said. "The last five minutes of the third period and overtime, you know one mistake and it's all over."
But "that's what good teams do to you," New York defenseman Marc Staal said, and the Rangers were able "damper that a little bit."
"You've just got to stay with it," Staal said. "You need a good block, a big stick, a big save in those situations. You always try not to panic."
The NHL's Great Game 7s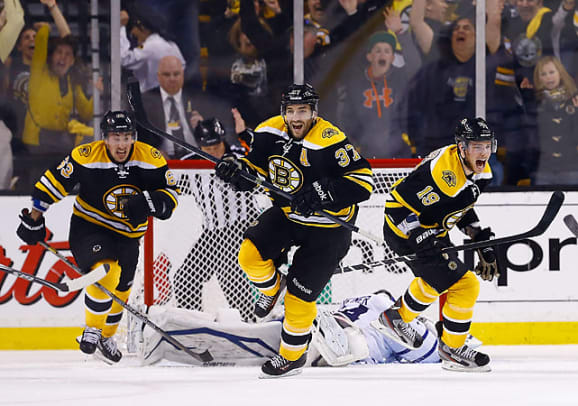 This team is able to not panic in part because of Lundqvist's uncanny ability to stay calm, and according to Yandle, that has rubbed off on the rest of the team.
"Every day he comes to work and he puts in his work and it shows it on the ice how calm and confident and how good of a player he is, and how professional of a player he is. It's a guy we can really feed off of." 
There's one more statistic that has defined Lundqvist during his career: The goalie is just one of two who have played in at least 100 postseason games (Lundqvist is 16th on the list with 104 appearances) without winning the Stanley Cup.
The victory in Game 7 over the rival Capitals brought Lundqvist one step closer to finally getting his name off of that short list.
"This series was fun," he said. "Washington played really well and [Braden] Holtby was outstanding. For me personally it was a great challenge to try to match that and stay in the game. It's fun when you feel like you are doing your part and then there are moments where the team steps up and scores the big goals."
#http://www.120sports.com/video/v124260736/king-henrik-comes-through