Seven Wonders of the Hockey World: Impact people
Gordie Howe, Bobby Orr, Wayne Gretzky and Doc Emrick among hockey's seven wonders in the people department.
You've heard of the Seven Wonders? That list compiled by the Hellenic historian Herodotus noting the world's most spectacular manmade structures, from the Great Pyramid of Giza to the Colossus of Rhodes?
His recognition of ancient marvels served as a guidebook for tourists of his time and inspired countless similar lists over the ages, honoring architectural and engineering achievements ranging from the Great Wall of China to the Panama Canal.
Seven Wonders of the Hockey World: Places a fan must visit
Though not as well known (or as visible from space), the hockey world has its own marvels, too. People, places and things that are revered by generations of fans. And after lengthy consideration, we've catalogued seven in each of those three categories that deserved to be honored for posterity.
In this, the second installment of our three-part series, we take at look at the seven living men who, each in his own way, have left a unique and indelible mark on the game.
Scotty Bowman, retired coach
Here's the thing you need to know about Scotty Bowman. Few of his players over the years liked him. In fact, many actively despised him. But as Ken Dryden wrote in his seminal book, The Game, that didn't matter.
"What [made] Bowman work is an understanding, the understanding that must exist between a coach and his team," Dryden wrote. "He knows the most important thing to a team is to win; we know he does what he does to make us win."
Legendary coach Al Arbour was master motivator with special touch
ront office executive, including one this past season as a special advisor to his son, Chicago Blackhawks GM Stan Bowman.
It all adds up to a legacy unmatched in the history of the game and one that's made him the professor emeritus of the hockey community. If there's a question asked, there's no one who can answer it with more authority than Bowman.
Don Cherry, broadcaster
You either love him or you hate him. There's little middle ground when it comes to Don Cherry. But no matter which side you're on, there's no denying that he's used his Coach's Corner pulpit on Hockey Night In Canada to fashion himself into the single-most influential voice in hockey today.
While the former Jack Adams Award winner (Bruins, 1976) is criticized by some for his abrasive, anti-modernist approach, Cherry is equally beloved for his devotion to old-time hockey and the code of honor that made the game great. A former minor league defenseman from 1954-72 (he played in one NHL game), he earned the distinctive nickname "Grapes" (the origin of the nickname varies from the shape of his head to his discontent—sour grapes—at being stuck in the minors and developed a fondness for his trademark flashy suits.
But what makes Grapes so good at what he does—and such a national treasure that he was once voted one of the 10 greatest Canadians of all-time—is that he's not just another talking head poking at raw nerves for the sake of showmanship. He simply offers his truth, one unfiltered glass at a time ... and he doesn't care whether you take a drink or not. He's also not afraid to speak his mind on world events.
That consistent honesty means one thing: Don Cherry is the voice of the common fan. Love him or hate him, you have to pay attention when he speaks.
GALLERY: Don Cherry's Fashion Statements
Don Cherry's Fashion Statements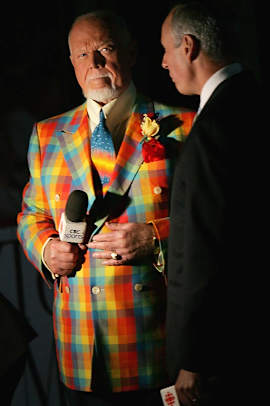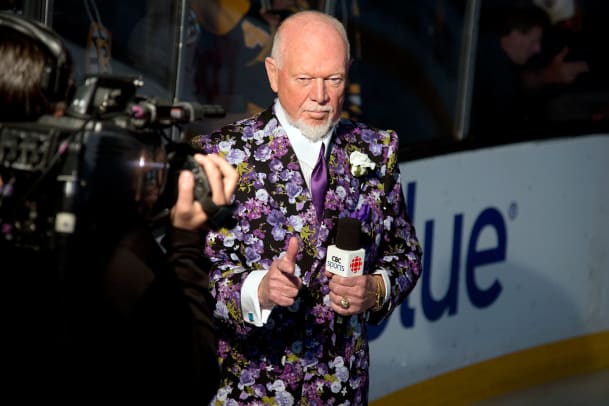 Doc Emrick, broadcaster
Mike "Doc" Emrick is, without question, the most visible and beloved figure in American hockey today. As the lead announcer for both NBC and NBC Sportsnet, he's the familiar and reassuring voice of the game and its greatest ambassador, capable of selling a meaningless mid-February clash between Carolina and Phoenix to a casual observer as though it were a Game 7 in the playoffs.
His passion for the sport shines through in every broadcast, as does his remarkable command of the English language, which continues to amaze even his most diehard admirers. One of them catalogued the 153 unique verbs to describe the movement of the puck during one Olympic broadcast ... and that may have been a slow night for Doc.
Bob Chase, Doc Emrick's inspiration, still calling games at 89 and loving it
Emrick, who got his start calling games for the IHL's Port Huron Flags in 1973, won the Foster Hewitt Memorial Award from the Hockey Hall of Fame in 2008 for his outstanding contributions as a hockey broadcaster. In 2011 he became the first broadcaster named to the U.S. Hockey Hall of Fame and is a three-time Emmy Award winner for Outstanding Sports Personality, including 2014 and 2015. He's called 17 Stanley Cup finals, five Olympics, and earned the respect of everyone who's dealt with him along the way.
It's a legacy that led NHL Commissioner Gary Bettman to suggest that legendary broadcaster Vin Scully "is the Doc Emrick of baseball." Doc himself would never buy that, but in terms of his impact on the game the comparison isn't so far off.
Wayne Gretzky, retired player
He was, arguably, the greatest to ever play the game. In fact, there's a good case to be made that Gretzky made the greatest impact of any athlete in any sport. He won nine Hart trophies, a record for MVP awards by any player in North American professional sports. He led the Oilers to four Stanley Cups while setting a boatload of scoring records, capped by an astounding career record of 2,857 points.
SI Vault: Teen phenom Wayne Gretzky plays with maturity beyond his years
, to catch him. Gretzky tallied more assists (1,963) than any other player has points.
A case can be made that The Great One is the most important Canadian sportsman ever, with his success extending beyond the borders of NHL play. He set up one of the greatest goals in hockey history—Mario Lemieux's clincher in the 1987 Canada Cup—and built the team that claimed gold at the Salt Lake City Olympics, ending a 50-year drought for Canadian hockey.
But what really sets players like Howe and Bobby Orr and Gretzky apart is that their greatness extends beyond the ice. They proved to be the sort of people we all aspire to be.
"He's a gentleman and lives his life responsibly away from the rink," Hall of Fame Jean Béliveau, the Canadiens great who is still regarded as the epitome of class, once said of Gretzky. "I have a lot of admiration for his longstanding efforts to sell the game across North America."
Of course, for Gretzky it's not really about selling the game. He simply has an enduring appreciation for hockey and everything it has given him. And because of that, he's never forgotten what it's like to be the one asking for the autograph. That's why he always made time for fans, and found a way to make them feel special.
That's greatness right there.
Gordie Howe, retired player
Wayne Gretzky and Bobby Orr, who know a thing or two about the game, believe that Mr. Hockey set the standard by which all others are measured. "He is, he was, he will always be the greatest of all time," The Great One said at an event honoring Howe last winter.
"Gordie is, in my mind, the greatest ever," said Orr.
On And On And On And . . . : Gordie Howe, hockey's ageless wonder
It's hard to dispute their case. Howe skated for 32 years, 26 of them in the NHL, setting records for seasons and games played (2,186). He was named to the NHL's All-Star Team 21 times and ranked among the league's top-10 scorers in 21 consecutive seasons. Six times he was the league's scoring champion. Six times he was the MVP. Four times he was a Stanley Cup champ.
Every record worth owning, Howe held until Gretzky came along. "His numbers are outrageous and most of that was with the [Original Six] teams, when it was a lot tougher," Orr said. "I don't think there's any question. Play any way you want to play … he was special."
But as special as he was on the ice, Gordie has been an even better person off it. "Nobody handles people like Gordie. He's just a natural," Gretzky said. "He's at ease. He treats everyone the same, whether it's the prime minister of Canada or somebody that lives on a farm in Saskatchewan."
Ask anyone who's ever met Gordie and asked for an autograph or a photo and they'll tell you the same. He is the game's greatest ambassador.
Jaromir Jagr, forward, Florida Panthers
At 43, Jagr is the game's elder statesman and a seemingly ageless marvel. "A lot of people thought I was done," he told the Panthers website this summer after signing a new deal that will take him into for his 22nd NHL season, "but those young guys give me extra energy, extra life and I'm glad I can continue to play."
But Jagr isn't simply extending the clock. While he might not be the dominant player he was in his prime, his relentless devotion to training has allowed him to remain an effective offensive weapon at a time when most players are well into their retirement. Consider that during the final 20 games of last season alone Jagr tallied six goals and 18 points—enough to pass Phil Esposito for fifth all-time in goals (722), Adam Oates for sixth all-time in assists (1,080) and Ron Francis for fourth all-time in points (1,802). In May, he led the Czech Republic with six goals and was named the MVP of the World Championships.
And he's showing no signs of slowing down as he battles for the second spot on each of the all-time lists. In fact, after joining the Panthers ahead of the trade deadline last March, he posted a total shot attempt contribution (individual shot attempts plus passes that lead to shot attempts) per 60 minutes of ice time of 35.03, fourth in the league behind only Joe Thornton, Evgeni Malkin and Sidney Crosby.
"He's basically a freak of nature," Arizona Coyotes coach Dave Tippett said. "[H]is love and passion for the game are almost unparalleled right now. What he does at his age still and how much fun he looks like he's having, that's a rare commodity. I know I got to my mid-30s and I was thinking, 'Boy, I'm not sure how long I can do this,' and he's still going hard.... It's a credit to him as a player and his passion for the game."
Fortunately for fans everywhere, that passion still burns bright. "I'll play for Florida for at least one more season," he said after announcing his retirement from international competition. "And after an [NHL retirement] I'm still planning to come back and play in the Czech League." Ageless, indeed.
Bobby Orr, retired player
Red Fisher, the long-time Montreal sportswriter and member of the Hockey Hall of Fame, called Orr, "The best I've ever seen. He pulled me out of my press-box seat more often than Maurice Richard and Gordie Howe," Fisher wrote, "and more often than Wayne Gretzky and Mario Lemieux. He lifted the game to another level."
Before his career was cruelly cut short after just 12 injury-plagued seasons, Orr changed the nature of his position and, by extension, the game. He is the only defenseman to have won the league scoring title (he turned that trick twice) and holds the single-season record for most assists (102) and points (139) by a blueliner. Orr also won eight consecutive Norris trophies as the league's top defenseman and three consecutive Hart trophies as the NHL's MVP. He led the Bruins to a pair of Stanley Cups, accounting for the clinching goal in both. For good measure he holds the record for the highest single-season plus-minus rating with +124 in 1970-71.
He was tough as nails, too. Fisher recalled a bench-clearing brawl between the Bruins and Canadiens during Orr's first season. The rookie sought out Montreal's Ted Harris—by Fisher's estimation one of the two best fighters in the game at the time—and knocked him down. Twice.
In 1979, at age 31, Orr became the youngest player ever inducted into the Hockey Hall of Fame.
Since then, he has remained one of the game's great ambassadors, working as an agent to help younger players navigate the path to NHL stardom.
GALLERY: Bobby Orr Through The Years
Bobby Orr Through The Years