Blues, Blackhawks get playoffs started early
Possible opponents in the first round, Central Division rivals the Blues and Blackhawks met at United Center with home ice at stake.
CHICAGO — The Blues and Blackhawks knew that Thursday night's showdown was a likely preview of their meeting in the upcoming Stanley Cup playoffs. With just two games remaining in the regular season, St. Louis needed a win or overtime loss to secure home ice in the potential first-round series, whereas a win by Chicago in regulation would pull the Hawks within a point of their rival in the standings and give them a chance to open at home. Each team still had a shot to pass the Dallas Stars atop the Central Division, but the odds favor a St. Louis vs. Chicago first round battle in some form.
"We've planned accordingly, and we will try to win today's game with that in mind," Blackhawks coach Joel Quenneville said before the game.
As there so often is in early April, a playoff atmosphere engulfed Chicago's United Center as the game offered a thrilling and intense matchup between frenetic offense (17 goals in three previous games for Chicago) and elite goaltending (three shutouts in six games for the Blues' Brian Elliott). Something had to give as each team traded shots and hits until the final whistle.
Both Elliott and Chicago's Scott Darling were terrific, stopping 24 and 33 shots, respectively with Elliott thwarting Andrew Ladd on a penalty shot with 4:48 to go in the third period and the Blackhawks leading 1-0. Each team killed two penalties, with Chicago extending its run of perfection to 19 for 19 on the PK in its past seven games. And in keeping with the teams' black and blue tradition, St. Louis's Ryan Reaves and Chicago's Brandon Mashinter exchanged blows, resulting in two fighting penalties and a five-minute 4-on-4 in the second.
Ranking the NHL's Best Rivalries
Ranking the NHL's 10 Best Rivalries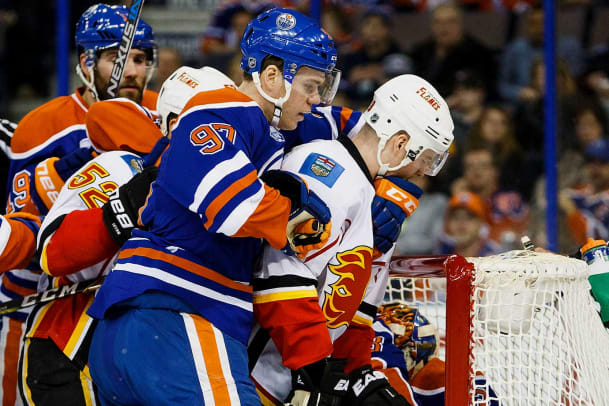 It wasn't until 12:40 into the second period that Jonathan Toews finally broke the scoreless tie, converting a pass from Patrick Kane by sending it past Elliott's left kneepad. It seemed the Hawks would walk away with a 1-0 win, but Vladimir Tarasenko beat Darling for the equalizer with just over a minute left in regulation. Then, with 1:23 left in overtime, Tarasenko scored his second goal of the game and 39th of the season to seal the Blues' 2-1 victory.
St. Louis has now won eight of its past nine, and continues to play excellent hockey down the stretch despite injuries to captain David Backes, goalie Jake Allen and forwards Robby Fabbri and Steve Ott. They remain tied with the Stars atop the division and can claim the Central outright if they get past Washington on Saturday, although Dallas owns the tiebreaker and must also lose to squander the title. No matter what, the Blues are guaranteed home ice for their first-round playoff series, and if they win the division, they will face Minnesota instead of Chicago, a considerable break given St. Louis's history of postseason disappointment and the ability of the defending Cup champions to elevate their play in the tournament.
The Blues have started a first round series at home in each of the past two years and lost both, once at the hands of the Blackhawks. It's almost enough to question whether home ice is truly an advantage for this team. But St. Louis coach Ken Hitchcock insisted that it is, and refuted the claim that the Blues don't really need it.
"That's what every coach says when he doesn't have it," he said. "You downplay it, but it might be the little advantage you need. I just think home ice validates all the work you put in, and you want to have it."
Ducks, Stars, Blues facing crucial goaltending decisions
​As for the Blackhawks, they are now five points out of the division lead and guaranteed to play Game 1 of the first round in either St. Louis or Dallas. But they've still won five of their last seven, certainly an improvement over the 6-9-3 stretch they endured prior to it. It's true that they haven't beaten a Western Conference playoff team since their victory over the Stars on February 6, but they've also dealt with injuries and roster turnover, and Quenneville was still pleased with the way his team played in a close game.
"We're missing five guys right now, in a game where I thought we played pretty good," Quenneville said. "I thought we did some good things in a lot of ways, a lot of areas."
The Hawks played without starting goalie Corey Crawford and forwards ArtemAnisimov, Marian Hossa and Andrew Shaw. Defenseman Duncan Keith is still suspended. But there are plenty of reasons to be optimistic. Darling has played well in Crawford's absence. Toews is looking like himself again, with a goal in each of his last three games. Patrick Kane and ArtemiPanarin are playing at a cheat code level, now having 19 combined points in their past four games. The Breadman has played especially well of late, so well that Kane, who has a Calder Trophy on resumé, laughed off comparisons between their rookie seasons.
The SI Extra Newsletter Get the best of Sports Illustrated delivered right to your inbox
Subscribe
​
"His is far and away better than mine," Kane said. "He's come into this league and been an impact player right away, and has a presence on the ice every time he's out there … he's probably way more of a threat than I was during my first season in the league."
Tragedies color Alex Pietrangelo's outlook on life
​Injuries will be a factor for both of these teams going forward. St. Louis is just as banged up as Chicago; they'll be without Backes and Allen for the remainder of the regular season, and they're still waiting for Fabbri to return. Luckily, Elliott is playing like the best goaltender in the league right now, and they won't need Allen if Elliott stays healthy. The veteran showed again on Thursday night that he can singlehandedly win a game against a potent offense, which is a recipe for success in the playoffs. 
The field is not yet set, but if Dallas can put Nashville away on Saturday, these two teams will be back at it next week at the Scottrade Center in St. Louis. If Thursday's game is any indicator, the hockey world will be in for a treat.