Misha Donskov playing a vital role in getting Las Vegas off the ground
Misha Donskov's backstory rivals that of anyone in the Las Vegas front office, and his experience is proving pivotal as the expansion franchise builds toward the NHL.
The cyclists dashed alongside the Rideau Canal, bumping and drafting and swerving for inside position. Earlier that September morning, the ranking members of Team Canada's coaching staff had gathered expecting an easy ride, some off-day fun during training camp for the 2016 World Cup of Hockey. Instead, when head coach Mike Babcock rolled into the rental station and declared, "Alright boys, it's a race," that coasting pipe dream turned into a wind-whipping Tour de Downtown Ottawa.
To the fellow NHL bench bosses and Hockey Canada assistants giving chase, Boston's Claude Julien, Chicago's Joel Quennville, Carolina's Bill Peters and Washington's Barry Trotz, Babcock's intensity came as little shock. For another staffer, though, seeing Babcock pedal ahead of the pack, and eventually finish first in the race, reinforced the value of the whole experience. "Everything to him is about winning and getting better," Misha Donskov says. "For me to spend time with him, I came away as a better hockey man."
Only by the grace of his new employer, the still-to-be-named Las Vegas expansion franchise, was Donskov allowed to keep working with Hockey Canada as it romped through the tournament, sweeping Team Europe in the championship round. But participating had always been the plan. When Donskov was formally announced as Vegas's new director of hockey operations—a title as wide in breadth as its occupant's background—on Aug. 8, he remembers GM George McPhee telling him of the World Cup, "You can't miss this. Even selfishly for us, I want you to be part of it, to grow as a professional."
McPhee, Las Vegas planning ahead for uncertainty of expansion draft
Now 11 months away from beginning its inaugural season, the assembled Las Vegas front office has blended experience with fresh blood. McPhee helmed the Capitals for 17 seasons, director of amateur scouting Scott Luce worked in Florida since 2002 and The Hockey News called special advisor/pro scout David Conte the "right-hand man" of former Devils GM Lou Lamoriello. On the other side, capologist Andrew Lugerner comes from a New York City law firm, 25-year-old amateur scout Raphael Pouliot spent last season coaching in the Quebec Major Junior Hockey League and hockey operations analyst Tom Poraszka was discovered thanks to his work creating GeneralFanager.com.
With the possible exception of Poraszka, though, it's likely that no one serving under McPhee carries a more diverse backstory than Donskov, who turns 40 next April. He holds dual citizenship, his mother American and his father Russian, and the whole family operates a hockey school in Columbus, Ohio. He obtained an undergraduate degree in business administration and finance from Miami University in Ohio, and later a masters in Kinesiology from the University of Western Ontario. A former forward, he spent two years skating in Sweden and Norway. Later, he worked for a medical device company called Cardinal Health, first on the financial side and then selling products straight into the operating room.
"Hockey's been my passion, what I love to do, what's at my core," Donskov says. "I've always done it. I've always been involved. I knew it's what I wanted to do. I had to wait for the right opportunity to pursue it." He dabbled with part-time gigs while working for Cardinal, helping the Blue Jackets with their summer hockey schools and running summer camps for the Thrashers after getting transferred to Atlanta. But once it became clear the Thrashers were bound for relocation, Donskov did the same. "I quit, and people thought I was nuts," he says. Vegas would argue otherwise.
Behind the scenes: Las Vegas's NHL-ready T-Mobile Arena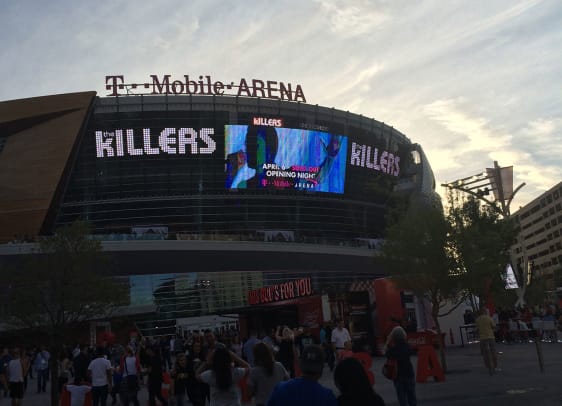 After leaving Atlanta, Donskov began marching up the ladder. The London Knights of the Ontario Hockey League hired him as an assistant coach and later promoted him to assistant GM, a path he then followed to a tee with the Ottawa 67's. He also started doing video analysis for Hockey Canada's teenage national squads, which led to a full-time gig as manager of hockey operations in 2014, which led to crossing paths with McPhee.
Impressed enough with Donskov's work ethic—"It's amazing, he's there at six in the morning and still there at 11 at night"—McPhee first offered him a job without having one to give. "I didn't know whether I was going to be a candidate for the Vegas job, but did tell him that if it ever happened I'd hire him in the role he was in now, because I think he's a front-office guy," McPhee says. "That's where he should be. As valuable as he is to the coaches, he's probably more valuable. He'll be a perfect conduit for us in the front office and to the coaches."
For Hockey Canada, Donskov became what VP of hockey operations Scott Salmond calls "our Swiss army knife." He developed the organization's analytics portal, created an in-house app so everyone can stay in touch during the NHL regular season, and twice won gold at the IIHF World Championships.
"We hired him in video and analytics, and by the end I thought he could've been a GM of our teams and still helped in other areas," Salmond says. "I relied on him as a sounding board. We did everything hand in hand, from coach prep to management to player evaluation.
Las Vegas owner Bill Foley is confident his new NHL team name is worth the wait
"I joke with George all the time. I should've tried to keep Misha hidden for him. To me, Mish won't be in that job longer. He's so talented that he's going to push the boundaries. He's going to be an assistant GM, he's going to be a GM. He's the perfect guy to help build an organization."
Donskov's responsibilities will be similar in Vegas. He had been prepping to leave for a Team Canada coaching staff retreat when McPhee called, formally asking him to come aboard, and leapt at the "once-in-a-lifetime-opportunity to start at ground zero." Since then, he's designed their scouting software, vetted outside analytics firms, and organized their video platform, logistical matters required before the coaching staff gets hired and the team gets on the ice next year. No wonder McPhee calls his hiring "automatic."
"We want to get up and running right away," Donskov says. "There's so much work we have in anticipation of the expansion and entry draft that we need to do. The quicker we get strategy under our feet, the better we're going to be."
In other words, he's already pedaling fast.