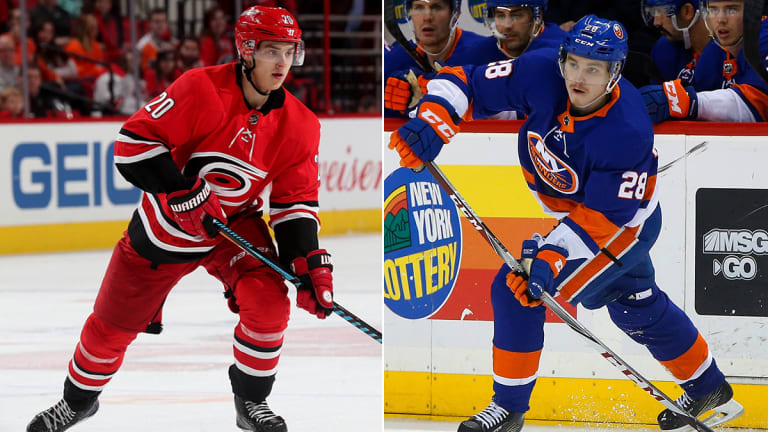 For the NHL's Two Sebastian Ahos, the Similarities Run Deeper Than Their Name
One plays forward for the Carolina Hurricanes; the other is a defenseman with the New York Islanders. But make no mistake, there's plenty of similarities between the NHL's two Sebastian Ahos.
Bear with us, please. This might get complicated.
Sebastian Aho is a second-year winger for the Carolina Hurricanes. He was born on July 26, 1997 and hails from Rauma, Finland, an industrial town with bustling ports along the eastern coast of the Gulf of Bothnia. He is listed at five-foot-11, 172 pounds and wears No. 20. His middle name is Antero.
Sebastian Aho is a rookie defenseman for the New York Islanders. He was born on Feb. 17, 1996 and hails from Umeå, Sweden, a riverside city located near the Gulf of Bothnia's western shore. He is listed at five-foot-10, 170 pounds and wears No. 28. On several occasions he has opened fan mail and reflexively autographed a trading card before realizing, Oh, wait, that's not me. "Sometimes I just send them back," says Sebastian Aho, whose middle name is Johannes. "It's kind of funny."
This is a story about the NHL's two Sebastian Ahos simply because there are two Sebastian Ahos in the NHL, a nomenclature novelty that either speaks to hockey's quirky universe or a growing lethargy among its gods. Either way, a future trivia factoid was consummated last New Years' Eve when Sebastian Johannes Aho debuted for the Islanders, logging almost 16 minutes in a 6-1 loss against Colorado, one night after Sebastian Antero Aho played his 100th game. The immortals in Highlander believed there could only be one. They said nothing about Hurricanes and Islanders.
For Hurricanes Goalie Cam Ward, Wine is More Than a Hobby
The Hurricanes chose Sebastian Antero Aho with the 35th pick in 2015. He was vacationing at the time, watching on a laptop from a Helsinki hotel room, "hoping for the best." After spending an additional year with Karpat, the Finnish team that his father Harri played for and now runs as general manager, he made Carolina's opening-day roster last season. Through Wednesday he has scored 45 career NHL goals, five more than everyone else drafted below him combined, and leads the Hurricanes with 46 points this season. "We saw this kid and loved him," general manager Ron Francis says. "I just wanted to make sure we got the forward. That's the one we wanted."
Sebastian Johannes Aho went unselected during that 2015 draft, just like he had in 2014, just like he would in 2016. "First year, I was having the biggest hopes," he says. "I thought I was going to go." He stayed positive as time passed, settling into a Swedish league career with Skelleftea alongside future San Jose Sharks defenseman Tim Heed. Then, magic. Last June, he had just started a Harry Potter movie marathon at home when his agent called: The Islanders had chosen him in the fifth round, no. 139, and needed him at development camp the next day. Rushing out the door to pack, he never even finished The Sorcerer's Stone. "I didn't think they were going to draft 21-year-old small defensemen," he says. "But they did. I'm happy."
Sebastian Antero Aho comes from a hockey family. He grew up around the Karpat players, studying the way his idols laced their skates and taped their sticks, before joining them 15 years later. He has an older brother, Samuli, whose name locals found hard to pronounce when Harri Aho spent two seasons in Sweden. So the next child that came along was called Sebastian. "They wanted an international name," he explains.
Sebastian Johannes Aho was similarly born into a hockey family; two brothers and sisters all play. Like an entire generation of burgeoning Swedish blueliners, he admired Nicklas Lidstrom. His father works in physiotherapy and his mother is a massage therapist. He isn't sure how they chose his name—Sebastian is relatively common among Swedes—but a family friend once asked if he had suddenly moved to Finland, having seen AHO, SEBASTIAN on a game sheet.
In the Islanders locker room, Sebastian Johannes Aho is nicknamed Sebby or C-Bass.
In the Hurricanes locker room, Sebastian Antero Aho is nicknamed Sebby, C-Bass, or Fishy.
It would be easy if the similarities stopped there. Here is Islanders defenseman Ryan Pulock, describing Sebastian Johannes Aho: "Obviously he's a good skater, a puck mover and really good in the offensive zone. He gets himself out of trouble just by using his speed. He sees the ice really well." And Carolina defenseman Justin Faulk, praising Sebastian Antero Aho: "He thinks at a high level, makes it tough for teams to just stay with him. He gets up and down the ice with the puck pretty fast. It's fun to watch every night."
At least Faulk knows how the Sebastian Ahos feel. After the Minnesota Wild shipped defenseman Justin Falk to the Rangers in 2013, Faulk received an email from his financial planner: "Have fun in New York!" "Check the spelling," Faulk wrote back. The financial planner shouldn't feel bad, though; word of the trade also momentarily puzzled Faulk's grandmother.
There are others, of course. On Nov. 24, 2008, Capitals center Nicklas Backstrom scored a power play goal against Wild goalie Niklas Backstrom. The '88-89 Vancouver Canucks made history by employing two GregAdamses. Two Alexandre Picards, born four months apart, competed for various Eastern Conference teams last decade. Imagine the cross-sport confusion that follows former Carolina defenseman Michal Jordan and Minnesota's Tyler Ennis. And surely the Hurricanes deserve shame for never promoting former AHL forward Erik Karlsson, thereby kiboshing any potential meeting with Ottawa's superstar blueliner. At least they atoned.
Q&A: Islanders Coach Doug Weight on John Tavares, the Olympics and His Dislike for Morning Skates
As relatively touted European prospects, Sebastian Antero Aho and Sebastian Johannes Aho had crossed paths on the big stage before; Sweden pounded Finland 10-0 in the 2014 under-18 world junior quarterfinals, and then 6-3 in the same round of the 2015 under-20 tournament. Bemused reporters wrote stories then, too. A newspaper gathered them together and snapped a picture. "We talked a little bit," Sebastian Johannes Aho says. "He seems to be a nice guy. It's not that weird. He's been pretty good the past couple of years."
Both players are good sports about the subject, each indulging questions after recent practices at their respective home rinks, but can offer little more than smiles and shrugs about their counterpart. Might as well be any other Metro Division dude, you know? "Just do my thing," Sebastian Antero Aho says. "Don't even think about it." Which means that the moment barely registered when Carolina hosted the Islanders at PNC Arena last week. The Hurricanes lost 3-0, temporarily relinquishing their hold on the second wild card spot. Sebastian Antero Aho skated 21:11, a team-high among forwards, while Sebastian Johannes Aho went pointless in 17:10.
It figures to be the first of many Sebastian Aho Showdowns, waged up and down the East Coast for years to come. Perhaps, however, they will join forces one day. Maybe then the hockey gods can prove that they are paying attention. "Probably a PR guy's nightmare," Francis says. "I don't know how you differentiate on the jerseys. You'd have to throw a middle name out there someplace."