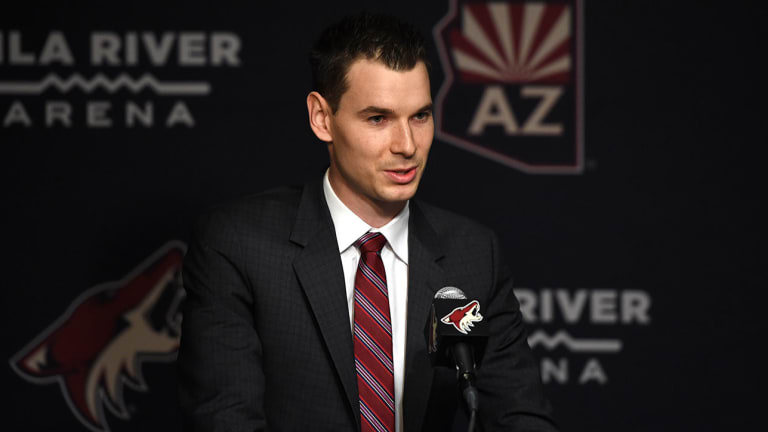 Q&A: Coyotes GM John Chayka on Seeing His Plan Come to Fruition and What Comes Next
John Chayka undertook a big task when he became the general manager of the Arizona Coyotes. Now, the 28-year-old is watching the first wave of his efforts begin to pan out.
One typically sun-splashed afternoon last week, Coyotes general manager John Chayka drove to the ballpark at nearby Salt River Fields for spring training practice. It was a trip that served both business and pleasure. Business because he spent time chatting up Diamondbacks GM Mike Hazen and assistant GM Jared Porter, sharing best practices and philosophies on everything from statistical analysis to human performance.
Pleasure because, as Chayka says, "It's Arizona. It's a beautiful place."
Indeed, few things can get the 28-year-old Chayka down in the desert these days. Entering Monday night's 5-2 home win against Calgary, the Coyotes are 12-5-2 since Feb. 7, by far the most encouraging stretch of an otherwise dismal year—heck, the past several years, probably.
The team still resides near the NHL basement, only one point ahead of Buffalo and jockeying for best lottery odds in the upcoming Rasmus Dahlin sweepstakes, and the formal boot from playoff contention swung before St. Patrick's Day. But goalie Antti Raanta had posted a .935 save percentage this calendar year entering the Monday. A deep defensive corps, including 19-year-old Jakob Chychrun, has rounded into form under first-year coach Rick Tocchet. And Arizona has controlled a respectable 50.5% of 5-on-5 shot attempts since Feb. 1, according to Corsica, far from the group whose 0-10-1 set an NHL record for season-opening futility.
"Some of the stuff we've been preaching and working on and hoping for to come to fruition is kind of happening," Chayka says. "We've still got a long way to go. But a lot of the things we hoped to occur have started to occur now. It's come along well. How do I handle it? Try to keep it going, that's all."
Keeping an eye on the Diamondbacks, who had hit the field for warmups when he called for this Q&A, Chayka spoke with SI.com about the Coyotes' ongoing rebuild, the contract status of defenseman Oliver Ekman-Larsson, and (curveball!) baseball simulations.
SI: What were those things you hoped to occur that have?
JC: We transitioned leadership over. Obviously we had Shane Doan here for a while. He retired and we get Oliver Ekman-Larsson and the leadership group with [Alex] Goligoski and [Niklas] Hjalmarsson and some good veteran guys like Derek Stepan, and I think they've really taken control of the room. [Tocchet] has done a good job making them understand like they have ownership. As things have progressed, some of that suffering early on has helped us to prosper. We integrated a lot of young talent, young players who are very talented but didn't know how to win yet. Now they're figuring it out, being able to close out games.
Then we always felt coming in that we had one of the top defensive units in the league. The last 20 games or so, they're playing like that.
SI: In what way can you tell that leadership is more cemented?
JC: Early on, we had some bad habits. We were reverting back to doing some things just to survive. We don't want to have a survivalist mentality. And that starts with leadership. They're pushing the guys along, helping them understand how to close out games. Early on, it's as painful as can be when you've got a lead with 10 minutes left, or you're tied with five minutes and give up a late one. But you've got to go through those growing pains in order to get to the next level. And right now I think our guys are at that next level.
Power Rankings: The Teams at the Top Are Sorting Themselves Out
SI: You used the word suffering. Did it feel like that?
JC: Yeah, it was painful. Whether it was players, whether it was coaches, whether it was staff, ownership, it hurts. You've got to suffer to be the best. I think you learn a ton through adversity, a lot about your teammates and yourself. I think we're better for it.
SI: What did you learn?
JC: I learned a lot about my coach. When I hired him, he was a guy who's won a lot as a player and a coach. You kind of wonder, is it just luck, is it timing, is he surrounded by certain people? Then I'm around him day in and day out and you understand, there's really no secret, there's no guesswork as to why he's won so much. He's a winner. He's got a winning mentality. When we're struggling and a coach steps up to a postgame press conference and says I've got to teach differently, I've got to coach better, I've got to make sure guys practice harder, I have to be better … to me, that's a level of accountability that transcends through an organization.
SI: Do you feel like the worst is behind you?
JC: Yeah, look, that doesn't mean there won't be ups and downs. It's a journey through a rebuild. But we just continue to trend upwards, that's what we're after here. Keep developing our young players, keeping putting them in good positions to have success, keep the pipeline of development … we view our team as coming in waves. We think this is the first wave, but we've got three or four strong ones coming. Look at Tucson, the way they've been playing. We've had nine draft picks all having a lot of success. We're going to keep coming.
SI: So you have a vision of how this all shapes together, how this all builds years down the line?
JC: You also have to diversify your risk, right? If you're only counting on a handful of players, life happens. Guys get hurt, guys drop off. We think we've got a group that continues to come in waves, then they'll hit and come at the right time together. That's how you build a winner in this league.
SI: What are your goals for the rest of the year?
JC: Keep playing the way we're playing, honestly. We've played extremely well. Young guys continue to grow and learn. We've played Nashville, lost in a shootout. We beat Minnesota in Minnesota. I thought we outplayed Winnipeg in Winnipeg. We're doing things that we haven't done in a long time here. Those experiences create a hope and a belief that's invaluable.
SI: Do you look at teams in other sports as models for a rebuild?
JC: Look at the Houston Astros. I think they had 4,000 season ticket holders when they took over. Talk about suffering, man. That's an organization that suffered for a while. But I think they just said, look, this is the plan. This is how we know we'll have success. We're going to make this plan fail us, instead of us failing it. Now they're World Series champions. It's hard. You have to stay disciplined. You have to have a quiet mind in order to do this job. That's my role and I'm sticking to it.
Capitals Sign GM Brian MacLellan to Contract Extension
SI: What's something you've learned from talking to baseball folks?
JC: I just had a half-hour conversation on simulations, trying to simulate results. It's a really powerful tool in baseball to understand the inputs that go into the simulations. Not just, okay, we're projected to win 88 games or whatever. It's, what are the inputs into that, how does it break down, and what's the risk of that? Some people look at it as an optimization problem. They're looking for great balance. Others are trying to maximize one area. Just different philosophies on that type of output.
SI: How advanced are the simulations in hockey right now?
JC: They're advanced. You've just got to put in the work and accrue the information, that's all.
SI: How'd you wind up approaching the deadline this year?
JC: Unlike years' past, it wasn't one where we had some significant assets that we felt were aged out or priced out of what we were willing to pay. There weren't guys who were obvious candidates to be moving on to accrue future assets. Our group was playing extremely well at the deadline. We feel like a lot of our talent is at the NHL level, so we want to give them the best environment to grow and prosper. We looked at some bigger things. We looked at some larger changes. But those are better suited for summer. But we wanted to put in some groundwork on some larger ideas and ultimately decided to stick with the group for the most part.
I need to do a better job of putting a group together that can win next year. We have ultimate flexibility. We have a lot of optionality. And now it's just about going through the process of building a great team.
SI: What have you made of Max Domi's year? His shooting percentage is really low [3.8% entering Monday, when he had a goal against Calgary], but that's a high-variance statistic.
JC: I think that's a good example of a young player who has a lot of success early, and then hits some adversity. I view it as a positive thing. He's had some unluckiness. Confidence struggles start to set in. He's playing a new system, trying to understand how the coach wants him to play, how he fits in the system. It's not been the year he'd like, but I also know he'll come back stronger too. I have no worries about Max Domi.
SI: How do you think Oliver's handled not only a tough year for the team, but a year where he's getting a lot of questions about his future as well?
JC: I'm really impressed with Oliver. This is, for my money, the best I've ever seen him play. It's not even close. He's played some games where he's probably had the most dominant performances I've seen in the league personally. Early on, that transition to leadership, it's a tough thing. A guy like Shane Doan means so much to the organization, and O's coming in trying to fill those shoes while playing a great game on the ice. I think it was a transition for him, just like for the rest of the team. But he's a No. 1 defenseman on the ice, he's a No. 1 person off the ice.
SI: Do you have a plan for how you want to approach this summer with him?  
JC: You're always having conversations with guys, especially guys with opportunities to extend or re-sign in the summer. I've had a lot of positive discussions. I think Oliver understands what we're about, the path forward. I know he's proud to be drafted by the Arizona Coyotes, loves the team and the organization and where we're headed. It's all been positive so far.
SI: Is this stretch valuable as far as convincing him—and other players—that you're actually headed in the right direction?
JC: Absolutely. Everyone needs belief. It's a long season. These guys make an awful lot of sacrifice in their lives to play at this level. They need to see that if you are going to suffer, there's a payoff.
SI: Has this stretch validated anything for you about Antti?
JC: He's an excellent goalie when he's healthy and in the net. He's won us some games. He's been probably one of our top players for this stretch and a big reason we've had a good stretch That's why we traded for him. That's why we believed in him as a starting goalie. But we also think that with the right program in place for the summer … first year as a No. 1 is a tough transition and I think he's learned a lot about himself and his body and what he can do to be even better.
SI: So then plan is to re-sign him?
JC: Absolutely, yep.
Southern Professional Hockey League Goes to 'Pick Your Playoff Opponent' Format
SI: What do you think about the draft class coming up?
JC: I was talking about that with these guys, the MLB draft even. We had the same opinion, that it's easy to look back historically and say this was a good draft, this was a bad draft. I don't think we do a good job projecting the draft class as a whole in the present time. But my sense is it's a strong draft with a lot of good players in it, some difference-makers. We're excited that we're going to have a high pick, a chance to be the No. 1 pick, and we're going to get another great young player to add to our group.
SI: Why are baseball and hockey similar that way? 
JC: We were just talking about positionally, their starting pitchers are like our goalies. They're so important that you can't win without them. But it's very hard to find an elite goalie in the first round. They spend a lot of money on high draft picks, starting pitchers that are very difficult to project. Positionally, when you start breaking it down, what you're looking for, there are guys who can go much later and be really high-end players.