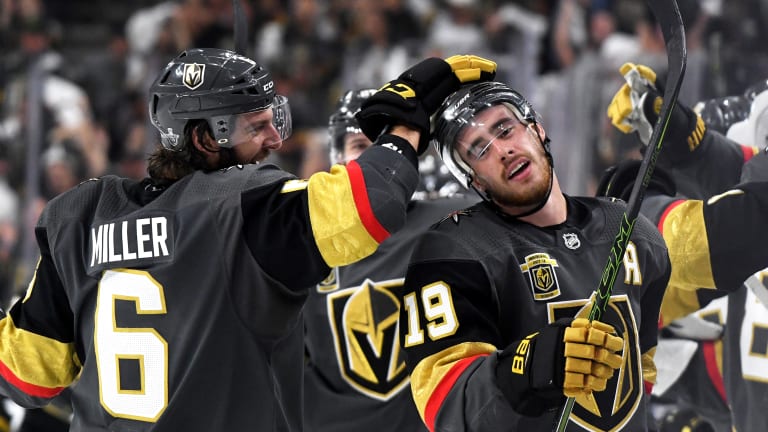 Stanley Cup Playoffs: Vegas Takes Game 4, One Win Away From Stanley Cup Final
The Golden Knights build their series lead to 3-1, making them a win away from reaching the Stanley Cup Final in their inaugural season.
Courage, bravery and strength. These are traits that may have described some knights of old. Resilience, persistence and skill. These are traits that certainly describe these Knights of Gold.
Vegas' top line continued to shine, its goaltender continued to dominate and the Knights won Game 4 in Vegas 3-2, leaving them just one win shy of the Stanley Cup Final in their first year of existence.
After conceding their lead, the Knights responded late in the game to seal the win. The Jets were pressuring in the offensive zone with Brandon Tanev patrolling behind the cage. He swung a pass up to the right point but Dustin Byfuglien, trying to step into a one-time slapper, whiffed. Reilly Smith picked up the loose change, beat both defenders down the ice, and then beat a crouching Connor Hellebuyck with a fluttering shot bardown and in to put the Golden Knights on top 3-2 with 6:58 to go, and the Jets could not answer back.
After a Disappointing Career Start in Tampa Bay, Brett Connolly Redeems Himself as a Capital
Vegas got going immediately in Game 3 with a goal 35 seconds in, and it didn't take much longer for the Knights to find the scoresheet in Game 4. With Tyler Myers in the box for interference, Reilly Smith passed to Jonathan Marchessault at the left circle, and he fed the puck through the lane for a Karlsson one-timer from the right dot. Karlsson didn't get all of the shot, but Hellebuyck couldn't get across in time, and Vegas had a 1-0 lead just 2:25 in.
"They're so good on the puck," Smith said of his linemates to NBC's Brian Boucher after the game. "They're able to slow the game down and make plays. It's been a treat all year being able to play with them."
Marc-Andre Fleury, fresh off a sterling performance in the previous game, kicked off the second period with a desperate stacked-pads maneuver to keep Bryan Little off the board less than four minutes in, but once Winnipeg finally got a power-play chance, there was little Fleury could do to stop it. Dustin Byfuglien passed to an unmarked Patrik Laine in the center of the left circle, and he uncorked a patented one-timer under Fleury's right arm to level the score.
But just as they have done so often this postseason, the Golden Knights got one right back. Pierre-Edouard Bellemare casually chipped the puck toward the goal from just inside the zone, but Hellebuyck, even more casually, failed to handle it properly at his left post. Bellemare beat Tanev to the loose change behind the cage and whipped a backhand back out in front where a crashing Tomas Nosek tipped it home. Nosek's penalty helped make Laine's goal possible, but he atoned with his first career playoff tally just 43 seconds later.
"I think guys are disappointed getting scored on," Vegas head coach Gerard Gallant said. "Nosek took the penalty and they scored and then he comes out the very next shift and scores the goal right back. That's a little coincidental, obviously, but it's working out for us and the guys are competing hard and battling hard."
Gallant, Maurice Took Long Road to Lead Golden Knights, Jets
Sometimes even the strongest walls have cracks. Jack Roslovic, inserted back into the lineup in place of an ineffective Joel Armia, cycled along the end boards and behind the cage, and set up Tyler Myers at the right dot. Myers took a quick wrister, and it squeaked straight through Fleury's pads to tie the game. Fleury never felt it and figured he had it trapped, but Mathieu Perreault, on the edges of the crease, knew the puck was in to even the score again.
"I wish I could've made the save so the game wasn't tied," the netminder quipped to CBC after the game, flashing his ever-present smile.
From there, the ice certainly felt tilted. Winnipeg got 10 shots on goal in the period before Vegas managed one. But Vegas, as it has seemingly done this entire postseason, responded as Smith pinged the game winner off the bar and in. Winnipeg finished with a 37-29 edge in shots on goal, but once again, Fleury was there to shut the door.
"What else is there to say that hasn't been said?" Karlsson told Boucher. "He wins games for us. He's a leader. He's been here before. He's everything, really."
"Flower's done a great job making huge saves for us. He's a big key," Smith said to Boucher. "The fan base is unbelievable, they give us a lot of energy when we're here. Winnipeg comes in waves and Flower did a good job of closing the door, our defense did a good job clearing pucks, and thank god we were able to get three past them."
On the other side, a few Winnipeg mistakes proved costly. Hellebuyck's continued poor puck-handling led directly to Nosek's goal, and one of a couple of giveaways from an uncharacteristically subpar Byfuglien led to Smith's, but their head coach refused to lay the blame for the loss at their skates.
"You're looking at two players that have been spectacular to get us here to the conference finals," Paul Maurice said postgame. "We won't talk about them [the mistakes]. This'll be the last time we talk about them."
Powering the Flower: Golden Knights Goalie Coach Dave Prior Teaches Marc-Andre Fleury New Tricks
Almost every time adversity strikes, Vegas responds. Almost every time Marc-Andre Fleury concedes a goal, though it hasn't happened often, Vegas gets one right back. It happened twice Friday night: less than a minute after Winnipeg tied the score in the second period, and fewer than eight minutes after the Jets tied it again in the third.
Vegas improves to 9-1 this postseason when it scores first, and it moves to one win away from a berth in the Stanley Cup Final. It wouldn't be wise to write off Winnipeg just yet, but, for now, the team from Sin City looks like a safe bet to hoist the Clarence Campbell Bowl sometime in the next week.
VGK leads series 3-1 | Full Recap | Box Score
HIGHLIGHT OF THE NIGHT
It wouldn't be a Fleury playoff masterpiece without a few stellar saves. Hey, it's Vegas, hit 'em with the old razzle dazzle! Bryan Little had this excellent rebound chance in the second period, but Fleury had enough time to slide over to his left post, stack the pads and get the glove up to deny the former Thrasher. I can almost hear Little's thoughts as he skates away: "If only I were a left-handed shot…"
 THREE STARS
Marc-Andre Fleury, VGK — Are you surprised? Flower's 37-save effort was his 12th outing with 30 or more stops, the third such game this series alone, and he once again gave his team every chance to win.
Reilly Smith, VGK — And win they did, thanks in no small part to this man. One of the postseason's leaders in assists, Smith was the one doing the scoring tonight, winning the game on a bardown riser in the late stages of the third.
William Karlsson, VGK — Sure, he scored another goal on the man-advantage in the first, his sixth tally of the spring, but "Wild Bill" had another subtly great all-around game, finishing with five shots on goal, three hits and a block, and wins in 64% of his face-off attempts.
LOOK AHEAD
Two wins in Tampa for Washington. Two wins in Washington for Tampa. The losing team has scored exactly two goals in each of the first four games, and now the Eastern Conference Final is officially a best-of-three. Lightning goaltender Andrei Vasilevskiy was heavily criticized for his performances in the first two games (and rightfully so: he was pulled in Game 1 and the Caps scored six goals in Game 2), but he's been fantastic in the two games since, stopping 36 shots in both games in the nation's capital to level the series.
Washington looked to be cruising toward the Stanley Cup Final, but after a pair of losses the onus is on the Caps to bounce back. How do they stop the bleeding? They can start by not taking penalties. Washington has been the better even-strength team for much of this series, even at times in Tampa's two wins, but Tampa's power play continues to strike like, well, lightning. We've lauded Lars Eller before, as the former Montreal Canadien filled in admirably for the injured Nick Backstrom earlier this postseason, but he was poor the last two games, taking five minor penalties just by himself. He isn't exactly fighting for a spot in the lineup, but that is absolutely not good enough. Washington is more than good enough to win this series—this might be the best extended stretch of hockey Alex Ovechkin has ever played, and Evgeny Kuznetsov has also been excellent—but as the series shifts back to Tampa the momentum belongs to the Lightning. Now we'll see if a home team can actually win a game in this series.