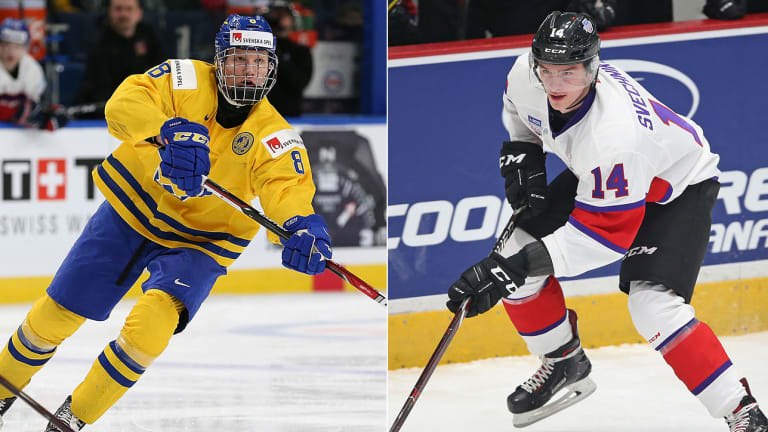 NHL Draft: Rasmus Dahlin, Andrei Svechnikov the Clear Top Prospects in 2018 Class
It's been long known that Swedish defenseman Rasmus Dahlin is the top prospect in the 2018 NHL draft, while winger Andrei Svechnikov has risen up the rankings. Here's a look at the notable names that will be selected in Dallas on June 22-23.
It's been long known that Swedish defenseman Rasmus Dahlin is the top prospect in the 2018 NHL draft, while winger Andrei Svechnikov has risen up the rankings. Here's a look at the notable names that will be selected in Dallas on June 22-23.
At this year's NHL Draft, the top two picks seem to be set in stone in defenseman Rasmus Dahlin and winger Andrei Svechnikov. What happens after that? No one knows for sure.
For what seems like forever, Dahlin has been locked in as the No. 1 pick, held by the Buffalo Sabres following the draft lottery. In recent weeks, Svechnikov has elevated himself from the rest of the bunch to emerge as the clear No. 2 choice—a selections held by the Carolina Hurricanes—says TSN Director of Scouting Craig Button.
"There's no question in my mind that Rasmus Dahlin is going to be in the National Hockey League next season," he says. "No question in my mind. Zero. Like any other player at 18, yeah, he's gonna have to learn as he goes along. I think Svechnikov is ready to play in the National Hockey League."
After those two picks, however, Button says there's not much to be certain of on June 22nd in Dallas. Any of a glut of players—centers Jesperi Kotkaniemi and Barrett Hayton, wingers Filip Zadina, Brady Tkachuk, Oliver Wahlstrom and Joel Farabee, and defensemen Evan Bouchard, Quinn Hughes, Adam Boqvist and Noah Dobson—could be selected somewhere between picks 3-13.
Sabres Get First Pick in 2018 NHL Draft Lottery
"I don't think there's a big difference between them," Button, the former Director of Scouting with the Dallas Stars and Calgary Flames GM says. But, never fear: all of these players could "without a doubt" turn into good, if not great, contributors for the team that selects them.
While Dahlin is clearly the top of the class, the 2018 draft is stocked with defenseman that could have a big impact in the NHL.
"For Hughes, Dobson and Bouchard, I see top-pair defensemen," Button says. "I don't see top-three, top-four; I see top pair. Not a No. 1—I'd call you a No. 1 if you were a No. 1—top pair means you can play on that top unit. I don't think any of them have what it takes to be in a lineup next year and sustain it. Bouchard, I think, is the closest."
For blueliners, it takes longer to learn and mature enough physically to handle the rigors and challenges of the big leagues, according to Button. That's not so much an issue for Dahlin, who posted seven goals and 20 points in 20 games with Frolunda HC of the SHL. His game was impressive enough to represent Sweden as the youngest player in the men's hockey tournament at the PyeongChang Olympics, though he drew in to just a pair of contests, tallying an assist.
"Dahlin is unique in that he is so advanced in so many areas, with or without the puck, and physically," Button says. "Watching him in the Swedish Hockey League, you would've never known he was 16 or 17 years old watching him play. Never. There was no way you could've known that."
With draft day fast approaching, Button shared with SI.com how he sees the top prospects in the 2018 draft:
FORWARDS
Andrei Svechnikov, RW 6'1", 188 lbs
2017-18: Barrie (OHL), 44 GP, 40-32-72
Button's take: "He reminds me a lot of Marian Hossa, in the way he plays, the way he attacks the game. He's a really highly skilled player. He's very smart and very powerful. There's not a situation in the game that he's incapable of excelling in. Marian Hossa was the prototypical all-around player, and I think Svechnikov has that type of game. He can score. He can make a play, he can play without the puck. He can penalty kill. He's just a really strong player. With what Svechnikov is capable of doing, we might look back on this as a one-two that was really, really special."
Filip Zadina, RW, 6'0", 198 lbs
2017-18: Halifax (QMJHL), 57 GP, 44-38-82
Button's take: "He's a very gifted offensive player. He's not just a goal scorer, he's also a very good playmaker. He doesn't play outside the dots; he's inside the guts of the action. He plays where it matters, where you get rewarded. Zadina is dangerous from the top of the circles down, and from the dots inside. That's a dangerous player."
Brady Tkachuk, LW, 6'2", 194 lbs
2017-18: Boston University (NCAA), 38 GP, 8-21-29
Button's take: "You hear so much about his intangibles, but don't ever overlook his tangibles. He's exceptionally smart, he's got excellent hands, he's a very good skater and going to get better. The game is played inside the dots, on the interior. All he does, whoever he plays with, is help teams win."
Brady Tkachuk Has a Chance to Add to His Family's NHL Legacy
Jesperi Kotkaniemi, C, 6'1.5", 188 lbs
2017-18: Ässät (SM Liiga), 57 GP, 10-19-29
Barrett Hayton, C, 6'1", 186 lbs
2017-18: Sault Ste. Marie (OHL), 63 GP, 21-39-60
Button's take: "I think they're top-line, No.1 potential centers. I compare Kotkaniemi to Anze Kopitar in terms of the way he plays the game, or an Aleksander Barkov, and I compare Hayton to Patrice Bergeron. I'm not saying they are those players, I'm saying they have a game that is similar to the way those guys play. If they get anywhere near the level of those two guys, they're going to be great players."
Oliver Wahlstrom, RW, 6'0 3/4" 195 lbs
2017-18: NTDP (USHL), 51 GP, 39-39-78
Button's take: "I think he is the best goal scorer in the draft. I think he's got a deadly shot. It's heavy, it's quick, it's accurate, he can score in a lot of ways around the net and he can flat-out beat goaltenders. And he's physically mature: he's closer to playing in the NHL than not."
Joel Farabee, LW, 5'11", 152 lbs
2017-18 NTDP (USHL), 51 GP, 26-34-60
Button's take: "I think Farabee is such a good player. I think he's one of those players that is so capable of doing so many things in the game. He can play up and down the lineup, in different roles to support other areas of your lineup, power play, penalty kill ... I think he's going to be better than players drafted in front of him. I think he's a terrific player."
Grigori Denisenko, LW, 5'11", 163 lbs
2017-18: Yaroslavl (MHL), 31 GP, 9-13-22
Button's take: "A very gifted offensive player. He's like Kucherov in Tampa Bay. He's an excellent skater. He takes the puck to the net, he makes plays. He's dangerous quickly; he sees an opening and springs to it and—bang!—the puck's there. It's too late before you can check him. He's got a real explosive quality to him where he shows up, and it's over."
USA Hockey Prospects Game to Be Played in Minnesota
Joe Veleno, C, 6'1", 195 lbs
Drummondville (QMJHL), 64 GP, 22-57-79
Button's take: "A very good, industrious, diligent player. I don't think he's a high-end player, but I think he's going to be a good, solid centreman. And teams need centremen, guys that can contribute in different areas. I don't see him as a top-line center, but I certainly see him as one that's going to get in there. He might be a lot like Lars Eller, that type of center. Lars was a first-round draft pick that has found his way to an excellent role with the Capitals, and I think Joe can be that type of player."
DEFENSEMAN
Rasmus Dahlin, 6'2", 181 lbs
2017-18: Frolunda (SHL), 41 GP 7-13-20
Button's take: "He's a franchise-defining, elite, number-one defenseman. They don't come along often. They're rare. Coming out of the draft, that is. Are there players that develop into that? Yes, but very few. There's 31 teams in the league. There aren't 31 No. 1 defensemen. There's nothing he can't do in the game. From the defensive zone, to the neutral zone, to the offensive zone, with the puck, without the puck, his hands, his skating, his mind, his ability to make all the plays that are necessary at any moment in time—they're all there. They're all there."
Quinn Hughes, 5'9", 167 lbs
Michigan (NCAA), 34 GP, 4-24-28
Button's take: "Great skater, great hockey sense, great confidence playing the game, doesn't get himself in tough spots, understands where the puck's gotta move to."
Ty Smith, 5'10 1/4", 176 lbs
2017-18: Spokane (WHL), 69 GP, 14-59-73
Button's take: "An incredibly efficient player. He's confident, smart, when the puck's on his stick, good decisions get made. Skating is very good, he's elusive. And he just plays the game with a real high level of efficiency. He's not gonna go end-to-end, he's not gonna toe drag you, or anything like that, but the play is going to move forward. Coaches will have lots of confidence when he's on the ice."
K'Andre Miller, 6'3 1/2", 194 lbs
2017-18: NTDP (USHL), 47 GP, 7-15-22
Button's take: "Just a great athlete. I think he's raw and I think he's going to the perfect spot for him to develop, and that's the University of Wisconsin, and specifically [associate head coach] Mark Osiecki. He's excellent at developing defensemen. What K'Andre needs, he's going to get from Osiecki. If you're drafting a player like that and know he's going to a place like that, it gives you a lot of comfort in believing he can reach that potential."
GOALTENDERS
Olivier Rodrigue, 6'0 1/4", 155 lbs
2017-18: Drummondville (QMJHL), 53 GP, 2.54 GAA, .903 SV%
Button's take: "He's an excellent goaltender. He needs some physical maturity, but to me, he's got all the elements. The reason he won't go in the first round is because teams don't think they have to take him in the first round. If he went in the first round, I wouldn't scratch my head. I wouldn't go, 'Gee, that's a surprise pick!' That's a guy that I think has the qualities to be a really good NHL goaltender. He's got the mental capacity, he's got the vision, he's got the skills, the lateral mobility and agility, and he's got the competitiveness. I think all he needs is time."