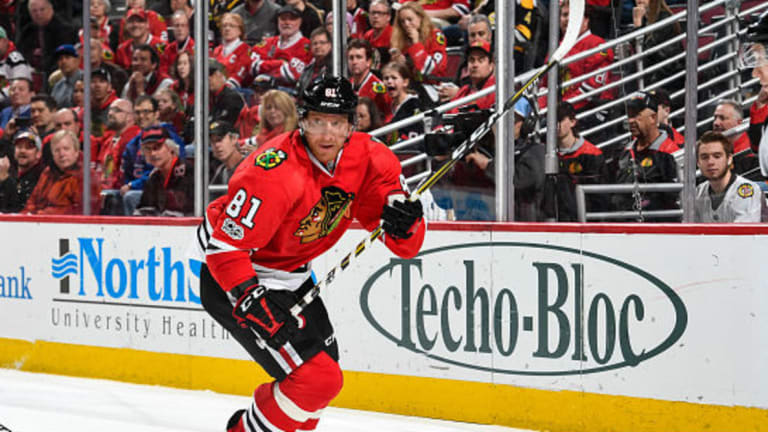 Blackhawks Add Cap Space by Trading Marian Hossa's Contract to Coyotes
Marian Hossa's playing days are over, but he still proves to be a valuable asset as the Blackhawks traded the winger's contract to the Coyotes in a move to garner salary cap space.
Marian Hossa's playing days may be over, but the Slovakian sniper still has an effect on the NHL landscape.
The 39-year-old was traded to the Arizona Coyotes on Thursday, along with forward Vinnie Hinostroza, defenseman Jordan Oesterle and a 2019 third-round pick in a deal that saw Chicago Blackhawks veteran forward Marcus Kruger, prospects MacKenzie Entwistle and Jordan Maletta and AHLer Andrew Campbell along with a 2019 fifth-round selection move as well. 
Hossa is undoubtedly the biggest name in the deal, though the high-scoring forward spent the 2017-18 season on long-term injured reserve due to a skin condition that ended his playing days. He has yet to officially retire however, making his $5.75 million cap hit for the next three seasons become a valuable commodity for teams looking to hit the cap floor, and an increasingly important piece to move for the cash-strapped Blackhawks.
Blackhawks' Marian Hossa Confirms Hockey Career Over
"Today is another example of the leadership Marian has displayed as a member of the Chicago Blackhawks organization," the Blackhawks said in a statement. "When we approached him to discuss the idea of him waiving his no-move clause to allow us to make this move, it became clear this was a difficult thing for him to consider.
"After the success he has had in a Blackhawks jersey, the friends he has made throughout the organization and the fact his heart will always be in Chicago, the thought of disassociating in any way from the team he has come to love was not something he really wanted to give any thought to at all. But as the consummate team player, he did what he has always done. He did what the team needed him to do in order to succeed."
With the trade, Chicago adds approximately $4.65M in cap space, giving the team $8.55 million, as per CapFriendly, though his salary will be just $1 million, with the Coyotes on the hook for just $200k.
To move the contract, however, the Hawks had to give up the speedy Hinostroza, a 24-year-old forward with 13 goals and 39 points in 106 NHL games-including 25 in 50 games in 2017-18 and was thought of as a piece of the team's future core. He was reportedly "shocked" at the trade, but is excited for a change of scenery.
"I think as a young guy there's a lot of pressure you never really know what you're going to be asked what to do that night," he said. "So, coming into each game, you never really know. So, I'm excited to just be able to go in and play my game and not worry about stuff like that and just be able to go have fun with the guys and work hard and have fun and play my game."
Coyotes GM John Chayka is just as excited for Hinostroza and Oesterle to join his roster, as teams across the league continue to look for top-notch value. He gets plenty of it in his newest forward, who signed a two-year deal with an annual average value of $1.5 million in mid-June.
Canucks Acquire Tanner Kero for Michael Chaput in Trade With Blackhawks
"You get the question a million times, 'What have you learned from Vegas? What have you learned from Vegas?'" Chayka said of the Golden Knights' inaugural season success. "It's obvious there are a lot of players in this league, when given greater opportunity, can really perform and make an impact. As a staff, we tried to evaluate the most undervalued players in the League. These two guys that we got are guys that we spent a lot of time talking about in scouting meetings, really breaking them down, analyzing them and researching them."
Oesterle averaged over 20 minutes of ice time in 55 games last season with Chicago, but was made expendable as the Blackhawks try to add veteran depth on the blue line, most notably in reported talks with Carolina to acquire defenseman Justin Faulk, a potential deal made possible by Chicago's new cap space.
Kruger's return to the city where he won the Stanley Cup in 2013 and 2015 comes a season after he, too, was dealt as salary cap casualty. His role as a checking forward with a penalty kill specialty will likely earn him a bottom-six spot.
"I couldn't be any more happy," Kruger said. "I can't think of a better place than here to come back and show that I can play and be a good player."
In Entwistle, the 69th pick in the 2017 draft, the Chicago gets an unsigned prospect who won't wow anyone with his scoring totals (77 points in 163 games over three seasons with OHL Windsor), but projects as an all-around player who will contribute in all facets of the game.
Arizona also continued its history of acquiring big cap hits of players no longer in the NHL in taking on Hossa's deal. In recent seasons, the franchise has also added those of Pavel Datsyuk, who left the Detroit Red Wings to play in the KHL, and Chris Pronger, who stopped playing after multiple concussions, though neither ever suited up with the Coyotes.
Despite taking on Hossa's cap hit, Arizona still has a projected $10 million-plus in space. 
"Cap space is a very valuable asset," Chayka said. "Our ability to use it and leverage it has gotten us players."