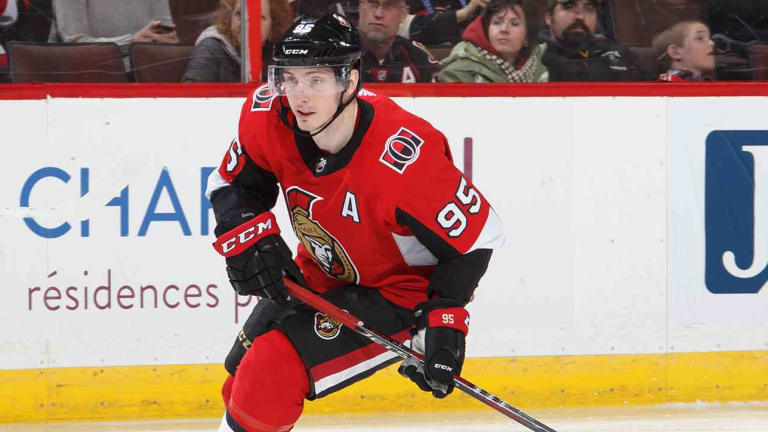 Despite Waiting on a Contract Extension, Matt Duchene Ready for Senators to Surprise
Matt Duchene isn't worried about heading into the season without a contract. The speedy center is looking forward to the young Senators showing off their talent in 2018-19.
In the midst of a summer that saw a number of young players receive pricey long-term extensions, Matt Duchene isn't worried that he hasn't gotten one of his own from the Ottawa Senators. 
The speedy forward has one season left on a five-year deal he signed with the Avalanche in 2013 and can become a free agent following the 2018-19 season with the Sens.
Duchene has been eligible to sign an extension since July 1, and has spoken with Ottawa GM Pierre Dorion throughout the offseason.
"He's an awesome guy and he's doing a good job and working hard," Duchene said on Tuesday. "It's been enjoyable to chat with him about stuff but we haven't gotten there. I have a year on my deal and I don't really worry about it right now. I've had a great summer, feel good and I'm ready for opening night right now. Can't wait to get going."
Chris Kelly Returns to Senators as Development Coach
The 27-year-old center posted 23 goals and 49 points in 68 games with the Senators after coming over to the team from Colorado in a three-team deal that involved Ottawa sending forward Kyle Turris to the Nashville Predators. He finished the season with 27 goals and 59 points, giving career totals of 201 scores and 477 points over nine seasons after being picked No. 3 in the 2009 draft.
The move brought Duchene closer to his hometown of Haliburton, Ontario, and it seems he'd like to continue his career close by home.
"I'd love for it to work," he said. "[Ontario] is my home province, three hours from home, Canadian city. Would be awesome if things could work out for sure." 
Duchene will make $6.5 million this season, though his current deal counts $6 million against the Ottawa salary cap. He's not the only Senators player due for a new contract after the season, with star defenseman Erik Karlsson slated for a major payday and winger Mark Stone coming off a one-year, $7.35 million RFA deal. Prospect Colin White will be competing for a new deal ahead of 2019-20, too.
Duchene returns to a different Senators club than the one he skated for at the end of the 2017-18 season, with forward Mike Hoffman having been traded away and Karlsson likely to follow suit. Goalie Craig Anderson expressed a desired to be moved this summer, as well. Stone returns after posting 20 goals and 62 points in 58 games in an injury-marred campaign, while Ottawa's top pick Brady Tkachuk signed an entry-level contract and will compete for a roster spot in training camp.
There has also been front-office turmoil with the team's assistant GM Randy Lee stepping down after being accused of harassment, and owner Eugene Melnyk has been criticized after suggesting the team would move following poor attendance. 
Ottawa Senators Sign Brady Tkachuk to Three-Year Entry-Level Contract
"We've got to just forget about it," he said. "It doesn't matter, it's over, it's in the past. Learn from it, obviously."
Despite the growing list of concerns around the team, Duchene is adamant that the Senators can surprise folks around the NHL, despite finishing second-to-last in the league after making a run to the Eastern Conference Final in 2017.
"I think we've got a lot of speed, a lot of talent and I think people are overlooking a lot of it," he said. "I think some of that talent is going to come from our young guys and I think we're going to have a chip on our shoulder. I've played on some teams where you have a tough year the year before and guys come in hungry and I see that from our guys right now."