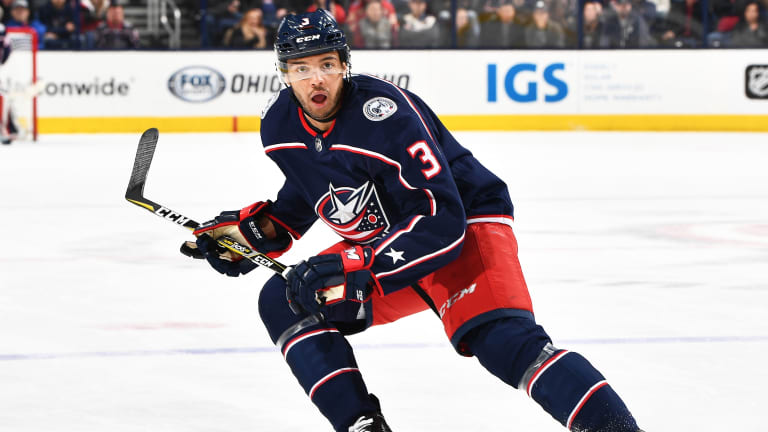 Seth Jones Is Looking for a Playoff Series Win, a Game Against His Brother and Bigger Celebrations
As the son of Popeye Jones, Seth Jones grew up running around NBA locker rooms. Now a top defenseman with Columbus, he compares the NHL and the NBA, talks about his brother Caleb's career, and reflects on the Blue Jackets' postseason performance.
CHICAGO — Above all else, he remembers the pool table. "Mark Cuban had one in there," Seth Jones says. "And a TV with video games."
As far as hangout spots go for an energetic teenager, the locker room of the late-2000s Dallas Mavericks must rank fairly high on the list. While his father, former NBA power forward Popeye Jones, was busy coaching in player development, young Seth was left to roam as he pleased (within reason). So he tore around the hallways. He played on Cuban's pool table. If the practice court was empty, he waged one-on-one wars against Avery Johnson Jr., the son of Dallas' then-head coach.
"It was cool, just seeing how they go about their time at the arena, the work that they put in and the treatments they were getting every day in the rooms," Jones says. "You see Dirk Nowitzki and Jason Terry working on their jump shots every day. They were the two best shooters on the team and they're always in there shooting. There are a lot of things you can take away."
Now 23, the Blue Jackets defenseman—three months removed from a fourth-place Norris Trophy finish, five months from a first-round exit against eventual-champion Washington—remains an avid NBA fan. He roots for the Pacers out of familial obligation with Popeye serving on Nate McMillan's staff; geographical proximity and LeBron led him to start following the Cavs. And now that James has signed with the Lakers? "Should be pretty awesome, right?" Jones says. "Bringing Showtime back. I doubt they're going to win it this year with the roster, but they're going to be a whole lot better. I think they'll win 50 games."
The 88 Summit: A Swap Meet of Hockey Knowledge
Cycling through the NHL's preseason media car wash in Chicago earlier this month, Jones spent his time with SI.com dissecting his younger brother Caleb's game, reflecting on the Blue Jackets' postseason exits, explaining his chemistry with defensive partner Zach Werenski, comparing NBA and NHL cultures, and airing some slow-cooked basketball beef.
SPORTS ILLUSTRATED: Do you play pickup?
SETH JONES: As much as I can. I try to stay away from it in the summer. Just too much risk. I've broken my foot playing pickup when I was 15 with a bunch of strangers at a Lifetime Fitness. Went up for a layup and jumped and landed on his foot and broke mine. I play with my brothers, one-on-one, king of the court stuff.
SI: Your younger brother is coming to the league soon, right?
SJ: Yeah, he was in Bakersfield last year, the AHL team [for Edmonton]. He actually just left for camp yesterday to go out there. Hopefully he gets some games this year, that'd be nice.
SI: Give me a little scouting report.
SJ: He's feisty. I don't know if he's going to fight, but he's competitive. Good skater, pretty hard one-timer, and he's pretty offensive, I'd say.
SI: Like you?
SJ: Yeah, we have a little bit different styles. He's a little bit thicker than me. His favorite player was [Chris] Pronger growing up, put it that way.
SI: And yours?
SJ: [Nicklas] Lidstrom, probably.
SI: That probably says it all there.
SJ: Exactly. A bit of a bruiser.
SI: When would've been the last time you played against him?
SJ: Never.
SI: Are you looking forward to it?
SJ: That'd be pretty cool. Hopefully one day this year. We played Edmonton last year and they were way out of the playoffs. I thought they were going to call him up at the end of the season when we were in Edmonton, but they didn't.
SI: So who's the first brother to pinch in the offensive zone and get run by the other?
SJ: I know, right? I want to bury him. I hope I have the opportunity to bury him. That'd be for bragging rights.
SI: When we spoke around this time last year, you said it was important for your team to let the [2016–17 first-round] playoff loss to Pittsburgh "sink in and marinate and let it hurt." How did it strike you after going through it again? Same feeling?
SJ: It was a different frustration this year, being up 2–0 and having whatever happened to us happen. It's so cliché, but we have to learn from it, right? We lost Game 3 in overtime at home, then we crapped the bed in Game 4, didn't play well. I think we dwelled on Game 3 too much.
It's just one game. You have to move on and learn from it, and we didn't. We needed to win Game 4 and take control of that series. I think our lack of experience may have shown how young we were. Obviously I hope it won't happen again if we're ever in that situation.
SI: The Capitals knew well how much pain some teams have to go through to get where they want to go.
SJ: Yep, they've been through their fair share, right? Everyone's got to do it eventually. But I don't know. It'd be nice to get past that and win a playoff series.
SI: What does the Norris mean to you? Is it a stated goal?
SJ: I'm not going to say it's a stated goal, but you can't go into the season saying my goal is to win the Norris this year. That's not going to have the right effects on your job. I don't think anyone goes into any season wanting to win any award. They're going to play hard and do it consistently.
That's my goal—to be a leader on the team and help win games for my team, keep pucks out of the net, put pucks in the net, and try to be consistent. Let my teammates know that every game I'm going to be the same player and do my job to the best of my ability.
SI: Can you win as a pair?
SJ: I guess technically you can have two people in it. Have two people ever shared it? They should've shared rookie of the year this year in basketball.
SI: Between?
SJ: [Ben] Simmons and [Donovan] Mitchell. I was mad about that.
SI: Why?
SJ: Because Mitchell should've won it. That's why. Simmons is playing with Joel Embiid, already the best centerman in the East. Little bit of pressure off him.
SI: What are conversations like with you and Zach when you get back from a shift? What is the ongoing dialogue in games?
SJ: Depends on the shift. If something bad happened, we'll try to discuss it a little bit. But you're trying to move onto the next shift, good or bad. You can't carry over when it comes to that stuff. If you're thinking about the last shift, and the current shift, that may not have the best effect on your game and how you play. Sometimes you have bad periods and you move on.
Me and Zach are kind of the same, in a sense. When something bad's going on, we don't want to have a whole lot of people talking to us. When I'm playing bad, I don't want anybody saying anything to me, because I'm already mad at myself. And guys are different when it comes to that.
SI: When you play with a guy for so long, do you develop your own shorthand?
SJ: I know what he's thinking on the bench when I get back, because I understand. I try to be as even as possible, whether I had a bad shift or a good one.
SI: One more thing from our chat last year that stuck with me: You felt that the NHL has "hit a flatline" as far as growth of the game. Anything on your mind as to how we can fix that?
SJ: I don't know, it's a culture thing that happens when you're young. It's not like everyone gets to the league and people tell you, 'Okay, don't say anything stupid, act like a robot.' That's just the way it is in this league. And I think it's such a team sport, right? You can't win by yourself, so everyone's scared to not be a part of the camaraderie of the team, of the locker room.
It's too important, the locker room compared to others in sports. You can have a fight in basketball in the locker room and still win a championship. Golden State was winning a championship whether they were fighting in the locker room or not. It's just a little bit different than other sports.
SI: That couldn't happen in hockey?
SJ: I don't think so. You'd have to be a pretty damn good team.
SI: What's it like in Columbus?
SJ: It's great. We're a tight-knit group. I don't see any problems in our locker room. Everyone really gets along with everybody and I think that's all that matters. That's the first step toward being a good team. If you ask the Cup winners, they're all probably like that.
SI: What did you make of the Washington celebration videos?
SJ: I thought it was great. I saw the other day that they're trying to take away the keg stands with the Stanley Cup. That's a shame. It was great to see them celebrating. I think the game definitely needed that. You don't really some teams celebrate with it.
SI: I feel like they upped the bar.
SJ: Exactly. They definitely did. It starts right there. That's something you'd see in other leagues, but not ours.