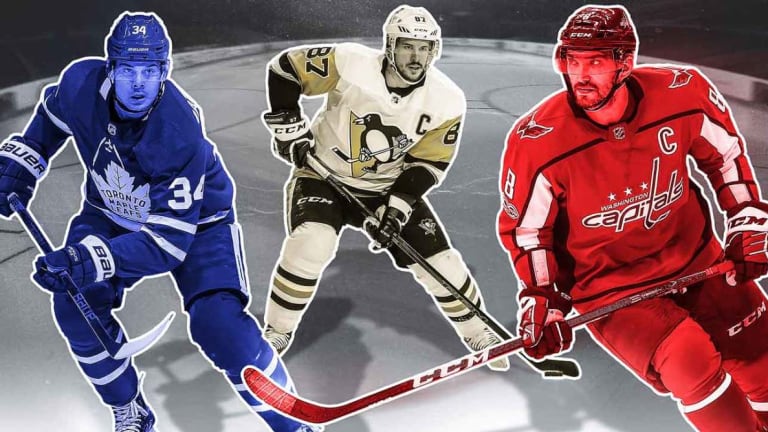 2018–19 NHL Predictions: Stanley Cup Winner, Hart Trophy, Art Ross and More
Who will win the Stanley Cup? Which team will be the biggest surprise? Is Connor McDavid a lock for the Hart? The SI NHL staff makes their predictions for the 2018–19 season. 
The dawn of a new NHL season comes on the heels of a busy and movement-filled summer that reshaped the league and promises to have a big effect on how things will look in just a few short months.
In the Atlantic Division, the battle between the Boston Bruins and Tampa Bay Lightning got an added wrinkle courtesy of the Toronto Maple Leafs, who went from up-and-comers to Stanley Cup contenders with prized free agent signing John Tavares.
The Metropolitan Division sees the Washington Capitals coming off their first championship season with thoughts of going back-to-back, though their old nemeses in Pittsburgh would like to add another banner to their collection. In Carolina, the Hurricanes plan to make some noise in the packed division that will also see the Columbus Blue Jackets and Philadelphia Flyers jockey for position with the New Jersey Devils, who are eager to build on the success of 2017–18.
Things get really interesting in the Pacific, where the Vegas Golden Knights will follow up their incredible inaugural season with some added depth on offense, courtesy of free-agent signing Paul Stastny and trade acquisition Max Pacioretty. They'll have to contend with the San Jose Sharks, however, who made a very big splash with the addition of Erik Karlsson, the two-time Norris Trophy winner who came via trade with Ottawa.
• Power Rankings: Things Are Already Set at the Top Entering the Season
It's hard to count out any Central Division team, with the Chicago Blackhawks aiming for a rebound season and the Winnipeg Jets eager to show their arrival last season was no joke. The Nashville Predators will give them everything they can handle in the race for the West crown, though it's hard to count out the rebuilt St. Louis Blues, a still-developing Colorado Avalanche squad, the veteran-laden Minnesota Wild and the offensive-minded Dallas Stars.
How will things shake out in 2018–19? Here's what SI's crew of puck-watchers sees:
STANLEY CUP WINNER
MICHAEL BLINN: Winnipeg Jets. Not only have the Jets arrived, but they've done so in style. Mark Scheifele and Patrik Laine are the motors on a ridiculously stocked offense, Connor Hellebuyck is a Vezina candidate behind a stalwart defense and adding rookie Kristian Vesalainen to the roster can only make this more fun to watch.
JEREMY FUCHS: Tampa Bay Lightning. Okay, so the Lightning don't have Erik Karlsson, but their defense is pretty great. Andrei Vasilevskiy is a top-three goalie, Victor Hedman is a top-three defenseman, Steven Stamkos and Nikita Kucherov make up the best one-two punch in the league. They will be fun.
KRISTEN NELSON: Winnipeg Jets. Before last year, the Jets had never won a playoff game in franchise history and then suddenly found themselves in the Western Conference Final (against a brand new team, no less). They found consistency in a strong offense led by Mark Scheifele, Blake Wheeler and Patrik Laine, as well as a breakout season from goalie Connor Hellebuyck. Winnipeg doesn't have quite as many eyes on it as some other frontrunners in the West, and that gives this team room to keep things rolling.
ALEX PREWITT: Nashville Predators. After appearing in the 2017 Stanley Cup Final and winning the 2018 Presidents' Trophy, it's time. Time for the bald-faced boldness of general manager David Poile to pay off in a title. Time for the NHL's best blue line—sorry, San Jose—to lead the way. Time for champagne to flow through the honkytonks … Or, maybe not. With its stable of mid-20s talent and modestly structured contracts, Nashville will be contending for a while.
• The Haves, the Have-Nots and What Promises to Be a Fun NHL Season
EMILY CARON: San Jose Sharks. The Sharks have made the playoffs in 18 of the last 20 seasons, and that was before they acquired Erik Karlsson. The Sharks already had a ton of talent on their roster, then added another all-star defender in Karlsson and signed Evander Kane to a long-term deal. Those upgrades plus the fact that they are loaded in the top six (welcome back, Joe Thornton—hello Logan Couture & Co.) should make San Jose a dominant force well into the postseason.
SURPRISE TEAM
BLINN:Calgary Flames. The Flames did some work this offseason, adding James Neal and Elias Lindholm to deepen their offense. They reconfigured their defense by shipping out Dougie Hamilton and bringing in Noah Hanifin. New coach Bill Peters plans to play a possession-based game. Add it all up and Calgary could easily make its way into the Pacific Division playoff picture.
FUCHS:Florida Panthers. They were on fire down the stretch, and almost made the playoffs. Now they add Mike Hoffman, who is a potential 30-goal scorer. There's an exciting young core, and stability in net with Roberto Luongo.
NELSON:St. Louis Blues. After a disappointing 2017–18 campaign, the Blues did some extensive overhauling in the offseason and are a much deeper team than the one that missed the playoffs. With the additions of Tyler Bozak, David Perron and Ryan O'Reilly, St. Louis' offense has basically doubled in strength. If goalie Jake Allen can find consistency again, this will be a more entertaining crew to watch in 2018–19.
• Roundtable: Which NHL Team Needed to Do More in the Offseason?
PREWITT: Buffalo Sabres. Calm down. This isn't a playoff prediction. But with Rasmus Dahlin and Casey Mittelstadt entering the fold as rookies, coupled with the trades for productive wingers Jeff Skinner and Connor Sheary and several St. Louis castaways, the Sabres can shake things up among the Atlantic Division's sub-Tampa-Boston-Toronto tier. Low bar, I know.
CARON:Vegas Golden Knights. Vegas surprised everyone with its historic inaugural season that ended in the Stanley Cup finals, but people seem to be wary of what year two will bring. The Knights did lose some major points with David Perron and James Neal leaving, but they also picked up center Paul Stastny. Their dominance isn't just going to disappear overnight, so expect another surprising season out West—even if it looks a little different than last year.
STORYLINE YOU'LL BE WATCHING
BLINN: The sports reality show that is the Ottawa Senators. Erik Karlsson and Mike Hoffman are gone, Matt Duchene and Mark Stone are due new contracts at the end of the season, owner Eugene Melnyk is trying to win back his fan base and when asked about what he's optimistic about this season, Pierre Dorion could only respond, "... We're a team." Insert popcorn emoji.
FUCHS: How Brett Burns and Erik Karlsson play together. It's hard to think of a team that had the two best offensive defenseman on the same blue line. Will they play together? Will they split them up on the power play? Will Burns play some forward to maximize their ice time together?
NELSON: My favorite show to watch last year was the incredible spectacle happening in Vegas and I am eager to see what happens during Season 2. The Golden Knights had a ridiculous inaugural run and followed it up with a productive offseason (sup Max Pacioretty, Paul Stastny?). Erik Karlsson's wardrobe change to teal will make things more challenging in the Pacific Division, yet somehow I feel like that will only make Vegas better as it tries to prove last season wasn't a fluke.
PREWITT: In classic East Coast-homer fashion, I'm looking at the Metro Division. Provided the Capitals are no longer hungover of the literal sort, we can start wondering about the metaphorical kind. Sidney Crosby and Evgeni Malkin had long summers to stew over their second-round loss; no one likes a pissed-off penguin. Columbus might lose Artemi Panarin and Sergei Bobrovsky next summer, but can a long run convince them otherwise? What about Philadelphia, still patiently building, and Taylor Hall-led New Jersey? It's a mess. It'll be fun.
Next Man Up: Nathan MacKinnon Is Ready to Join the Game's Greats
CARON: I'm watching what Washington does after the franchise's first Stanley Cup championship. The team saw some notable departures following the 2017 season, which might've actually been the changes needed to bring postseason success to the nation's capital. We all knew Alex Ovechkin was hungry for a Cup but now that he finally got it, what happens next?
AWARDS
RANDOM PREDICTION
BLINN: Joe Thornton's beard comes back, more lush and beautiful than ever.
FUCHS: Patrik Laine scores 60 goals for the Jets.
NELSON: Gritty and Iceburgh get into a mascot fight for the ages at the Stadium Series game (Gritty wins, obvs).
PREWITT: Mathew Barzal will have more points than John Tavares.  
CARON: Kevin Hayes has his first 30-goal season for the Rangers on a contract year.