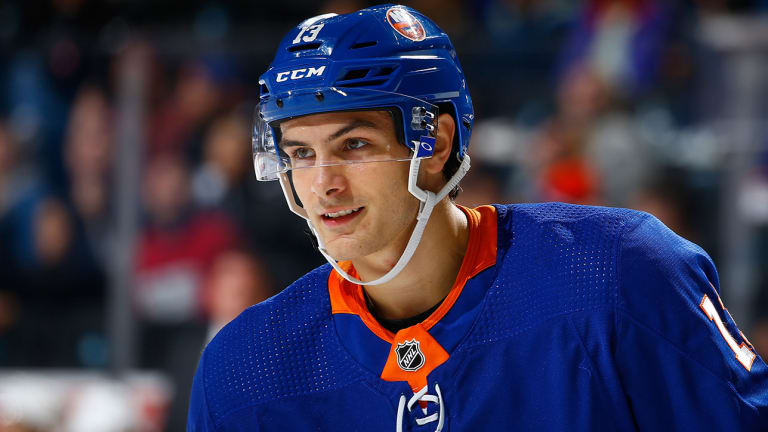 Mat Barzal Takes Reins to Usher in Post-Tavares Era
There are two sides to Mat Barzal: the playful, lovable kid who doesn't know how to operate a Keurig machine and the fierce competitor who has taken up the task of leading the Islanders in the wake of Josh Tavares's departure.
"Here is the only story that I ever tell about this guy," Matt Martin says, gearing up to deliver a doozy. It was three years ago, the week before Islanders training camp. Filling the role of hospitable veteran teammate, Martin had invited the team's top prospect from the 2015 NHL draft to crash at his house. They became fast friends, two easygoing personalities with similar interests, which mostly involved lounging around during their free time and waging lopsided wars in NBA2K. "I always beat him," Martin reports, "because he sucks."
One day, upon delivering another digital smackdown — "He was the '96 Bulls and I was, like, the Hornets" — Martin left to attend a memorabilia signing. Three hours passed. "So I come back," Martin says, "and he's sitting on my couch, wearing my Michael Jordan jersey with no shirt underneath, just chilling. He went in my closet, went through my stuff, put on my authentic Jordan jersey." Martin stared at the bizarre scene, stunned by the sheer audacity of his teenage houseguest. Finally, he barked, "You have three seconds to go take that off right now."
And from the couch, Mat Barzal grinned.
Much has changed for the Islanders since that late-summer afternoon. When Martin was traded back this offseason following a two-year detour with Toronto, he found a new iron-fisted general manager atop the front office (Lou Lamoriello), a new Stanley Cup-winning head coach behind the bench (Barry Trotz), and a new arena planned for construction at Belmont Park.
Then there was the biggest shakeup of them all: With the posting of two seismic tweets and one nostalgic photo, the Islanders were suddenly without their captain, and longtime face of the franchise, John Tavares. The first honorific was recently bestowed upon rugged left winger Anders Lee, fresh off a 40-goal season. The latter, however, was quickly snatched by Martin's brash jersey thief.
In many ways, Barzal remains the same playful spirit who dared rummage through the closet of someone boasting almost 100 career fights. He was a prankster with the WHL's Seattle Thunderbirds, filling sticks with water, cutting holes in boxer shorts, taping dress shoes shut. Sharks defenseman Brenden Dillon, who plays in the same fantasy football league with fellow Vancouver-area NHLers, receives trade offers featuring his best player … and Barzal's placekicker. Fellow Islanders, meanwhile, derive endless enjoyment from his naiveté, like when Barzal couldn't operate a Keurig machine, or when he thought store-bought mattresses also came with sheets and a pillow, or how his current home still contains no shower curtains. Barzal spent last season living with the family of defenseman Dennis Seidenberg, who fondly recalls his new tenant playing knee hockey with his three kids.
"Stuff you just have to laugh at, right?" winger Andrew Ladd says. "It comes off so genuine and innocent." That is the casual side of Barzal, more surfer bro than professional skater, right down to the windswept hair. The other, more intense version was unleashed last season, when he notched 85 points in 82 games as a rookie and captured the Calder Trophy with 160 of 164 first-place votes. "It's almost like Kobe Bryant," says Ethan Bear, a defenseman with Edmonton's organization who spent four seasons alongside Barzal in Seattle. "You challenge him, and he challenges you right back. He has that Mamba mentality." 
Other friends and family are plenty familiar. Two months before they were scheduled to start training together last summer, conditioning coach Rob Williams was already getting texts with suggestions for new drills. Mike Barzal recalls his son rewatching Islanders games on the family DVR, studying shifts from their British Columbia home. And with the entire city of Las Vegas at his disposal during the NHL awards, Barzal mostly wanted to chat up fellow stars for advice.  
"You can tell he's really dialed in," says Arizona's Clayton Keller, who finished behind Barzal in Calder voting. "He wasn't looking to go party. He wanted to talk about how his year went, or how he created offense, or what team he thought was the hardest, or who he thought was the best player in the league." The confidence, the intensity, the diligence — it has all equipped Barzal to lead the Islanders into the post-Tavares era, bumpy as that path may presently appear. (Of course, the ability to skate as though propelled by rocket fuel probably helps too.)
"He wants to be the best in the league," Ladd says. "I think he has a shot at doing it."
He sat inside the penalty box, lips pursed, head shaking with disbelief. Three minutes into his NHL debut against the Capitals on Oct. 15, 2016, Barzal had been whistled for a slashing minor, imprisoned while Alex Ovechkin sizzled slappers at his new teammates.

If that wasn't disheartening enough, Barzal had promptly committed another infraction when his first sentence expired, unaware that it was illegal to play a puck while still standing in the box.
"I was so nervous, just sick to my stomach," Barzal says. "I can remember thinking, 'Oh man, I'm never going to hear the end of this.'"
The next 12 months did little to quell his queasiness. Sent back to Seattle for further incubation, Barzal dominated lesser competition as expected but still stewed over failing to stick with the Islanders. "Just to let that opportunity slip, you've been dreaming of that moment your whole life, it sucked," he says. Then he opened last season, '17-18, with a five-game scoreless drought. "At one point all I'd done was take a penalty in the penalty box and miss an empty-net breakaway against Buffalo," says Barzal. "I remember telling [fellow Islanders forward] Josh Ho-Sang, 'Man, this is all I have to my name. I've got to figure things out."
That process didn't take long. Now his name only ranks behind two Hall-of-Fame alumni—Bryan Trottier and Mike Bossy—for most rookie points in Islanders history. He also became the first NHL rookie with three five-point games since the NHL's inaugural season in 1917-18.

"That's absurd," Lee says. "You shake your head and go, 'Seriously?'"
This is a common reaction. Armed with a high panic threshold and silky saucer passes—not to mention surprisingly thick leg muscles that help fend off checkers—Barzal excelled at attracting attention before feeding open linemates; his 63 assists also tied Trottier for the franchise rookie record.
"I think just trying to get it through any way I can: between guys' legs, under or over guys' sticks," Barzal says. "I'm sneaky like that."
Like an isolation set in basketball, it wasn't uncommon to see the Islanders clear out and let Barzal carry possession coast-to-coast by himself either. "He doesn't have that timer in his head that says, 'Hey, I should move the puck,'" Lee says. "It just never seems to go off. It's for the better." 
His absolute best attribute, though, was displayed against St. Louis on Nov. 11,  when Blues defenseman Robert Bortuzzo tried ramming Barzal against the end boards and instead received a mouthful of plexiglass as Barzal ducked and slipped underneath.
"As he was getting going, you could tell people were trying to get a piece of him and slow him down," Ladd says. "But he's so shifty. Every time he gets the puck, you feel like something's going to happen. He's been fun to watch."
Not that anyone on Long Island envisioned quite this level of instant success when Barzal was selected at No. 16 overall. Looking back, Barzal figures that his draft stock partially fell due to a broken kneecap incurred while wrestling some Seattle teammates. (Afraid to tell his coaches, Barzal still practiced that day, tears welling from the pain.) And aside from interviewing with an area scout back home, Barzal hadn't received any word that the Islanders were even interested. "No combine meetings, nothing during the draft," he says. "I wasn't even thinking about them." 
In a move that might irk Boston fans for years, the Bruins held three straight selections from Nos. 13-15 but passed on Barzal each time. "You know what, I was [expecting to go there], honestly," Barzal says. "Then after they took [defenseman Jakub] Zboril with the first pick, I was like, I don't know how much they actually value me. Once I got through them, I think the Islanders were pretty excited."
Excited enough, it turned out, for then-GM Garth Snow to part ways with defenseman Griffin Reinhart, the fourth overall pick from 2012, to secure a higher slot. Watching from the stands in Sunrise, Fla., Barzal took notice. "When the Islanders jumped up, I was like, maybe they thought I was that high," he says. 
Three years later, Barzal is a proud member of a loaded class: Established superstars like Connor McDavid, Jack Eichel and Mitch Marner, as well as emerging household names like Ivan Provorov, Zach Werenski and Mikko Rantanen, all went ahead of him. "Such a deep draft," he says. But Barzal has also heard rumors that certain teams were turned off by his combine interviews and consequently dropped him on their boards. He thinks he knows what that is about.
"Some people I guess want somebody who's just going to give them what they want to hear the whole time," Barzal says. "I was just being honest and trusted my abilities on the ice and answered the questions honestly. For instance, if a team asks you if you're better than this guy, are you going to say no? Or who should they pick, you or this guy? I'm not going to tell them the other guy. No matter who it is. What am I supposed to say? It's just me being honest."
He sat inside an empty Islanders locker room earlier this month, mulling over the previous occupant of his current stall. "Is this where JT used to sit last year?" Barzal asked. Across the carpet, a team employee nodded. Sometimes torch-passing is so damn obvious.
Three months earlier, Barzal was golfing on a course near Vancouver when his cell phone erupted with texts: See the news??
By then Barzal had already learned that Tavares had decided to sign with Toronto, accepting a hometown discount in an effort to break the Maple Leafs' five-decade Stanley Cup drought. But advance warning did not lessen the shock. "Just … wow," Barzal says. "Couldn't really believe it. I thought for sure he was going to come back. I guess when it happened, it didn't hit me right away how things were going to change."
On the ice, he must accept greater responsibility as the Islanders' unquestioned No. 1 center, no longer able to capitalize while opponents focused on Tavares. "I can feel a little more added pressure," says Barzal. "It's a different feeling when you look across the locker room and you see a top-15 player in the league, you know? You feel confident going into the game. You know he's good for a goal or two a night. This year, we don't have it as much, but we're finding a way."
Early returns have indeed been relatively positive, at least given that preseason pundits generally picked them to fall somewhere between the high-lottery and rock-bottom; the Islanders blew a 2-0 lead in Wednesday night's overtime loss against Florida, dropping to 3-4-1 overall. But there is something else that Barzal misses about Tavares' company. "We gelled really well together," he says. "People try to make it out sometimes as me versus him, at least now. But that wasn't the case at all. I look up to John. Even just watching him in practice, picking things from his game, that kind of thing sucks to not have anymore."
Aside from occasionally binging episodes of The Office, Barzal describes himself as singularly occupied with work away from the rink. "Even in the offseason, I'm always thinking," he says. Examples are legion. Over dinner prior to Ladd's annual charity fishing tournament, Barzal was peppering his teammate about training methods and private skills coaches. "If you have a hockey conversation with him, he thinks the game different than most people," Ladd says. "And he doesn't turn it off." Dillon recalls fielding similar questions as they taped sticks before their summer skates in Vancouver: What does that guy do? How does this guy practice? 
As a kid, Barzal "watched endless hours" of footage featuring Pavel Datsyuk, Sidney Crosby and Patrick Kane. These days, nights off rarely elapse without Barzal at least checking out one NHL game on television. "I'm always keying on the top players, trying to see what they're doing," Barzal says. "Even watching other teams, how certain D-men defend, trying to see if I can pick anything up." It's not just childhood heroes, either; lately Barzal reports paying special attention to his early-20s peers like McDavid, Marner and Auston Matthews. "I think he takes pieces of all those players," Trotz says. "And he sees those pieces in himself."
Over two decades between Nashville and then Washington, Trotz never enjoyed the experience of rearing a young superstar like Barzal, who doesn't turn 22 until next May. So far the veteran coach's advice has mostly focused on small details, like improving Barzal's bench demeanor and tightening his defensive zone habits. "But as much as you want to help him with his game, you don't want to stifle him," Trotz says. "I use the word fearless. He didn't strike me as a guy who was going to be scared of the big moments, or the responsibilities of being a top guy. He's all-in that way. I think he could be a dominant player in this league for a long time."
For now, at least around the Islanders, Barzal is still just the college-aged kid who hasn't bought shower curtains. The laidback spirit who wears necklaces of a lava stone and "a funky energy spirit hourglass thing." The emerging fashionista whose stylistic choices were highlighted in a New York Times article. The feisty teammate who can take anything that comes his way—and dish it back tenfold. Not long into a lengthy conversation at the Islanders practice facility, defenseman Johnny Boychuk wandered through the locker room and discovered Barzal, chatting in his new stall.
"Oh, let's talk about Mats some more!" Boychuk said, voice hitched into a fawning falsetto.
I am the greatest thing. Ever!
"Quote-unquote,"Barzal replied, grinning from his seat.